Pookie went to San Diego and dug in deep talking to some fans
Pookie went to San Diego and dug in deep talking to some fans
Pookservations: San Diego. First and Last Fan Standing.
Photos by: Pookie Matthes
fan [fan] noun
"An enthusiastic devotee, follower, or admirer of a sport, pastime, celebrity, etc."
Synonyms: fanatic, freak, nut, junkie, addict, fiend, follower, enthusiast, devotee, backer, believer. Yup, sounds about right
Dictionary.com does not recognize the word "superfan" but I sure do. This week I thought it would be fun to take a closer look at Supercross fans in their natural habitat. Deciding to spend a significant portion of your day waiting in line for an autograph or photo with your favorite rider is nothing to take lightly. With most autograph sessions only lasting one hour and some lines zig-zagging through the pits it how will you even be sure to get to the front?!
Let's take a closer look at these devoted fans who not only made the decision to wait in line but were the FIRST fans standing in line to meet their favorite riders.
First Fan Standing for Ryan Villopoto: Bryce Jones, Rancho Cucamonga, CA. 12 years old.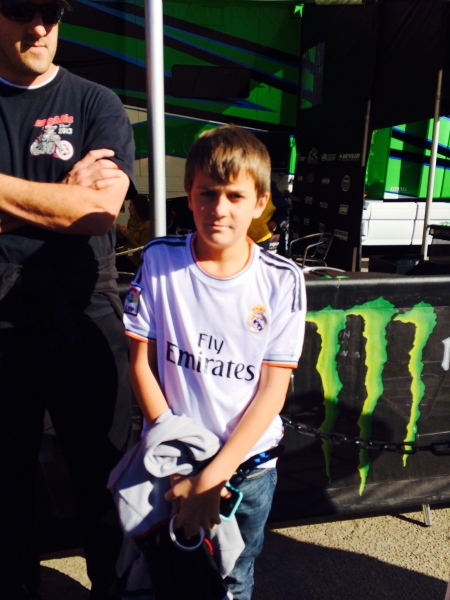 Bryce has attended previous Supercross races San Diego, this was his first race in 2014. When asked why he chose to stand in line for RV he responded, "Because all of my family likes Reed so I wanted to get on their chops and pick RV." After waiting in line for an hour and a half Bryce planned to tell RV "You're a really good racer, I like you a lot."
First Fan Standing for Chad Reed: Cole, Alberta Canada. 11 years old.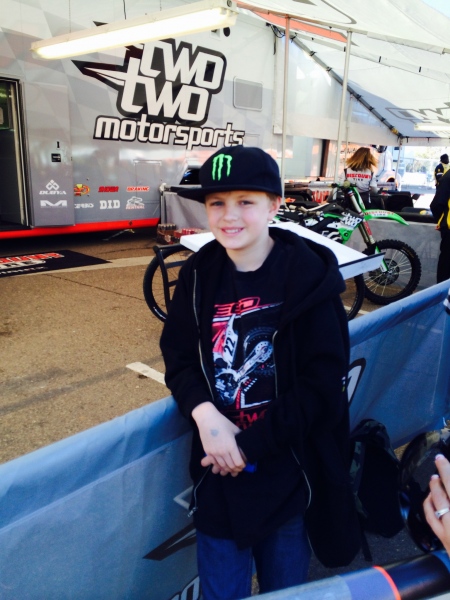 This was Cole's third ever Supercross, second race this year. His reason for picking Chad, "He's the BEST rider". Cole had been waiting for almost 2 hours but did not know what he would say to Chad other than "Hi." Hopefully he thought of more to say by the time Chad came out!
First Fans Standing for Justin Barcia: Bryan Nunen and family, Los Angeles, CA.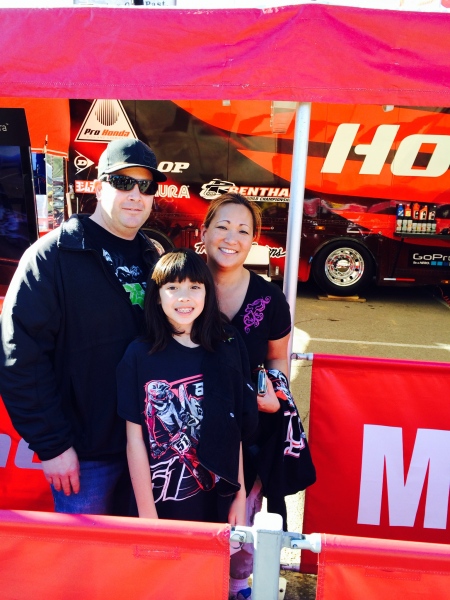 Bryan and his wife and daughter also attended Anaheim 1 this year. They planned to tell Barcia that "tonight is your night for a win, we're feeling it!" They waited at the front of the line for over an hour.
First Fan Standing for Ryan Dungey: Nick Everheart, and 6 year old Sawyer, Cathedral City, CA.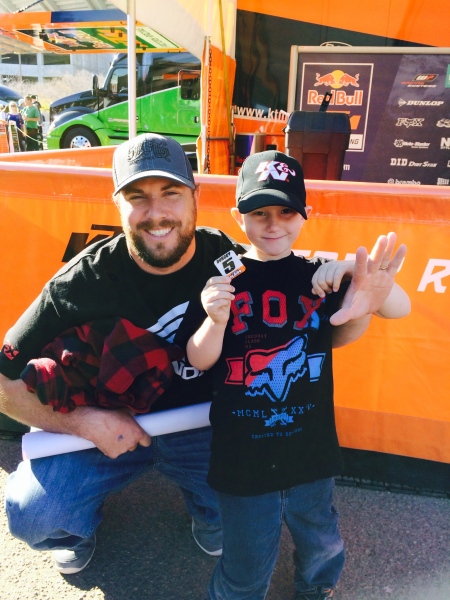 This was Sawyer's first ever Supercross. He waited in line for almost 2 hours to meet Ryan Dungey so they could tell him to "get the W tonight!"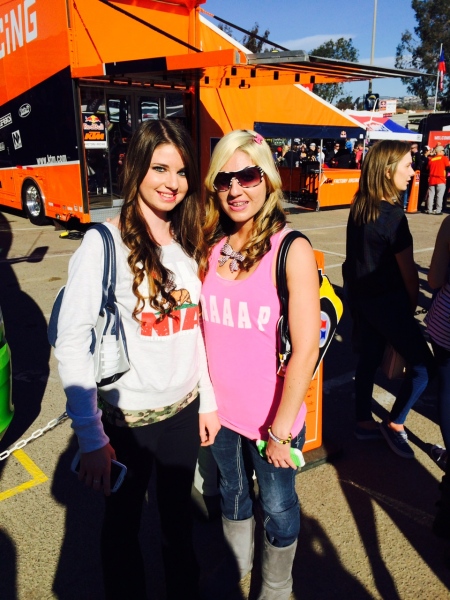 Last Fans Standing in autograph line for Ryan Dungey: Danielle and sister Reanna, Hemet, CA. Danielle had not been to a Supercross this year but she had previously met Ryan Dungey before and says he has always been really nice to her. She always shows him her beaded bracelet that says "Dungey" on it. When asked if she would also ask for a hug from Ryan she responded "Hell ya!" Atta girl, Danielle! Always get a hug too!
Next we salute the brave souls who not only waited in line to get back into the pits but also waited outside of the semis for one last picture/autograph/souvenier after the race to cap off their Supercross experience.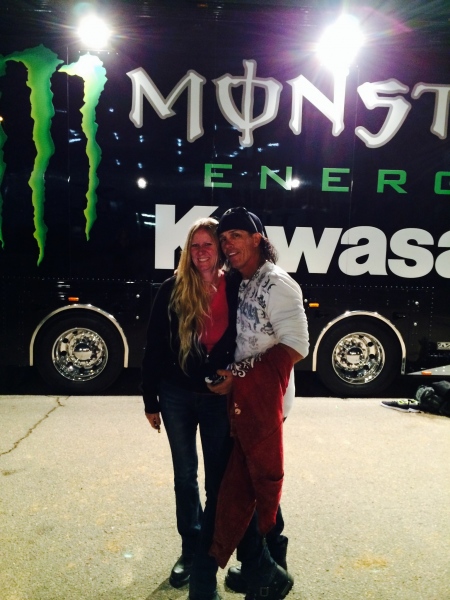 Last Fans Standing for Ryan Villopoto: Angie and Peter, San Diego, CA.
At their first race of 2014 this enthusiastic couple didn't want to meet any other riders but RV. Brand loyal Kawi riders Angie and Peter planned to send their photos with RV to close friends and also their daughter.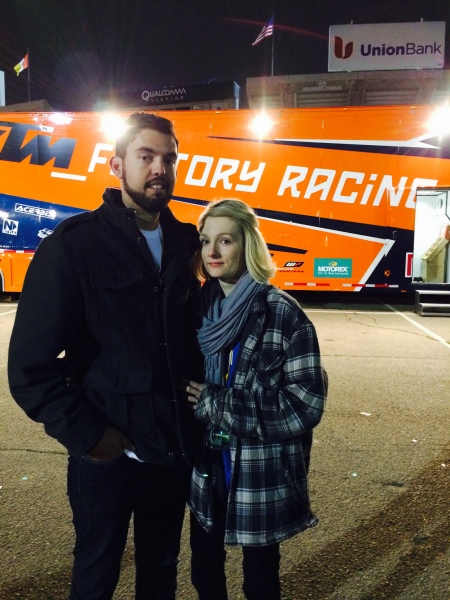 Last Fans Standing for Ryan Dungey: Newlyweds Nathan and Megan, Arizona.
This newly married couple were attending Supercross while on their honeymoon! They also attended Phoenix Supercross this year but had never met Ryan Dungey before. After Megan took a photo of Nathan and Dunge together Ryan asked Megan if she would also like a photo with him. Nice move. I love that.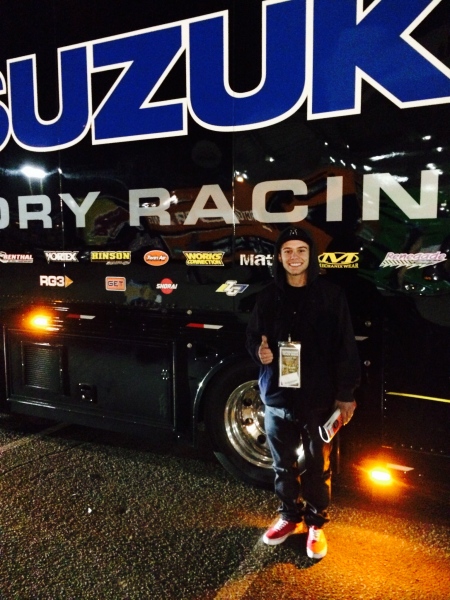 Last Fan Standing for James Stewart: Jacob Loretson, Menifee, CA.
Jacob has attended many Supercross races in the past and even met Stewart's uncle once. He had a photo taken with his favorite rider James Stewart which he says he will "hang on the wall in my room and cherish for a long time." James said he hoped to win tickets to the final round in Las Vegas to which I suggested he listen to the Fly Racing Moto 60 Show Thursdays at noon on PulpMX.com for a possible chance to win tickets. (B to B)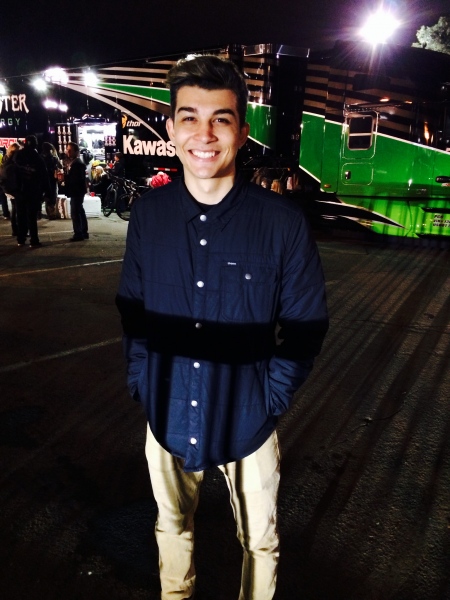 Last Fan Standing for Justin Hill: James Kim, San Diego, CA. 17 years old.
James and his dad have a yearly tradition of attending Supercross in San Diego. James was the last fan at the Pro Circuit truck to get a photo with first time winner Justin Hill. Although James had never met Justin before he said it was "pretty sweet to get a photo with him and see him celebrating his first win with his brother."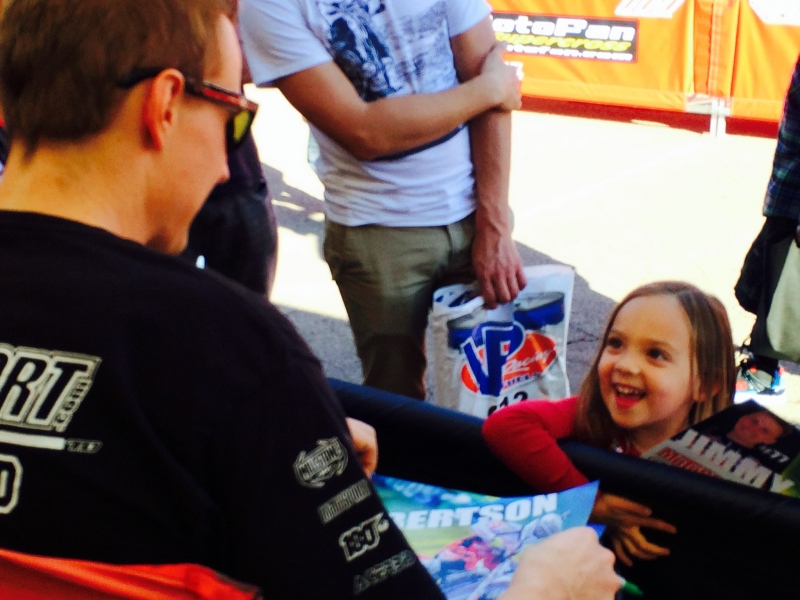 At the end of the day Supercross is what it is because of these fans and many others just like them in cities all across America and beyond. For example, check out the look on 3-year old Savannah's face when she finally got to meet her favorite rider, Jimmy Albertson. Isn't this what it's all about? If I ever met Howard Stern I'm pretty sure I would have the same look on my face.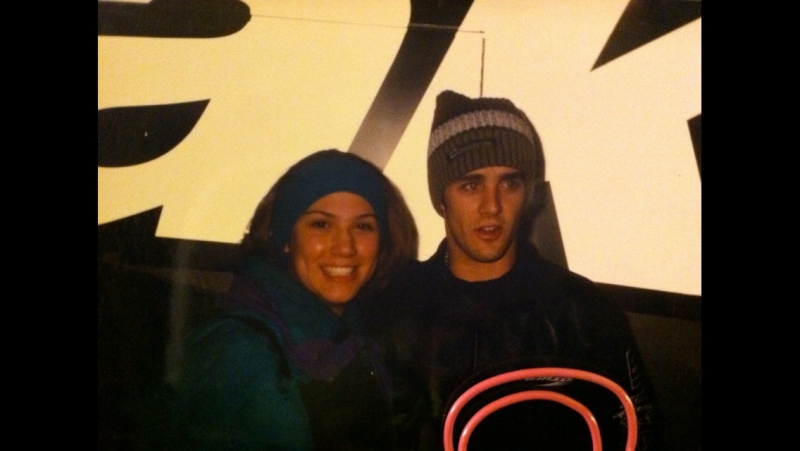 Lastly, here is a photo of me and Jeff Emig from 1997 Minneapolis Supercross. A race that was so cold that there were no pits set up. Only closed-door semi trucks in a parking lot. But that was not going to stop me from getting a picture with my favorite rider. I waited outside the Kawasaki truck for almost an hour before he came out. I would do it all over again, for the love of the sport. First and foremost we are fans. We are Supercross.
Until next time, ELE everybody- Pookie