Jace Owen and Killey Rusk came up Just Short of the main event this week in Dallas
Jace Owen and Killey Rusk came up Just Short of the main event this week in Dallas
Just Short Vol. 3 #6
Photos: Thee James Lissimore
No need for foreplay this week, these guys came up Just Short of qualifying for the main events in Dallas. Turn off the lights and take off your clothes, time to get it on.
#410 – Jace Owen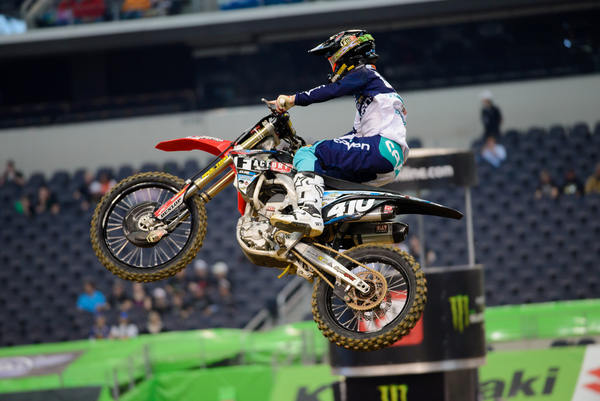 Go follow Jace on Instagram and twitter @jaceowen410 I didn't have time this week to even fake doing any type of research. I provide an email address at the bottom to forward all your complaints to.
#92 – Killy Rusk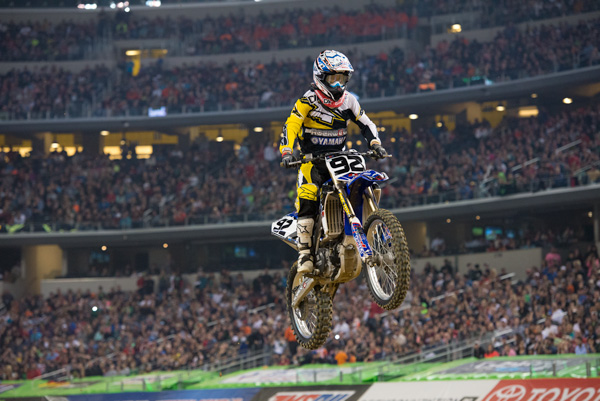 I don't know what it means when you start using the search feature on pulpmx.com to look up things you have previously written about a guy but that's where I'm at now. On the AMA results sheet Rusk was listed as Killian and Google was none too helpful with his legal name. Rusk sounded familiar so a quick search on pulpmx.com and bing bang I pieced it all together. What's that you say? You want to read when I have previously written about Rusk? I appreciate your appreciation of my material and here is the link. http://pulpmx.com/stories/just-short-vol2-phoenix
All right enough text, you aren't fooling anyone, I know you only scroll through this article for the pictures.
Instagram Emulation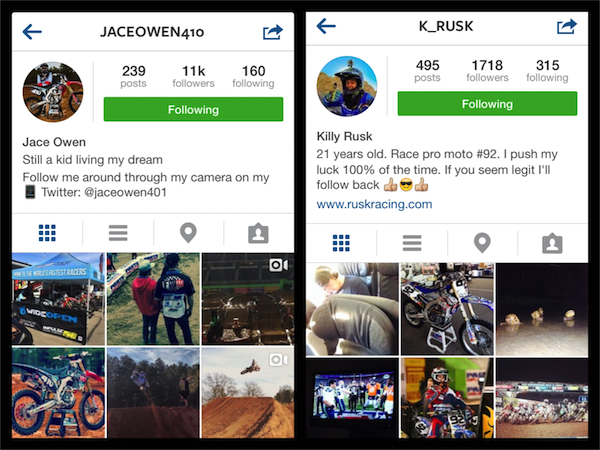 Stats: Wow Jace has 11k followers- a whopping 10 times the followers of Rusk. When push comes to shove it really comes down to the number of followers you have, ask Moses.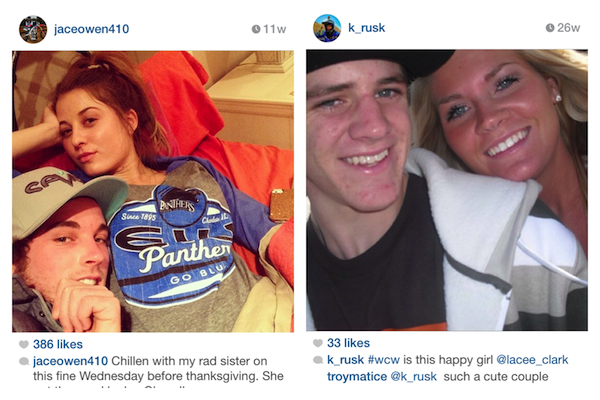 Chillaxing: Your standard 'I'm going to look as relaxed as possible taking this selfie' photo.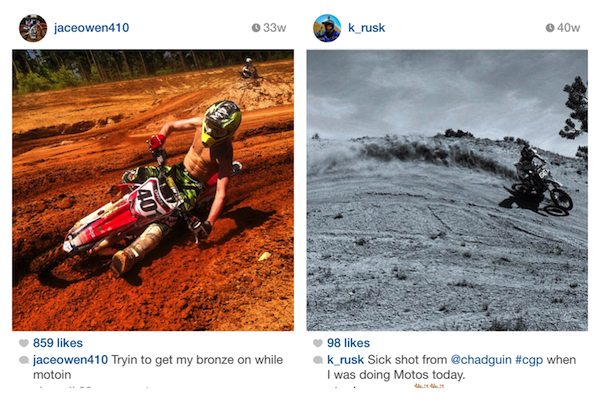 Corner: Rusk got pretty artistic here, not just the black and white but also zoomed out, roost, sky in the background well done. Videos with blades of grass and barbwire have got nothing on Rusk. Want to know how you make any photo better? It's simple make it topless. Jace demonstrates, raliling a corner cool, railing it topless awesome.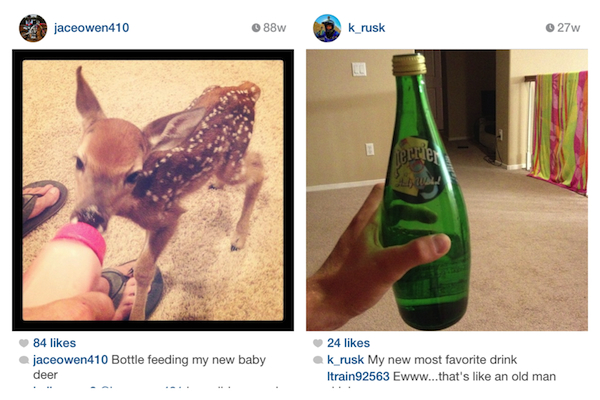 Drink: I'm really torn here between milk from a nipple and water. Both the essentials of life but it's hard to beat mothers milk.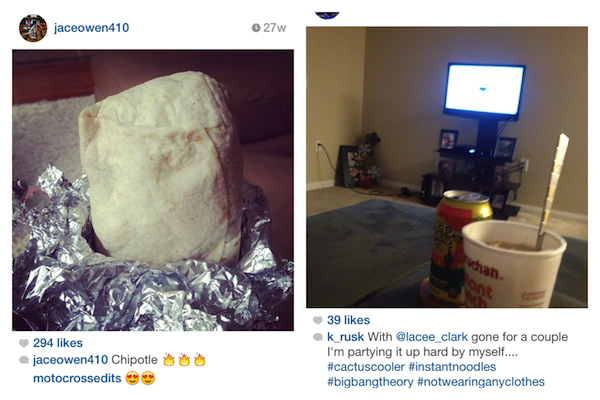 Food: Chipolte burrito vs. cup of noodle soup. I've enjoyed both of these with great pleasure. If you can afford it you're going to eat Chipolte. If you're a broke privateer or college student you eat cup of noodle.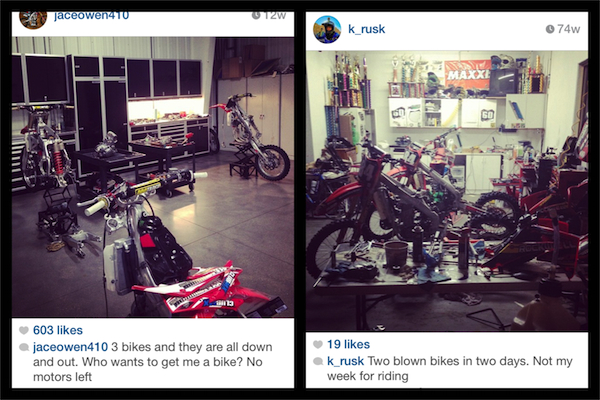 Garages: Both garages are well organized; both have engines lying on the ground. Jace's garage has more sex appeal, but Rusk has some serious OCD tendencies after stalking his Instagram.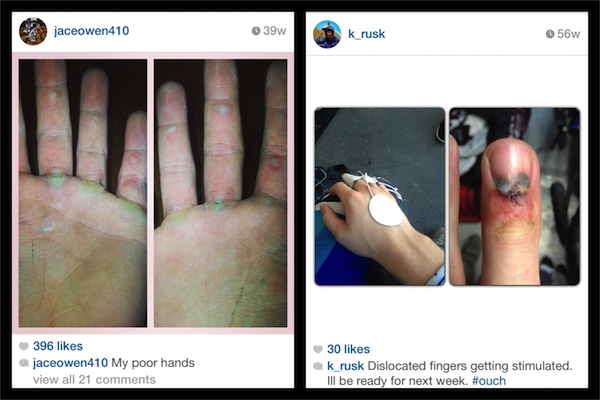 Hands: Both these dudes have given their hands a beating.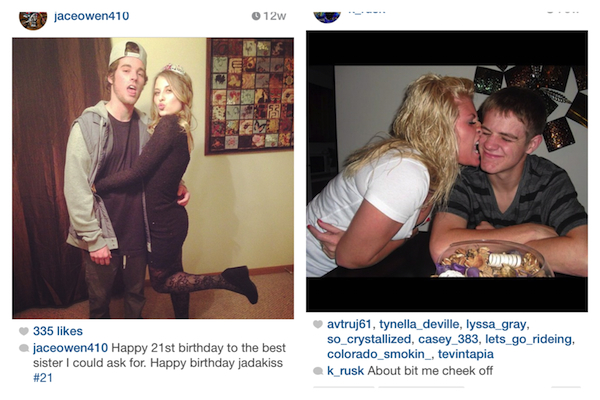 Kiss-selfie: We've all posted pictures like this and nobody is proud of it.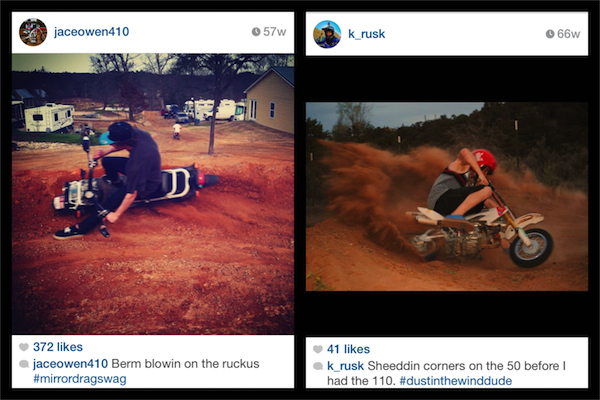 Pitbikes: Both guys with solid corner speed and roost but Rusk had the upper hand in this round.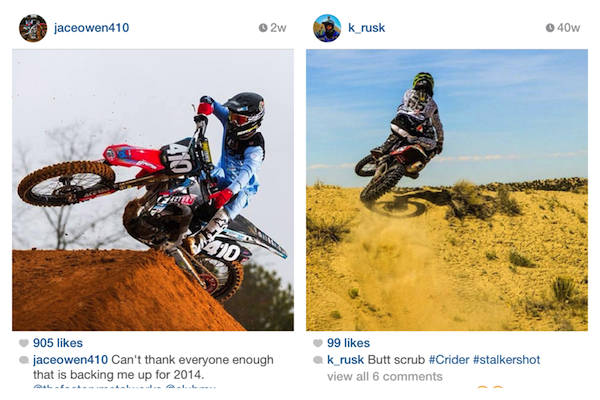 Scrub: They both get a 5 out of 10 on these scrubs.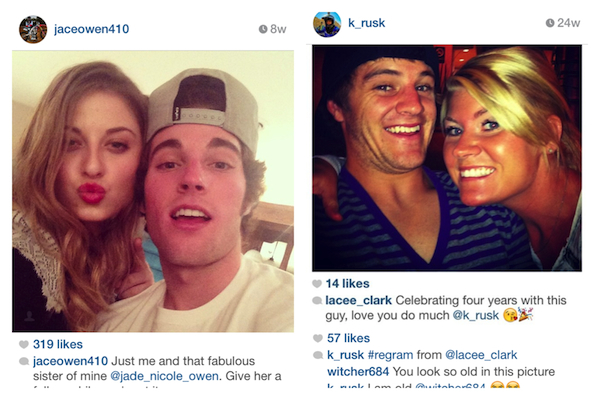 Selfie: This is the best selfie match up we've had yet. Neck and neck between these two.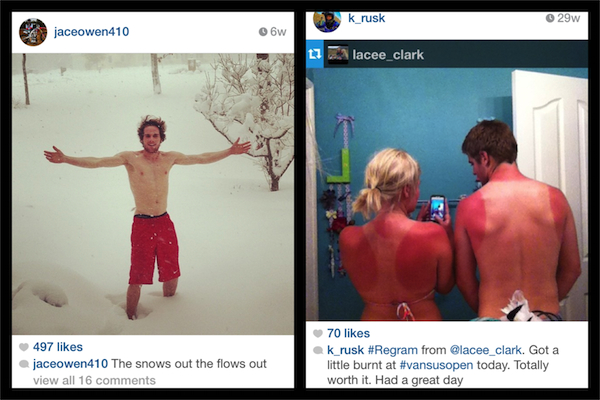 Swimsuits: Snow and sunburns. I predict shrinkage and aloe is in their future.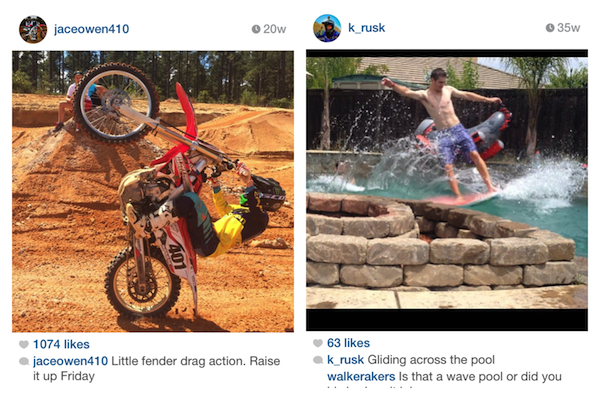 Wheelie: These boner wheelies are all the craze, am I too old to learn these? Is there a YouTube how to tutorial? Rusk didn't really have a wheelie picture but this was close enough.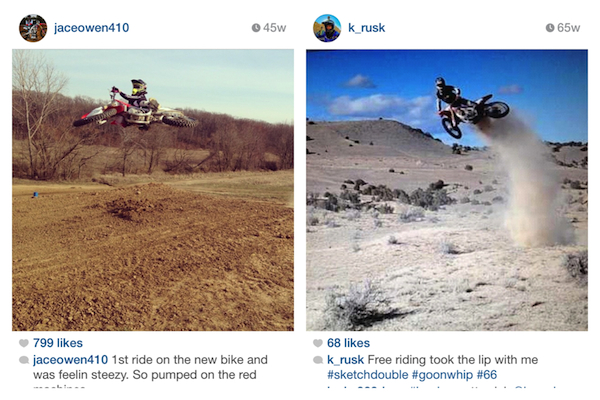 Whip: Well done by Jace here very nice whip. Rusk looks like he blew through an ant hill on the takeoff. It really adds an element to the depth of the picture with all that dust. The picture quality is grainy though which is unacceptable in this day of age, we're not watching scrambled porn anymore people.
Thanks for reading please send any and all comments to jasonw@racerxill.com