The former supercross and national winner takes your questions
The former supercross and national winner takes your questions
By David Vuillemin
Does Tony Cairoli have any plans on coming to the U.S. before he retires to race supercross and/or outdoors?
Vuillemin: I really doubt you will see Tony race a full season, SX and MX, in the US. He has been focused on winning World MX Championship for a while and might dethrone the European King, Stefan Everts, one day. As far as racing in the US, I would love to see him race a full season on Outdoors here but I am not sure if he will. He might want to do a race in the summer like Desalle did last year but it's always a big organization for 1 or 2 races and some risks to jeopardize what he's paid to do, win a World title… Anyhow, even if we see him for a single race, it wouldn't reflect his true abilities because of different bike setup for US tracks, jet lag and also because he'll have in his mind not to get hurt to finish his GP season…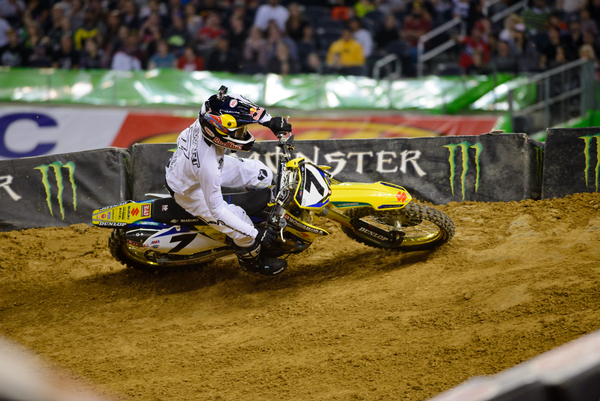 Stewart went with a hard pack tire in the heat but switched to intermediate one for the main. Lissimore photo
Joel Robidart @Joelvet347Feb 15
Did James make a good tire decision based on his talk with DV on pulpmx?
I'd love to believe we/I had something to do with this but I really doubt it. But I'm glad he used a different tire than what I refer to the "Southwick Tire". I wasn't in Dallas and I didn't see this new tire he used but it has to be something more suitable to hard packed tracks. I'm happy to see he tried some technical solutions to improve his bike rather than use what everyone else is using… I'm always shocked when I hear RV says he's gonna salvage points on hard packed tracks and sounding like he's not gonna try everything to win on that surface nor drastically change his bike setup to actually give him the tools to be comfortable. So, I'm happy James took a chance with something that could have helped him and it seems like it did. In motorsports, you don't want to get lost by going all over the place with setups but there is a happy medium where you can tweak your bike differently for different tracks. What works in your backyard in Florida will not work in Dallas nor Anaheim.
Mick Bailey @six_four_oneFeb 15
On a scale of "straight trippin'" to "totally buggin'" how full of shit is Barcia regarding that move on Roczen?
It was bam bam pass on rock to aggressive ?
How can BamBam not have a clue that was there? Do you believe it?
I just watch his post race interview once again. No, I don't believe him but that's just my opinion. His actual pass in the turn before the triple was ok but what he pulled on the triple was inadmissible, dangerous and useless. Here is what I tweeted seconds after the incident: "If I'm the AMA, I'd fine/dock Barcia for this dangerous and useless move on the triple…". Our sport is already dangerous enough, we don't need riders to pull stuff like that intentionally…
Jonathan Dennill @JonathanDennillFeb 16
Thoughts on James Stewart saying there's an 80% of retiring next year.
I really hope it won't be the case… It sucks when athletes that changed the sport and are on top of their game retire. We've seen it with Everts, RC, MC. But, you have to respect their decision. It's a tough sport with a huge work load to stay at the top, crashes, injuries, pressure to perform etc… I like to see him ride and always try to take the sport to the next level. If he retires, he'll be missed for sure but he'll always be one of the biggest legend of our sport.
Do you think Roczen/Barcia fued will be the next great rivalry or will it fizzle out?
I'm sure Barcia will keep riding like that. He has been riding overly aggressive since he turned pro. As far as Roczen, I hope he's smarter than retaliating. He shouldn't play in Barcia's game. It will hurt him, not physically, but in the chase of the championship. Getting in a feud on and off the track will cost both riders points and will make them lose their focus on the actual goals, riding fast, scoring point, winning races. If Ken is smart, he will go to the next race and do his job like nothing happened in Dallas.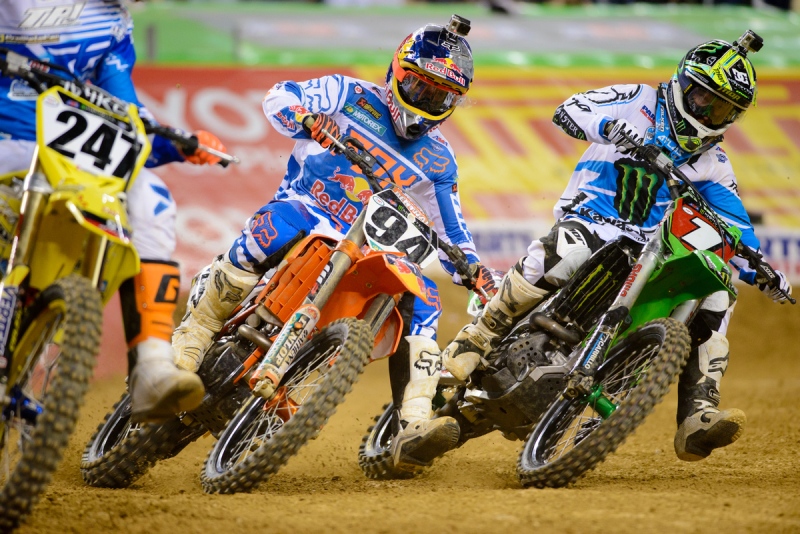 Roczen and Villopoto are close on and off the track. Lissimore photo
Brad Sellers @Brad_SellersFeb 16
If you're riding SX tomorrow, who do want building your bike today? Matthes or Watson?
You're asking me if I would choose between a broken or a broken leg or between a Hyundai and a Kia! . Gotta go with the mechanic that won a supercross before 😉
Will Blake Wharton win a SX race this season?
Why wouldn't he? He won a race last year, he has a great (better?) bike this year and he was only .6sec off the fastest time in practice. Yes, he took some time off and his preparation might not be as good as the other guys but with a 48 second lap like in Dallas, the 250 main is 12 minutes… It's shorter than my 80cc 12-16 motos in French Championship in 1990 which were 15min + 2 laps! I'm sure Blake has everything he needs to win a race against a rookie, a convalescent national champ and a foreigner that loses the front very often…
Do you think RV is being to nice to Kenny on the track? and will it come back to bite him in the championship?
I sensed the same thing in the previous races but you have to realize that with the speed those guys are going, be too aggressive can result in crashes… But why would he be nice to him? They are training partners but winning races, making over $100k in win bonuses, winning titles and over $1M prizes shouldn't be affected by a training friendship. If I was training partner with JT$ in 07, I would have made the same move on him in the last turn of the LCQ at the San Francisco SX.
How much skill has 4 strokes taken out of the sport of SX compared to the 2 stroke?
I don't think it took skills out but, rather added some… 2 strokes specialists like me often had a tough time adjusting to the 4 strokes. 4 strokes killed corner speed when everyone switched to them because they were heavy and engine setups made them difficult to maneuver. Nowadays, a 450 is ridden a lot like a 250 2 stroke. You can see riders railing the turns and racing the tracks compare to 6-7 years ago. It takes skills to ride a 450. Look the different efficiency between Stewart and Barcia for example.
@DavidVuilleminRV Sx purse is $40510, how much do u think he made in other sponsor bonus $ with those results? Or how much bonus money did you make for those 6 finishes in your best $ year?
I don't know what RV bonuses are but I can tell you what my Yamaha bonuses were in the 6 years I was there, $75k for the win, $25k for second and $10k for third. 4th was $0. What was interesting was that if I was second behind a Yamaha rider, I got 2nd a few times behind MC in 2000 for example, my 2nd place bonus was $35k instead of $25k. If I had to speculate, RV is around a buck fiddy for a race win with Kawi, Thor, Oakley, Monster etc… But could even be higher though…