The Beast from the East at two different points in his life
The Beast from the East at two different points in his life
Hi everyone, from the late 80s through the mid 90s I was a contributing photographer for Hi-Torque Publications (MXA and Dirt Bike magazine). The photos that you see here were never published and have been stored as 35mm slides for the last 15-20 years. A month or so ago, I finally got around to purchasing a quality scanner and the journey began, going through these images has been a revelation, as I haven't looked at any of them since I put them away and had only seen them as tiny little 35mm slides. Scanning them, then seeing the images on a computer screen has been like seeing them for the first time, they stir up lots of great memories, and bring back a great era for motocross, lots of bright color, big characters and of course, some true legends of the sport.I hope you enjoy viewing them as much as I have-Mike Sweeney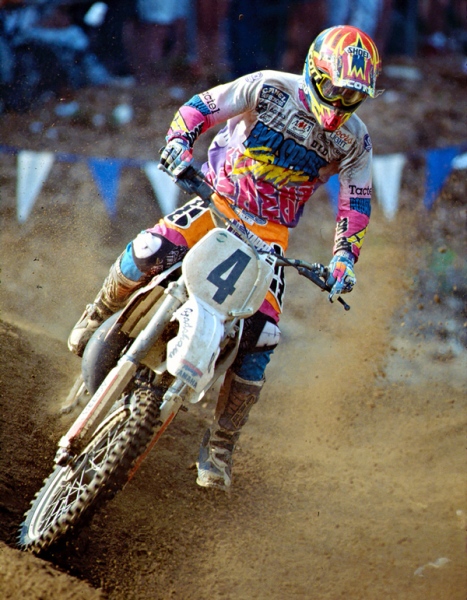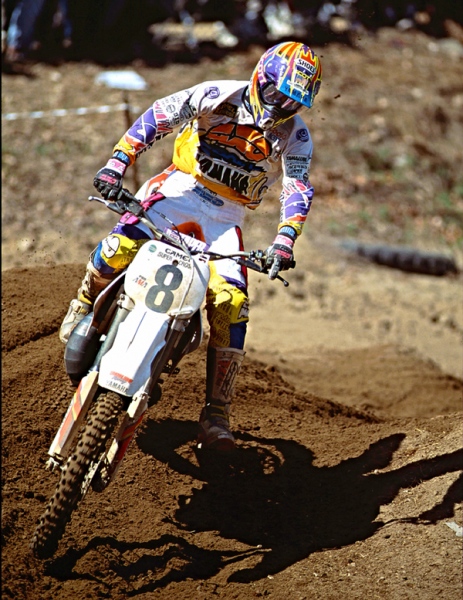 Sweeney- "Hi Everyone, one of my favorite features that Racer X runs is "Style Check" showing photos of different riders on the same part of the track. Lately they've been doing some retro ones which I think are very cool. With that in mind, I thought I would throw a new twist at that and run a "Style Check" of the same rider in the same corner in consecutive years.
Damon Bradshaw on his factory Yamaha, 1992 on top and 1993 on bottom.
The corner pictured here is from Southwick, I'm pretty sure this is the corner after the table top by the grandstands. Back then the track went the opposite way than it does now with a right hand first corner I really liked shooting this corner and scored a full page in MXA from the '93 race, with a shot of Guy Cooper blasting sand.
As to these photos, the shot of Damon on the #4 bike is from 1992, the bike is fairly stock looking. The #8 bike however… check out that hand welded and fabricated cone pipe! Sweet jesus that thing is a work of art! This bike, or at least the pipe looks a lot more "factory".
Unfortunately it didn't do Damon much good, we would never run a national number lower than 4 for the rest of his career."
Matthes- "First off, really cool that Sweeney was able to capture two photos of the Beast from the East in the same turn two years in a row. Same Damon Bradshaw body but much, much different Damon Bradshaw, to borrow the phrase of our own Jeff Emig, "mindset".
The photo on top is Damon from 1992 and the bottom is from 1993. And by the way, doesn't it seem like Damon was either #4 or #8 every single year after 1989 when he was #45?
The #4 Damon from 1992 finished third overall at Southwick on the day this photo was taken and was looking great to win his first 250SX title. Just two months after this photo was taken Bradshaw folded under the pressure and was unable to protect a nine point lead at the last round at the LA Coliseum. But when this photo was taken, life was good.
The #8 Damon finished ninth overall at Southwick on the day this photo was taken and he just didn't have anything for guys like Phil Lawrence and Brian McElroy at the 'Wick. The 1993 supercross series was in the rear view mirror when this photo was taken and Bradshaw, the favorite going in, ended up a distant fourth while some kid named Jeremy McGrath took the supercross world by storm. Bradshaw would go on to finish ninth in this 250MX series, ride some 125MX races when the series went to 500's and then stun the motocross world by retiring at the end of the year.
So Weege, I think of all this when I look at these photos. And oh yeah, also that Bradshaw's mechanic Brian Luiness just ran the "Camel Supercross" sticker on Damon's bike at an outdoor national…I'm in shock at that move.
What about you?"
Weigandt- "I'm seriously going to look through some old national pics–I think a lot of mechanics just left supercross series stickers on their bikes all year long back in those days. Apparently getting and applying stickers and graphics was VERY difficult.
As a kid, nothing, nothing, nothing intrigued me more than the Bradshaw story. He was so super destined to be the guy it made absolutely no sense that it didn't work out–I really can't even come up with another story like this that comes close. Not injured, just "lost it." But now that the whole deal has been dissected so many times, and we've even both talked to Bradshaw ourselves, some of the mystery is gone. Plus, the problem with these old days is that things get gnarlier and more professional every year. We're now going 20 years deep on Bradshaw's glory days, and I bet if you looked at the program he was running back then, even with success, it wouldn't compared to what Villopoto and Roczen are doing right now.
So I'm gonna just end the "what happened to Bradshaw" deal right here and move on. No more comparing Damon to modern dudes, let's just celebrate what he did when he did it. And for starters, that effing gear is SWEET. His '93 stuff, especially, when combined with the orange bike trim (my FAVE) was just unbeatable. Have I ever told you how much I love retro gear design?"
Matthes- "I know that in 1993 I was just checking the results every week (well, trying to check the results every week. Living in Canada, it was very hard to keep current) and just waiting and waiting for Damon to start kicking it into gear and blow this stupid McGrath kid away. I was watching an old race the other day (shocking I know) and Despain was saying "We've all been wondering what's been going on with Bradshaw this year and his team manager Keith McCarty told me that he should be much better this week." And then Damon got something like 8th while MC just took off for another win.
Imagine being Yamaha and you're paying this kid $300K or so back then (HUGE money by the way for 1993) and he's just stinking it up every week? But as we know, Damon "stopped hating everybody" as he told me in our podcast and his heart wasn't into it anymore.
I don't even care, he's always been and will always be, a bad-ass."