This year, I once again got to make the lovely trek to annual Moto Mecca of the dirty south – Atlanta.

This year, I once again got to make the lovely trek to annual Moto Mecca of the dirty south – Atlanta. This year I thought it would be fun to document a little of my behind-the-scenes adventure and pass it along for everyone to enjoy. Here is the story in pictures of my weekend in The Big Peach.

Oh Atlanta Supercross, how do I love the? Let me count the ways.
1. Time to thaw out: If it is February and you are not under 2 feet of snow, I would consider that a win. For someone coming from the Northeast in the middle of winter, just being able to wear a t-shirt and shorts is a treat beyond belief. At this point, I have not seen the bare ground in over a month, so the 70-degree temps of the South are a welcome change. One more week of dingy brown snow and dreary skies and I was going to go all Misery on someone.
2. Tongue and Groove The DMXS Supercross pre-party has become an Atlanta tradition and is an event not to be missed. Although your chances of meeting a rider are slim (You will see a few, but most serious guys are not getting hammered on a Friday night before a race. Ah, if only it was still the '90's….), you do have a good chance of hanging with some industry insiders. Just make sure you are not allergic to silicone, or you might be in for a rough night.
3. Real dirt: Atlanta may not be the rut-fest it was back in the day, but it is still better than any SoCal concrete track. Something about that beautiful Georgia clay always leads to great racing and 9 times out of 10, the ATL tracks are interesting in design and fun to watch.
4. The Vibe: Nothing beats the energy in Atlanta. It may not have the hype of the opener, or the hoochies of Vegas, but it does have an excitement all its own. The Georgia Dome is always packed and the crowd is really into the racing. Sometimes the Atlanta pits may resemble a cattle drive more than a motocross race, but there is never a lack of enthusiasm.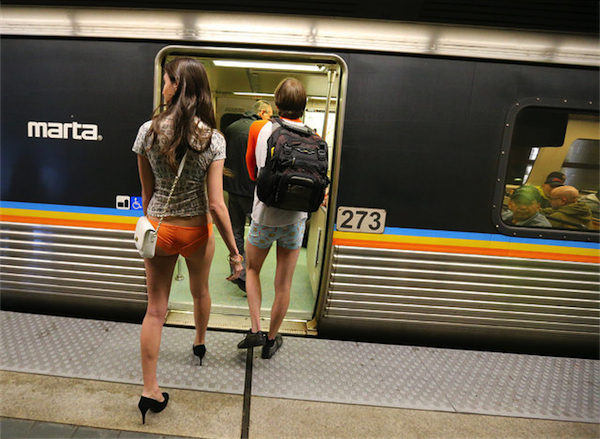 5. Marta: This may seem like a silly thing to list as a love for Atlanta, but this makes the whole Atlanta experience so much better for me. I used to drive to this event every year before I could afford anything as high falootin as a plane ticket and I always hated dealing with the parking and other nonsense in downtown Atlanta. In '96, I got lost after the race trying to find my way around Olympic detours and drove around till 3AM in the morning looking for the highway. When I stopped to ask for directions, a dude nearly car-jacked me. As any reader of my previous adventures would know, I don't do well with maps and such, so any opportunity to skip the car experience makes my life a lot easier. In ATL, you can get off a plane, get on a train and never deal with any hassles. For me, that is a huge win.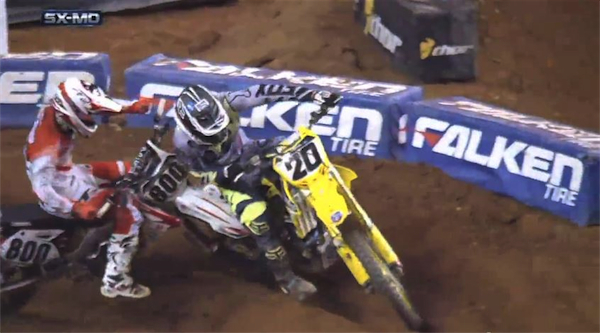 6. Great action: Grant Langston punch-outs, Chad Reed take-outs, Mickaël Pichon bail-outs; you get 'em all in Atlanta. Everything from the greatest race of all time (1990) to the bitch slap heard around the world (DV on Roncada 2002) has gone down in the ATL. When the light go on in Georgia, anything is possible. This year, we got T-Bone-Gate and the take-out of all take-outs. Mike Alessi's center punch on Broc Tickle was enough to make even Bradshaw blush. Oh Universe, thou art a cruel mistress indeed…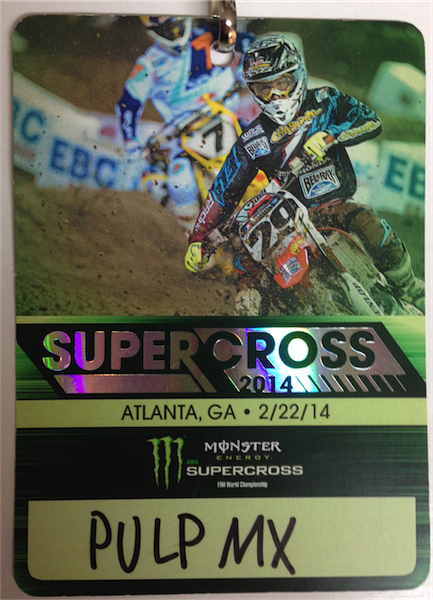 7. Put frankly, just about every other dang thing about this event. It has been a staple on my race calendar for twenty years now and it just keeps getting better. The last few years I have been afforded access I never could have dreamed of as a wet-behind-the-ears moto-dork back in 1989. Now I get to talk to the riders, walk the track and hobnob with the MX glitterati a few times a year. For any true moto enthusiast, that is a dream come true and I savor every second of it. Thanks as always to Steve Matthes, for letting me live out a little bit of the dream every year.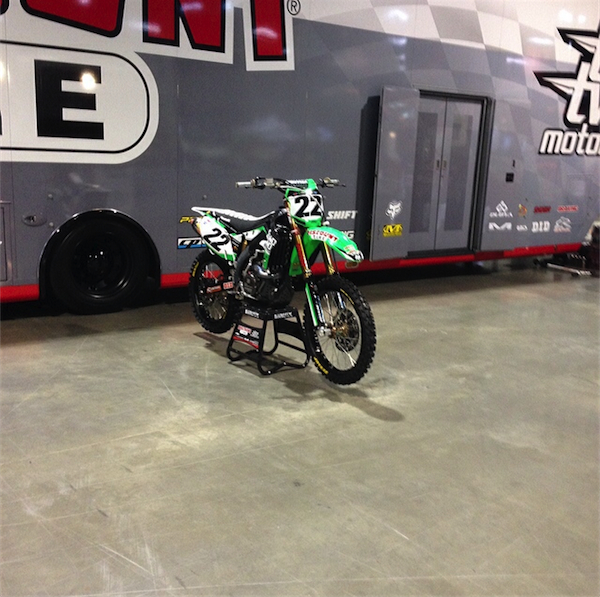 8. Bummed: Man this was such a downer. As soon as I walked in the pits Saturday morning I was greeted by this lonely sight. The TwoTwo truck was there, but there was no Speedy Reedy to be seen. Their setup looked positively deserted with no mechanics bustling around and a single KX450F sitting all by its lonesome. For me, all the air went out of the series with Chad's departure, but the show must go on. Hopefully he will be back up to speed by the time we hit the great outdoors. Get well soon Champ.
9. Mmmmm… red plate, pretty: I think a lot of people had to be surprised with Adam Cianciarulo's Dallas victory after the struggles he had in the Nationals last summer. It is pretty clear he is in a much better place physically and is a legitimate contender for the title as a rookie.
10. Oops: I had a rather unfortunate moment early in the day when I Tweeted a picture of Bagget's Kawasaki and my iPhone thought I said "Faggot's" Kawasaki. Thankfully, some of my followers were quick to point out this little gaffe. Oh Siri, you silly girl…
11. Long time coming: I was there live when Martin hit his first podium at Atlanta all the way back in 2006 (and I had no idea who he was) and I was there for his first win nearly a decade later. While I would not consider myself a Davalos fan per se, I was pumped to see him finally get that elusive first win. The way Martin is riding, this really could be his year.
12. Track walk: Probably the coolest part of my Atlanta experience is actually getting to walk the track before practice. For anyone who has actually ridden a dirt bike, it is a truly eye opening experience. Jumps that look like a piece of cake from row twenty are absolutely terrifying up close. This uber-gnarly double across the start straight for instance looked absolutely impossible to me. It had no run, a steep take off and a brutally peaked landing. If you gave me a million dollars and a nitro-burning CR500 (much less a 250F), I still don't think I could execute this leap. The talent these guys have is truly incredible.
13. In Atlanta we had two whoop sections and neither one was of the easy variety . Even the top guys like RV were having trouble getting through them smoothly. With very little run going in and an odd spacing throughout, it looked to be hard to get a consistent drive. By the end of the main event, most guys were electing to jump, instead of blitz this section.
Probably the coolest part of going on track walk was getting to watch Kevin Windham work on his transfer for opening ceremonies. I am a huge Windham fan and it is great to see him staying involved with the series. Being right next to the whoops as one of these guys blitz them will send shivers down your spine.
While the transfer is always cool, this week's was one of the more tame leaps K-Dub has attempted.
14. Gnarly bro: This is the view from the takeoff of the big triple that was giving the 250F guys fits all day. This sucker was incredibly steep (I almost busted my ass just trying walk up the dang thing) and just a bit longer than normal. All day long guys were coming up short on this thing and cartwheeling down the track. It actually reminded me of the old days when the 125's would struggle to clear the big jumps at some tracks.
15. Braaaaapp: Here is a better view of that same triple. The takeoff was so steep that it seemed to throw guys more up than out and the slightest miscalculation held dire consequences. In the 450's, guys like RV started seat bouncing this mega-leap from the inside to save a few feet of track. In the main, this line would cost RV the lead, as his rear tire spun out of the corner and allowed Roczen to triple over his head.
16. This really cool and really massive Monster Energy Cup trophy was on display in the Yoshimura Suzuki pits. Perhaps a bit large for your average den, it certainly makes quite a first impression.
17. A lot of us thought the man formerly known as Bubba was going to make it three-in-a-row in Atlanta. He was on fire all day and made the nasty Atlanta track look like child's play. Unfortunately, a washed out front end while in second place and a peculiarly lackadaisical attempt to rejoin the race would leave the #7 in last after the first lap. The 11th he carded in Atlanta has to be a major blow to his Championship aspirations.
18. it is no secret that all the Honda's have been struggling a bit in the 450 class. It will be interesting to see if Trey can turn around their fortunes when he finally returns from his broken arm.
19. If you look ever so closely at the back of the rear swingarm, you can see the Acme bulls-eye Berlutti installed for the second heat race.
20. Mafia bro: I was going to make a parts changing joke here, but Luca Brasi advised me not to…
21. The Rock even looks scary when he is updating his Facebook status, wait, whom am I kidding? The Rock ain't got no stinking Facebook!
22 . There is a great view of the track from the Atlanta press box. I had a front row seat for the Triple of Death show all afternoon.
23. After practice, I got to watch as Andy Boyer, Jason Thomas, Matthes and Weege do the Pre-Race Pulpcast. This is always an interesting experience, as audio can't capture the fun back and forth that goes on visually between the guys.
24. The mobile Blazier command center.
25. After the mains, I went back to the pits to hang with Matthes as he collected EKS Brand googles from the riders he supports and tried to nail a few interviews. Along the way, I got to meet the lovely Georgia Albertson and her new friend.
26. Lil Will had an awesome day in Atlanta, scoring a career best 4th in the main. I offered to go score him some sweet Caribou coffee to celebrate, but he declined.
27. Brayton was another guy with an excellent finish in Atlanta. He was solid in the gnarly whoops all day and nailed down a 5th in the main.
28.For obvious reasons, Broc Tickle was a popular interview after the mains.
29. Although AC struggled in the whoops all day (including pretty good get offs in both practice and his heat), he pulled it together to score a 2nd in the main. Best of all, he is a really, really nice kid.
30. The smiley-faced assassin did not seem very pleased with another top ten finish, but he is one of the only guys to crack the top ten at every race this year.
31. Guter Kerl: Even thought it was well past midnight, Zee German was still at the Red Bull KTM truck doing interviews and signing autographs. I really love this guy and I think we have to count ourselves lucky he decided to leave Europe and chase American Supercross glory. The series is better off with guys like Kenny in it.
32. Good night Atlanta, thank you for another glorious Supercross adventure.