Who's going where and when? JT$ touches on some riders futures
Who's going where and when? JT$ touches on some riders futures
Photos by James Lissimore
Hammerhead Designs was launched with the intent to provide new and better parts and innovative accessories for motocross bikes. One of our goals has been to design entirely new and unique products with improved ergonomics and the shift lever was the first part that we felt could be dramatically improved by providing a feature that would allow for the shifter to be repositioned to perfectly suit the riders size, shape, and preference.
Welcome to my new column! First, I want to thank Hammerhead Designs for sponsoring this and if you get the chance, head over to HDMoto.com and check out their products. I would also be foolish to not thank Matthes for giving me this platform to speak my mind and hopefully I won't get him into too much trouble. I do a few articles over at Racer X also but this will be a bit different and I can maybe push the envelope a bit more than I would feel comfortable with anywhere else. With that being said, let's get into it!
This week, I wanted to tackle the silly season and where we stand as of today, March 2nd. Being this early situations will certainly change as we move forward but there are many interesting things happening already. This may be the most active silly season in recent memory as lots of guys have expiring contracts in 2014. With so many riders up for grabs, teams will be clamoring to come out swinging in 2015 with powerful new lineups. It's an exciting time for prospective teams and a very busy time for agents.
Jake Weimer: Jake really needed to have a strong 2014 season for some leverage going into this off season. Unfortunately, he has had up and down races before suffering a broken bone in his hand/wrist and a dislocated shoulder. He will be out for a few more weeks but should be able to race the last couple of supercrosses. Hopefully he can come into the outdoor season ready to turn some heads. Jake is one of the coolest guys in the pits and this fact hasn't been lost on the Kawasaki guys. I think after 4 years, though, he will be on a different team in 2015.
JT Prediction: Weimer has potential for podiums so hard to see him not on good equipment. Teams like BTO/KTM, Rockstar KTM, or who knows even the new Factory Husky team would be a good fit.
Trey Canard: Poor Trey. The guy just can't buy a break.. Well he can but it's not the kind of break he is looking for. A multi-race winner, Trey has the ability to beat anyone on the starting line but to do it he has to stay healthy. As I work for Fly Racing and he is a marquis athlete for us, I am anxiously awaiting his return. I can't even imagine how anxious both he and Team Honda are to get the #41 back on track. Trey can and will win races again.
JT Prediction: I think Trey stays at Honda. He fits in with their image and has unlimited potential.
Justin Barcia: Bam Bam has been growing more and more vocal about his bike struggles. Many had him pegged to be a title contender this year and that just hasn't happened. He hasn't looked like himself for much of the season and although he did bounce back with a podium at Dallas, I think he would consider this year a disappointment thus far. He has been a Honda rider since he was on minibikes but I think he may finally be headed elsewhere.
JT Prediction: I have heard more than one time that he is headed to JGR Yamaha and I have no reason to think otherwise.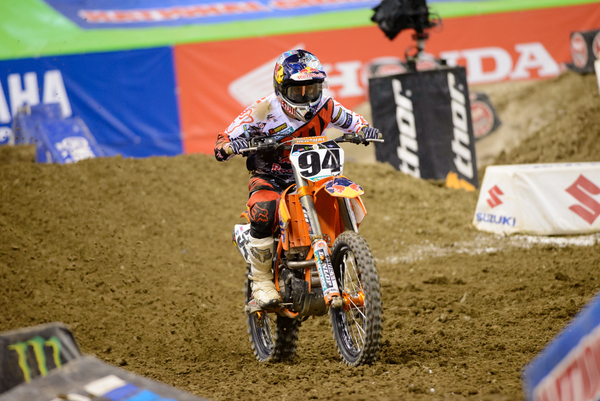 Ken Roczen seems to be headed to the RCH team if rumors are to be believed.
Ken Roczen: Kenny has to be considered the most sought after free agent for 2015. I have a feeling that his agent Steve Astephen's phone started ringing at around 10:30pm on January 4 and probably hasn't stopped since. Roczen is fast, young and extremely marketable. He is globally known and has a huge fan base both in Europe and America. Riders like Roczen don't come available every year and I would bet that every team with a dollar to spend has had a meeting regarding the German superstar.
JT Prediction: Call me crazy but I think you will see Roczen change teams for 2015. I happen to believe that he will end up at RCH Suzuki and bring Red Bull along with him. While the Monster/Kawasaki scenario might still be possible, I think he goes back to his Suzuki roots and stays in the Red Bull family.
Justin Brayton: Brayton has been a bit off from where he started the 2014 season but he definitely was opening eyes early on. After leaving Honda in 2012, I think he is more comfortable on the Yamaha and specifically the new model. JGR seems to be a very good fit for him. His wife is from the Charlotte area and they are expecting a baby later this year so that has to be motivation to stay put.
JT Prediction: No surprise here, I think we see him sign a multi year deal at JGR.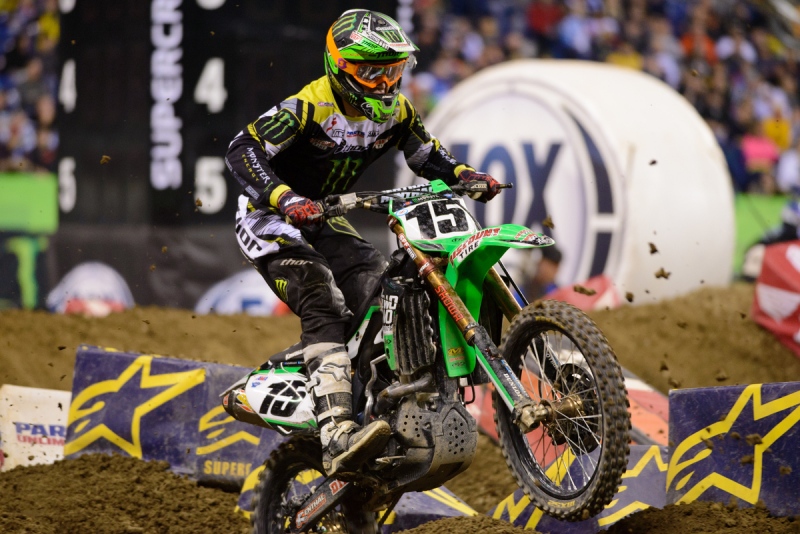 Dean Wilson goes to Red Bull KTM or Team Two-Two according to Thomas.
Dean Wilson: Deano has been in this situation before and it ended with him re-signing to stay in the 250 class. The now defunct Jeff Ward Racing team signed him to a lucrative deal but folded before the season, leaving Dean scrambling. After a rough and tumble couple of years since, he looks poised to make his official move to the 450 class for 2015. If Dean can stay healthy this off season and be prepared on the big bike, he can do serious damage. He has the talent to ride up front and his lap times on the 250 have been as good or better than the 450 guys this year.
JT Prediction: I really like Deano so this one is interesting for me. Seeing as how Dean is riding for Chad Reed's Discount Tire/Two Two Motorsports team at the moment, I have to throw their name into the ring. I also think KTM could be a home for Wilson once Roczen moves over to the RCH team. There is also the possibility of Wilson moving up to replace Weimer but for some reason I just don't see that panning out. Final answer is either TwoTwo or factory KTM.
As the season moves on, I will update these riders and more. It is always tough to go out on a limb this early and also to put out info that may get me into trouble. Of course, all of this is just my opinion but I feel pretty confident on most of it. Once the top riders get their deals signed, you will see some of the other guys start to fall into place. The biggest issue is that none of the teams in the running for an elite rider want to commit their budget until they are certain of who is going where. That ends up making the other riders wait and wait until they can finally get attention to their own plight. I hope you learned something maybe you didn't know yet and hopefully I am proven right on some of these theories! Talk to you guys next week!