It's been an eventful week for the privateer hero.
It's been an eventful week for the privateer hero.
Well, this week was interesting haha. This is one of those highlight reel kind of weeks . It had ups, downs, and all arounds. When you're a privateer you get the exact same glory on the weekends as the factory riders, autographs, mint bike, perfect track, and the same level playing field. The biggest difference between factory riders and privateers is how we make it through the week days. This week for 7deucedeuce was a prime example of how the privateers struggle!
SUNDAY: Well if you didn't know, when you park inside Atlanta SX you have to have less than a quarter-tank of gas. So we pull out of Atlanta sx around 1:00am on Sunday. I went the opposite direction in the van and stayed in a hotel because I needed to drop off riders at the airport at 7am. Meanwhile Ted takes the rig south and I was supposed to meet him down the road in the morning. As everyone probably knows Smart Phones can be dumb ass phones sometimes haha. Ted, who was low on gas, tells his wife Kathy to pull up the nearest gas station. They got off the exit and long story short the huge TPJ/FLY Racing rig is chilling in the middle of some ghetto neighborhood stuck on an up-hill with no gas station in sight, but right there is the phone. Its 4:30 in the morning, before Ted gets back from walking to some bar five miles away and meeting some biker guys that gave him a ride to the nearest gas station to fill up some jugs he found!!! Haha and this is only Sunday!
MONDAY: We make it down to Columbus, GA where the team owner Ted, has family living. Ted says "we're going to go to my sisters house to wash all the bikes". Ted and I pull up to her house and there is no place to park but right on the side of the highway! Just imagine two idiots washing 12 bikes on the side of a highway almost getting nailed by cars! That was Monday hahah!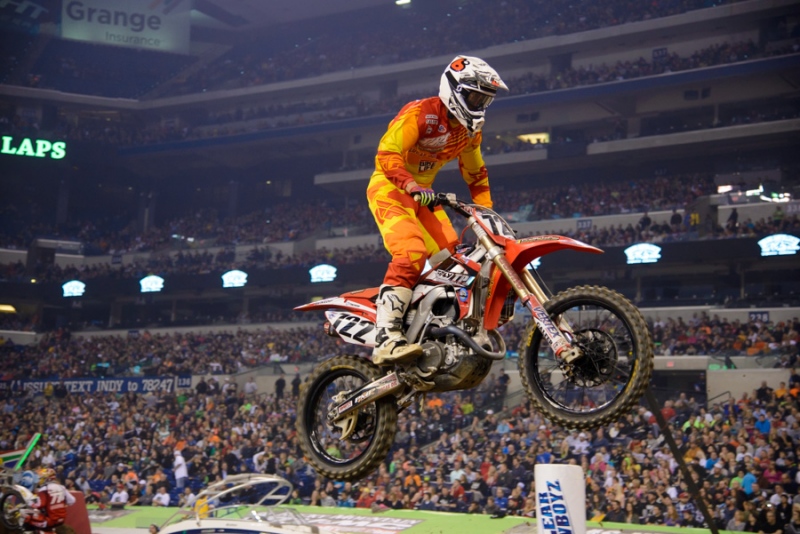 Enticknap had an eventful Indianapolis SX. Photo by Lissimore
TUESDAY: I had mentioned to Ted that the van had been kind of running crappy and good ol'Ted gets it checked out in a heart beat! He brought it to a guy he knew in Columbus to run a diagnostic check, and something with the oil cooler is going bad, so we made an appointment for it to get fixed next week Monday. The van is going to cost $3000 dollars to fix, or its not going to make it very much longer! So bummed out.
WEDNESDAY: I finally get to ride! Ted says "That's going to be a new quote of mine for sure "! Anyways Ted says there are no tracks around here but we could go ride at his moms house. We show up to her house and its all woods, no open area as far as the eye could see haha. When I say woods, I mean like I can barely walk through these freaking woods. So I grab the good old handy AXE and DO WORK. About an hour later I made a track in the woods that was 10 seconds long and never got out of first gear! Shit was sick, it was a workout and some riding all in one session!
THURSDAY: We hit the road and it starts out as a normal day of driving, and then all of the sudden the van starts cutting out. AHHHHH HEELLLLLL NAAAA! Haha-Yep, shit got real again. The alternator on the van went out. Somehow we find an AutoZone close by and they had the part in stock! Who needs a Jiffy Lube or Pep Boys, shit son, not Ted "cash money" Parks! We got the tool box out, and went to work. For all of you that haven't worked on a diesel ford van, its not like working on a gas truck. When you start working on it, you're going in DEEP, by all means it is not a little job, not to mention it was 10 degrees outside ( no seriously, 10 degrees is an exact number of the temperature haha). Five hours later, an alternator changed, an oil fill tube snapped and duct taped back together-we are back on the road!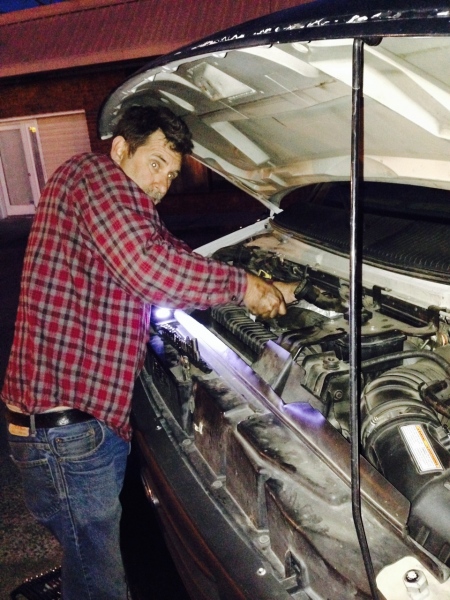 Teddy Parks gets busy changing the alternator. Enticknap photo
FRIDAY: Woke up around 7:00 am and made it to the track for parking and set up around 10 am! I hop out the van excited to finally be settled for the weekend, OH HELL NO, it was like 2 freaking degrees, I was back in than van faster than flies on shit. I called Ted and said "Pack it up we're skipping Indy SX, on to Daytona" haha for reals though! After I got over that we set up are icicle tent, and called it a day. Haha-you know when they don't do sound testing, its COLD!
RACEDAY: IT WAS HANDS DOWN CRAZIEST TRACK I HAVE EVER RACED! The hardest part about Indy Sx was that it got so rutted, but it was still so tacky! Practice was like SQUID city Indiana, Boner air, super endo, Butt whip, cases, jumping into other lanes haha you name any squid move in history it happened to everyone, every lap! I was, like, dude make it around the track and hit all the jumps and you will pull the fastest lap.
Well some how I made it out that shit alive. Hahahahah onto the LCQ. Ya, ya, ya, I know I passed the #11 guy on the outside hahaha! That was some sick ass shit though right!? I mean tell me the last time you seen a guy get T-boned off the track and pin it past him and still take the spot ! Shit was epic. Yes, I was a little hot headed and made a mistake going by him off the track, but can you blame me? I just got completely punted off the track for the last spot of the main event! I am not saying the #11 was dirty, I am mean shit it is the last transfer for the main event, ITS GOING TO GO DOWN, WE ALL KNOW IT!
When I watched it on TV, I was laughing my butt off from the T-bone ,to the magical reappearance of me in front of the #11, to the 7deucedeuce #11 "conversation". And of course me talking shit to AMA guy on how I was right! I was clearly passed by the #11 but man I thought that was awesome TV! If I could go back I would have waited for the #11 to go by and pass him back but its over. I am more motivated and full of confidence then ever. Daytona here I come and you can bet your bottom dollar the 7deucedeuce is going to leave some red paint on a certain riders bike.
I love what I do probably more than anyone I know. I mean where can you bang bars, go as fast as you possibly can, hit PHAT jumps, and people love it, it's supercross! It really doesn't get better than that. Welcome to my 24/7, all day everyday!!!! Bad blood after this weekend? Hell no, supercross is too much fun to be upset about some good racing WOOOOOO 7DEUCEDEUCE OUT!!!!! D-town beach bound b***h PEACE haha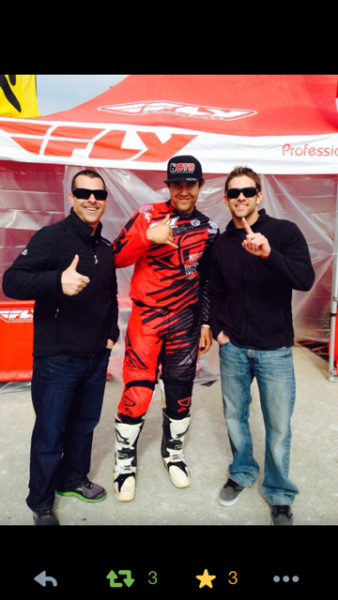 Enticknap meets some of his fans this past weekend at Indy.