They say, "one wrong turn deserves another", but obviously Villopoto did not feel that sentiment was worthy of his bowing to it.
They say, "one wrong turn deserves another", but obviously Villopoto did not feel that sentiment was worthy of his bowing to it.
Photos By: James Lissimore
They say, "one wrong turn deserves another", but obviously Villopoto did not feel that sentiment was worthy of his bowing to it. Unfortunately for us fans, the other two riders in the championship hunt bowed directly to this sentiment. We can't really complain too much as it did produce another winner in an already diverse series. It also allowed many riders to capture career or season high finishes on the night. The track was perfect for, well, not racing, but for an uncertainty from the gate fall to the checkered fall of who would or would not fall. It may not have been Villopoto's wrong turn, but it may have been depending on how you look at it. He did get a decent jump, yet not good enough as he was closed off and the questions of his gate picks remain; does he go too far inside to be a little conservative, and in turn hurt his own chances for a holeshot? Depending on how you view the situations with Stewart and Roczen as well, you may feel the sentiment is unjust. Either way, one fall changed the face of this championship.
What is left to say about Villopoto that has not been said over his storied career? He does this season after season with very little drama. Even when a big mistake is made or if he is caught in someone else's mistake he jumps up and is gone before they even know what happened. Don't get me wrong on this situation, it was clear that Roczen hit the ground a little harder, and was unable to roll out of it has Villo was. Maybe it was just me but for a split second it looked like Roczen was afraid to jump up quickly. Kind of like he thought his new buddy would be pissed at what happened. Whether it was in or out of his control is neither here nor there, but regardless, the point is still clear that his fall cause Villopotos. Ryan was up and hitting the first rhythm lane before Kenny had his goggles straight.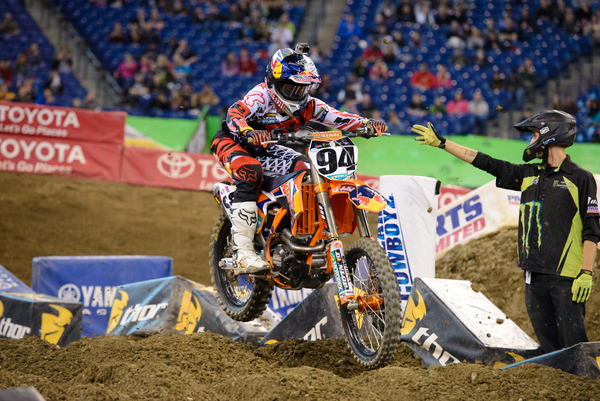 Can Roczen make up the ground he's lost latley?
I believe we can all agree that when it comes to moving in a hurry after a crash James just sucks. How can he be a hare on the track and a tortoise when he crashes? He takes a lot of time to gather himself and rearrange his levers, adjust his pants, helmet, gloves, etc. You look good James, but you will look a ton better out front, or up front. A small mistake does not have to ruin your entire main event. I point to Villopoto for proof of that. When Villo was down with Roczen it was kind of a breath of excitement…until they rounded the first corner and James is down as well. If he hadn't of found the ground we would be looking at a completely different series right now: a series where only a few points separated the lead pair, but instead we have a series where the point's gap widened and our anticipation fell.
The good from the race came in the many riders with whom we had expectations to do well at season's beginning that actually did. Of all these riders Dungey would find the victory to be his own after a small tussle with Alessi of all riders. It was nice to see Dungey take advantage of the situation and gain some points, and more importantly some confidence. No matter how good other rider's have gone or who has stepped up; I feel like Ryan is one rider who has been buried behind any progress he may have felt he made in the off season. From last year to this year it just appeared many riders had gained, and honestly, it looked more like he had not at all. The whoops gave him trouble last year. Guess what? They have still been giving him trouble. He has struggled with getting holeshots this year, and we all know he needs a holeshot to try and separate himself early one. If he is behind James, Villo, Barcia, Roczen, Reed, or even Brayton this year, he was not going to make a move. If he does it will be after others have found their way past him and the rider he wanted to pass earlier. To get back to the good; Dungey need this, he deserved it, and hopefully he will be able to put a string of wins together to close that gap. I know he is the most unlikely to get on a roll, but I do not believe Villopoto will push it unless he has to. If Dungey can get his holeshots down and make Villo fight him every race with Stewart, Barcia, Roczen and maybe Tomac now, pressuring him too…it may be enough to make the points gap fall.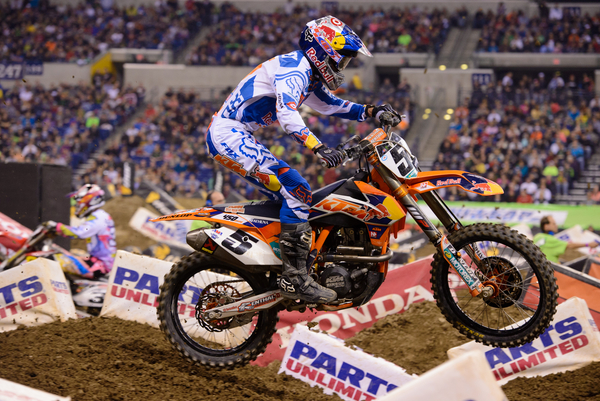 Dungey had an uncharacteristic DNF of his own, can he rebound to clinch a second title?
The little guys gave a solid display of how technical the track became with their multiple falls. It seemed that whoever was leading was bound to fall as Davalos fell first while leading, followed by Cianciarulo a couple laps later while also leading. Eventually, though, the rookie was able to calm down and put together a great race to pull away. He had plenty of room as he even made some big mistakes near the end but Davalos was unable to recover as well as Cianciarulo was. In the end I believe Davalos has to be happy to have made so many mistakes and still have podiumed so many times. He is still very much alive, but he needs to leave the mistakes to the rookie. Unfortunately, the rookie is riding like the veteran in this case, and to his credit, he is making sure all the races fall his way.
The red riders in the 250 class are also making sure to regain a little pep in their step after Indy. Bogle has made two consecutive third place podiums in come from behind rides that make you think he will be able to put himself in good position to win one soon. Matt Bisceglia came alive in Indy! He got a good start and held strong the majority of the race to finish a great fourth. That has to feel like a win after two DNFs to start the year, and to have never been a factor before. I know he is a rookie just like Adam, but he has not had as much gate time in the pros as Adam has from all the outdoor races. I also feel like he will be a solid rider at the remaining rounds now that he has figured out a small portion of the formula needed to be successful at that level. Could he win a race before the season is over? It appears the green riders can sweep the series if they continue the way they are going, but one or two falls could leave the door open for the Geico crew.
The truth is that with a series of falls the series itself lost some excitement. That could change by another simple mistake made by one rider who has made a living by making sure a mistake does not cost him much. It is bleak at this point, but one fall can change the series. Hey, it did it once, it can happen again. The series may be a little more in his hands; however, it may play into some great racing, especially if Villopoto doesn't need to get all the wins, and leaves a few on the table for the multitude of proven winners out there. We have five winners so far…who will be next to grab one? After Saturday another win will fall, but who to is still very much a real question.