Green stuffs it in Red's pie-hole at the Daytona Supercross by Honda.
Green stuffs it in Red's pie-hole at the Daytona Supercross by Honda.
Photos By: THEE James Lissimore
Track
Daytona Supercross just isn't what it used to be. It's still a great and unique race due to it's venue and dirt substance but it really was much better when it was run during the day. For fans anyway. I know the sun would cause issues with racing into it and out of the shadows but, well, maybe it's just because I'm old but I'm harkening to those days when Daytona was run under the sun. Not the lights. There's too much damn uniformity in dirt bike racing today. It's almost as if the presentation of our sport matters more than anything else, the racing included. Oh yeah, it does.
For the first time in 6 races(!) Ryan Villopoto clinched a win but oddly it doesn't feel like he's been out of the victory circle much at all this series. There have been plenty of fireworks in 2014 from racers NOT leading the points but not surprisingly, the 3-peating Champ has rebounded well enough in his "down" races in comparison to his title-threatening opponents that he has continued to hold the red-plate. Daytona never stood a chance against RV and his rear-wheel riding style. RV held a 17-second advantage over second place at the mid-way point before he backed it off just a little and won by a mere 12 seconds.
Judging from the finishing order you'd assume it was a rather boring race, and it was; at the front any way. Both classes saw holeshot-runaways on green bikes and the real excitement came from the guys who, you know, don't make the lion's-share of the income in moto.
And then there's Barcia…
450
The second most exciting moment from Daytona came from the sophomore run-in between Justin Barcia and Malcolm Stewart. Justin was coming back after two-races off from crashes in practice on race-day and again he had a couple soil-sample's in Daytona but nothing so serious that he'd miss a third straight race. Mookie on the other hand was a late addition to the Daytona 450 class and one of the most common beliefs in racing came to fruition. Little brother Stewart would get his shot aboard a 450 in Supercross. I'm on the fence as to whether "Mookie is too big for a 250" is repeated more or less than "John Tomac is gnarly". It's splitting-hairs, both are true.
Justin and Malcolm had their first run-in at the Utah National last year. Malcolm was on the giving end and you just knew Barcia was not going to forget that unsolicited tap. Justin started 8th and made only two passes before meting up with Malcolm on lap 8. Malcolm started 4th and succumbed to another of Barcia's good buddies, Kenny Roczen, before met up with the number 51. Now as much as Justin has earned his reputation for making contact when he makes passes, and that is very true, I don't see this pass as being secondary to retribution for Utah. He clearly had "contact" in his head as he moved to take away Malcolm's line but the "contact" was the insurance policy for the pass, not the inspiration. I don't believe Justin's front wheel would have missed his rut if he wasn't thinking "contact". I'm quoting "contact" every time and using it generally as there are many out there who would insert their own noun to better suit their own interpretation of said "contact". I'm not trying to persuade you here, just giving my take.
Justin has made his bed over the years and he lies in it, without complaint. He's fiery, aggressive, vindictive, entitled, unapologetic, and for as many fans out there who hate him,there are plenty who those actions play a role to endear him to them.
Bam Bam and Mookie get together video.
Broc Tickle came into Daytona on the heels of his best 450 Supercross finish ever, a 5th at Indy. His improvements of late have not gone unnoticed. Many who felt he was undeserving of the Factory Suzuki he's been racing the last two years are stubbornly eating crow now. Clearly he knows how to ride a 450 fast, he made the podium in the Nationals in his rookie effort aboard the PC450 but as we all know, Mike Alessi a shining example of this, Supercross is a totally different breed than Motocross. Broc has himself a 250 SX title as well so it only makes sense that he'd figure it out eventually. I've written before that Broc's biggest hurdle is his attachment to his very technically-accurate race-craft. He and Ryan Dungey may be the complete antithesis of a Ryan Villopoto who's main racing characteristic is to adapt to whatever style that track requires for maximum speed. If Ryan Hughes is the personification of "unlocking your hips", Ryan Villopoto is the personification of "unlocking your whole damn body". Conversely, Ryan Dungey and Broc Tickle's accustomed race-craft is "locked up with braided steel-wire, duct-tape and a deadbolt". Broc's fitness is obviously where it needs to be, he's strong and has the endurance. He's working on loosening up and the confidence that comes from these finishes only breeds more of itself. I claimed a podium for Broc a few weeks back and I do believe it can happen still, even more importantly, he does too now.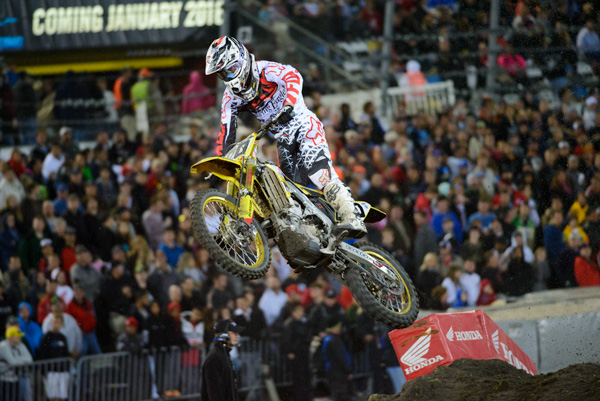 Broc is making strides lately.
Man am I ever conflicted… I like Dean Wilson. Good kid, hard worker, very capable BUT due to a little wager with someone who's name rhymes with Shmayson Shmommas, the anchor he threw out at lap 15 was very welcome to my cause. It's crazy to me, and compelling evidence at the same time, of how precise the training program for these elite guys is. Dean stepped in for buddy and team owner Chad Reed late in the game and seemed to find his stride in Daytona with a Heat-race win and held down 2nd for the first 15 laps of the main before getting swallowed by a handful of guys in rapid succession. Now don't get me wrong, I'm not betting on Dean's failing, just that a certain racer *cough* Broc Tickle *cough* will finish better in our "Triple Crown" (Daytona, Detroit, Toronto), before Dean shifts his focus back to the 250 West series.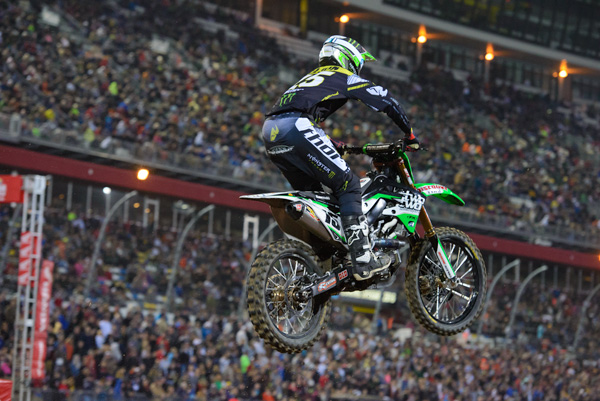 Dean had a great start 21 laps in Daytona.
It seems like a lifetime ago that James Stewart was once again right in the thick of the title chase. It's not exact but ever since Reed left the series with injury, James has found himself in some struggling situations. All the proof you need of the ridiculousness of his recent plight can be surmised in Daytona, turn-one. Alessi's handlebar rips apart his freaking header?! It's times like that you can only shake your head, chuckle and just accept that fate is not your friend right now.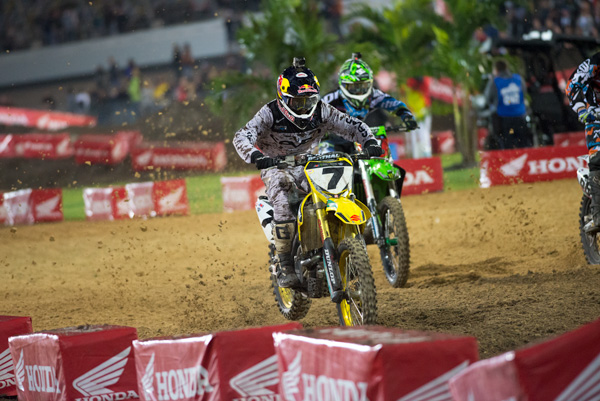 Keep your head up, James
As we have all heard many times, "the series doesn't start until Daytona". Well, the series is actually at the halfway point and Ryan Villopoto has his biggest points lead of 2014. He leads Ryan Dungey by 28pts and there my friends, you have that DNF-cushion which all of his title-opponents afforded him in prior rounds. Will he need it? Hey, there could always be another Jacksonville 2011 but he looks just like he has the last three-years he has secured the title. It's looking bleak for the rest of thee class but it's racing and anything can still happen. With the points looking the way they do, I'm actually pulling for Villopoto to 4-peat. Only MC has done it in the past and RV certainly puts in the work to "deserve it". I hate saying anyone deserves anything, though.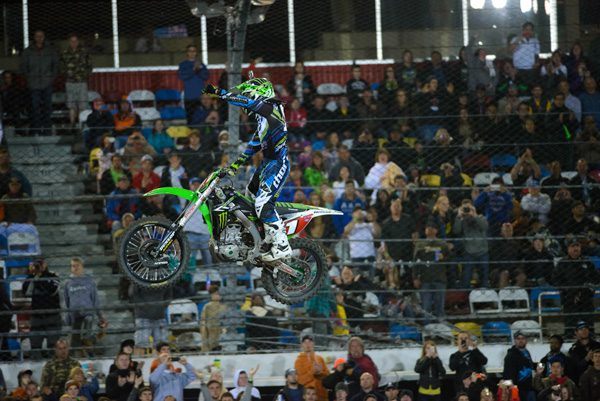 RV is who we thought he was. (Homage to Denny Green)
You know who had the 3rd fastest average lap-time in the 450 class Main? You won't guess it. He's the biggest surprise of the 450 class among actively-competing racers, in my opinion. Wil Hahn! I recall the pre-season podcast when Matthes mentioned that he told Wil he expected him to finish around 15th on average and that it was respectable. Wil said he'd be disappointed with that. I thought Matthes was right on the mark in both finishing average as well as it being respectable in the class, it is. In Daytona, Wil started 17th and finished 6th! He made more moves forward than anyone else by a long-shot. The guy is just killing it every weekend. So often in this sport, guys work their butts off for nominal gains and it's refreshing to see Wil actually cashing in results which reflect that preparation… surpass them even. He's over-achieving for sure when considering what he was expected to do by fans and pundits alike.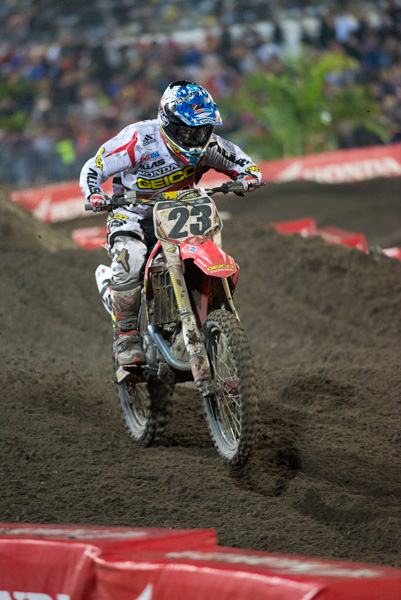 Wil Hahn. 3rd fastest AVG Laptime in Daytona 450 Main.
250
Blake Baggett is a riddle, wrapped in a mystery, wrapped in every type of brace made for motocross. He is literally AC46's shadow in the opening round, barely sniffs TV coverage the next few and comes to Daytona with the longest lap times, gnarliest "rep" and again hole shots and trounces the field. He worked with Kurt Hendrickson on his starts this week and oila, holeshot, runaway and hide. I can't explain it. I can barely understand it. Maybe he's claustrophobic and the roofs of the stadiums are like his kryptonite?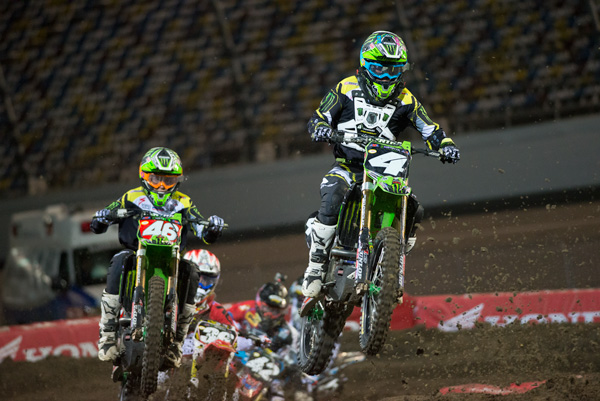 Blake is not afraid to brace himself.
I started off talking about the second most exciting action of the night in Daytona, I'm ending with the first most exciting action. For the second straight year, the best thing to happen to the Daytona race-night came out of an LCQ. Jacob Baumert and Ryan Zimmer got all fan's hearts pumping overdrive with their last lap in the 250 LCQ. Watching these guys, you could taste the effort and how badly the want to be part of the racing at the end of the night. Who would have thought, even with James Stewart launching skyward off the wall to flat, Ryan Zimmer in a non-qualifying effort, launches a near 100' to flat monster. I have so much respect for that. Balls. Out.
250 LCQ Thriller — Look for more coverage in "Just Short" this week.