James Stewart, Adam Cianciarulo & Justin Bogle's Detroit post race interviews transcribed
James Stewart, Adam Cianciarulo & Justin Bogle's Detroit post race interviews transcribed
Photos by James Lissimore
Adam Cianciarulo
Great job. Bogle put heat on you for pretty much the whole race and you didn't make a mistake
Thank you. I knew, and I even told Justin this on the podium, I knew that he was going to be up there. I didn't know if it was going to be us in 3rd and 4th, or 2nd and 3rd, 1st and 2nd, but I could tell in his heat race when he kind of got a bad start and came through, and just how he kind of takes his legs off the bike in the air, and super loose. I used to see him in amateurs like that and when he would get like that he was unstoppable. I actually thought it was Blake behind me at first, but when I looked at the board and saw 32, when he was behind me I wasn't surprised at all.
And it really came down to not making any mistakes. The track was so slick. I felt like we were pushing right on the edge of washing the front end. We saw that happen to Martin and I almost did it a few times as well. I think it was just about finding that edge to ride. If I made a mistake, he was passing me without me a doubt. He was right there almost the entire time, until the last couple laps. Just super pumped with my fitness right now.
It's got to feel pretty good to have an 18-point lead.
Yeah, it feels good but at the same time we do have four races left. Anything can happen. Bogle's on fire, dude. He's coming out swinging next weekend.
Where Martin Davalos crashed, landing off that triple, there was a hole there. You almost washed it about two laps after him.
I did almost wash it. And then I started jumping to the inside. Actually after that it scared me so much that I sucked balls in that corner. Bogle was killing me there every lap.
He was getting you going up the peristyle too, but you were getting him in that next rhythm.
I told him I was watching my front end every lap in that corner at the top. I felt like I was watching it. The thing was here the transitions were so steep in the rhythm sections, you couldn't go any softer on the motorcycle for the slickness in the corners, so you just kind of had to manage it. He's always been really good in those slick conditions. His riding style really suits it.
Let's face it too, this track kind of sucked.
Yeah, this track was awful. Worst one so far. I'd say Dallas had more traction. And it was so much turning. You were turning in the slickest parts of the tracks. It was pretty sketchy, dude. And there really wasn't anything to separate anybody. Obviously you could separate, but it was very basic for the most part. Super short whoops.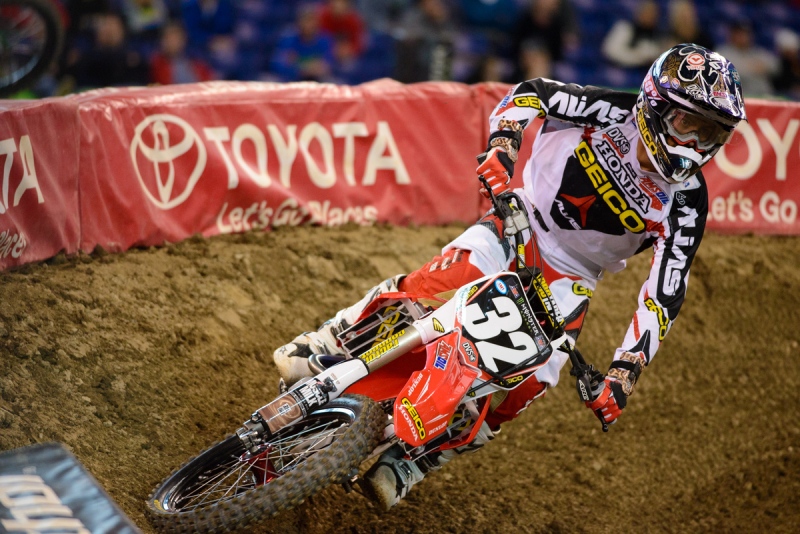 Detroit was a career best for Justin Bogle
Justin Bogle
You've been saying "I've got to get a start, I've got to get a start," and sure you didn't win tonight but you got the start, it was still a very good ride.
Yeah, I finally put myself up there like you said, and kind of got to show a little more what I'm made of. We were kind of cat and mouse, just pacing each other the whole time. I'd catch him, he'd pull, I'd catch him, he'd pull… I got to give it to the kid. He was riding awesome. No mistakes. I was waiting on one and it never came. It was good.
You almost needed a mistake to get by on this track though, right? I don't know what you would have done.
Yeah, there was a couple spots I kind of had a plan, but you'd have to be really close to make it happen and I never got that opportunity. It was one of those tracks where it was going to take a mistake.
I thought you were good coming out of the one set of whoops. You were diving in on him on there, and then going to the peristyle you had a good line there where you would pull out of the berm early.
Those were the sections where I felt good and I felt like I could maybe make a move. Not in the peristyle; that section obviously is just one line. But after the second set of whoops, or even the first set, I feel like had I been able to get close enough, maybe. But like I said, he didn't mess up at all and he rode awesome.
And you were good in practice today too so all day long you were feeling it.
Yeah, finally had a good practice. I've been off the board all year. It was nice to get up there. I was a couple tenths off 2nd in that one, so it was good.
Is this your career best?
It is.
You have gotten a 3rd before though right?
Yeah, my mantle has got a few 3rd's. I think I've got four 3rd places, so it's nice to throw something else up there a little bit different. I'm feeling good. I'm getting confident. I think if some stuff goes my way I can get up there on top.
****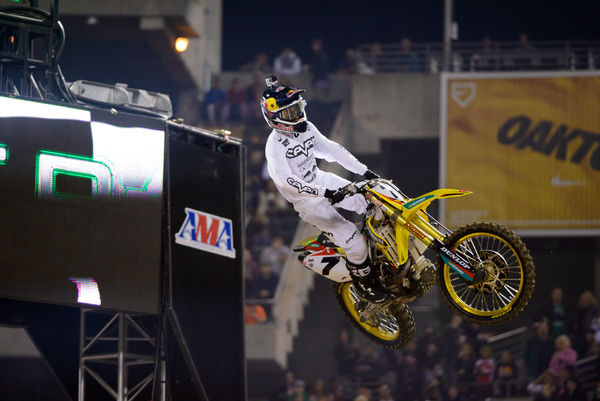 James Stewart won his third race of the year and moved into third in the series points with his win at Detroit.
James Stewart
Fantastic race. Once RV got into second he was 1.3 back, and you just pulled that thing out and won pretty easily.
I was gauging him the whole race. Then we'd get a gap on him and kind of pull away for a little bit and just kind of keep the pace. I actually stalled it out there right after the finish line. I stalled it and got three little bumps and one more I would have had to pull out this kick-starter and start it up. But I was able to get it going and didn't lose too much time. Last couple laps I knew where he was and was just trying to ride it to the finish.
We do this little pre-race thing and we talked about you specifically. You had second-best time but I saw you go down twice. I saw you come up short a couple times. It was a little of a rough practice, even for you.
I'm not going to lie, we struggled all day. I think Ryan was riding really good all day. Even the heat race, we won but it wasn't flawless. Then we tried making changes. I've been riding good all year it's just unfortunately the last three races I've lost a lot of points even riding good. I knew if I had a start and I could be up I could win races, and I've proved that. I was able to do that. So I was definitely happy to save the best for the main.
At one point, two straight wins, 14 points down, fastest guy by far in practice at Indy and Atlanta, all that. One first turn crash, one damaged header, one mistake by yourself, and all of sudden you were 50 back. It's got to be frustrating.
Yeah, it is. It's frustrating to have that but I was more frustrated last year not to even really be that competitive for a win. Again, obviously the championship's probably gone, but I could still salvage 2nd, 3rd place in the points or whatever. My goal right now is try to beat Ricky's record. I tied it tonight, so that's special. Championship is one thing and obviously that's my goal all year. I really haven't changed that. I haven't really changed my riding; just some weird things happen. The good part is I've been riding well. I'm probably riding better than I have been in the last few years. When things are right or even close to right we can win races and be competitive. Even when things are right sometimes we just have some weird luck. It was frustrating but I told the guys, there's nothing I can do. It is what it is and I put the effort into it, and we won tonight so it was good.
Props to your guys because I was a mechanic for a long time. I never brought a header to the mechanics area ever. I would have never thought of that. So you got some points out of that.
Yeah, it was two laps down. I was actually passing people. It was frustrating. It even took Rene a little bit to even recognize. Somebody pointed out the header to him. It's not what you're thinking. I kind of mentioned something before the parade lap. We were having some clutch issues, and he thought it was that. We actually thought the motor was blowing so he never really looked down at that. But he did it and I passed a lot of people, rode really hard, was fast and got 18th.
It's not over, but if you finish 2nd and you have the most wins, you're tied now with RV for 3, I guess that's a little bit of something to hang your hat on?
Yeah, obviously I want the championship but I definitely want to be known as a guy that had the potential to win, and prove it with race wins. So whether we do that or we don't, I still think the points are one thing but all I can do is say that I put the effort in and I am riding different. I have a different attitude. My team sees it. If we win, we do, if we don't, we don't. I think they see the difference this year and we'll deal with that when it comes.
And passing Ricky, you tied him but soon you'll be passing him, then you move in 2nd place all-time in Supercross wins, so that's kind of cool.
It is.
72's next!
I'm going to have to have more wins than three so far to get it but we got to start somewhere. You got to pass 2nd to get to 1st, so we got it.
Nobody I talked to myself didn't like this track. I don't know what the deal was. What'd you think?
I thought it sucked. It was weird because, not saying that Dirt Wurx didn't do a good job, I just think they could have done a couple things to open it up. Like roll down some of those insides. I think the dirt didn't help that. But if you shave down a couple insides and make guys go inside and out, it at least opens it up.