Supercross returned to the Motor City and the fans made it worth Feld's effort.
Supercross returned to the Motor City and the fans made it worth Feld's effort.
Photos by: Thee James Lissimore
It seems like a lifetime ago, in terms of Supercross season's, that the series made the stop in Detroit. The Pontiac round of decades-past was an elite weekend of racing for fans and racers alike but when the Lion's moved into their new home, the Silverdome got stuck in a sort of netherworld. This suspending-living turned into lack of maintenance and level of decay that found the Silverdome no longer a viable stop for the series. The Lions' new home, Ford Field became the new Michigan venue for the Supercross series from 2006-2008 but clearly it takes more than a shiny new multi-million dollar hosting facility to bring the series to your town. Scheduling needs to line up and the fans need to make it worth the promoters efforts to put on the show.
As racing-purists we all like to believe that it's racing above all else but that's just not realistic. We have to put our butts in the seats if we want to see the races return to our cities and broadcast on Live TV (yes I'll get to that). I was beyond super-pumped to see Detroit return to the schedule for 2014 and I knew with a 5-year hiatus that Michigan would indeed represent in terms of fan attendance. And that, they(we) did! Clearly, the powers at Feld agreed as they announced early in the action that they were committed to a return in 2015. I just want to say, lets keep this return rolling, Michiganders and neighboring Midwest states-alike. I didn't see RupertX this year but he no doubt was there, "Straight outta Ohio".
So there was a minimally boisterous crowd out there who were very unhappy that Detroit was tape delayed. Sure, they announced that every race would be broadcast live and Detroit was indeed NOT live but get serious, it was bumped for what is part of the biggest sporting playoff series in America. Comparing Supercross to the NCAA Tourney? Are you kidding!? There is no comparison. If you're one of those guys who just thinks stick and ball sports are lame across the board, you'll never get it but trust me, you are the minority. The numbers comparison aren't even worth discussing. Moto draws "competitive-knitting" numbers in comparison to college hoops. Find something to do for the 3-hour delay and quit bitching.
Track
I was texting with a rider this morning who raced in Detroit last night and he said something that made perfect sense, though I had never really thought about before. It was a "moto-epihany" if you will. I've always assumed if a rider does good they like the track and if they do bad, the track sucks. It honestly usually works out this way, so it makes sense to assume away in this manner. So I made the point to said rider that the track layout was super basic and had no passing areas and he noted that he actually really liked the track but it was not a good race track. This should make sense to someone like me who rides way more than he races (my friends will find that line highly amusing). When I (most people) ride, we just base our opinion on a track of how we fast we feel while burning laps. For these elite guys, they can feel like a million bucks on any track any day but it means nothing unless they can find areas to take advantage of other riders; hence a good track but not a good race track. Detroit was unanimously NOT a good race track. Nowhere to make passes cleanly unless the competition made a costly error and the dirt did nothing to help the situation either. Dry equals slick, and that she was. These kinds of track are supremely frustrating for racers and typically provide lackluster action unless someone like Justin Barcia or Andrew Short (Moser, jab jab) pull something out of their bag of tricks. Well the racing was, for the most part, lacking intrigue with exception to a few inspired rides and those are what I want to focus on this week.
The Rides
The one-time surprise-ride by the underdog of 2014 has now become the standard. Wil Hahn once again found a way to distinguish himself in Detroit, despite his 14th place finish. In Daytona he accomplished the 3rd fastest average lap time and although his average lap time wasn't nearly as impressive in Detroit, he made more passes than anyone else in the 450 main. Wil lost the front on lap-one, landing from the triple before mechanics row and had to stop to straighten his controls, which left him starting dead, dead, dead last. No doubt, Wil's passing more riders than any other guy in the 450 main was due in large part to his just being heaps faster than those making up the back of the pack but hey, that's racing.
Wil Hahn has acquired oodles of confidence by training under the tutelage of Kevin Windham and it is crystal clear when he's on the track. In his Semi in Detroit, Wil was a man possessed as he made Justin Brayton into minced-meat and kept going. It'll be really interesting watching Wil in the closing rounds of the series to see what else he does to make this rookie 450 effort even more impressive.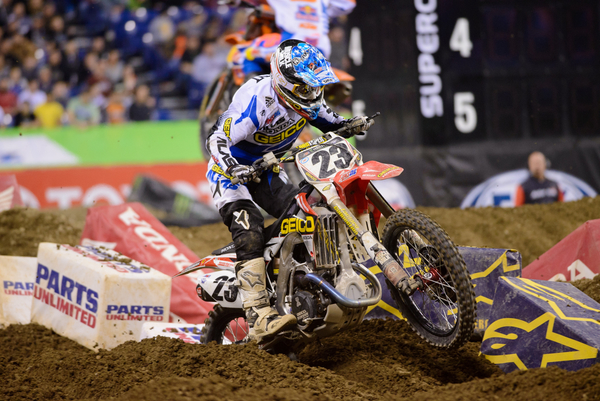 Wil Hahn. 22nd to 14th.
Any way you cut it, Jeremy Martin has had a dreadful 2014 season so far. The younger Martin brother was considered in title-hope talks in preseason discussions but when the first gate drop of the East Region series fell without Jeremy behind it, heads were spinning. Not Excorcist-syle but the collective "we" were utterly bewildered. A round later, same result… well, by then it was nearing Excorcist-style astonishment. Jeremy has made the last 3 mains and while the first was almost as big a calamity as the first two DNQ's, the last two have been small steps in the right direction. If Detroit was just a small step for Jeremy, why would I write about him? Because just like Wil Hahn, he found a way to make the most passes in his class on a track that did nothing to promote passing options. Jeremy worked his way from 20th to 8th and lets hope he can nail some better starts in the remaining rounds to give him a fighters chance at redeeming his series.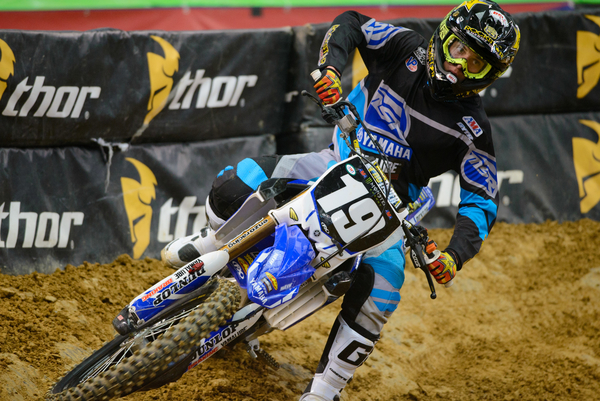 Jeremy Martin. 20th to 8th.