It is that time of the SX season again: the time where the riders that have given there all throughout the season start to drift into the grind of it all.
It is that time of the SX season again: the time where the riders that have given there all throughout the season start to drift into the grind of it all.
Photos By: James Lissimore
It is that time of the SX season again: the time where the riders that have given there all throughout the season start to drift into the grind of it all. It is also the perfect time for those that, for whatever reason, have produced very little in comparison to what was expected, begin to push towards the front. It coincides perfectly with silly season and helps keep the mid-season sting of decaying plot-less championship races at bay. As fun as it is to see who comes alive when money and a future ride are on the line, it also becomes a real test to see who is actually progressing in themselves. Many people continue to echo the words of Ricky Carmichael's adage that "the season doesn't start until Daytona," and if this is true a few racers look to be very upset with their season. I say we look at who is proven to be racing towards a long-term goal of a successful career in results and who is simply racing for a ride.
To determine this we must first look at who the usual suspects are. I believe it is easy to put Josh Grant in this category as he normally starts to kick his time at the front of the pack in gear when pens are hitting paper. So far we have seen neither a flash of speed nor a glimmer of what has been expected thus far this season of him. He continues to roam the mid-pack area, never pushing towards the front and very rarely starting up there…even in heat races. In fact, who would have thought that he would not have crossed the finish line first in a heat or semi this year so far? It has not been Grants year as injuries and a lack of speed have put him far down a list of anyone who is being talked about period. I do look for a moment of shear speed to eclipse the negatives of his season before the final flag at Vegas flies. One thing we do know about Josh is that he will find himself on a ride no matter what…he always does.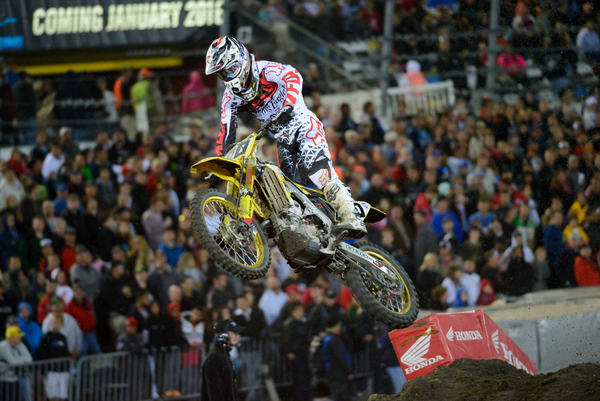 Broc Tickle is really coming into his own in a contract year.
Throughout the offseason one rider was spoken of as a "watch out" type of guy. The season has become a huge disappoint to the team and rider at this point, but now he is riding with renewed vigor. Josh Hill could be coming back from injury like he was from day one of the season and just making the progress owed to his effort. More than likely, though, it is more a case of his lease at RCH expiring and now he has realized his season was a wash up until now. He wants to secure a ride for next year and is left with the last half of the season to scrape enough solid finishes together to garner another shot at being paid for what he wants to do. It seems evident by the aggressive tactics he has employed as of late that he is desperate to find some success. I believe he has talent and a will to do well, but he is running out of years doing what he seems to do. I know he may be young in years, but as far as SX goes he has seen his brightest years elude him through injuries and possibly bad decisions on the track. At this point he is not just finding his groove, he is forcing a good ride to appear through pushing around the other riders, but it may lead to another injury before it brings another bike with a check.
As the scale has been set with what riders are riding harder to gather another ride for the year to come, it is also necessary that we set a limit to the opposing side of the scale. With that somewhere in our minds it is the perfect time to view the approach of Broc Tickle, and the projectile of his results throughout the season. Broc is known as a rider who rides with a methodical approach to a full set of laps instead of an intense concentration on speed. He has slowly been proving that as he becomes comfortable with his machinery and himself, he can produce both speed and staying power. It is true that he has yet to break through with a podium, but he has also ensued some pretty strong adversity while simultaneously improving his finishes. What is increasingly impressive is the way in which he has produced these results by coming through a pack of riders he is considered to be only equals with…not above, until now maybe. It is clear that he is working things correctly to work towards being a better racer and rider instead of slacking until he realizes he is losing a ride.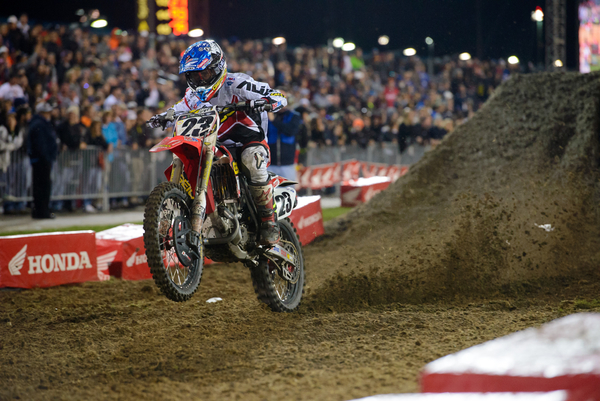 Wil Hahn's rookie 450 effort has been a success story and yes it's a contract year.
Another rider to balance the scale is Wil Hahn. Hahn has been a surprise in both speed and finishes. Most believed the 2013 East Coast Champion would find himself looking in at the top 10 most of the SX season, and with the class as stacked as it is it is not a discredit. However, Wil has overcome many things on his way to solid finishes not only in the top ten, but even a nice fourth place finish. He has shown that with a good start and the right track he could possibly land the Geico Honda team on the podium. He has missed a race with an injury just as the riders holding down the far side of the scale, but the difference is how he fought through it to produce solid results. Most likely this is evidence of what is done during the week leading up to the race, along with the right focus as well. Wil is not motivated by a ride. He is motivated by a chance at living up to his own expectations and that is a far more elusive feat than that of a good ride.
The truth is no matter if the rider's are producing results for a ride or because their schedule has put them there, they are still laying it all on the line for a future in the sport. A ruthless sport where the riders use a moment of speed to procure money and short-term security, and teams use the riders as ways to procure sponsors. These sponsors are also producing short-term dollars for the team and in return the team is to produce short-term dollars for the sponsors. No one really stays with anyone long enough to collect on long-term investments, which is what the sport, riders, and teams really need. Regardless, the fact that we have another interesting storyline to follow just as the overall Championship picture was getting stale is reason enough to route for a rider to race for a ride.