A crazy Toronto Supercross has David Vuillemin intrigued
A crazy Toronto Supercross has David Vuillemin intrigued
Photos by James Lissimore
1- You're a big fan of James Stewart and his skills, so his win in Toronto must have you really excited. He showed everyone just what he can do when he's on. You had to have been super pumped!
Yes, I've always liked James ride since he turned pro. He has been pushing the limits of our sports for over a decade. I don't get super pumped if a rider I like wins. What I do get excited for is when I witness excellence and legends in their sports at their best. And that was the case this Saturday in Canada. Like James or not, you have to be thankful to be able to watch a rider ride like that. It was one of his best rides ever and he made everyone look like they didn't know what they were doing. The technical track, the ruts, the long rhythm section helped him show his greatness. He stayed out of the big ruts in the whoops. He quaded (yes I said it) in that long rhythm section smoothly almost every lap. He kept his momentum in the turns and stayed low in them while the other guys were going high in the softer portions of the bowl turns.
Like Reed's ride in Anaheim where he won and Villopoto in Daytona, that's why I watch Supercross on TV. That's what I want to see, not Monster Girls, not take outs, not my favorite rider win, I want to see the best riders of our sport ride at their best and impress me while I sit on the couch.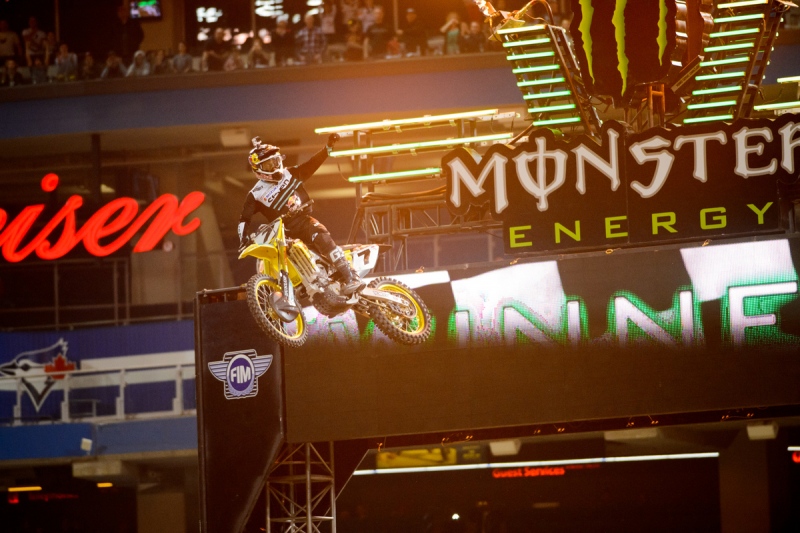 Stewart won his second race in a row in very dominant fashion.
2- Ryan Villopoto never saw the track until he was brought out for opening ceremonies and yet he still went out there and finished sixth in the main event. That's a pretty amazing feat, how hard must that have been for him?
When you think about it, his performance is amazing. Not riding practice and getting 6th in the main while suffering food poisoning is unbelievable. Plus, it was maybe the track the hardest to do that at. We've had some simple tracks this season where it would've been easier not to ride practice in my opinion. But Toronto was super technical with a ton of options and a ton of ruts. People say you win a championship on your bad days. RV took this statement to a whole new level!
3- Justin Bogle won his first main event and this is what you said about him last week- "The kid has been shadowed by the PC sweeps and Adam but he's having a very good and consistent season for a kid that got hurt not long ago. We all wanted him to almost try a little harder saturday to give Adam a run for his money. I think he's building his confidence and when he'll realize he has nothing to lose anymore in the championship (he's already 1 race back), he'll be even more of a threat" –so with AC's crash, he's right in this title fight now and so who do you have for the title now with three rounds left?
I actually talked about this on the PulpMX show as well. I said his ride in Detroit had to boost his confidence and he was 25 points back, at that point. I also stated he had nothing to lose, might actually get better and win one of those last races. He did just that. He has been on an improving arc the whole season, has a lot of potential and a great team/bike. It became a 3-race championship with Davalos and Adam now. It's going to get very exciting. Potentially, those 3 riders can win any day and there is a number 1 plate to hold in Vegas. It does suck for Adam and his injury though…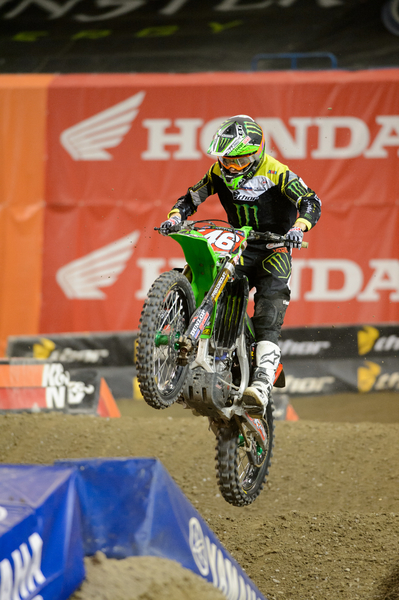 Vuillemin thinks Cianciarulo should try to gut out this championship and then get surgery.
4- Have you ever dislocated your shoulder like Cianciarulo, rumors are he's racing this weekend and going to try and gut this thing out. How can he do from here?
Here what I would do… I'd try to get this shoulder rested, looked at and do some reinforcement before next race and I'd try to race. There is a month between St Louis and the New Jersey round. If STL goes decent without any shoulder popping out, I'd reinforce my shoulder and do a minimum of riding for the last two rounds of the championship. He still has a chance to win it so might as well give it a try. No matter what happened in the last few rounds of SX, I'd get my shoulder fixed as soon as possible and miss the Nationals. He's young and has time to win races and championships but if he keeps injuring this shoulder it might bug him for the rest of his career. It's happened to some riders like Robbie Reynard and he doesn't want this to happen to him.
5- Justin Barcia appears to be out of his slump with winning his heat, leading some laps and finishing a season best second place. What do you think about his ride?
Justin rode well but even on his best day ever, second would have been the best he could've gotten… Bubba was just unbeatable Saturday. It's good for him to get a good result, ride up front and it's also good for Honda. I'm still worried about not seeing much improvement in his riding style though. He's a great rider but being aggressive, not against the other riders, but on the bike with his throttle, his line choices and the way he hit the corners high in the soft parts so hard will not help him to be more efficient.
I hate this saying but he will have to learn to go slow to go fast… And that's what Bubba has been doing great for a few races this season, A1, Detroit and this weekend by being super smooth, keeping his momentum and picking smart lines…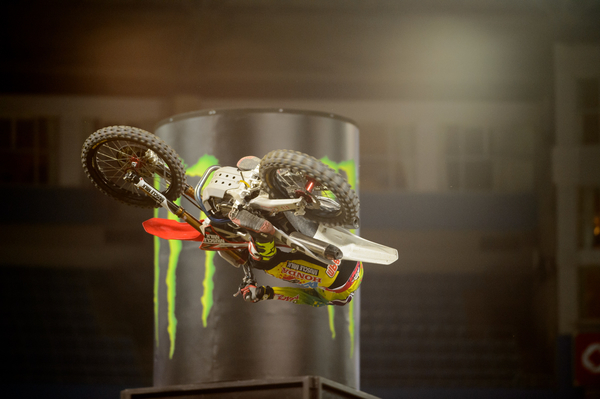 Toronto was Barcia's best race of the year, hands down.
6- You're watching them on TV…what do you think about the telecast and what can they do better in your opinion? And the million-dollar question for you–RC, MC or KW in the booth next to Ralph and Jeff?
It's a tough question. I really like MC's input when he's on but I thought KW would have been a little better. But, it's a tough job. I've done it for the French TV for some GPs and MXDN. It's not as easy as people think! I am an old school guy now even if I'm (only) 36. I really liked the crazy announcer in the 80's –I forgot his name (Editor note: Larry Huffman)-that came up with weird sayings and I also enjoyed the Eckman/Bailey combo. I liked Davey Coombs in the pits and Leeann Tweeden on the podium. I guess I am suffering of it-was-better-before-itis… But, I wouldn't change much in the broadcast. I think they've listened to us on the Pulpmx show and they give us a little more information these days. I would just get rid of the Miss Supercross and all the Energy Drink/Bad Marketing (useless) chicks doing selfless all day for their instagram accounts…