Former factory rider David Vuillemin answers some questions from Seattle
Former factory rider David Vuillemin answers some questions from Seattle
Photos by James Lissimore
James Stewart was pushing pretty hard to try and catch Villopoto in the main event before casing the quad and seemingly settling for second. You didn't think the quad was any faster and wasn't needed– why?
I really think the quad hurt Bubba in the main, by doing it and obviously casing the crap out of it. The quad wasn't faster in my opinion, here's why. If you watched the race you could see James had to lose some time to set it up in the turn before. He was stopping in the turn to square it up to jump all the way to the right. Why? Just because there were too many ruts to do it in the main line. By being on the right side of the track and having a right 90-degree turn after the rhythm section, he wasn't preparing himself enough for that turn before the first triple. He was getting in the turn too tight making him slow before the triple. RV was doing 2-3-3-2, which is four jumps in the rhythm section. James was doing 3-4-2-1 which is also four jumps too but was slower in the turn prior and the turn after the rhythm section.
It's why I'm saying it wasn't worth doing. It was really sick and I might have never jumped it even in my best days. But "sick" doesn't always mean efficient. Plus, when you do a sketchy jump like this, it takes a lot of space in your head while you ride. Even on the rest of the track you keep thinking about it and you lose focus on the rest of the track. I really think Bubba would have been more of a threat if he didn't do that quad and kept his focus on the whole track, his lines and his efficiency.
Cole Seely did what he had to do to bring home the win but Jason Anderson had a hectic night behind him crashing, going off the track and still getting second. Watching those two riders race is a contrast in styles. Which one is better in your mind?
Whoever is better is the one leading the championship right now. Obviously, Cole's smooth style was very good for a track like Seattle with a bunch of ruts. He got a great start, rode mistake-free like he knows how and it worked great Saturday. For Jason, due to his wilder riding style and a not so good start, he had to push to catch up. When you have to pass guys because your main competition is leading the race, on a track is traitorous like Seattle and when your riding style is on the wild side, it's understandable that Jason made mistakes out there. You gotta give it to him though. He never gave up and salvaged a 2nd place finish. After everything that happened in the main, it was a good outcome for him to lose only 3 points. Could have been worse, that's for sure.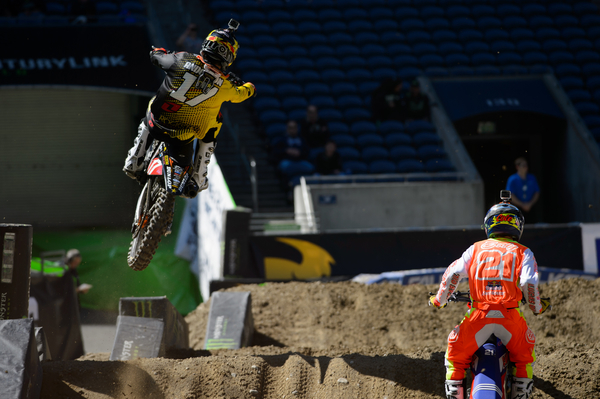 Jason Anderson's Seattle could've been really bad but in the end, he made it work.
I wonder what Justin Hill is thinking. He got passed three times by Anderson in the main. As far as the championship goes, 8 points can seem a lot and not much at the same time. Cole can obviously win Vegas and Anderson would have to get 5th of worse for Cole to be Champion. 5th is the worse result Jason got this season in Anaheim III and that's the race he got taken out by Malcolm. But I suppose anything can happen in Vegas. The heat races are actually the mains there. The track is loose for the 250 guys and can be heavily watered. That could be a factor but I don't see, on a regular day, Anderson getting beat by Cole and then three other guys. With the East guys, Davalos and Bogle, being 8 points apart with two races to go, we will have something to look forward to in Vegas. It sucks when the champions are crowned before the last race. It was way more fun when, like several years ago, RC, Bubba or Chad could all have been champion in Vegas.
Eli Tomac is coming around, he's had a couple of good races now and seems to be settling into a top five pace. What do you see from him?
It has been a frustrating season for Eli. Like everyone else in this industry, I would have thought he would have been on the box most of the time dicing with the best guys. Especially after what he showed last year on a 250F. It shows you that the 250 and 450 might be almost the same bike but it turns out to be very different. Everyone knows he's a hard worker and very dedicated but sometimes the little details on riding technique and learning a new bike make a bigger difference.
I still think that too many rookies and even sophomores didn't adjust to the way you have to ride a 450 to be efficient. It takes a while to figure it out especially for Eli with the way he was riding a 250F. But it's good for Eli to be in the top 5 and pass a few guys like last weekend. It will boost his confidence which will carry into the outdoor season where I think he's gonna be a bigger threat. It's really important for him to get on the box the next 2 races and race with Bubba, RV and Dungey. If he does, it will help him for the second part of the season.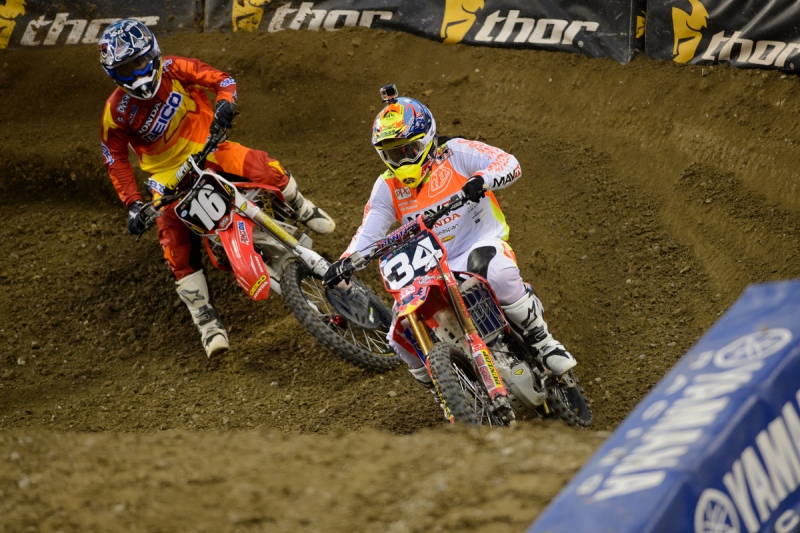 DV wants these two riders to focus on going forward.
What did you think of the Mookie/Osborne battle in the heat race? Too far or just enough?
Seriously, those two were ridiculous and are lucky not to get hurt. They could've jumped on each other a few times and crashed hard. I don't like this type of riding- especially when it's not for the lead. When you do that, you lose a lot of time and you are helping the guy in front to check out. It's a bad strategy and useless for a heat race without points and dangerous. Paybacks aren't a smart thing in SX or MX and sometimes it's better to put your ego aside, refocus, pass people without losing time and not without jumping the triples because you want to take the rider out that just stuffed you.
What do you make of the news of Weston Peick filling in on the RCH Suzuki team and Josh Hill being let go?
That's the most shocking news I've heard in a while… Signing someone (Weston) you've been telling people you (RCH) didn't want and letting someone (Josh) that always been there and who is doing pretty good (and ranked higher than Peick in the SX standings) go. From my outside eye, it seems really weird but, obviously, something happened for that deal to work out the way it did. On the other hand, Weston did great in MX last year (even with a bike that wouldn't start in Utah) and deserves a chance on a team like RCH. I hope Josh will rebound somewhere. I like the kid and he has a ton of potential that hasn't been fully used yet. I wish them both the best for the future. I can't wait to see if having, in theory, a better program, Weston's results will improve.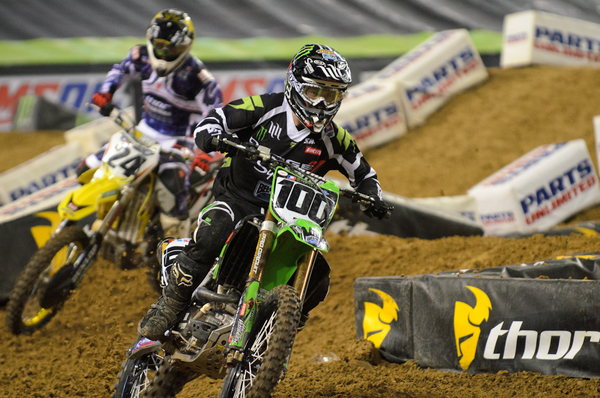 Vuillemin would hire Hansen but take away his phone and his car keys.
Josh Hansen came on the Pulpmx Show and said he wants a "7th or 8th" chance at racing and would even race in the 250SX class if he had to. He's certainly talented and he says he wants to work hard- thoughts?
Talking about potential, here is another rider with a bunch of it. Josh was doing top 5 in the 450 class a few years ago. I just looked at the 450 SX standings and I would put him between 7th and 10th today after a good winter of work. In the 250 class, you have to have better equipment than in 450 to perform against the PC and Geico guys. He won 250 SX races before, got top 5s in 450, he rides often and he's still young. But the question mark is his dedication and his actions off the track obviously. I'd sign him if I was a manager of a satellite team as "second" or "third" guy but would have someone with him the whole time. I would confiscate his cell phone, his car keys and make him delete his social media profiles…