Photos By: James Lissimore
The season has pushed past its prime and past the decadence of all preseason hype and expectation. All that remains are the logistics of bonus money and the 250 points system number crunching to see who has to move up next year, or miss a few rounds to preserve a ride among the tiddler division. Truthfully, most fans care more about bench racing in regards to the upcoming outdoor championship then they do who will win the next two races. It is really simple for a fan of the sport: once hope is taken away we cannot care less about the rest of the series. The only possible light at the end of the bleak tunnel of a season we are having now is when a rider comes back from injury and brings with him some fire. The fire I speak of is seen in a rider that is not yet complacent in a position not on the podium, or maybe even a win. The rounds have not beaten them down into a routine and lowered their expectations. The week's work is still translating into tangible results on the weekend. With that in mind, I welcome the next two weeks of action.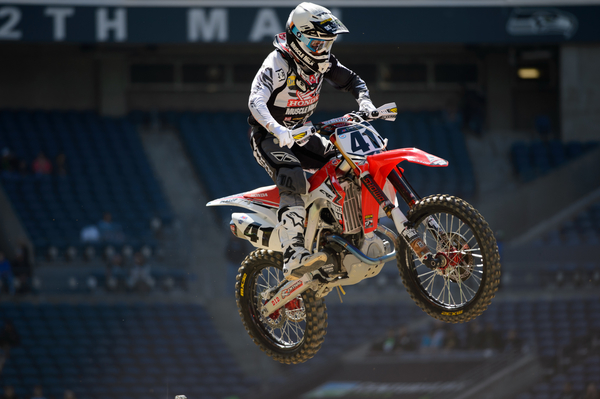 Trey Canard wanted to return for the last rounds of SX to adapt to high intensity race action.
The first rider who comes to mind in this scenario is Trey Canard. He has had some great rides in his first three attempts this season. You can see from the drop of every gate that he is hungry to push towards a podium and even a win. It sounds crazy, but he can actually accomplish that if he can get the right circumstances early in the upcoming mains. He needs to get a great start and let that energy and drive to prove what he do take over. As other riders feel like putting in their laps to just get through the race, looking only towards the end of the year, Canard is busy pushing towards a visible goal that he has been envisioning since his injury first ruined his season before it even started. That desire is very dangerous. Canard is a rider with tons of talent and more drive then one even needs to succeed. In fact, his self-acknowledged downfall has been his inability to let up even when he is practicing. He pushes for every section of every lap on the track, and likewise, off the track. As all the athletes learn so do we as to when it is appropriate to rest instead of work more for progress. Right now, we should all be thankful for Trey's unwillingness to settle. After all, no one would blame him for just getting his feet wet and focus on the outdoors, but Trey is in it for every lap of every race. He is like a fresh taste of A1 at the end of the season.
If that hasn't produced enough excitement for you then just wait until this weekend. We have another rider coming back and he has much to prove. Jake Weimer will enter this weekend half on, and half off a few lists for good rides next year, and many are probably using this SX season as a way to lower his contract amount. Needless to say this would make anyone hungry to prove a thing or two, plus Jake is another one of those riders who just always wants to give his best. With this ambition, not to mention a depleted field, look for Jake to reassert himself as the great racer he is. If Weimer has a fault it is being too forthcoming with information as to his disappointment in himself. This in particular leads to a lack of confidence as it seems the riders that never vocalize disappointment or accept blame often hold onto confidence better. With his contract at Kawi withering away, I believe Jake will ride very inspired and so the poise that carried him to a 250 championship. The outdoors are coming as well, and his prowess has to be taken seriously there too. He has made quite a few podiums and won a couple of times in the 250 division. "Once a winner always a winner" doesn't hold water with today's standards of "you are only as good as your last race," but it should. Once you win a race and a championship you always have that knowledge of what it takes. Essentially, once you make it you can draw from a self-faith based confidence and are less likely to falter under pressure. For Weimer this is the beginning of a season where he is make or break.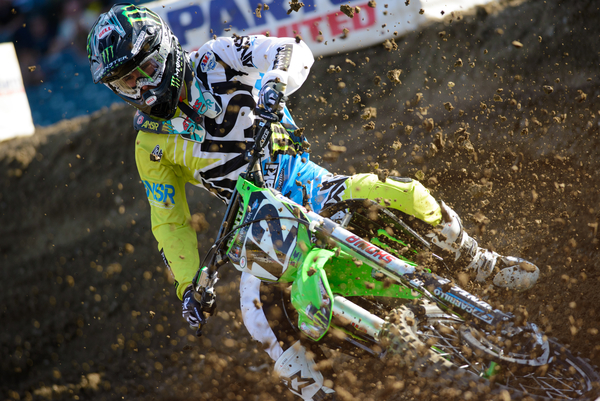 It seems like forever since we saw Jake Weimer in action.
For the 250 class it is much easier to get through the season healthier because they race only half the rounds. The periodic breaks give them the time to heal up body and mind. It allows them to focus on what mistakes they have made and attempt to repair the damage to their programs. Now, with the East coming back into town we will see how the short but welcomed break has affected Davalos and Bogle. It will be very telling from the first practice as to who is rusty and who is sharp. When we left the previous East round it was a solid indication that Davalos had the goods to control this championship from the front of the pack. What will happen after some time for that red plate to sink in? Bogle has a fresh outlook on being a contender because he has yet to be considered a real threat until recently. Davalos is often his own worst enemy and I have a feeling he is the only person who can stop the green machine from winning this title. It isn't fair, but these guys get to rewind before the end of the line.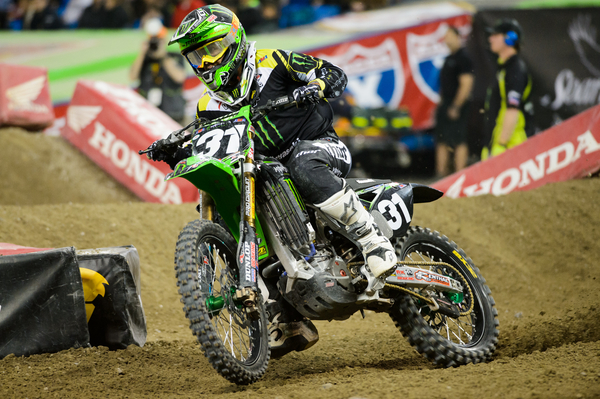 Can Davalos defy odds and the assumptions of so many race fans?
The season is struggling to find a conclusion on the front of the 450 class at least, but if we look we can find inspiration among the ranks. Even at this point in the season we discover the regretful, yet surprising upside to injuries that allow the riders to work themselves into race shape before coming back. It is refreshing to see a rewind of sorts in the class that had just become stale. Sure the championship is all but presented, yet we have rider's who can challenge and make the races worth watching again. The 250 classes get to have the dreamy schedule of having breaks implemented for them so they can rewind, refresh, and rethink where they are going and how they are getting there. Life isn't fair, and we can't rewind the drama of the early rounds, but we have a saving grace in the determination of a few who originally wanted their own do-over.