Here are some key players from the races talking about stuff
Here are some key players from the races talking about stuff
Photos by Mike Sweeney
Justin Barcia
Hometown race, New York. How cool was that? Although, are you a New York guy?
New York, I grew up in New York, born in Jersey. But it's awesome to have all the fans and stuff but it definitely is a little hectic, a lot of stuff going on all day.
Weird race for you. Kind of a slow start and then all of a sudden you got very angry and you shot forward, and then you made some mistakes, Roczen got back by you, then you got angry again and you pulled away. It was the best battle of the night with you, Dungey, and Roczen. You came up on top and you were on it. Almost got Hill.
It's just disappointing I couldn't get off the start. I don't know what was going on today; I spun a lot, both my heat and my main. I'm so bummed on that. If I could have got a start tonight… Coulda, shoulda, woulda. I'm not going to go into that, it's just whatever. But I put on some good charges, put in some good laps. I enjoyed the track a lot. I had a lot of fun. Just came up a little short, and it's so frustrating.
And then too it looked like… I wasn't totally paying attention as usual, but you might have made more mistakes because once you got by Dungey and Roczen I think they both got by you back again quickly.
Yeah, I messed up that triple thing before the whoops a couple times so that was frustrating but I cleaned it up again and caught them and put my head down and was out of there.
You really wanted that truck.
I wanted that truck bad. I'm so mad. I wanted a race win. I wanted a truck. I want everything. I'm so greedy. But I didn't get it tonight.
Go over there and kick the crap out of the green guy and take his truck.
I'll key it. No, good for him. That's cool, the championship. I hope to be in his shoes one of these days.
Not a great season for you. We got one race left. But you've turned it on lately. You've got to be happier with the results lately and the riding. Tonight I bet you at the end of the race you were probably turning first or second fastest lap times. But you've turned a corner little bit going into outdoors.
Yeah, definitely. Two weekends ago in Seattle I really struggled with bike setup there. It was really frustrating. This weekend was better. The bike has been extremely challenging this year. I felt like I was in the best shape I've ever been in. I worked harder than ever. It was just kind of disappointing we couldn't get everything dialed in the beginning of the season. It is what it is and just looking in the future I guess.
You think you'll be happier outdoors? Is it a bike and a chassis setup that works better maybe in motocross?
Yeah, I think so. The bike doesn't have to do as many technical things. Obviously the braking bumps and stuff are gnarly but I think we'll be in a better place with bike setup than we were last year. I think that'll be good and I'm hoping outdoors will go great for me.
Thanks for providing the most entertainment tonight with tonight's main event. It was a good race.
Yeah, glad I could do that. I was definitely charging hard and trying to get to the front.
Let's blame Schnike.
No, Schnike killed it today. He had to change a clutch cable right before the semi and he really did it.
What'd you do to the clutch cable, Schnikes?
It was just because of the mud and stuff and it was weird, so he (Schnike) threw a freshie in there for me.
I like your devotion to your mechanic you've always had like that. Most guys throw their mechanics under the bus. You never do. And you thank him on the podium. Mechanics never get thanked on the podium anymore.
They are bad dudes.
****
Justin Bogle
We talked about you coming here and we do these little stupid pre-race podcasts and we're like, I don't think he's going to win; he's going to tiptoe around. He just has to get a decent finish. He's probably nervous. And hey, wow, you got better as the night went on. Nice win.
Thank you very much. That's the thing, I definitely wasn't going to play it safe. I want to win and you think about that stuff during the day but it was kind of crazy. Literally as soon as the gate dropped, never another thought of it. Just go out there, just instinct kicks in and you just want to win and do your thing. I didn't get the greatest start but I wasn't bad. I had to make some passes and make some stuff happen. It kind made it a little bit sweeter to win this one with the conditions and having to come though.
You saw Matt ahead of you too. You're like, okay, I know this guy's not going to anything dumb. I know we're going to have a good night's battle.
It was good having Matt in front of me. It was tough to pass him though. He definitely didn't make it easy. He ran me high a couple times.
I saw the lookback.
I was just saying "what's up." But it was cool, I was pumped. I was hoping he was going to end up on the podium. That would have been incredible for the team and everybody too. Great race for him as well. That's his best one so far I think.
Yeah, it's a nice way for you to stamp this thing. I know they didn't give you the number 1 plate but it's looking really good. Where were you when you heard about Martin's crash? It's a bummer for him.
Yeah, first I just want to say I'm definitely bummed for Martin. He's a great competitor and I really like racing with him because he's respectful and I respect him as well. I was heading home from the track and somebody told me. Actually my trainer told me. He said hey, you're going to hear a lot about this. I'm just warning you now, this happened. So definitely a bummer.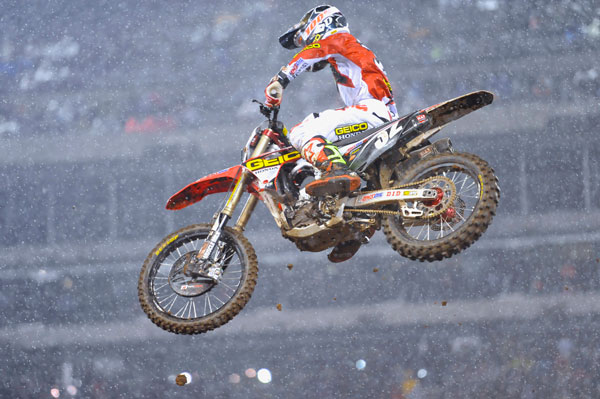 Bogle captured the championship in style with a win in NYC.
Your phone just started blowing up?
I actually just took Twitter off my phone for a little bit. I just took it off for like… I don't even have it on there right now. People were being kind of ignorant and stupid on there, saying stupid stuff about it. I'm like, man, I got a couple weeks ago. It's unfortunate but that's part of the game. Like I said, I had mine before the season started and had to come back early to try to make this happen, so it's part of it unfortunately.
We were talking, we didn't even think you were racing this series. Your team told me two weeks before, Bogle's ready. Wharton was your fill-in, and he's hurt. So what a season, what a turnaround.
It's incredible, man. I've said this before, I just really have to give it up to all the great people around me. It would not have been possible without my trainer Ryan. I've said this before, he gets all the credit for kind of resurrecting my career and picking me back up and making all this stuff happen. My team GEICO Honda sticking behind me through all of it too has been incredible because a lot of teams wouldn't have done that, and they did. Just everyone, man. Doctor G helping me out. I see that guy on such a regular basis. I have like a spot, my body mark just in one of the beds there.
It wasn't that long ago guys like me are going, what's Bogle going to do? He could be dropped. There really were a lot of questions and you've answered, you stamped it. It's been a great turnaround.
It's been awesome. As cliche as it is, whatever it sounds, I've worked my ass off, man. And it's been tough. It's been lots of days where you kind of wonder if it's worth it but it's definitely worth it when all this stuff goes down. It's definitely worth it. Like I said, Ryan, man, just pushing me to the limit and making this stuff happen.
You stamped this win tonight. I thought you'd just roll around and make sure everything was good but you really put an exclamation point on this. Great job.
Thank you very much.
****
Vince Friese
Congratulations first podium. We talked this week and it seemed like you were well aware that you could get 3rd in this series and you were going for it and tonight you did.
I was honestly a little bit more gunning towards podiuming a race than I was the series. That was kind of my goal at the beginning of the year, was to get a podium, and I'm obviously stoked to do it here tonight. I think if I can ride somewhat decent at Vegas I'll be able to get a top 3 in the points and that would just be awesome, a good way to finish the year. I'm happy right now. I think I can do it again in Vegas if everything goes my way.
Kind of a crazy night tonight where you start up front, you get passed, you're in 4th. Bisceglia's yarding you a little bit. You get by him and then you pull on him and then you pull away, and then you kind of cruise home to 3rd. Did you have some bad laps somewhere in the middle?
Yeah, the beginning of the race I was kind of getting flustered. It was in my head a little bit that, all right, I'm in that podium spot. Kind of starting to definitely get into my head a little bit and thinking about it too much. Kind of seeing it slip away from me I think lit a fire under me and then just after he kind of was pulling away and I was like seeing the podium slip away, I think that's when he got hung on a tuff block or something like that. So I kind of had a regroup moment and it kind of lit a fire under me and I knew I just had to put my head down and ride a good, solid four or five laps to kind of separate myself and then I could kind of settle down and cruise into the finish.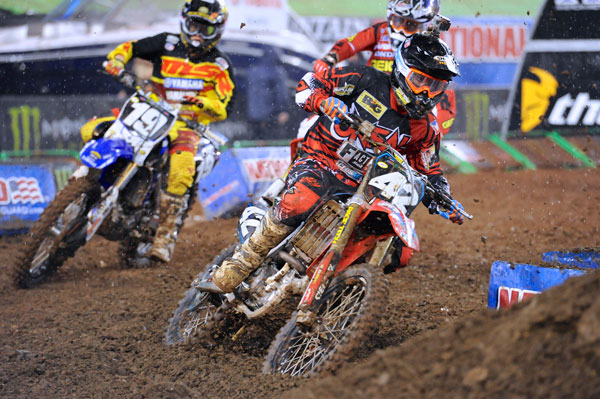 Friese captured a career best third in NYC.
Yeah they were on you, and credit to you, you looked like you pulled away, like you said. Lemoine was there, Bisceglia was there, somebody else was right there, Alex Martin maybe, and you kind of pulled away. How bad did it get? It rained for some of your main, and then it looked like stopped and it looked slippery.
It was pretty bad. It's been raining off and on all day so the track was kind of soft and it was getting a lot of pot holes and a lot of ruts and stuff like that. It was pretty bad. I knew if I just put my head down and hit all my marks and rode four or five really good laps that there was no way they were going to be able to pass me. There wasn't room out there and my speed today was actually really good compared to the rest of the class. It was good. It just kind of mentally, it's tough when you're in that podium position. I think it was kind of good for me to see it slip away and then have another shot at it and be able to put my head down that time and really go after it.
It's not like you had it and a bunch of dudes crashed behind you and you just rode around. You earned this one.
Yeah, for sure. They were all right there. They were hounding me. On the 250Fs it's crazy out there. Everybody's on the rev limiter so you definitely are hearing those guys every turn, every jump. They're right there and there's a whole pack of them right there and they're good guys, guys that have all podiumed. Top guys, factory bikes and everything like that. It definitely got me a little bit nervous for a minute but I knew if I put my head down and put in some solid laps it would be good.
So you happy? It was career best finish for you, first podium. You had a lot of stuff go down in your career, good and bad, and here you are. You podium on a privateer team. You've got to be pretty stoked.
I'm pumped. Like I said, this was my goal this year, was to get a podium and I did it. Next year I want to win and hopefully we can make that happen. I think I can be a title contender next year with maybe the top guys moving up to 450s and a good year like this under my belt. I think make a few improvements to me and maybe a few improvements all around my whole program and I think I can be right there to contend for a title.
What's the plan for outdoors or what can you tell us, what do you know? What's the deal?
Right now the Factory Metal Works team is planning on going and planning doing them. We're definitely looking for sponsors, looking for help if anybody wants to pitch into the program. I'm thinking I'm going to ride a 450 to be a little bit cheaper. The 250's kind of just too expensive to do it every weekend and rebuild it. I live right there in Southern California right now so I'm definitely going to hit the first few that are close and on the 450. I think I'll do Denver too and just see how it's going. Hopefully I'm doing good and we get the funds to go do it, but I think right now we're kind of looking for sponsors, so definitely if anybody's out there and wants to help us out, wants to come on board, we got a strong team.
Well this kind of ride will definitely attract some attention. Great job.
Thank you
****
Ryan Villopoto
Not much else to say but great job.
Couldn't ask for a better night, with the qualifier getting the holeshot there and the win and now with the main event with the holeshot and win and the truck.
Yeah good job on winning that truck.You started by the box on the heat race so you're finally starting to maybe pay attention to me?
No, actually not, because the box was open for the main. I had first gate pick and I didn't go there.
But you started on the box in the heat race.
Yeah in the heat race but not in the main.
Why not?
Out in front of the gate wasn't that good.
Why'd you go by the box in the heat?
Because that was the best gate for me.
So maybe you're learning a little bit. It wasn't a bad practice for you by any means, but…
You know I'd prefer one practice, or two shorter ones, just because I learn the track quick and get it down and some guys take a little bit longer, but that's the way it is. We have three practices.
How was the track out there?
Actually the dirt held the water really well. Also with the magic Dirt Wurx put on it, it really couldn't have been any better with the amount of rain. It wasn't like we had a lot of rain but still, any rain with clay on a Supercross track makes it tough, but it was actually really good.
And you got through the lappers pretty good. I didn't see any close calls at all. It was a really, really good night of racing.
We got the holeshot and made the night easy. Not really any close calls, no. Everything was pretty under control.
So you won your fourth Supercross title in a row, tying Jeremy McGrath, he's the only guy to ever do that. How does that feel?
It feels pretty good but I guess it's sad to say that at this point in time that I'm kind of pumped that I was able to win a truck. At this point, that's more exciting. I've never won a truck before, so it's cool to have Toyota involved in the sport and being able to do that. That makes it pretty cool, to have that.
I bet you they were sweating thinking you were going to pull the Monster Cup thing where you told them you would trade it in on a Ford Raptor!
I'm a Ford guy. Hang on, I'm not a Ford guy; I love my Ford Raptor. Toyota doesn't sponsor me, so if you are listening, I am open for a sponsorship. But other than that, if I'm going to go and spend my own money I would spend it on that. That doesn't mean I don't like Toyotas. I drove Toyotas for four years, so I like their trucks. But this point in time the Raptor is kind of the truck of choice. But maybe it'll change my mind once I drive the Tundra off the lot.
Have you felt some pressure trying to get this thing done and trying to make it happen? Each and every week, has it been sort of fine? How's the pressure been on you to clinch this thing?
Obviously with the points lead the last couple weekends have been big but mainly pressure just, "what's the matter with him? Why isn't he winning?" this and that. I don't care, believe me. The last thing I care about is what people think. I don't care what people think. For me, winning some races and then going on that drought…
You were mad after St. Louis.
I go out on the track to win races, regardless of anything else, and when I don't it's sometimes… It's not disappointing not to win right away but when you have a couple back to back or three or four races, for me that starts to get a little bit of weight. So to have three in a row, that's pretty nice.
What about outdoor nationals? Can we talk about that?
You'll see me there.
You'll be at Glen Helen?
You'll see me there.
Racing?
I like Glen Helen, actually.
We've seen you go good there.
That's probably my favorite track.
You'll be racing?
Yes, I will be racing. Have you heard anything other than that?
Yeah, but not from you.
Okay, then beat it.
Congratulations, man. Four titles in a row, and you won a truck. Great job this year.
Thanks, bro.