Ryan Villopoto is one of the most dominant riders our sport has witnessed. Dominance is the goal all athletes aspire to but in this legend's case, that does not equal contentment.
Ryan Villopoto is one of the most dominant riders our sport has witnessed. Dominance is the goal all athletes aspire to but in this legend's case, that does not equal contentment.
Photos By: Mike Sweeney and James Lissimore
When RV came on the scene full-time sporting the number 51 Pro Circuit 250F in 2006 he was socially introverted, with a shy, "awe-shucks" demeanor on the podium but on the track he was already sporting that ferocious, rear-steering style which would one day propel him into the record books with the best the sport has ever seen. Through the years he went from prodigious rookie, to favorite, to legend; matching a record held by only The King, this weekend in East Rutherford. For the 4th year straight, Ryan Villopoto won the premier Supercross Championship and he has obtained these titles in convincing fashion.
When it comes to sport there is one thing which all athletes strive for and that is utter domination. The only way to have all that hard work, sacrifice and time dedicated in preparation seem worth it, is to enjoy the spoils in terms of financial gain, public opinion and fellow-competitor respect. To be the best of the best, unequivocally with the facts and records to prove it. To dominate ones competition is to achieve harmony and tranquility of mind and spirit. It's the ultimate life's goal, achieved. You dedicate yourself completely to a cause and your skill and preparation (God-willing) equate to the affirmation of all your hopes and dreams.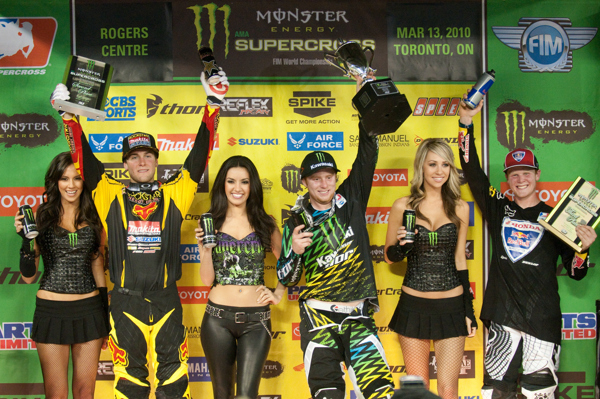 RV caught fire in 2010 after an off-start before that terrible St.Louis crash. Toronto podium. Lissimore Photo.
But what if when that pinnacle moment arrives, with it comes a moment of clarity that you aren't sure this dream was ever yours to begin with?
I'm not claiming for a moment to know what goes through Ryan Villopoto's mind, I'm merely hypothesizing based in introspection, past events and demeanor. First and foremost, I have the utmost respect for RV and what he has accomplished in this sport. He is without question a legend and as amazing as he has been these past four years in Supercross, his exploits in the Nationals are even more awe-inspiring. He may have less titles in MX but his ability to twist the throttle and hang off the back of the bike on the treacherous surfaces of the outdoors is nothing short of mind blowing.
In Moto, like all sports, their is a value to playing the PR game. Every athlete knows this but there are athletes in all sports who either can't or simply choose not to cater in this manner. For some it's a choice to play the role of spoiler or bad guy, for others they really are a bad guy who just happens to be extremely talented at a given craft and then there are those like RV who certainly see the value in it but just don't even have it in them to pretend to enjoy the process. I absolutely get it 100%, I'm that same personality-type myself. There are people who can just put on a smile and song and dance for anyone in any situation necessary. Not me, I am who I am and it's not a song and dance deal. It's this type of public persona (which in RV's case is just who he is, not an act) that has kept the bulk of moto fans from feeling that kinship with RV that they may and do with other racers who can play this role with less resistance. Usually dominant racers of an era have passionate fans and detractors and while RV certainly has his band of faithful-followers and haters, someone which his stats and less, the passion amongst these groups is a bit contrived. That disconnect between he and the fans makes it so.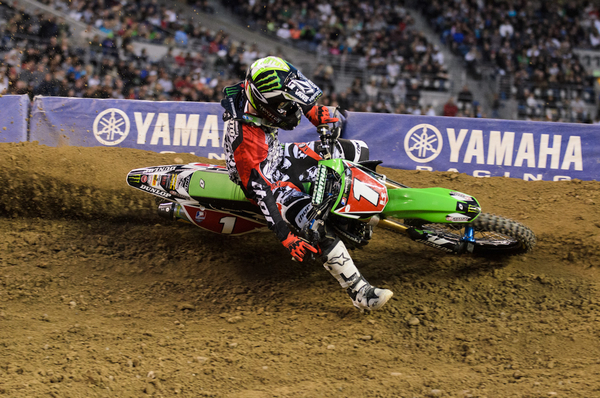 RV has had the #1 on his plate so long, "RV2" barely makes sense anymore. Lissimore Photo.
Over the years as RV continued to win and challenge for titles, it was clear, the only thing he cared about was the win. With most racers and athletes in general, the W is the first step in a process of attaining other desirables. First and foremost of course is financial gains. Beyond that are fan support and the ever elusive internal confidence. RV's workmanlike approach to racing brought the W's on in bunches, with them came the financial gains but the fan support and confidence seemed to always be misnomers. RV hasn't been one to thrive on the support of fans whether he was winning or losing, likewise, when he did face those odds which handed him losses, he never suffered the blows to his confidence the almost every other racer has and does. For all the talk of Ryan Dungey being the most robot-like racer out there, Ryan Villopoto could always brush off a defeat quicker than anyone other than maybe Chad Reed and move on to the next fight unabated.
There's definitely some huge pluses to not thriving on the external requisite positives that most athletes do. For starters, you are a fully internalized machine where aside from that x-factor of luck, you fully dictate your fortune and future progress. You aren't soaring on positive reinforcement from your fans and your confidence is always in a fully buffered zone where you aren't at risk of doubting yourself. You are a well-oiled machine, capable of producing that which you wish until your inner-fire diminishes.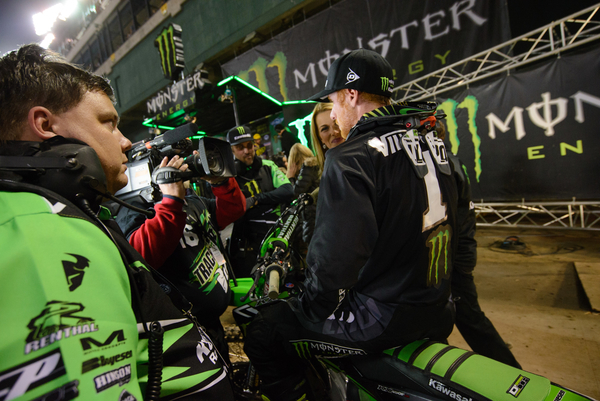 The partof the job few racers enjoy. Lissimore Photo.
Then there's the flip side of that equation, where some do thrive on the external positive reinforcement. Confidence wanes and swells by the lap and result. You are much more humanized to your adoring fans and that matters to you, it's undeniable and unalterable for those of this personality type.
They'll likely win less but be adored more. Which are you? Which would you prefer to be?
Watching RV in his sit down with McGrath during this weeks race and watching RV in his post title-clinching race interview(his 4th consecutive!), I really started to ask myself just how Ryan Villopoto could come across so blasé about his accomplishments in racing? His demeanor just struck me as a guy who has achieved really everything this sport has to offer and is left asking himself, "really, this is it?" I can't decide if I feel he has reached a point where it's become clear to him that this was never his dream but merely him riding out the autopilot on the course his parents set him on… or he's just tired of being pulled in a million different directions when all he wants to do is live a quiet life with his wife and pooches… or maybe he's plain old simple burned out.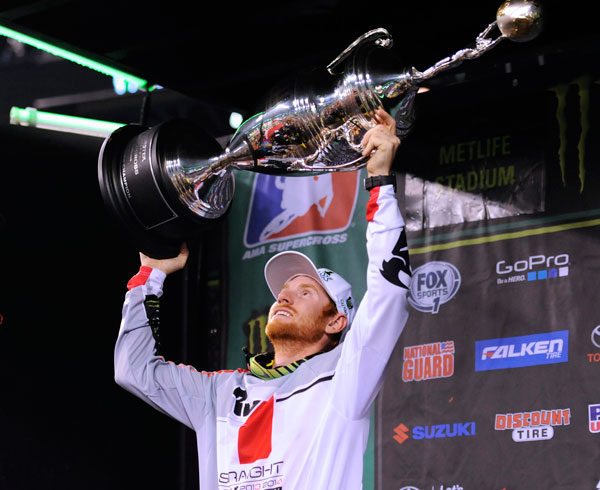 RV holding the ultimate goal in SX. 4X Straight. Sweeney Photo.
Whatever the case, I am bewildered by a rider who is in his prime and I do believe he is in his prime, fully capable of extending his title streak and reeling in another MX title or two, winning in pretty dominant fashion, not being contented simply by wins and financial gains alone and that is why I wanted to focus on this conundrum this week.
Though, if any of my three hypotheses' turned out to be the cause behind RV wanting to step away in his prime, it would make at least understandable sense.