David Vuillemin answers some pertinent questions from New York/New Jersey/Met Life
David Vuillemin answers some pertinent questions from New York/New Jersey/Met Life
Photos by Mike Sweeney
Q- We saw bad weather on and off all day long but for Villopoto it didn't seem to matter as he took off for the win. What did you see from him out there that allowed him to dominate?
David Vuillemin: Seriously, I didn't really see anything on TV that could explain his domination in the Empire State… Aside from doing that triple into the off camber, RV wasn't doing anything special on the track. After the start, he was doing the rhythm section like any other "normal" 450/250 riders where some were "quading" and being faster. Before the whoops, we never saw him triple over the ski jump. I guess his start, his momentum, his corner speed, his consistency and launching/jumping thru the whoops were enough to make it look easy. Tomac, in the other hand, looked more impressive but he never caught RV… Sometimes the bare eye can fool you…
Eli Tomac's best races of the year have been in Indy, Seattle and now NYC and all the tracks were mushy, rutty and had some traction. This is not a coincidence–why do you think he's good at this type of track?
For me and as of today, Eli is still a better MX rider than a SX rider. That could explain his better results on rutty and MX-condition-like SX track. He was doing that tricky triple with the flat take off before the whoops and the "quad" (table+single+single) in the rhythm section after the start consistently. Eli knows how to ride in the ruts, he proved it during his National season last year which helped him in all the turns of Metlife Stadium. Everyone knows that the 450 bike is difficult to learn in Supercross for a 250 guy but Eli improved all season long even with an injury at A1. It's good to see him improve his results towards the end of the season. It's his rookie season and it's a learning process. All the experience and his good results this season will carry over for 2015.
There is so much to learn in the 450 class. How to set up a bike. In 250, you just have to pin it. In 450, you have to set up your bike to be efficient for 20 laps. You have to use the bike way differently. Where a 250 the power is really high in the RPM, the 450 needs to be short shifted. When you use a 450 high in the RPM, it puts out less torque and less power and the chassis doesn't work properly which could be a problem in both SX and MX. You have to learn how to manage 17 races over 18 weekends. That's something new for all the rookies to find a routine and tweak your training week by week to improve your riding, your bike and recover without doing too much. You have to deal with more fast guys too than in the 250 class. I think it's a positive season for Eli after his injury to rebound late in the season. You have to take in consideration, when you miss the 4/5 races and you don't ride/practice, you miss a lot of experience, race pace and testing. It's like going backwards because everyone else is riding and improving. I'm ready to bet he could be a big spoiler next season
Great ride by Josh Hill to get third. If you were a team manager, would he be high on your list of riders to hire for next year for supercross?
I'd love to know what really happened between Josh and RCH to have his deal terminated after the SX season. He has one of the best potential of the 450 guys, a lot of talent and he isn't scared to jump something that no one else does. For sure, Hill would be on the top of my list for next year's SX season. Before the NY SX, his best finish was a 7th but this weekend, even with the Roczen/Dungey/Barcia trio behind him for the most of the race, they couldn't catch him. If he doesn't have a ride, then there are a lot of riders that shouldn't have a ride. He comes back from a lot of injuries and surgeries. His results deserve respect. To podium a race 4 years after his last top 3 with what he's been thru shows us that he's doing something right.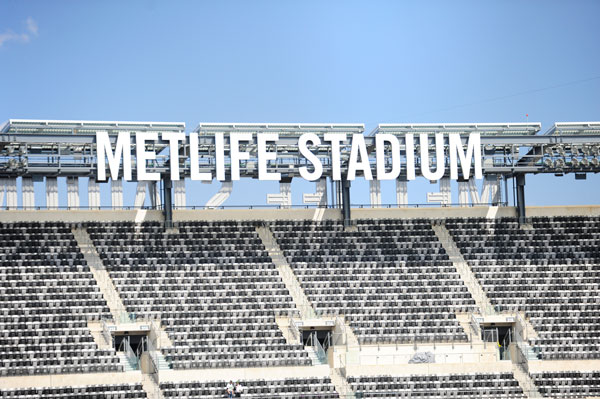 By all accounts the Met Life Supercross was a hit for the series.
You had Friese as a rider and as he said on the Pulpmx Show, he's a better rider now so he doesn't have to figure out how to stay in front when he gets good starts. He's come a long way from the MCR days.
It was a tough season for Vince when he was at MCR. I don't think the 450 class for a good fit for him then. He needed to race 250 and acquire SX experience in the smaller class. He made only 2 mains out of 8 races in 2011 with MCR before we decided to let him go. Since then, he got in better shape. Lost some weight and obviously did his homework. He did great in 450 at the beginning of this season making 5 mains out the first 6 races before racing the East Coast in 250. I was impressed by that. His podiums last weekend was a good reward for him. I'm happy for him even if we had rough times back in the day.
Build your dream TV announcer squad for supercross, including the sideline reporter…
We've talked about that before. It's tough to beat the Eckman/Bailey combo with Davey Coombs interviewing the mechanics during the races. I miss hearing the mechanics during the races even if they all pretty had the same speech. Ralph came a long way but he still cuts the former riders off to say the stuff we see on TV. I don't some to tell me what's happening on the screen. I see the passes. I see the crashes. I see who wins the race. I just wanna know how. Ralph can't tell me how but RC, Fro, MC or Windham can.
Even if I didn't agree 100% with what Bailey was saying back in the days, he spoke well and gave great feedback. As far as the sideline reporter, Jenny is doing good considering her lack of experience in Supercross but her questions are always very basic and often very similar. I need more depth in the broadcast. I need to know what I don't know. I might be a little difficult though but I'm glad I can watch all the races live from my couch rather than following the live timing online and waiting for the next day (or week) to see the races. To be honest, I could watch the race live on mute, I wouldn't care…
Is SX in NYC as big of a deal as Feld Motorsports is making it out to be? There was a great crowd for sure but does it mean anything?
I thought they did great marketing the race and doing some mainstream stuff. Our sport needs it. It was cool to see all those guys have fun in NYC and promote the race. The north east needed a SX race and despite a few showers, it looked like it was a success.
Was the pass on Jimmy Decotis in the main dirty?
Not at all. I'm still surprised to see riders not able to slow down/brake to square off the rider that just blockpassed you. At one of the Anaheims, it happened to Weimer twice in the same night which was unbelievable from a rider with that much experience. That's SX 101 but it happens every weekend. I guess not everyone can be as good as Bradshaw, the king of squaring people off… haha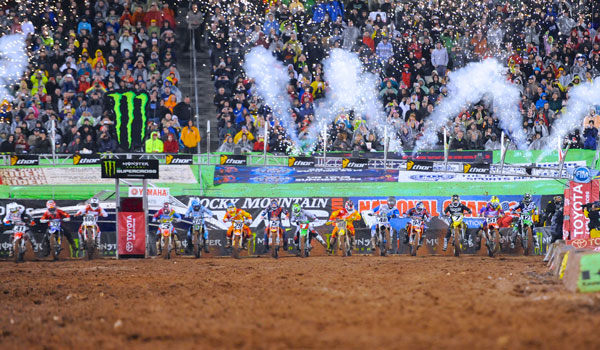 The main event in the 450SX goes off in NYC.
Anything else?
What's going on with Dungey? I thought his first 10 laps were pretty decent but it looks like he forgot how to ride from one lap to another. He rides sitting down everywhere, goes super high on every single jumps. He kept skimming the whoops slowly when the fastest way was to jump as far as possible thru them. I can't believe with all the riders' entourage and team videos, those issues aren't fixed. He lost 2 spots to Roczen and Barcia in 1/3 of a lap and ended up falling over like a C rider in a rut. Not that I want to work and spend my life on a dirt bike track but I would love the opportunity to help a rider as good as him and work on details/technique to get to the next level.
I know for a fact (I was his teammate in 08) that he's super dedicated and that he works really hard but RD5 might need to get help from someone else than a regular physical trainer. Someone that knows the MX/SX technique and how to get faster lap times, not someone that can make you last longer… The bottom line of SX/MX is to go fast and work on technique. If you're off the pace, it doesn't matter if you can go 20 laps or 30 minutes, you won't win. Just my personal opinion…