Las Vegas…you won yet again.
Las Vegas…you won yet again.
Photos: James Lissimore
I wonder if anyone has ever left Las Vegas feeling fresh, relaxed, and motivated, because everyone I know leaves exhausted, dehydrated, and drained of most bodily fluids. Vegas was hot and windy this year, did I mention it was hot? The track was hard and slick before I even saw a bike roll into the stadium. My eyes are still filled with dirt and dust two days later, at least that's my excuse as to why they are bloodshot. This was the last Supercross of 2014, so lets take a look at who came up Just Short one the last time.
#21 – Cole Seely CRF250 SX-F – Troy Lee Designs, Lucas Oil, Honda, Red Bull
Why am I profiling Seely, a rider who finished 2nd in the West Coast series? That's a fair question. There are no qualifiers for the West and East coast main events in Vegas, and if I profiled the riders that came up Just Short of qualifying for the East/West Shootout, that would have been one more rider to write about and sounded like a lot of work. By all accounts Seely came up Just Short of winning the West Coast championship. That would be the phrase I would use to pump my own Just Short column but lets take a look at how Seely describes finishing 2nd in the West coast championship.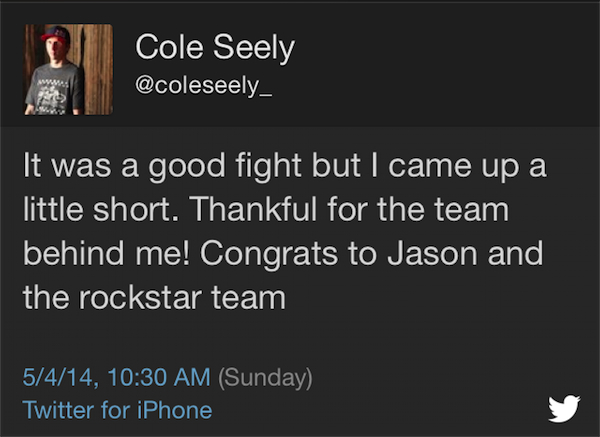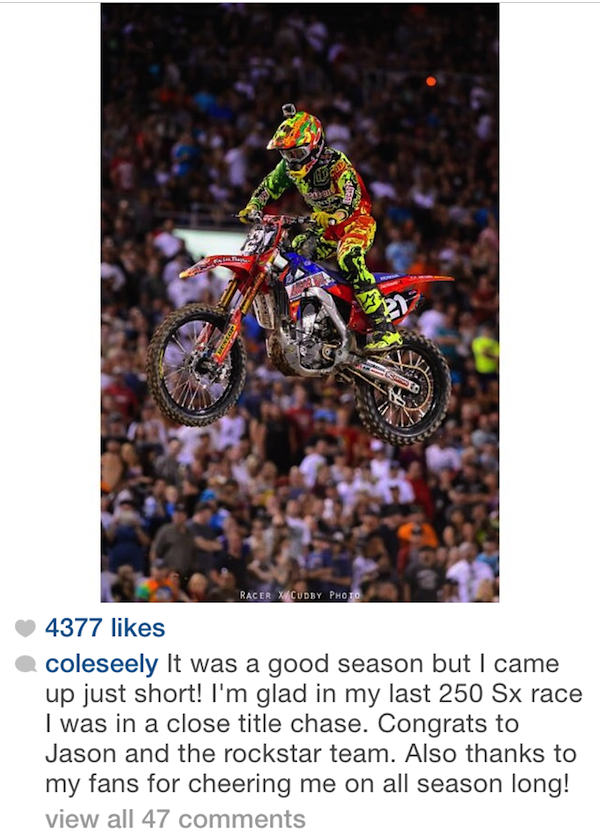 Well there you have it. I guess you could say I've finally made it. "Just Short" has become the standard in the description of defeat. I might have to hang up my typewriter after this season, I mean what else do I have left to prove? Just Short is used every week in the RacerX twitter feed, some may even be so bold to say that they stole the phrase. Let this be a reminder to always get those contracts signed and those catch phrases trademarked.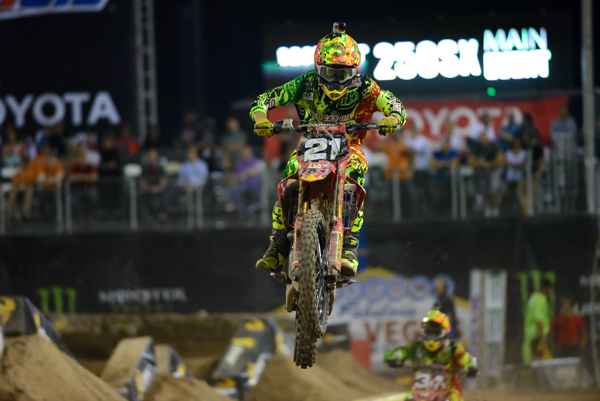 Seely is silky smooth on the bike, makes riding look easy.
They say that championships are won on your bad days when you are minimizing the damage. I was curious what bad day caused Seely to lose this championship. Seely's worst finish was 4th place, which he finished in four times this season. If 4th place finishes are your bad days, it seems pretty good to me. In comparison, Anderson's worst finishes were 6th, 5th, and a 4th (one of each). At first glance it appears that Seely actually had the better season, but the numbers don't lie. I don't know who "they" are, but they do lie because Seely's worst days were better then Anderson's, yet Seely still came up Just Short.
#211 – Tevin Tapia Suzuki RMZ450 – Team 3BR
Have you ever scrolled through the results on http://results.amasupercross.com? There is a wealth of information on there, I really should have utilized it more this season…maybe next year. Tevin qualified for three main events this season, compared to last year when he only qualified for one. After talking with the 7DeuceDeuce on the PulpMX Show Monday night, it's impossible not to sympathize with privateers for the nearly impossible task of racing against other riders that have the means of flying to the races and maintaining a consistent training schedule. How can you not cheer on the privateers? They are Supercross. I think I might have spent too much time with Weege this weekend, as we all know he is Motocross.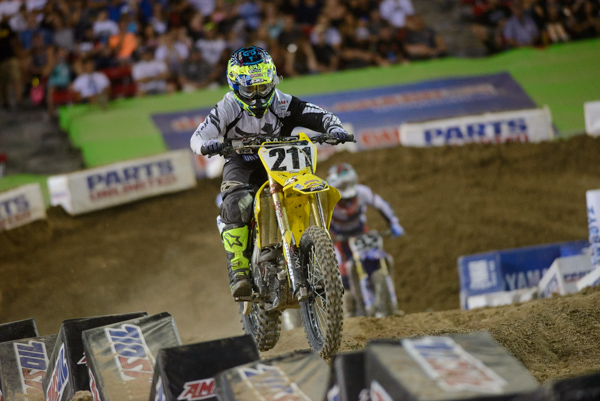 Tapia is from the Seattle area, if you didn't know now you do.
I wasn't familiar with Team 3BR so I googled it and shocker, RacerX posted an interview with Tapia 5 days ago. Anyone else see the irony in PulpMX profiling privateers and getting them more press only to have RacerX soon start doing the same? A coincidence I'm sure. Now they are stealing my content before I even provide it. The Borski family built 3BR around Tapia and their own son that races along side him, read more about it here: http://racerxonline.com/2014/05/01/privateer-profile-tevin-tapia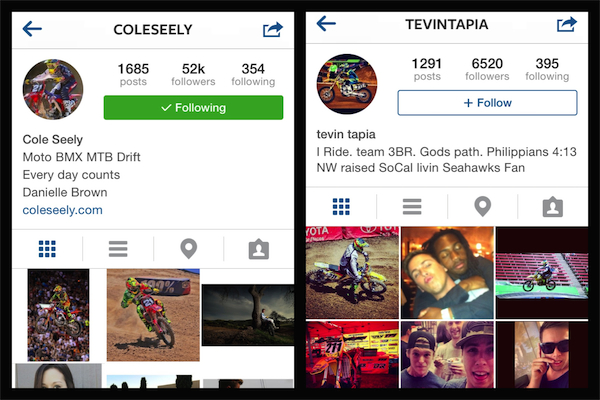 This is like bringing a knife to a gun fight comparing a factory rider's stats to a privateer. 6500 followers for Tapia is nothing to shake a stick at though.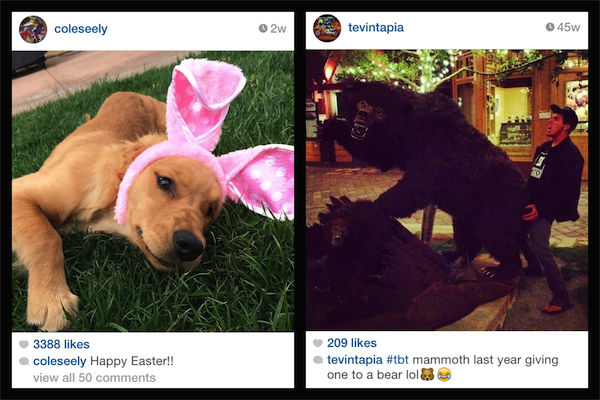 You will find lots of pictures of Seely's new puppy in his timeline. It doesn't appear Tapia has a dog and after coming across this picture, that's probably for the best.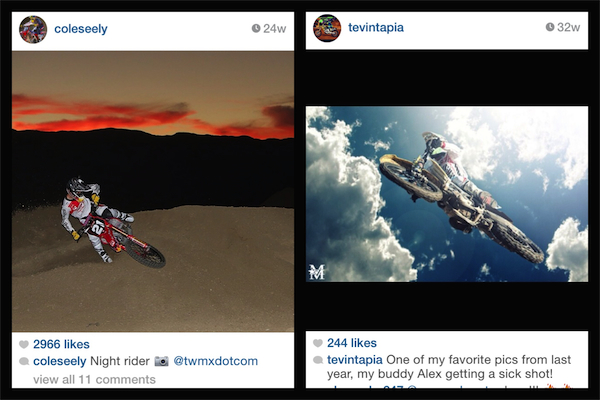 Seely is an Instagram professional, surely guided and mentored by his friend @lifeof_riley. What I mean by that is you won't find any blurry pictures or bad use of filters in any of Seely's posts. He demands the best from his Instagram, and we all could learn something from him. He doesn't force a bad picture or filter; he only posts that best. This cloud photo of Tapia is a little disorienting, or I'm still hung over from Vegas.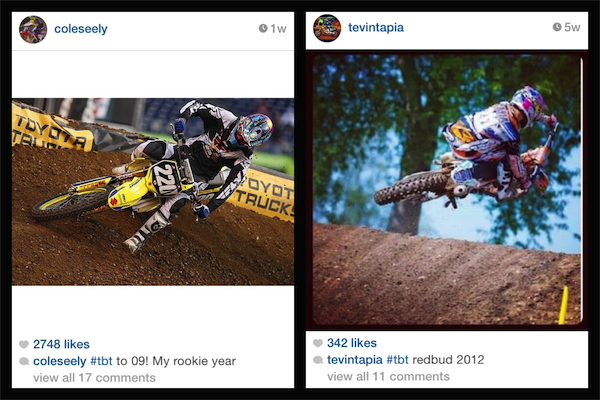 When it comes to #TBT, my only request is it's a minimum of one year old, this should be a law and enforced. Generally speaking the older the picture the better. Both of these pictures are good, not great.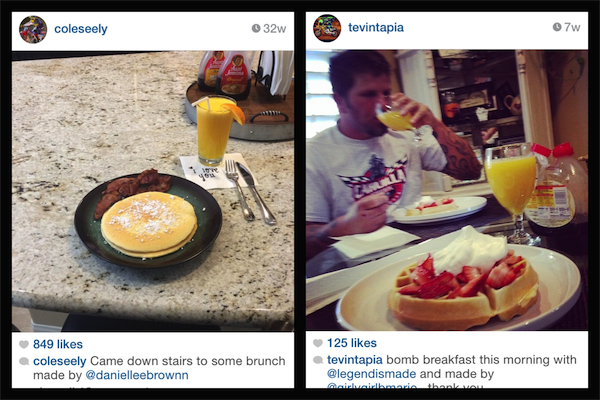 Both riders are enjoying OJ here. I loved the Belgian waffle with strawberries and whip cream as a kid just like Tapia is eating here. In hindsight, probably wasn't the best pre-race meal that I indulged in for years. Seely has a side of bacon, as we all know everything is better with a side of bacon.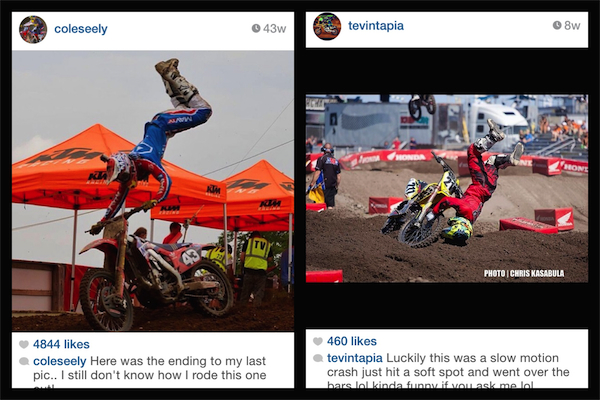 Nice flying W from both riders. Seely displays perfect extension. The picture is a little blurry, but I'll accept it because of the quality of the crash that is taking place. Tapia's picture is really clear for a crash photo, which he explains is because it was at a low speed.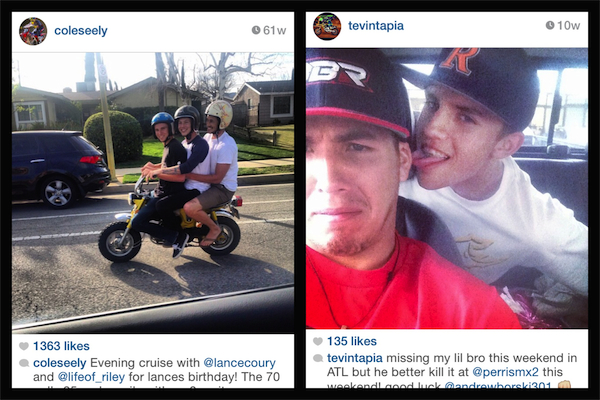 Seely and his bros are headed to Aspen. Tapia's bro is licking his ear, which is kinda weird.
Thanks for reading please send any and all comments to jasonw@racerxill.com