Inside the riders minds at Las Vegas
Inside the riders minds at Las Vegas
Hammerhead Designs was launched with the intent to provide new and better parts and innovative accessories for motocross bikes. One of our goals has been to design entirely new and unique products with improved ergonomics and the shift lever was the first part that we felt could be dramatically improved by providing a feature that would allow for the shifter to be repositioned to perfectly suit the riders size, shape, and preference.
Photos by James Lissimore
Ahh, the last race of the series. Most of these riders were just hoping to get out of Las Vegas uninjured. The season wears on everyone and without much hoopla entering Nevada, the lack of excitement definitely showed on the track. Let's take a look at what may or may not have been rummaging through the world's fastest supercrossers' minds.
Lap 1
Ryan Villopoto: Hey Jake, block these guys for a sec so I can make like Houdini.
Jake Weimer: See Kawi, I still got it! If you have a minute, I would like to discuss 2015. No? Ok, I'll wait.
Ryan Dungey: I really, really, really hate the color green. Hey RV, take a hike for a few months. Oh, you are? YESSSSSSSSSSSSSSSSSSSSSSSSSSS.
Ken Roczen: I feel you Dunge. Orange is where it's at but yellow is growing on me. Do I have to get tattoos now?
Josh Grant: I am in 5th right now and I am happy living in 5th right now.
Chris Blose: Suck it, Matthes, I am going to do this!
Justin Barcia: This bad start has me down in the dumps and feeling blue.
James Stewart: RV, wait up a sec! I need to talk to you about… something.
Mike Alessi: 9th is not really how Dad drew this first lap up.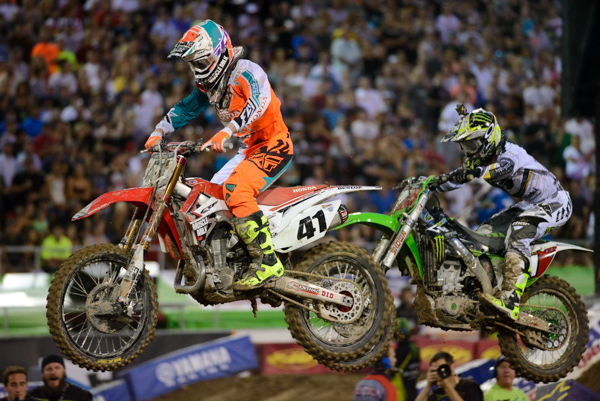 Trey Canard: These main event starts really have my number. No, not 41, I mean they are really showing me what time it is. No, not 10:30.. Ah, forget it.
Weston Peick: I only get 20 more laps in this Fly gear for the rest of summer. I don't know if I can deal with this.
Josh Hill: I wonder who won the undercard tonite between Denny Stephenson and RC. I had a hundo on D-bo, though.
Jimmy Albertson: Can we PLEASE just end this series already?
Nick Schmidt: No, Jimmy! This is the greatest supercross season in history! Let's make it 50 rounds!
Andrew Short: Where did everyone go?
Lap 10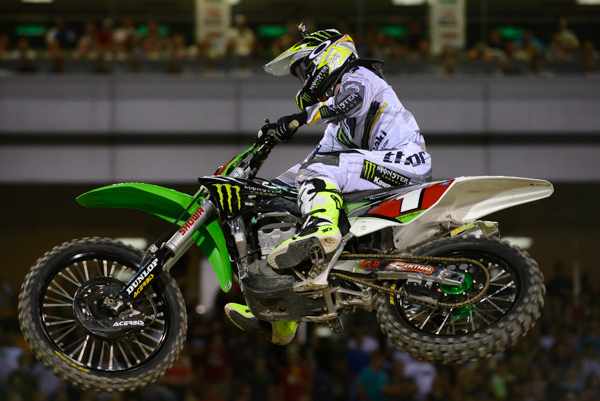 Ryan Villopoto: Monday is going to be a very long day but as of now I am still riding outdoors!
Ken Roczen: Hey Cudby, text me that pic.. My Instagram neeeeeds it.
Justin Barcia: What the Hell was J-Bone talking about with the red pill and blue pill? I don't even know what a rabbit hole is and I am NOT calling him Morpheus all year.
Josh Grant: This isn't so hard. Why don't I do this every weekend? #hltn
Trey Canard: Hey guys, when I pass you, please forgive me. I know not what I do.
Josh Hill: Anyone know what Canada is like in the summer?
Mike Alessi: Josh, I heard it's cold but we are bringing the hot tubs.
Chris Blose: I am in 6th! I wonder if Watson is still here or watching from the parking lot again.
Andrew Short: I found you guys! I love you guys.
Jimmy Albertson: Just throw the damn checkers already! Ronnie Mac has the PBR on ice!
Lap 20
Ryan Villopoto: 2014 has been real! Everyone meet back here in October? I will bring the skills, you bring the million.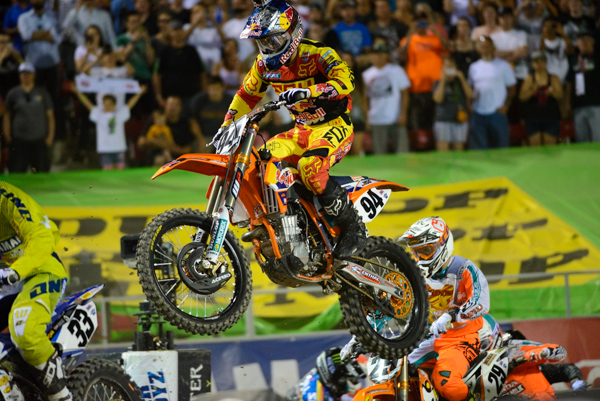 Ken Roczen: I may be #94 in your program but I am now #1 in Aldon's heart. At least for a few months.
Ryan Dungey: I can't WAIT for outdoors! I am not naming names but there's a certain ginger on my Christmas list.
Justin Barcia: Autumn in Charlotte will be beautiful. I hope I get to go to the super bowl.
Trey Canard: Paging the summer of 2010 please. Summer of 2010, please pick up line 41.
Josh Hill: Yo dirt shark, let's bounce.
Jake Weimer: Ok Kawi, let's do this! Metty? What? Crap.
Chris Blose: I won 9th place!
Andrew Short: I love being consistent. And Fly Racing. And you.
Kyle Chisholm: #11 in 11th. I'm so clever.
Ben Lamay: All hail the Alaskan Assassin.
Jimmy Albertson: To air wheelie or not to air wheelie? That is the question. Psh, who am I kidding, always air wheelie!
Nick Schmidt: Hey Lamay, I don't care what they call you in Alaska, if you come to Milestone your ass is grass.
Cody Gilmore: Goodbye 374, hello 2 digits!
Mike Alessi: Planes, chains and automobiles. See you jerks in San Bernardino!
Ronnie Stewart: The CandyMan had a sweet season! Hey Troy, can I get another set of gear now?
Weston Peick: Do I have to get tattoos now?
Tyler Bowers: This whole 20 laps thing is for the birds.
James Stewart: I have a feeling this is going to be a good summer.