Former factory rider David Vuillemin talks Vegas
Former factory rider David Vuillemin talks Vegas
Photos by James Lissimore
Q- Thoughts on Vegas 450SX main event? Did you stay awake?
To tell you the truth, I actually left after 5 laps. I was more concerned to beat the traffic to get out of there than watch the whole thing… But I watched it again on TV. It was definitely a snoozer but the quality of riding of RV was very good. For a rider that usually struggles on this kind of surface, he rode really well. I think he wanted to make a point by winning and finish the season on a good note. He wasn't worried about the points anymore and rode very relaxed. The races are always pretty boring when RV is leading on the first lap. Plus, Bubba had a bad start and got a problem with his fork/front end. After watching a race like this, I wish a Supercross start would be done like MotoGP where the fastest guys pretty start in front so we can have the battles we want to see.
Q-I think the 250 East/West Shootout has lost something with the East and West finals now also held at the race. What do you think?
I think it's a good idea to have both coasts last races in Vegas to crown the Champions but it takes away from the shootout for sure. After their respective mains, the 250 guys are pretty much done for the night and lose focus on the shootout. Looking back, the former format was maybe more exciting. It was good to see both champions ride press day with their number 1 plates and their special gear. It's tough to make everyone happy but I kind of wish they would go back to the old format. With maybe something cool to win or a fat check. But, I also think the injuries spoiled the shootout… Add Davalos, Cianciarulo and Baggett to the mix and we would have had a pretty cool race.
With those guys out on the East, even their main wasn't very excited with a Boggle that just rode around while he was already champion before starting the race. I'm still wondering why he let Martin have the win so easily since the championship was already done. For Anderson, it was a different story. He had to score points and make sure he wasn't doing anything stupid out there because Seely was close in the championship chase…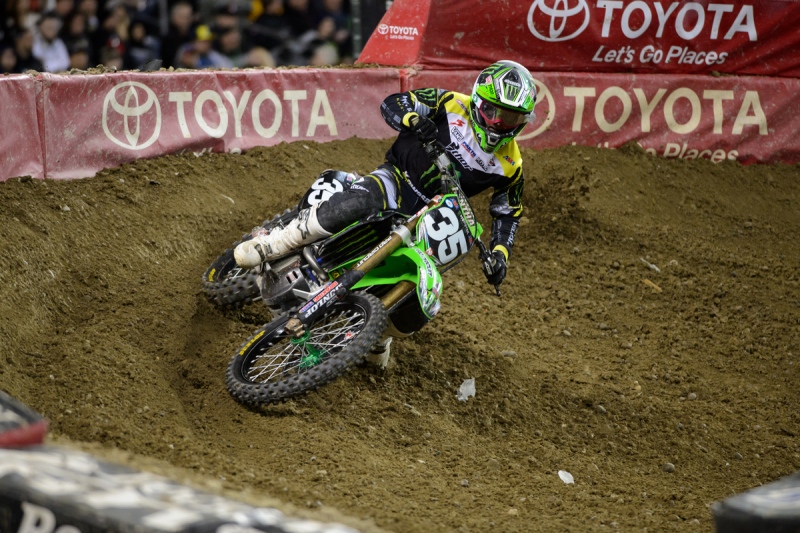 Justin Hill won the shootout and is a title contender in 2015 no matter what team he's on.
Q- Justin Hill looks like a title contender, can he win next year? And should he stay with Pro Circuit or move to Rockstar Husky?
Lil'Hill can definitely win next year. He already won 2 races this season if you count the shootout. He had some good rides all season long, even one coming from a crash on the start. As far as changing teams, I wouldn't. He knows he is in one of, if not the best, 250 team out there. Why change? I'm sure Mitch Payton would love to have him back. If you change team it's because they don't want you, which I don't think it's the case, or you can make more money somewhere else. You shouldn't think about money at his age. He can more than double his salary with race wins and a title. And I think the Pro Circuit can give him the tool to achieve that. I am not saying the Rockstar team can't but it's always difficult to change bikes, teams and learn how to work with new people in just one off season.
Q-Jeremy Martin did a great job to win the 250SX Eastern main event but in the end, he was tenth in the points. Does the win salvage his season at all or is it a complete write off?
A race win for the number one rider of a company like Yamaha doesn't salvage a tenth position in the championship. But, it's good for the confidence of the rider, the team and all the sponsors of the team. It shows everyone that he can be a contender for the next super cross season. He's just a kid. It's a learning curve but he will have to perform in 2015. Like all the amateur kids out there, they are better motocross riders than supercross and he'll be good for the Nationals this summer. Kids have to get SX experience and only the very best of them perform right away. Like Oscar Wilde would say, experience is the name men give to their mistakes… Jeremy will have to learn from them to be better next year. But after Las Vegas, it seems like he's learning pretty quickly…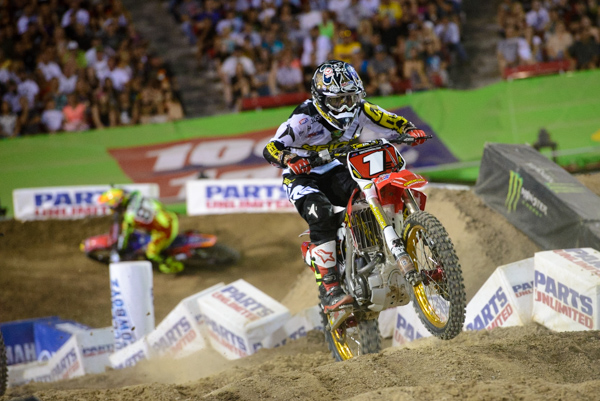 Vuillemin thinks the shootout has indeed lost a bit of luster since the 250SX east and west mains were put in.
Q- What about this business with Ryan Villopoto's knee? How do you feel about him saying he was in the for nationals and denying the rumor and then now what we all knew came out- that he's out for the nationals?
I'm really not sure why he kept saying he was racing the Nationals and, now, saying he isn't anymore. After talking to some insiders in Vegas, I learned that he didn't even test in MX for the upcoming Nationals. Seems like a good sign that he knew for a while that he wasn't racing this summer. BUT, if he did what he did there must have some good reasons. Maybe to just shut everyone up to keep focusing on the SX season but I have no idea. It was obviously handled very poorly by everyone involved but it's not my place to be critical about it. RV deserves all the respect in the world for what he achieved since he turned pro and also to race most of the SX season with a banged up knee. From what I've heard, he popped it out in Detroit.
I've popped knees out a lot in my career and it's not fun. I blew my ACL in 1991 at 13 when I was racing 80s (85s didn't exists back then) and rode my whole career without it. At 36 today, I didn't get it fix yet! I hope RV will not decide to retire though. Our sport needs a rider like him who works super hard and hates to lose. He's becoming a bigger legend weekend after weekend and the ultimate benchmark for any motocross/supercross rider on this planet. It would be a huge loss if he retires. I wish him the best, to enjoy his summer, to eat whatever he wants, to get wasted on a Caribbean island somewhere and come back fully rested to start preparing 2015 in October.