Some of Saturday's heroes talk about their races
Some of Saturday's heroes talk about their races
Photos by Simon Cudby
Marvin Musquin
Tough start to the year. Knee's not 100%. I talked to Frankie (mechanic) a little bit. You hurt your shoulder last week but today the track looked pretty rough and you had a good day.
It's a really tough start of the season, that's for sure. I kind of expected it because I didn't have so much time to prepare for the season. I did my best though. I got surgery on my ACL for the second time beginning of January. So it was tough to start training early. But I did my best and I'm here and I'm able to ride so that's still good. I hurt my shoulder, yeah. Kind of like dislocated a little bit, and then pop back in while I was riding and moved my arm back. It was a weird feeling. I didn't expect to ride Glen Helen after the first practice but I did. We taped the shoulder and I never had a problem with my shoulder. So it was a weird feeling. Knee is okay. It's still sore but I'm getting more and more confident when I'm riding.
So today I had a tough day. I was running in the top 5 in the first lap and Jason Anderson did a mistake right in front of me and we both crashed. Got up 19th and then came back 9th. It's a comeback, but that's not the result that I want. And in the second moto I started maybe in the top ten and I had a crash. I crashed by myself. We worked on the bike a little bit and I was actually doing a little bit better on the bike. But like I said, with the time I had to get ready I just want to be better every weekend and get stronger.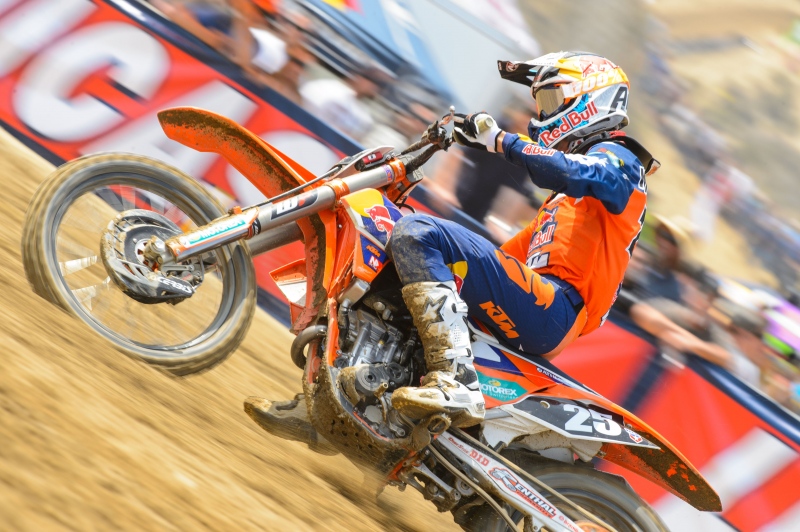 Marvin's not 100% yet but he's working on it.
When do you think you'll be back to 100%, the Musquin we saw last year. Do you sort of have a timetable of "by this race I want to be top 3 or winning?"
No, it's hard to say. I just wanted to do it right now, be on the podium or at least top 5. I feel like I have it but today it was just bad luck and then fighting back and trying to get a good place at the finish. I just want to get a good start and fight with those guys. But it's definitely tough with an injury. My goal is to get better every weekend.
***
Trey Canard
First of all, what's up with the Racer X article?
Yeah, I don't know. There's certain things as a racer you see from the media and it just kind of fires you up.
I guarantee your mom pointed it out to you. I doubt you read it.
No, I saw Racer X, I'm like, cool, I'll open a Racer X. I like Racer X. The third thing I opened up to was "Trey Canard's not going to have a good summer…" It gave me a little fire.
Those media guys are idiots. They don't know anything. I said one time in 2010 when Chad lost his Kawi ride, I went on the air and said "Chad Reed will never race in America again."
I don't think it's bad. I just thought maybe there was… Everyone has things they think is going to happen.
But I think with a 3-3 start for you in two races you have a bit of a point to say, hey, guys, what was up with that?
Yeah, I don't know. You couldn't find something better to predict other than Team Muscle Milk Honda and myself and Justin are going to have a terrible year.
I want to get to the bottom of who wrote that. I seriously don't know who wrote that. But I know there were 4 or 5 people who contributed to it. Let's blame Weigandt.
Okay.
Great second moto. And with a not so good start. Shane Drew said you were 25th early in the moto. First time I counted you were 10 and then I'm not kidding you, the next time I looked up you were literally 6th and then the next time you were 4. It was a nice ride.
Thanks. I was really happy. The first moto was not good. I felt really uncomfortable and it just wasn't a fun race. I was really happy. I was bummed with the start. I think maybe with a better start position I could have been a little closer, but I was really happy and as the race went on I got more and more comfortable and was able to keep charging and keep charging. It gave me a lot of hope for the next few races.
What happened off the start in the second moto? Can you pinpoint it or what went on?
I was right with James. James was good. I was right between him and either Dungey or Roczen. I was at a point where I couldn't hold it on because the guys from the outside were coming and then the guys from the inside were coming. So I couldn't really sweep around the guys on the inside because the guys were coming from the outside. So I kind of backed off and then I got together with Grant in the back. Both of our lines kind of went together. I almost went down. I kind of did the paddle for a good 5 steps and I lot a whole bunch of positions because it was going up that hill. I just tried to keep an eye on the leaders and tried to make good, smart passes. I thought it was a good day. I was pretty happy. It's good to end happy about your bike.
Second moto, catching and passing Barcia. I guarantee you as soon as you got by Barcia you're like, I have to go now.
Yeah. He's not vocal, he's not yelling, but he revs the bike. So you're like, oh, he's mad, I got to go!
Metcalfe said when he was behind him it just sounded like hell was coming. It was all out.
For sure. It's just his style. I was really just trying to concentrate on passing the next guy. I was really wanting to get Stewart. Unfortunately I wasn't able to, but it was a fun race for me.
Can we talk about the Metcalfe incident? He was as angry as a super-friendly Aussie could be.
Yeah. I hate that because I love Brett. He's one of the nicest guys you'll ever meet. I was coming in hot and he turned in early and I was trying to let him know that I was there, and we hit pretty hard. I was pretty surprised that neither one of us went down. I was thankful for that but bummed. You never want to have conflict, especially with your friends.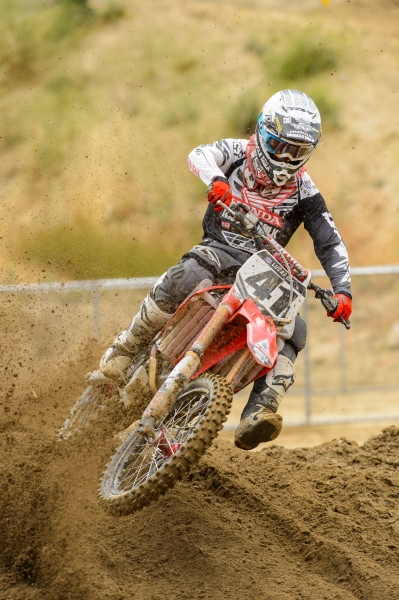 Trey finished third overall for the second straight national.
So first moto, like you said, you got up front and those guys kind of pulled away. Second moto you closed the gap on them a little bit. You were further back than that, but I'm a little surprised at those KTM guys being this much better than the rest of you field. You've gone 3-3, you've had some great rides. What are they doing? What's going on?
I don't know. They're obviously comfortable. They're getting great starts which is huge. I think really if we're going to be able to catch up to them it's going to be getting good starts and running with them the first few laps because they get out and they charge. Especially Roczen that first moto. He laid on a charge quick and just basically kept going. I think good starts and just moving forward. I'm really happy with my bike right now so that's a good place to be. It's good to get to know your bike. We've done a lot of testing. It's good to have a setting where I feel good about it and now I can go ride it a bunch and we can become one.
Well great job today and I'll get on that Racer X thing.
No worries, man. You guys just do your job. This is just your job to point things out that you see, but we're emotionally tied to this because this is our livelihood and it's our passion.
Yeah, sometimes I say things and then I feel bad about it.
Don't feel bad, just don't expect us to be okay with anything that's negative towards us. This is what we do and we love it.
****
Kenny Roczen
You are one corner away from being three for four this season. Terrific race today. Looked like you were on your game.
Definitely. I don't think there's anything I can complain about today. I got my first ever 450 pole position plus followed by two wins. It's just amazing. It was tough out there today. The track was rough but I think that's good because that makes a difference. The more difficult it is the better I believe.
I heard from a couple riders this was worse than Glen Helen, roughness.
I don't know. I don't think it was anything out of the norm. It was rough but that's what we kind of need to be able to make a difference. I liked it out there. I don't think I have anything to complain. Like I said, it's pretty plain and simple.
About three-quarters of the way through moto 1 you just started dropping your times a couple seconds. You were kind of maintaining the same with Ryan and then you just started picking it up and dropping it. Was it a conscious decision? Did you find a good line?
First moto, I don't really know what Ryan and the other guys were doing because I feel like honestly I was just riding in the end. But it was good because we would save energy. I just happened that way. When you're fit and feeling good that's just how it goes.
And you were able to mark him the whole way in the second moto and just make sure that you had a good lead on him?
Exactly. When I did the parade lap I thought, man, if I get the holeshot I can check out, because I found good lines and you have a clear track and everything. But that didn't happen.
So let me guess, you planned it to go 3rd to 1st in one turn?
That was a good thing that it didn't take me very long to be able to get both. It was kind of a sketchy move; I passed Barcia on the outside because normally he's the kind of the guy that doesn't shut off. I'm pretty sure he doesn't feel that good about me passing him around the outside, so it's good.
So now RV's hurt so Aldon is working and giving you all his attention and that's why you're winning? Is that right?
(Laughs) Definitely a big part. He's been staying at my house for 3 weeks. I'm glad he's back home now. No, I'm just kidding. It was good. We have just been putting in work. I think that's what gives you confidence and you just knowing your body. That's just how it is.
You started saying in Supercross near the end that you were getting tired and the grind was catching up, but it doesn't look like it up there right now. I guess maybe just that two weeks off is just something that helped.
Yeah. I have more experience in outdoors obviously and I think that's just how it is. It's my first ever 450 season so it's definitely long but I'm trying to find myself in a good spot. I'm actually trying to ride energy convenient. I know to do that better in outdoors since I've ridden it much longer. I just want to keep it on point and clicking them down. I think I have a pretty good chance at getting the championship. I know it's early, but it's definitely good to start off good, just to be able to get a gap, find yourself and then be consistent.
I'm really surprised that you and Ryan are that much better than the rest of the field, I got to be honest. All of us idiots in the media, Barcia and Canard and Reed and Metcalfe… But you and Ryan are on another level. I'm pretty surprised but that's got to make you feel good.
Definitely it makes me feel good. I kind of feel like even on a bad day…
I feel like you could fall twice and still get 2nd.
Kind of. I guess that's a good thing.
***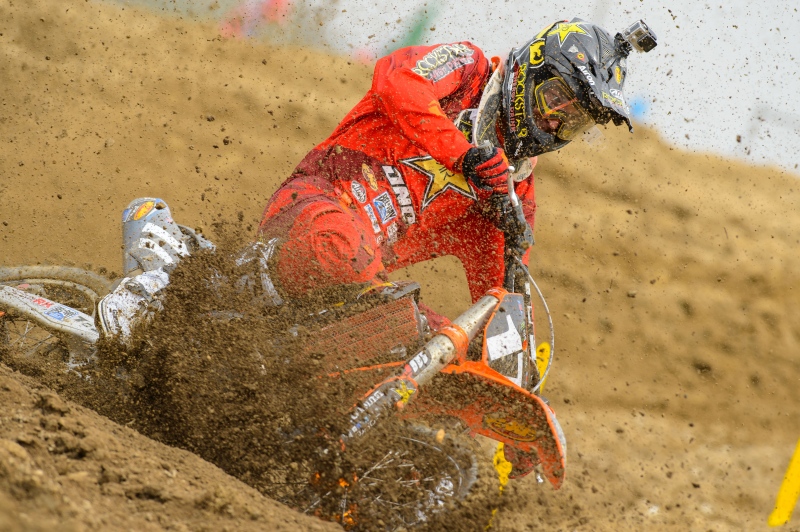 Anderson's been fast but he's also been a bit unlucky.
Jason Anderson
You got to work on your starts.
Yeah I do.
I'm no Gary Bailey but we got to get those starts better.
Dude, that was my plan this last week was to do a shit ton of starts, and then I got sick so I wasn't able to even try to work on starts. Yeah, I agree with you. I need to work on my starts.
But some good charges up through the pack and you even had a crash in there at one point too. So not a bad day.
Yeah, first moto I was actually in 4th in the first moto if you recall, in the first lap.
Then you hit… who'd you hit?
No one, I fell by myself and then Musquin hit me. And then I came back to 10th which it was a pretty pathetic ride. The second moto, a really, really bad start. Then I came back to 4th. I think I was pretty close to Cooper and Pourcel at the end, just cant' do much when you run out of time.
Good battle with Hill and Nelson. Good battle going on there for a little bit.
Yeah, they were behind me so I could kind of see it going on. But the track was rough today and those guys were battling until the end. I think from 6th place to Martin there was only like a 30-second gap, which is pretty gnarly. It was a good weekend.
I talked to some guys who told me that this place was rougher than Glen Helen. Some other guys said they didn't think so. What's Jason Anderson's thoughts on that?
It was just different rough. It wasn't the same. The track's a little bit slower here, it's a little bit more technical. But it was pretty rough. I would say for me it was rougher than Glen Helen and more technical, which I kind of like that.