Here's what some of the pit gossip says about the 250 class
Here's what some of the pit gossip says about the 250 class
Hammerhead Designs was launched with the intent to provide new and better parts and innovative accessories for motocross bikes. One of our goals has been to design entirely new and unique products with improved ergonomics and the shift lever was the first part that we felt could be dramatically improved by providing a feature that would allow for the shifter to be repositioned to perfectly suit the riders size, shape, and preference.
Here we go again. A few weeks ago, we talked about the 450 silly season and how that was shaking up. There are still a lot of pieces to put together with the premier riders and even more in the 250 class. Many of the 250 teams are still doing a lot of negotiating and jockeying for leverage with riders. Riders capable of winning championships are hard to come by so naturally it is fierce competition to lock those guys down. Who will land who? Let's take a look.
Monster/Pro Circuit Kawasaki: The winningest team in amongst the group, PC's name carries a lot of weight when dealing with riders. Their leverage has dropped in the past few years, though, as the competing programs have stepped up their game considerably. PC was once able to offer much less money and still sign the riders they wanted. It was truly their world and we were all just living in it. Now, though, they are having to get competitive with offers and pursue who they want.
Riders: Adam Cianciarulo is still under contract so I see him in green in 2015, naturally. I don't see Baggett returning to his home of 4 years. Relations seem to be a bit strained between Blake and the team after both Blake's struggles and a few bike malfunctions. Davalos looks to be headed elsewhere (more on that later). Arnaud Tonus is coming over from CLS Kawasaki for his American debut. Tyler Bowers has signed with the team after winning multiple Arenacross titles for Babbitt's Kawasaki. Winning the Vegas round in 2013 was huge for Tyler and his chances of landing this deal. I also look for Chris Alldredge to land here after an impressive amateur career and his relationship with Team Green.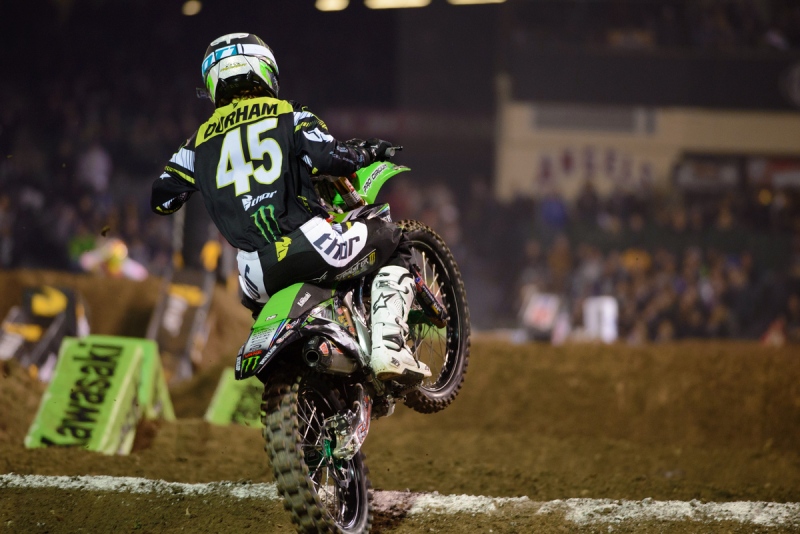 Looks like Darryn Durham's time at PC is over but word is he's talking to TLD. Lissimore photo
Red Bull KTM: The Austrian brand's factory 250 program suffered a huge setback with Musquin's knee injury in December. Luckily they had Rockstar KTM's Jason Anderson to pick up the slack and a title to boot. Their Rockstar program is moving to their Husky side of the company, thus the reason for the TLD/KTM talks. KTM is here to stay and between their effort and Husky counterparts, they are slowly taking over the paddock.
Riders: I have heard Justin Hill is headed here with a big offer but I do wonder if he could get assigned to TLD's program if that goes through. KTM would still help pay a huge part of the salary and still supply a factory motorcycle. Either way, Hill looks to be turning orange (and not from a spray tan). Musquin could also return here as he sat out all of supercross with the knee reconstruction. He needs to continue to improve this summer to solidify KTM's hopes that he can bring them a title in 2015.
Geico Honda: This team has made great strides in the past few seasons. Seemingly locked in PC's shadow, they invested in their own engine program and have been rewarded with numerous race wins and titles since the switch. They have had great success with their amateur-to-pro deals and are reaping the rewards year in and year out. This year many didn't have them slated for a supercross title but Justin Bogle changed that. They are one of the teams that riders know can deliver a title.
Riders: Justin Bogle will be back here and bringing his #1 plate with him. I don't look for Zach Bell to return after multiple injuries and struggles. Matt Bisceglia should be back as he has shown marked improvement in his first full year. Geico has 2 amateur riders poised to make a dent in this class with Jordon Smith and RJ Hampshire. If they can stay healthy, I look for both of them to make an immediate impact.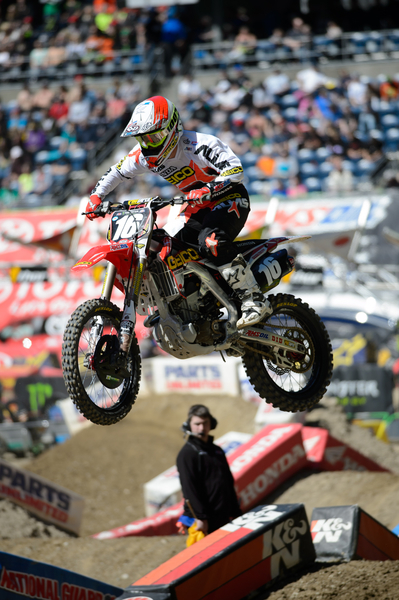 Word on the street is GEICO offered Osborne a one-year deal but he's moving to Rockstar Husky for multiple years. Lissimore photo
Yamalube/Star Yamaha: This team is easily the most improved of 2014. Their 2nd year stars, Jeremy Martin and Cooper Webb, are taking the outdoor series by storm. They brought Yamaha back to relevance in the 250 class and I don't see that changing anytime soon. The big question for them is can they land that elusive first title?
Riders: Cooper Webb and Jmart both resigned to stay on blue for 2 more years. Bravo to the team for locking that up early and avoiding an all out war for these talented youngsters. Anthony Rodriguez had a tough time staying off the ground in his rookie season so I could see this going either way. On one hand I could see them giving him another chance but this team has also been notorious for rider turnover as well. I could see them adding another player here as many will be wanting to ride that factory 250F after seeing its power on display this summer.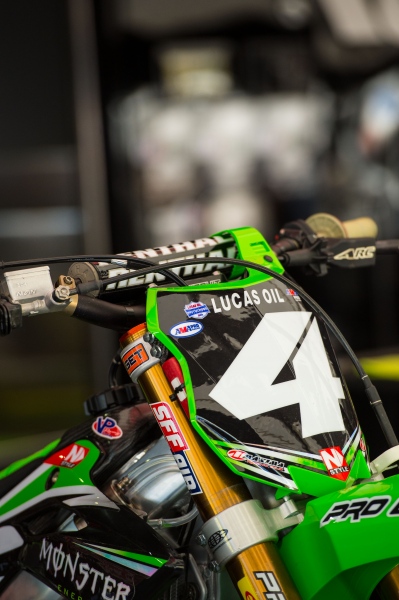 Who will get the #4 under their tent next year? Cudby photo
TLD/HONDA/KTM: Troy's team has been on Honda since its conception. It has steadily improved into a title contender over the years and clearly KTM has taken notice. The offer of full factory motorcycles surely is a draw and I would assume that they are helping with rider salaries/bonuses as well. Honda has their Geico effort intact so I could see this switch happening.
Riders: I have heard a few different people attached to this program. I look for Jessy Nelson to be back for sure and it looks as though Shane McElrath will return. Blake Baggett's name keeps popping up here and it wouldn't shock me to see that happen. Super talented but star-crossed Darryn Durham is also on the short list to land here. If they move to KTM, do they expand into the East coast? If so, they will need to add another rider or two.
Rockstar/Husqvarna: The Rockstar team followed up their incredible 2013 season in the 450 class with a West coast title in 2014. Jason Anderson is the face of this program moving forward and big things will be expected from the New Mexico native. The switch to Husky shouldn't be a big deal, they are getting full factory KTM motorcycles with Husky cosmetics. This effort has become a solid place to call home for elite level riders.
Riders: Rumors have Zach Osborne headed here and I am hearing that Martin Davalos already signed a multi-year deal that will carry him from the 250 into the 450 class in 2016. I am not sure what happens with Savatgy but I would think he has a chance to stay if he can turn in some decent results this summer.
Rock River Yamaha: This team has improved by leaps and bounds recently in both look and equipment. Alex Martin is their 250 workhorse and I look for him to return in 2015. They are planning a big push for a high level 450 rider so I don't see much changing on the 250 front.
Riders: Alex Martin will be back and I am sure they will add a rider or two here before all is said and done.