Johnny O'Mara, some Buckley photos and a story
Johnny O'Mara, some Buckley photos and a story
I started shooting Motocross Photos in 1975 basically just because I liked to but then when I started showing some of the guys I knew who raced they would tell me, hey you should sell those, when I asked them "who would buy these?" they said we would we'll buy them all. Those guys were true to their word and they bought every photo I took of them and that was the start of Buckley Photos. Since then I've shot a ton of local races around here in New England, I'd say 99.9% of the novices that have ever raced in New England have a Buckley photo of themselves hanging in their garage.
I also shot a ton of nationals and supercrosses X Games Gravity games road races GNCC's a little bit everything over the years traveling around the country shooting for almost every motorcycle magazine in the world I guess as well as shooting for almost every motocross clothing and accessory company in America. Want to order a classic print or something else? Go to buckleyphotos.com and we'll hook you up. Thanks for reading- Paul Buckley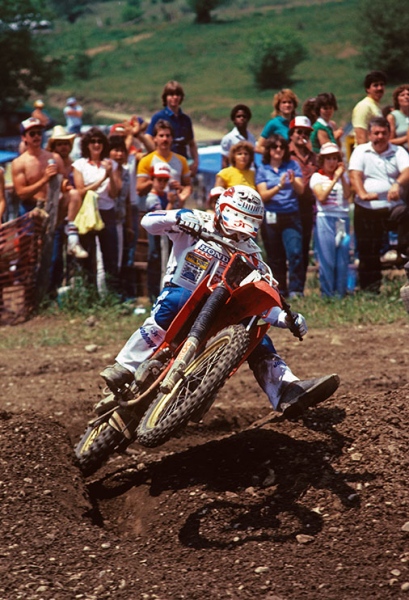 The O'Show won the 1983 125 national title.
Buckley- "This is a shot of Johnny O'Mara at Binghamton in 1983. That was maybe the best summer of 125cc motocross ever. Besides Johnny O there was Ron Lechien, Jeff Ward and Mark Barnett and all of them could win on any given Sunday. This was just a regular left-hand turn until they put in that hump right in the middle of it that's what caused Johnny to wheelie through the turn making this awesome photo possible. It ran as a full-page photo in Dirt Bike or Motocross Action magazine (can't remember which one). Fast forward to March 1984 Daytona I'm walking past the Dirt Shirt trailer and what photo is on the shirt for the Supercross? This one of Johnny O! I was kind of thrilled and mad at the same time. Thrilled to see my shirt I photo on the Daytona shirt for the first time but mad because the guys at Dirt Shirts just used it without even asking. We were able to work out a deal I think I got some shirts as well as some cash."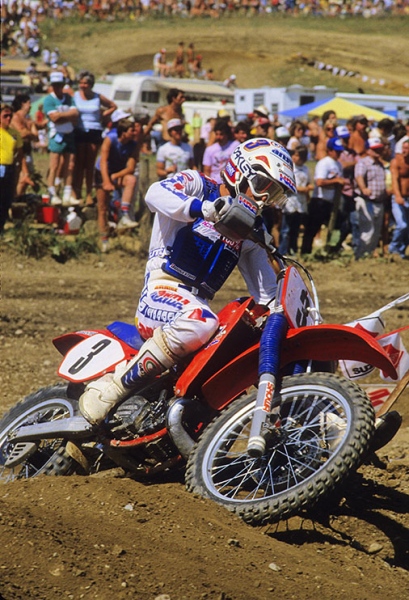 For 1985, Johnny O moved up to the 250MX class and you can read about his thoughts on this photo HERE
Buckley- "The shot of Johnny O is from the same time at the same track this one shot at Binghamton in 1985 is one I chose because it's my favorite sounding two-stroke. The 1985 Honda RC 250s were the last works bikes raced in America. And I think it's a combination of the pipe material, the silencer, the engine tuning and the way Johnny rode it but I just loved the sound of these things. Especially during practice when Johnny would be just putting around the track scoping things out and decide to do one of the doubles and triples out there it just whacked the throttle and the thing would just bark. That sound was so good and I love to have a race with the gate full of 1985 works bikes again. I think I'd even pay to go to that one."