The rolling hills of New York aren't always that pretty
The rolling hills of New York aren't always that pretty
Hammerhead Designs was launched with the intent to provide new and better parts and innovative accessories for motocross bikes. One of our goals has been to design entirely new and unique products with improved ergonomics and the shift lever was the first part that we felt could be dramatically improved by providing a feature that would allow for the shifter to be repositioned to perfectly suit the riders size, shape, and preference.
Unadilla is a monster. I will never forget my first trip to the infamous raceway, carved into the upstate New York countryside. I was completely out of my element on the rocky track and it showed. I had never encountered anything like it, coming from Florida. The lack of traction and the constant barrage of rocks was a bit too much for me. Over the years, I would learn how to deal with the unique Unadilla surface but I still never really enjoyed it. I needed to improve there for the betterment of my career but I often echoed the comical comments uttered by Ricky Carmichael through the years.
The biggest reason is this: the greatest aspect of vintage Unadilla WAS the legendary loam. I saw pictures and heard about the loam for years before I ever got to set foot in New York. Unfortunately, that loam got carried out on every motorcycle that circulated that course for the last 50 years. All of the great dirt was simply removed. What was left was a hard, unforgiving bedrock of stones and pebbles. The Unadilla of old was a distant memory.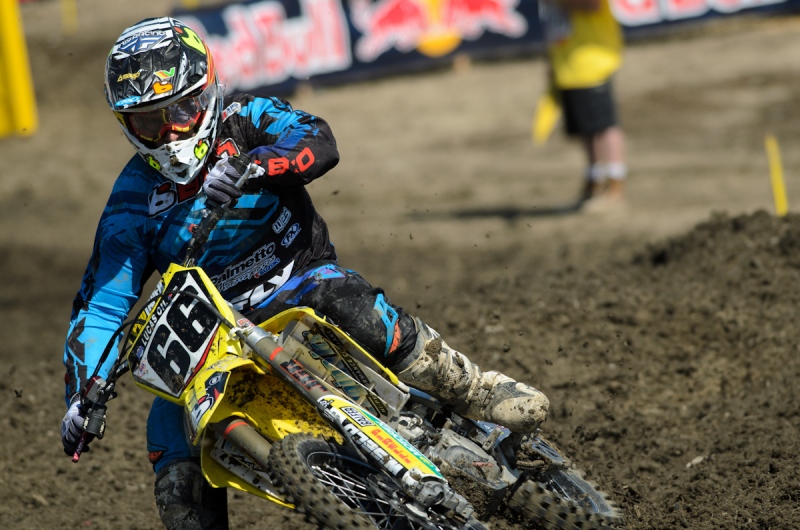 Thomas raced Unadilla twelve times in his career with a best of 12th overall in 2007. Lissimore photo
Recently, though, the organizers have been making a conscious effort to reinstate some of that great traction. Topsoil has been trucked in and mixed in. The grass has been replaced and hopefully, in time, the traction will return. With so many efforts around the country to improve every aspect of the series, this was a much needed move. The bikes nowadays are simply too fast and the rear tires propel the rocks with so much force that it is absolutely dangerous when left unchecked. I have seen faces split wide open from rocks and the personal bruising I have experienced is way over the top for typical roost. Everyone wants to race, that's why we all are involved. No one wants to clobbered by a rock doing 50 mph. Of all of the great things about the outdoor nationals, that is one thing I won't miss.
The first lap of a 450 class moto at Unadilla is punishing. There is no avoiding the rocks with so many bikes, I simply hoped that I wouldn't be hit by a big one somewhere unprotected. I tried to hide behind the bike as much as possible but it's simply impossible to dodge them all. A perfect example is listening to a GoPro on a rider with a mid-pack start. It sounds bad but feels worse. I know this all sounds like whining but when you deal with bruising for days and days after an event, year in and year out, it gets a bit old. I will be out on the track this year watching and hopefully the efforts to improve the soil and remove rocks will pay off. I hope so for the riders' sake.
There are good things about Unadilla as well. The history and atmosphere or 'dilla can't be overstated. This is a track that all of the legends built their legacy on. From the USGP's to the '87 MXON, there is enough bench racing ammunition stemming from Unadilla to keep even the most casual fans busy for years. I see Gravity Cavity and the long mechanic uphill as staples of American motocross. These obstacles are as legendary as the riders who conquered them. Another aspect I enjoy is the summer New York weather. Coming out of Florida in the middle of August is like escaping the depths of Hell on a particularly warm day. Just walking out of the airport and feeling the lack of humidity is, for lack of a better term, like a breath of fresh air. The cool mornings are a welcome break to what has already been a long summer of torturous heat.
Driving across the rolling hills, full of fog and mist, always reminded me how lucky I was to travel the world and witness sights like that. It's so easy to take it for granted with such a grueling schedule that spans the globe for most racers. This weekend, I won't be pummeled with rocks and I won't get to launch out of Screw U. I won't get the nervous anticipation before the motos and I won't feel the adrenalin of a heated battle. I will, however, get to watch 80 of the best motocrossers in the world once again tackle one of the most widely revered courses worldwide. For a retired guy at peace with yesteryear, it simply doesn't get a whole lot better than that.