Three main players talk about their day in Indiana
Three main players talk about their day in Indiana
Photos by THE Simon Cudby
Chad Reed
Your best race of the year in maybe the shittiest conditions we've had for a while. Not a lot of fun but you got to be happy. It's an overall result which has been lacking for you.
It's about talent and skill out here today, so I just rose to the occasion.
You got good starts which had to help a ton
I'm just joking about the above comment. I felt solid actually coming into the week. Like I said on our podcast, until the last month I've been basically chilling at home with the kids and with Ellie. It's kind of been my off-season. Maybe I just need to have a little fun again. I felt decent coming into the weekend and then practice went well. I got good starts both motos, like I was up there. Second moto I actually was about 4th out of the gate and then I don't know if I wasn't aggressive enough or it was one of those situations where I found myself in the wrong place, wrong time. Second turn, third turn, it was just kind of like a chain reaction of finding myself in the wrong place. So that was kind of a little bit of a bummer.
And then I basically just had to let the race come back to me. Eli (Tomac) darted off and got goggles. Then I just tried to put my head down. When Dungey passed me he wasn't really going anywhere. Obviously I've been in the championship hunt before, and I was kind of like, dang it, do I really want to mess with him? I like him and I'd rather see him get good points. I was kind of like, okay, I'll just kind of sit with him. He kind of wasn't really going anywhere and then he made a mistake and actually kind of got stuck and I passed him and then I just found my rhythm and unfortunately towards the end there lost my goggles. Then just couldn't get by JG or Shorty.
Nice little battle there. I don't know if you knew that Sipes was 3rd, but it was Sipes, Shorty, you, Grant, Peick… There wasn't a lot of passing going on but it was at least exciting.
I didn't know who was 3rd but I could see Sipes was there. Then I saw Shorty and obviously JG. Honestly I actually felt like my pace was easily… kind of in normal conditions maybe pass those guys and go to 3rd. I just didn't have any goggles on. I was just kind of a passenger really. But overall it was good. I felt like some of the feeling that I've been chasing is just coming back. I hate to say it but we're back on a spring fork and maybe that's why. But hopefully next week we'll have the same kind of comfort that we had this week.
We know you like Utah, so it should be a great race for you.
You say that every time but I actually don't mind Utah. It wasn't that bad.
Maybe we had a text message conversation where you were blowing up Utah last year but it could have been just because you were really frustrated.
I would like to see that text. I actually don't mind the place. And I've seen the track has actually changed quite a lot. Looks like it's considerably shorter. Hopefully the changes will be good as well. It was really deep last year in the middle of the track, so I would hope that maybe they could work on that this year. But other than that, yeah, I'm looking forward to it.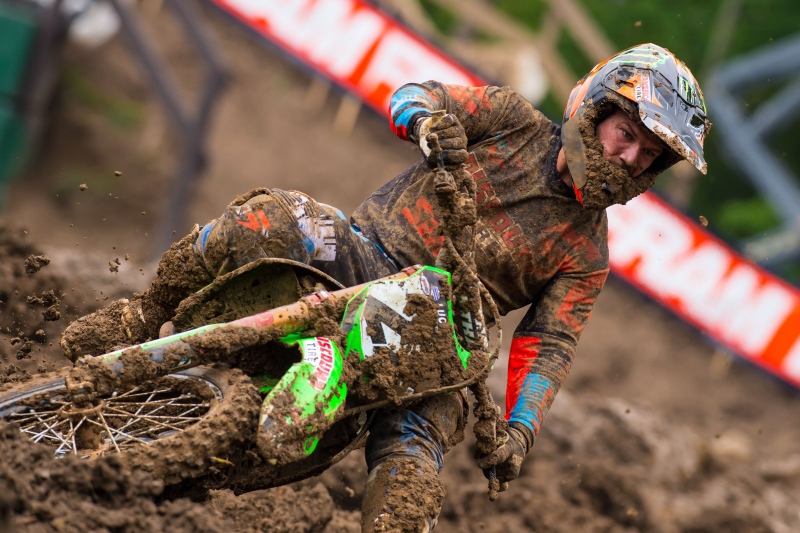 Reed had his best day of the national series so far.
Did you ride press day?
No, I didn't.
It's too bad because it looks like a really good track when it's dry.
I walked the track. Let's not say I walked it; I drove the Kawasaki T-Rex around the track. The track looked badass. It kind of looked really Euro up and down the hills, in and out of the trees. I would probably say one of the best tracks that I've seen in recent years anywhere in the world. I think Marc Peters did a great job. Some of the advice that we kind of had for him. Basically they dig it up every week, they leave it like that, they water the crap out of it and then there's just really one line. Last night we told him, hey, you should try to drag it, make it deep but then drag it. And then we can kind of go anywhere on the racing line.
Start building lines up…
Exactly. You hate to kind of bag on certain people but John Ayers' way of doing race tracks is just terrible. I think he should stick to promoting and selling t-shirts and let the track builders and track promoters do their job.
Or ask the riders.
Or riders, or take advice from the riders. Honestly, Marc Peters, I give him credit because he kind of went above and beyond and did something that actually got him into trouble and got him yelled at but it was unfortunate that it rained today. I was sad actually for him just because the track was badass when I went to sleep last night and I was really looking forward to it. So I don't know, maybe that had something to do with me doing good today. I was pretty excited. I don't mind the mud. The mud's always been pretty good to me.
I don't remember you ever struggling in it. It's always been okay for you. Good job. Nice result for you today and see you next week.
Thank you.
***
Kenny Roczen
I'm one of those media guys that's like "uh-oh, the number 5's coming." But you answered it today. Great rides, both motos. You didn't win the second one but still pretty good ride. You got to be stoked.
For sure. It's a lot on the mind. I haven't been doing too good but I actually have to say I've still been consistent. I've only been off the podium one time. It was definitely good and important for me to come back today and try to make a statement. I think that's what it was about. I pictured myself being first into the turn and it worked out. I told Aldon, everybody, I'm like, I'm ready to fight until I fall off that thing, because I want it so bad.
Huge holeshot too.
I know. I almost crashed it in the first turn though. But I was kind of stoked to have a mudder because usually it's the perfect conditions, everybody's going for it. This just changed it up a little bit. I love the venue here and I think the track and everything with good conditions, I think this would be my new favorite track in the series.
You closed a bit on Trey there and then dumped it in the second moto. At that point were you like, hey, I know I got the overall, just play it a little bit safe?
After the start I tried to make a run right away and when I couldn't do it I was just like, look, it's just a matter of time. I'll just stay there. I crashed twice, which is too far then, but at one point I was going two to three seconds a lap faster and I was really trying to focus on getting the intensity in and not make mistakes and just ride clean. But I actually had with a lapper, two times in the same spot. I was like, dude, that just cost me like 5 seconds each time.
I could tell. You went from 17 seconds to 11 seconds, and then after that lapper, when he went right and you went right, and he went left and you went left…
I was like, what the hell is he doing? It was like being behind a D rider honestly.
It was 4 and a half you lost with that move.
I know, and stuff like that happened twice actually. And then my goggles, it was really weird because it was kind of cool and all the mud, it packs around it. And then it started, not really fogging up but it started to get a little milky and stuff. I was just like, dude, you know what? Stay on the bike. I had no idea where Ryan was. I was just like, look, no matter what, obviously three points is a lot, but I'm like, as long as I can stay in front of him it's all good.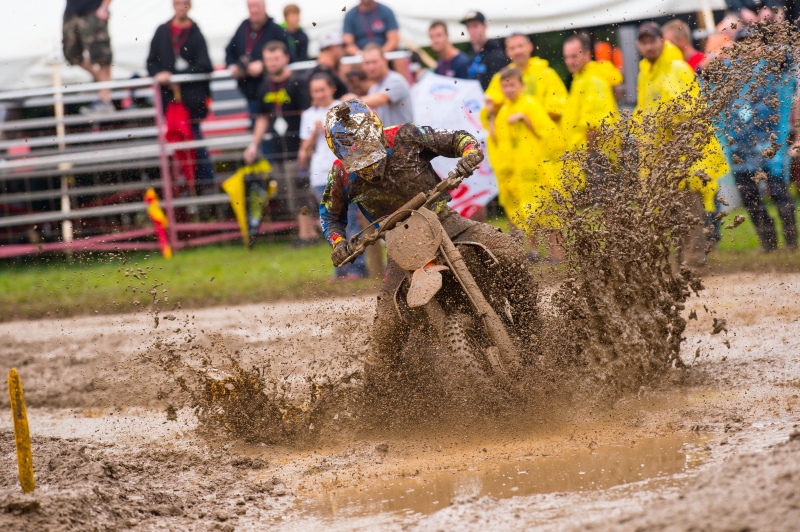 Roczen moved closer to the 450 MX title with his win in Indiana.
Were you a good mud rider in the GPs at all?
Always loved it actually. Everybody always expects the Europeans to do good in mud, but there are actually a lot of people that don't like it over there. But I'm one of the guys that actually always likes it. I feel like it just relaxes me and it takes the edge off a little bit. I think it's all in the mind, like I said.
Marvin won again and a great day for KTM.
Perfect. It was awesome to see him get the overall. And also good job to Ryan and Trey. And nothing is over yet. I'm just super stoked because after seeing my gap coming down and good to open up a little bit. But everything is still open and good to go. Anything can happen. Plus it just felt good to come back good after reading all the social media. There are so many dumb people on there. Which I have honestly been staying off it a little bit.
I was going to ask you have you been staying off it?
I haven't read any comments just because there's so many dumb people out there, it's unbelievable. But it was good today.
Great job and terrific ride. You got to be stoked, man. You answered here today.
Thank you.
****
Jeremy Martin
250 Motocross Champion 2014, that's got to sound pretty good. Great job.
Thank you very much. It does sound pretty good.
Three motos to go, too. Just kicking it.
I didn't expect honestly to wrap it up this soon. It was a dogfight all year. Baggett really came on really strong there. And battling with my teammate Cooper, geez, it was tough. It wasn't easy. Excited to be able to finally get my first championship. It makes all that hard work well worth it.
It makes it even weirder that you didn't even qualify for the opening two rounds of Supercross. Your year started off where it's like, look at this kid, is he ever going to be able to make it? And then talk about a reversal, man. You were a dominant rider for the second half of the year. Coming into Glen Helen did you think you would be that good? Did you think you could go 1-1?
I knew pre-season testing for the outdoors I was going good and I felt good and I felt strong. I was like, my setup that I have right now, it's good enough to win. I didn't expect to win by that much but I knew that I could win and I knew I'd be battling with guys like Baggett and Webb and Dean Wilson and all them. So I knew it would be a dogfight.
I can't help but think you and Cooper's success this year, a little bit of something having to do with that new bike. It seems like Yamaha's really made a big change and it worked out great.
I think you're exactly right. The new Yamaha's great. It's night and day better than last year. I think people know that and I hope that after watching us this summer they'll want to try and get a bike and everything. Yamaha's done a really good job.
Second moto today you fell down and you got up maybe 10 seconds or so in front of Marvin and you actually pulled back out. You had the fastest lap times at times in the second moto. I wouldn't have blamed you if you had pulled it in. I guess that's why I'm the tubby reporter and you're the star rider because you had nothing really to prove but you still rode great.
I was battling my brother, and he passed me. He was just working me, pulling away.
He's always told me he's had more talent than you.
I was like, oh my gosh. This is not about to happen. My brother's not going to beat me. I was able to inch back in on the little guy and we had a good battle. He made a mistake, I got around him. I was trying to pull away. I was trying to show him who the tougher brother was and I went down. I couldn't get the bike started and I told myself, we're going to push until the end. I'm not going to get lapped.
You were aware of where Marvin (Musquin) was?
Yeah, they were throwing blue flags left and right. I was like, all you got to do is just rail for 2 laps and you'll get a gap. I was fortunate enough to be able to do that. And they were still waving the blue flag at me the rest of the moto so I was doing look-backs and I was like, no one's there!
You were the fastest guy I think for a couple laps in a row out of everybody.
It was good. I'm glad I didn't get lapped and look like a spode on the day that I won a championship.
Too bad it rained today. This track looked pretty sweet if it was dry.
Yeah, the amateurs tomorrow are going to have fun riding that. I know what it's like having a mudder and they're going to have fun cleaning this one up.
Great job this year. Very unexpected. I think you really opened up a lot of eyes, myself included. Fantastic job all season long. When you had a big points lead, it was no problem. When you had pressure on you, you rose to the occasion. You and your team deserve a big round of applause. Thanks, man.
Thank you very much.