Thomas's take on 450 silly season
Thomas's take on 450 silly season
Hammerhead Designs was launched with the intent to provide new and better parts and innovative accessories for motocross bikes. One of our goals has been to design entirely new and unique products with improved ergonomics and the shift lever was the first part that we felt could be dramatically improved by providing a feature that would allow for the shifter to be repositioned to perfectly suit the riders size, shape, and preference.
Photos by James Lissimore
This week, I want to take another look at where we sit in our silly season as it pertains to the 450 class. With the first off-weekend of the season, most riders are either pretty sure where they are going or are in a full panic because they don't. The overall picture is getting clearer by the day, though, so let's get into it.
Monster Energy Kawasaki: Davi Millsaps, Wil Hahn
Notes: Hahn has either already signed or is about to, but in any case, he will land here. Millsaps hasn't raced in over a year and will be even longer before he lines up on his new ride. He is the team leader going into next season so he will need to be the same guy we saw in 2013. After years of championships, can these two carry the torch for the green machine?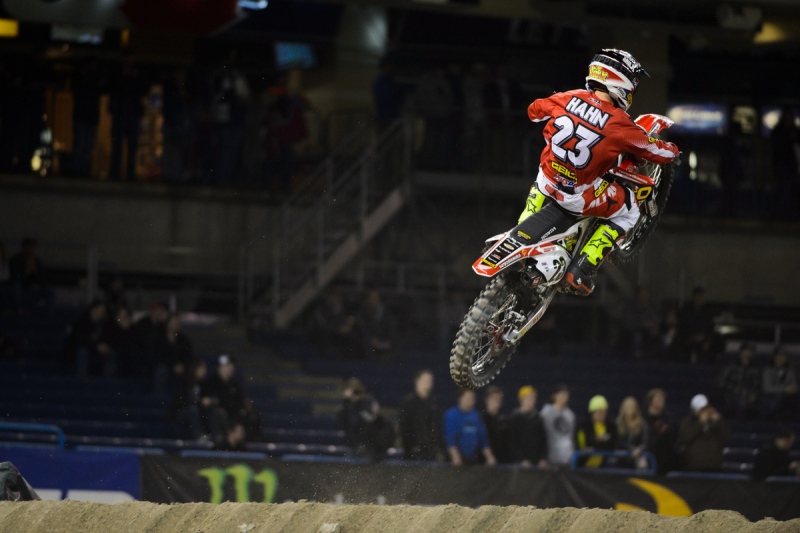 After a pretty good rookie 450SX season before he got hurt, look for Hahn to be on Monster Kawasaki next year.
Muscle Milk Honda: Trey Canard, Cole Seely
Notes: Trey is returning in a very expected signing and looks ready to make a run in 2015. Seely's deal was just announced this week but this has been known for months and months. He won't have the pressure that Trey will but on any given weekend will still be a podium threat. Look for Tomac to possibly be in this truck with Geico graphics in 2015 also.
BTO/KTM/WPS: Andrew Short, Justin Brayton
Notes: Brayton was a great hire for the BTO team and gives them 2 legitimate top 5 contenders for next season. This team has factory bikes and great riders. Is 2015 the year they get their first 450 win?
JGR Yamaha: Justin Barcia, Weston Peick
Notes: Barcia was a big coup for the team and gives them a championship hope for 2015. Weston was haggling with RCH Suzuki for months but the JGR deal was presented and too good to pass up. I look for big things from this team next year. If Barcia can gel with the Yamaha, he is a dark horse pick for the championship.
Yoshimura Suzuki: James Stewart
Notes: This one is tough. James is still facing impending punishment from the FIM/WADA for his Seattle failed drug test. Whether he is even racing in 2015 is still uncertain. Possibilities for a teammate/replacement would be Blake Baggett or even Malcolm Stewart. There are a lot of scenarios that could play out here in the next month or two.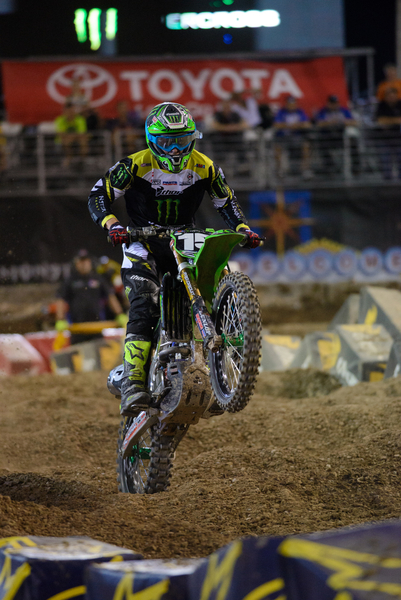 Wilson will be switching energy drink sponsors next year by going to Red Bull KTM.
Red Bull KTM: Ryan Dungey, Dean Wilson
Notes: Dungey is returning as team leader and is a championship favorite. Dean, moving up to the 450, had multiple offers but ended up at the Austrian powerhouse. In my opinion, this was a smart move as they have proven capable of producing championships and their bike looks great. I don't expect him in the title chase just yet but I do see him on the podium at times and maybe even stealing a win.
Geico Honda: Eli Tomac
Notes: I have heard rumors of this team downsizing back to one semi and moving Eli over to the factory truck. Eli would still run the Geico look as normal but the team would save a lot of money with one truck on the road. We will see how that shakes out as the season draws closer. In any case, he should be thinking title for 2015.
Rockstar Husqvarna: Jason Anderson
Notes: This is Husqvarna's serious effort at re-launching their brand in the supercross world. Anderson is coming off of a West Coast SX title and should be capable of delivering. It will be a learning experience for him with a new bike and of course moving up in displacement but he has the talent to make a splash right away.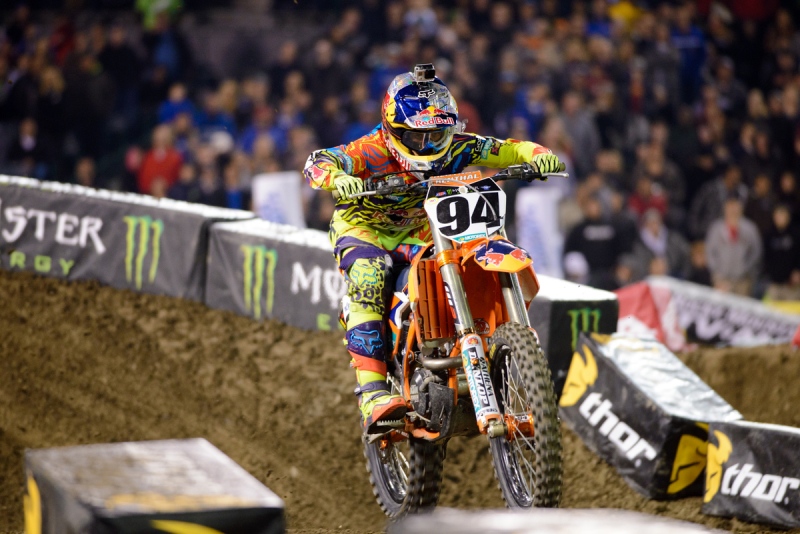 We've known since March that Roczen is going to the RCH Suzuki team next year.
RCH Suzuki: Ken Roczen, 2nd rider TBA
Notes: In the biggest move of the season, Ken Roczen is going back to his Suzuki roots. Carey Hart and Ricky Carmichael stole the German champ away from KTM and hope it pays off in multiple titles. He is arguably the most marketable rider in the sport and I don't see him slowing down regardless of what color front fender he is looking at. For their 2nd rider, RCH was struggling to choose between Weston Peick and Broc Tickle. With Peick's departure to JGR, it looks like an easy choice now. I haven't heard of anything being signed as of now but word is the RCH team may not have funding for a second rider as of right now. If they do, Tickle will go back at a paycut from what he was making this year.
Discount Tire Kawasaki: Chad Reed, Josh Grant
Notes: Chad, being the owner, is hoping to put his team up front again in 2015 but keep it there this time. He faces a similar challenge in 2015 that he did in 2014, after a long summer of struggles and disappointing results. He answered the bell last year and I expect no less next year. Josh Grant is making the move and bringing a sponsor with him. Independent teams are always looking for revenue and this is a great way to expand the team and also add a great rider.
Other Riders of Interest:
Jake Weimer is still hunting down a deal but I have heard that Kawasaki is willing to help with equipment. Having a good bike is the key to returning to form. The money will come if the results are there.
Josh Hill is another very capable rider that I haven't heard much talk about. Hopefully he can find something worthwhile that provides a real chance at success. Don't forget, Hill landed on the podium in New Jersey. Podiums are no joke.
Matt Goerke I see Matt taking an Arenacross deal and then returning to Canada next summer. Another possibility would be the Rock River Yamaha effort. He will get something solid in any event.
Malcolm Stewart: Mookie is slated to move up to the 450 class full time in 2015. Where he will land is much more uncertain, though. Earlier this season I had heard believable rumors that he would join his brother on the Yosh Suzuki squad. With James's troubles, that move seems to have lost momentum. I do think Mookie will get something decent, he is very talented and will be much more suited to the 450. The big question is where? Most of the teams are filling up as we speak and he has been a no show in the 2nd half of the season. With so much in the air for his big brother, Mookie would be smart to try to lock something down sooner than later.