High drama at the last round of the GP's
High drama at the last round of the GP's
Tixier the champ, Herlings the hero
Article: Jonathan McCready
Pictures: KTM Images/Ray Archer and Youthstream
Incredible. That is the only way to describe the final MX2 moto of the year in the 20014 World Championship. It was a day that had everything but the second MX2 moto drama and tension will be the definitive memory of the entire season and no doubt a lasting memory for the two riders involved. Not to mention the fans around the world who remained sweaty palmed and on the edge of their seats during the entire dramatic, pulsating moto that decided who would be MX2 World Champion.
Let's start with the GP winner and new World Champion, Jordi Tixier. What a performance all weekend from the Frenchman. This was the form KTM had been expecting from Tixier all season but when he needed to, he finally delivered.
Tixier has, for his entire career, been hampered by his mental fragility under pressure. But this weekend he was a different rider. Inspired by the tough news that his brother was badly injured in a BMX accident, and has no feeling from his waist down, Tixier wanted to win not only for himself but his brother lying in a hospital thousands of miles away in France.
Tixier was single minded, fast and focused and in race one he took race long pressure from Febvre to take a brilliant win. A few weeks ago, Tixier would not have won that race but he delivered big time when it mattered.
Then there was race two. A perfect holeshot almost turned into a nightmare when Tixier missed a gear and got landed on by Alex Tonkov. But it was Tonkov who came off worse as Tixier stayed on and Tonkov got his arm stuck in Tixier's rear wheel! Tixier got stopped as Tonkov got free and when Tixier got going he was alongside championship rival Herlings!
This left Tixier having to deal with two of his biggest weaknesses. Passing and performing under pressure – and this was the most pressure imaginable! But amazingly Tixier did not crack, even though he had a couple of close calls. Tixier worked his way into fifth but still needed third to win it. With a couple of minutes to go Tixier made the risky move on third placed Lieber , they both nearly went down after touching in mid air! It was close but Tixier got away with it and for the final two laps kept Lieber, Coldenhoff and Tonus at bay to win his first ever World title by just four points.
Tixier in his own understated way fought hard for this title after battling poor form and riding through a broken hand in the early part of season. But he took advantage of his opportunity and did enough under huge pressure to take the championship he has dreamed of since he was a child.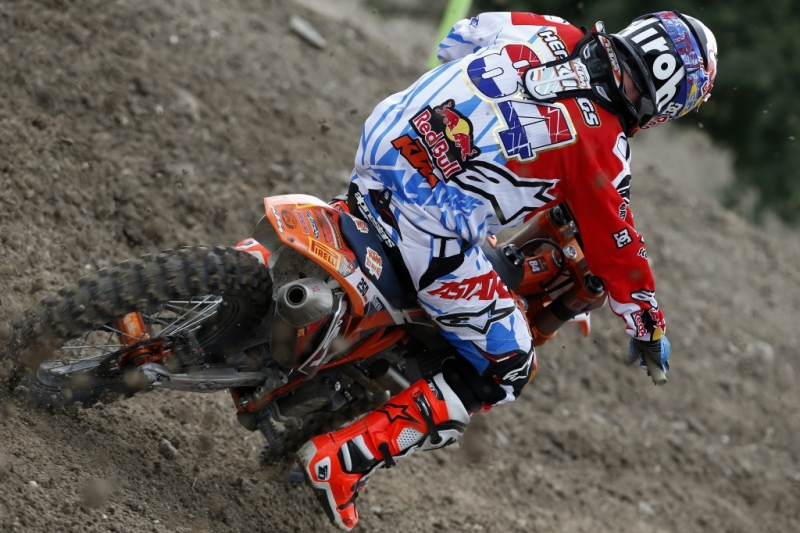 Herlings gave it a go at the last GP and incredibly, almost pulled off the title.
Across in the tenth place came an even more heroic rider. Jeffrey Herlings won the hearts of fans across the world after riding with a still partially fractured femur and two torn muscles, in an attempt to win the championship he had dominated all year.
It was a measure of Herlings heart and determination that he even made the trip and finished a fighting 14th in race one. But in race two when he saw Tixier get going beside him, Herlings put in the possibly the ride of his life. It could have been performance that defined his career.
When Herlings saw Tixier beside him he pushed further than he probably thought was possible upping his pace to faster than it was all weekend. He put everything he had into those thirty minutes.
He followed Tixier as be passed Yamamoto and Charlier and even thought the pain in his leg prevented him from sticking with Tixier any longer. Herlings held an amazing eighth place with big pressure from Charlier until the pain proved just too much in the last couple of laps as Charlier and then Seewer finally raced by. Herlings though, still took an inspired tenth.
After not being the greatest loser so far in his career, a sporting Herlings crossed the line and immediately went up to Tixier and congratulated his teammate on his first World title. It was a classy moment from a classy rider.
As Herlings limped heavily painfully unto the podium to claim his silver medal for second in the championship he led until the final moto of the year, you could see just how badly injured his leg still was. It underlined what an amazing talent Herlings is but also just how bad he wants it and just how much pain he is prepared to take to win World titles.
Herlings determination is part of the reason why he is so dominant, he is well known to work harder than anyone else in the paddock but he showed in Mexico that he is prepared to take more pain than anyone else to achieve his goals.
After the race Herlings posted on Facebook, saying: "I am not a quitter, I wanted to fight for every point possible. I felt every bump, jump, left turn, hole, everything! I basically felt like I got shot in my leg 50x a lap… I lost the title with 4 points, with 4 laps to go. But I showed I had a big heart because there was a realistic chance I could break my femur again because the bone was far from healed."
Sometime your greatest victories are in defeat and Herlings won more fans and respect in Mexico that he has in his already impressive career put together. Herlings started the day as one of the most talented and fastest riders the sport has seen, but ended the day as one of the toughest riders and most respected riders in the history of the sport. No one will ever forget what Herlings did in Mexico.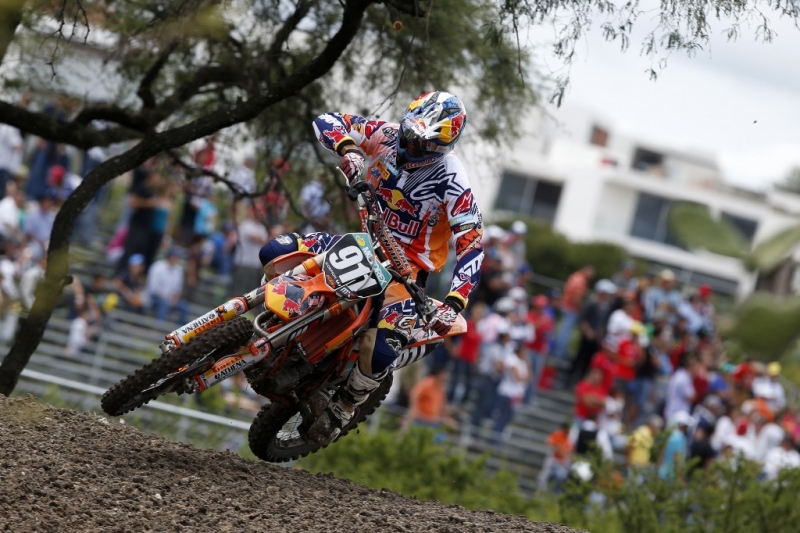 Jordi Tixier won his first World Title with a gutsy ride in Mexico.
Outside of the main players in the championship, Tim Gajser once again snuck in a brilliant moto win in race two to build his reputation further as the next big talent in GP motocross. Dylan Ferrandis ended his season with a sore ankle and race to get fit for the MXDN in Latvia after a Chad Reed style Millville moment of his own after having to bail in mid-air over a big table top. Ferrandis was lucky to be more seriously injured.
MXGP was for once not the main event but even it didn't disappoint. Max Nagl scurried off for his third moto win in a row but the overall GP win came down the last lap of the final moto following a brilliant four-way battle.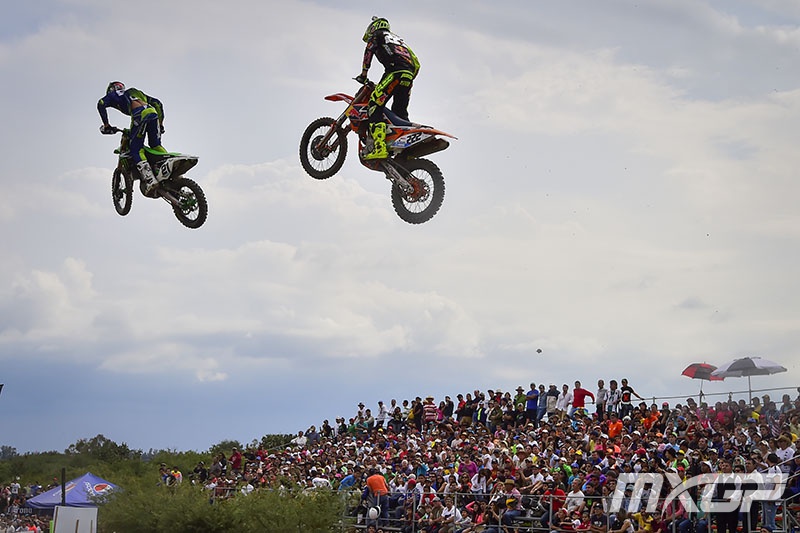 Paulin won the MX1 class on his last race for Kawasaki before moving onto Honda.
Paulin took the GP with fine moto victory just ahead of Cairoli, Strijbos and Nagl. But Nagl lost the overall on the final lap when Strijbos found his way through to leave Paulin winning on a tie break. It meant Paulin won the first and last GP of the season in what was also his final GP for Kawasaki before moving to HRC Honda next season.
The last big event of the International season is the MXDN in Latvia in two weeks but Mexico was a brilliant end to a fantastic 2014 World Championship season and left us all hoping for more of the same in 2015. And, with the talent level off the charts in the MXGP class next season, the first round in Qatar can't come quick enough!
MXGP Overall top ten: 1. Gautier Paulin (FRA, KAW), 43 points; 2. Maximilian Nagl (GER, HON), 43 p.; 3. Antonio Cairoli (ITA, KTM), 42 p.; 4. Kevin Strijbos (BEL, SUZ), 42 p.; 5. Jeremy Van Horebeek (BEL, YAM), 32 p.; 6. Tommy Searle (GBR, KAW), 27 p.; 7. Davide Guarneri (ITA, TM), 27 p.; 8. Steven Frossard (FRA, KAW), 27 p.; 9. Rui Goncalves (POR, YAM), 22 p.; 10. Matiss Karro (LAT, KTM), 22 p.
MXGP World Championship Classification Top Ten: 1. Antonio Cairoli (ITA, KTM), 747 points; 2. Jeremy Van Horebeek (BEL, YAM), 628 p.; 3. Kevin Strijbos (BEL, SUZ), 572 p.; 4. Clement Desalle (BEL, SUZ), 484 p.; 5. Steven Frossard (FRA, KAW), 419 p.; 6. Maximilian Nagl (GER, HON), 400 p.; 7. Shaun Simpson (GBR, KTM), 397 p.; 8. Gautier Paulin (FRA, KAW), 358 p.; 9. Davide Guarneri (ITA, TM), 297 p.; 10. David Philippaerts (ITA, YAM), 275 p.
MX2 Overall top ten: 1. Jordi Tixier (FRA, KTM), 45 points; 2. Tim Gajser (SLO, HON), 41 p.; 3. Valentin Guillod (SUI, KTM), 37 p.; 4. Romain Febvre (FRA, HUS), 36 p.; 5. Arnaud Tonus (SUI, KAW), 33 p.; 6. Julien Lieber (BEL, KTM), 32 p.; 7. Glenn Coldenhoff (NED, SUZ), 25 p.; 8. Jeremy Seewer (SUI, SUZ), 24 p.; 9. Dylan Ferrandis (FRA, KAW), 22 p.; 10. Kei Yamamoto (JPN, HON), 20 p.
MX2 World Championship Classification Top Ten: 1. Jordi Tixier (FRA, KTM), 616 points; 2. Jeffrey Herlings (NED, KTM), 612 p.; 3. Romain Febvre (FRA, HUS), 570 p.; 4. Dylan Ferrandis (FRA, KAW), 533 p.; 5. Tim Gajser (SLO, HON), 528 p.; 6. Arnaud Tonus (SUI, KAW), 455 p.; 7. Valentin Guillod (SUI, KTM), 449 p.; 8. Aleksandr Tonkov (RUS, HUS), 397 p.; 9. Jose Butron (ESP, KTM), 359 p.; 10. Jeremy Seewer (SUI, SUZ), 352 p.