An underrated rider with some great style is the subject in this edition of MX Captured
An underrated rider with some great style is the subject in this edition of MX Captured
I started shooting Motocross Photos in 1975 basically just because I liked to but then when I started showing some of the guys I knew who raced they would tell me, hey you should sell those, when I asked them "who would buy these?" they said we would we'll buy them all. Those guys were true to their word and they bought every photo I took of them and that was the start of Buckley Photos. Since then I've shot a ton of local races around here in New England, I'd say 99.9% of the novices that have ever raced in New England have a Buckley photo of themselves hanging in their garage.
I also shot a ton of nationals and supercrosses X Games Gravity games road races GNCC's a little bit everything over the years traveling around the country shooting for almost every motorcycle magazine in the world I guess as well as shooting for almost every motocross clothing and accessory company in America. Want to order a classic print or something else? Go to buckleyphotos.com and we'll hook you up. Thanks for reading- Paul Buckley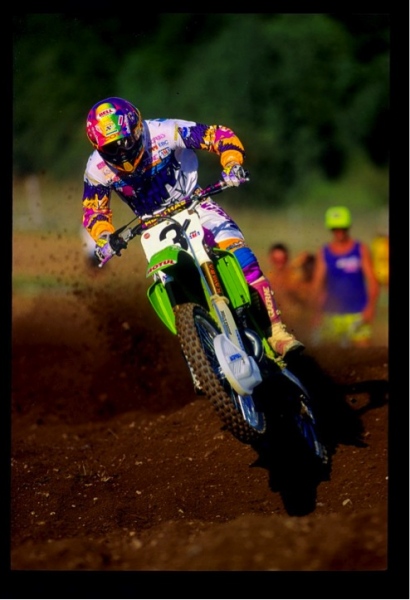 Mr Underrated, Mike Kiedrowski.
Blazier: Here we have my all-time favorite picture of one of the most underrated champions in motocross history – Mike Kiedrowski. For me, this shot encapsulates everything that is epic about early nineties moto. The bright vibrant gear (orange and purple was all the rage in 1993), the incredibly cool one-off Troy Lee Designs helmet and the MX Kied, in full attack mode on a crisp running two-stroke. Just looking at this shot you can smell the castor 927 and hear the crack of that carbon fiber silencer (as a side note, this 1993 Factory Kawasaki has to be one of the throatiest soundings 250's I ever heard. It positively BARKED when one of the Mikes grabbed a handful). It doesn't hurt that this shot by Paul Buckley was also in one of the coolest MX magazines ever, Inside Motocross. Inside Motocross was totally epic, and the high quality glossy paper stock it was printed on made vibrant photos like this positively jump off the page.
The only thing that would have made this shot more perfect was if it had been taken two years earlier, before the Robinson family started allowing the amateurs on the track. The addition of an amateur program pretty much ruined this historic circuit and the days of knee-high grass and hip-high whoops were history. The 1993 Unadilla National was probably the worst one ever run at this legendary track, with the course resembling a dust bowl by the time the races came around. Several riders actually DNF'd motos (including a KX250 mounted John Dowd) due to sucking dust. My guess is Paul Buckley probably nailed this shot in practice, before the track went all Grapes of Wrath.
While we are on the subject of Mike Kiedrowski, this was by far his best season and many people forget how good he was outdoors in 1993. Mike won six of eight 250 Nationals (finishing second to Bradshaw at High Point and DNF'ing Glen Helen with a gnarly practice crash) and smoked to his fourth Outdoor National Motocross title. I think Mike is discredited somewhat because he was never as good indoors as some of his competition and he was often overshadowed in the press by flashier competitors like Damon Bradshaw. Mike was a quiet working-class kind of guy and let his results do the talking. He may not have been as exciting to watch as some of his competition, but his resume speaks volumes.
What do you think Matthes? Does anything stand out for you about this iconic shot?
Matthes: Hey Blaze, you don't have to tell me about Mike Kiedrowski and being underrated. I spearheaded Mike Kiedrowski day on Racer X last year where I wrote a column about him HERE, did a podcast with him and listed his stats. The MX Kied was a great rider who got stuck in the Jeremy McGrath-era of supercross. He made the podium in 33% of his career supercross races, he wasn't as bad at the indoor stuff as people think. He won Daytona three times and also collected wins indoors at Pontiac and Seattle. Probably NOT a coincidence that the two supercrosses he won (outside of Daytona) were rutty, sloppy ones like Pontiac and Seattle right? And let's not forget his 1989 125SX championship where he beat the mighty Damon Bradshaw! This guy could ride supercross-just not as good as Jeremy Mcgrath.
And outdoors, yeah he was a beast. He probably should've had a few more titles if it wasn't for injuries. He was no-nonsense, no frills very textbook rider who was in killer shape. There wasn't much there to catch your eye but he was solid in every way. In his last year he would've ran number 3 in 1996 but he retired because he just didn't feel like he was competitive enough. And his mechanic at the time told him he should retire which is a whole 'nother story altogether. Think about that, the THIRD best rider just decided to retire because he wasn't winning anymore. Oh man have times ever changed.
As far as this photo is concerned, yeah it's epic because it's a Paul Buckley shot at the famed Unadilla. Perfect style, elbows up, attack position applying just the right amount of power to the ground. And I have no doubt he's either chasing Mike Larocco or has Larocco right behind him because in 1993, that's how these two guys rolled.