Why are so many pros hitting the road or trail?
Why are so many pros hitting the road or trail?
Hammerhead Designs was launched with the intent to provide new and better parts and innovative accessories for motocross bikes. One of our goals has been to design entirely new and unique products with improved ergonomics and the shift lever was the first part that we felt could be dramatically improved by providing a feature that would allow for the shifter to be repositioned to perfectly suit the riders size, shape, and preference.
I have long heard rumors of the parties and debauchery of 1990's motocross. Endless weekends at the lake, unfathomable amounts of alcohol and a general air of relaxation was the norm from the stories I hear told. I do believe that there was also training going on, as Jeff Emig will be quick to point out, but it was much more laid back in those days. In 2000, Ricky Carmichael began working with Aldon Baker and ushered in a new era of discipline. His regimen echoed throughout the paddock and the results were hard to argue with. His steep learning curve and newly acquired level of dominance was a wake up call to everyone. If you wanted to win, the effort level just rose exponentially. Baker, a big believer in cycling, pushed Carmichael's fitness to a level that hadn't been seen since the glory days of Rick Johnson and Jeff Stanton. He came into every race simply more prepared than anyone else and it showed on the track. Hundreds of miles during the week on his bicycle, hours and hours on the motorcycle itself and a strict diet all led to 2 perfect seasons and 6 championships in the premier motocross series and 5 Supercross championships. Training was back and here to stay.
For most trainers, bicycles are the preferred method. Running is and will always be popular as well but the wear and tear on the joints is not optimal for longevity. Cycling can be done en masse with little strain put on the body. It is also very useful for maintaining heart rate goals for long periods of time. Long, base fitness rides in the off season are the norm for everyone in the current landscape. As cycling has exploded in supercross circles, that leads to more bicycle company involvement. If a bicycle company can capitalize on a rider's popularity and influence, of course they would jump at the chance. Fans are always watching closely as to what products that their favorite rider chooses and their training tools are no different. You may have seen the explosion lately of bicycle company products on riders' social media. This is no coincidence.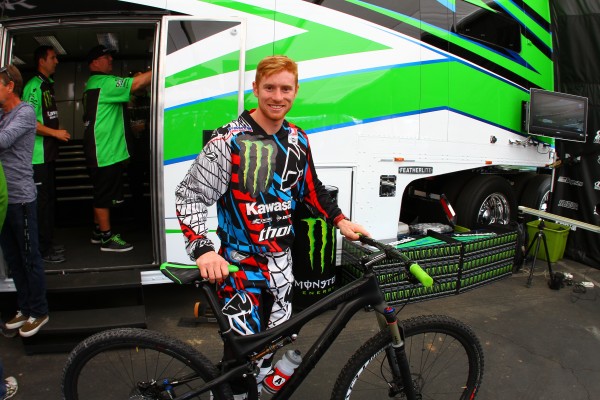 Villopoto is just one of many moto guys heavy into on and off road biking.
These companies see the huge marketing value that social media has presented and that avenue is being fully exploited. For riders like Trey Canard, Weston Peick and myself, we work with a shop in southern California by the name of Newbury Park Bicycles. They, along with Cannondale, have seen the growing market that supercross presents and have jumped in with both feet. For these companies, supercross is a perfect demographic to spotlight their products. The 18-34 age group is right in their wheelhouse, whether for mountain bikes or road bikes. Motocross riders have very active lifestyles on average and the two sports cross over more times than not. Getting athletes to use your product and advertise it for you is the goal of every marketing approach and this is no different.
For racers, it is a bit different than most endorsement deals. Generally speaking, most endorsements involve money. This is how racers pay their bills and capitalizing on every opportunity is a big part of the game. With the bicycle endorsements, however, even the elite racers are usually just on a product level deal. In my opinion, the reason for this is simple. Racers need and love the product. The bicycles represent such an important tool and just a product level deal saves tens of thousands of dollars for the rider. There is no getting around the need for bicycles and although being paid to use a certain brand would be great, bicycle companies are also smart enough to know that their product is a necessity. So, the end result is that it is a win/win for both parties. The bicycle brands get off relatively cheap in the big picture of marketing and advertising and the riders are provided with very expensive, although necessary training tools. These partnerships are becoming more and more common in the sport and it is great to see. For far too long there was a disconnect between the motorcycle community and the pedal-bike community. The customer base is becoming one and the same, leading to these great cross marketing opportunities.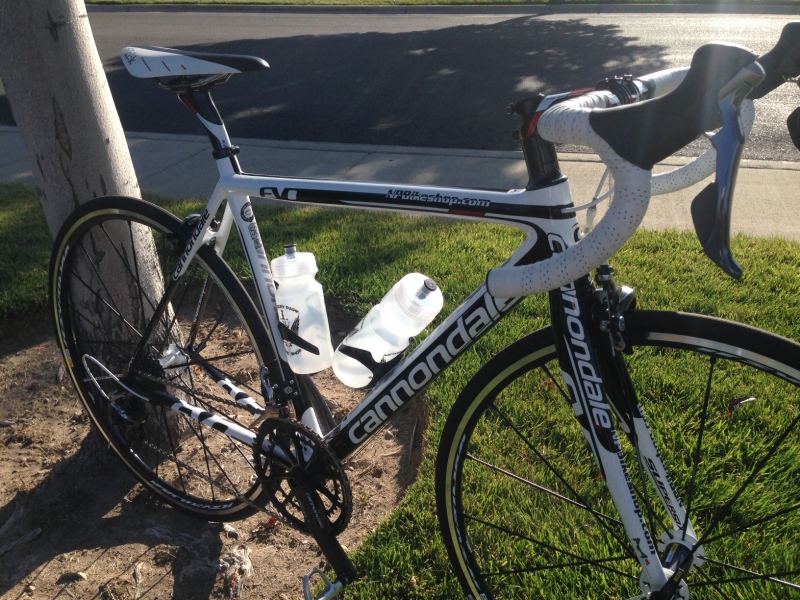 Check out JT's Cannondale road weapon.
For myself, if I can steer potential customers to buy a Cannondale at Newbury Park, my goal is accomplished. Just getting people more familiar with their program, what they are all about, and the awesome deals they may have is the name of the game. It's no different than all of the posts you see from Chad Reed, Ryan Villopoto or Ryan Dungey. They all have their own companies to represent and products to promote. I just happen to think that a Newbury Park branded Cannondale is the best of the best (shameless). So the next time you see your favorite rider posting a picture of his bicycle or a video of him cycling, followed by a bunch of company names or hashtags, do him a favor and check them out. They are supporting him and his racing, helping him improve his game and hopefully selling a few products along the way. It is social media marketing at its finest, the next generation of promotion.