What a pickle Monster Energy found themselves in for the 2014 Cup race.

What a pickle Monster Energy found themselves in for the 2014 Cup race. Their predominant rider was absent but keeping that million had to feel pretty good.
Photos by: James Lissimore
You know, at least a few times each year during the Supercross series, someone brings up the opinion that the program is too long and they need to get right to the action that matters, quicker. The Monster Energy Cup broadcast is just that, instant action from the moment the broadcast starts… and you know what? I felt like I had an Ice Bucket Challenge dumped on my head in the thick of the deepest sleep of my life. I was shell-shocked, not ready for the premier class to be fighting tooth and nail from the get. My nacho-supreme nearly slid off my lap because I couldn't take my eyes off the screen from the second I sat down. The instant butt-pucker action is one thing I hope doesn't finagle it's way into a typical Supercross broadcast because I really enjoy the build-up and the rhythm of a Supercross broadcast that has peaks and valleys for heart rate, beginning with the Heats.
As far as the track for this years MEC, I think it was the least compelling layout in the 4 years the Cup race has been held. Passing areas were more limited than just about any race I can remember, as evidenced by the final race of the night where Trey made a few costly errors trying to make something happen. Other than the Talladega-sweeper deal, there was nothing to separate and allow passing, so that's pretty much how you had to ride to get by anyone. Sometimes the move would work but more often than not, someone was going down. There was a lot of soil sampling happening at Sam Boyd; and at speed too. Ouch.
Ever since year-one of the Cup race, the inclusion of the Super-mini's has been a little contentious. Many wondered if it was wise to even offer the opportunity for this young group to have a go at this type of track. They proved from year-one that they weren't scared but there's no doubt, they look a little twitchy and sketchy out there. It's no joke, lots of pressure in many forms and holy cow are there some nasty crashes. How about that broken femur?! I feel like the Super-mini inclusion has become less about getting a glimpse at what the future holds and more of a "Women's Enduro-cross" appeal. Clearly I'm not claiming they aren't skilled and impressive but the risk is greater on these mini machines and it shows. Maybe the Super-Mini class at the MEC should be re-thought?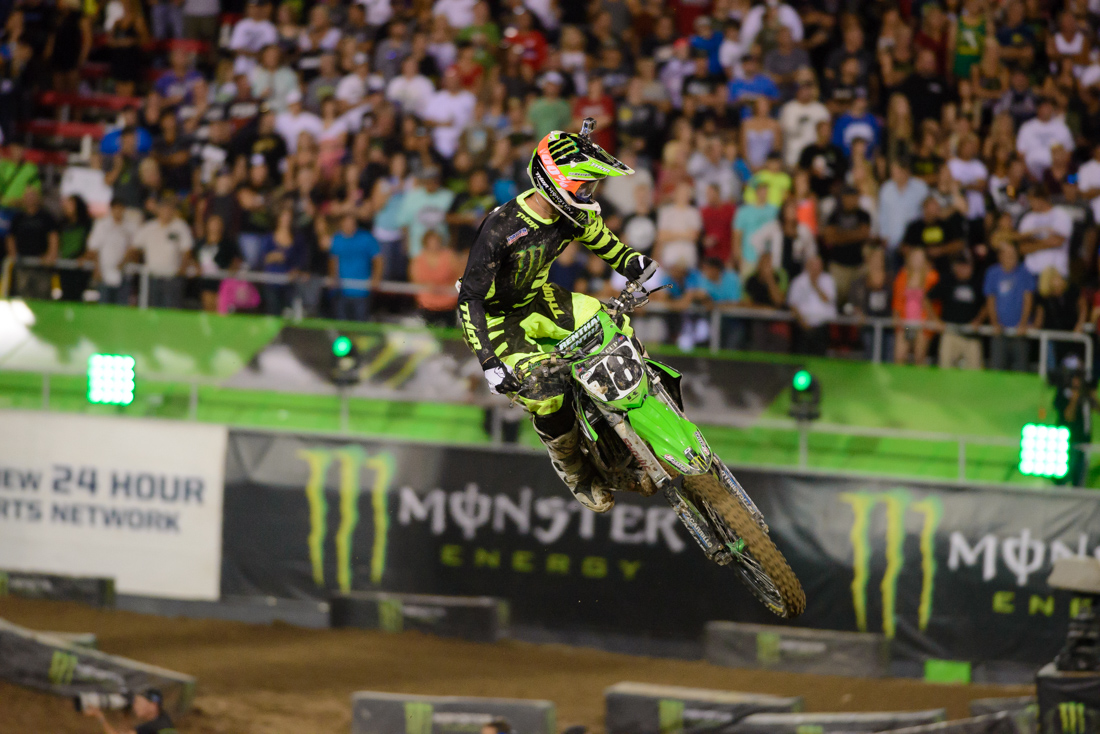 Davi Millsaps doing all he can to debunk Weege's theory on "this sport waits for no one".
I have to say the most exciting part of the event was seeing the new groupings of riders on fresh teams. There were a few guys missing from the line-up on their new steed's, the biggest bummer to not see, for me, was Willie Motocross. That's right, Wil Hahn on his new Factory Kawasaki. I was looking forward to seeing the people's champ of the new millennium (a fitting progression from our very own JT$). I guess we'll have to wait till A1 to see how Willie's wing has recovered and how he likes that new green machine. His partner in crime sure had himself a helluva night though. I know some in the media, maybe my boss, name *might* rhyme with Schmeve Schmaffes, were skeptical of a Davi Millsaps who has been out of racing for nearly a year and half. Not me though. I just kept thinking back to how awesome he was the last time he was healthy his Rockstar Suzuki. No matter how you look at it, he was the real deal and after having that gimpy leg fixed and time off, I had no doubt he would be a force in 2015. Did I think he'd be a force at the Monster Cup? Honestly, no. I hadn't considered him for the overall win but he was stellar and it only makes me more excited to see A1 and what he brings to the table.
Who'd have thought that Davi Millsaps, the guy who for so many years appeared to be just going through the motions, totally over it all, would forage his way through those monotonous times and emerge from them with a fresh perspective. A view of racing and life as a whole with brand new eyes. It's so refreshing and utterly believable that it's authentic, not to mention inspirational. Great story.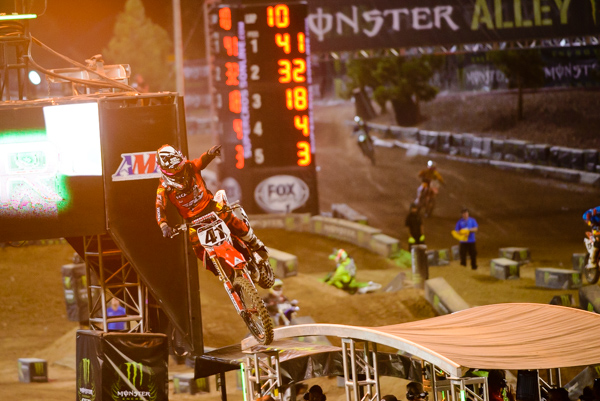 Trey may have not won the Monster Million but his confidence has to be soaring.
This was Trey Canard's night. Until it wasn't. He looked unflappable. Until he didn't. Trey picked right up from where he left off at Utah and circulated the Cup track like water flowing downhill. Trey always has picture-perfect form and he exuded that style right up until his peg, then rear wheel snatched that tuff-block and his mouth-piece bounced off the track surface. Yet another nasty looking spill and the most costly by a large margin. Man, if ever there were a racer who always seems to be having to fight an uphill battle, it's Trey. So many bright spots but a path marred with trap-chutes and pain at regular intervals. It's miraculous that Trey keeps his optimistic point of view and always comes back more impressively than he was when he was last challenged. There's about one person in all of motocross who I'd believe when they say just the win would mean more to them then the Million and that's Trey Canard. The guy has perspective like no one else. I mean, he went on a mission to Africa and lived in a hut with his local hosts. A poor third main at Monster Cup isn't even on Trey's radar 24hrs later.
Let's wrap this up with some photos, shall we?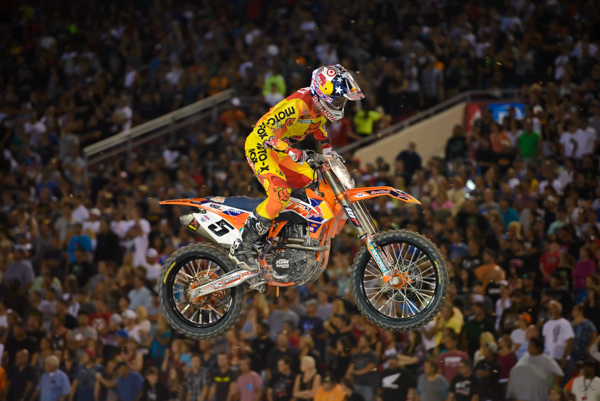 Dungey's Monster Cup could well be the low point of his 450 career thus far. We've never seen him look so utterly average and I think the track and lack of passing options had a lot to do with that.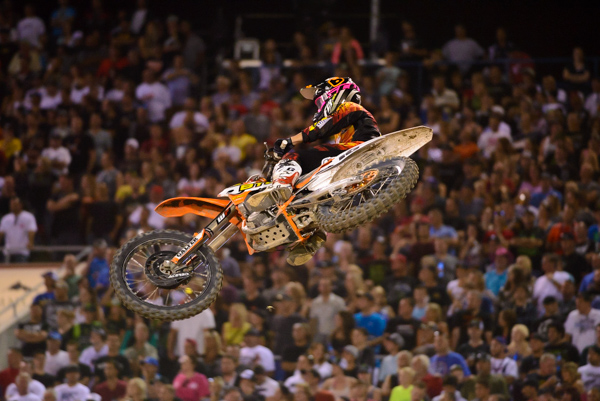 Justin Brayton has to be feeling a lot better about Red Bull than Monster at this point. Yes that's a Straight Rhythm reference.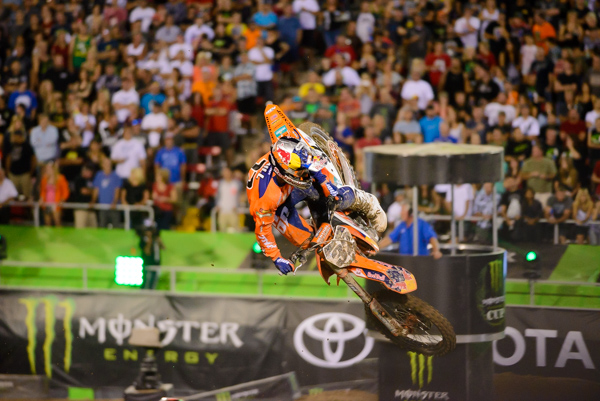 Justin Hill surprised the crap out of everyone… and probably left Mitch Payton even further frustrated.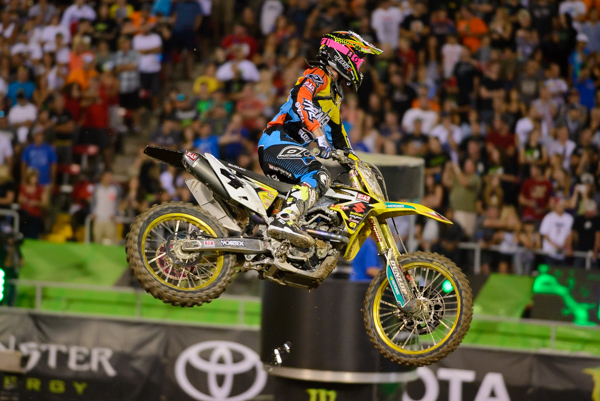 Blake Baggett didn't look quite like the ragdoll I expected on the 450. He looked good but man did he go down hard. Ouch.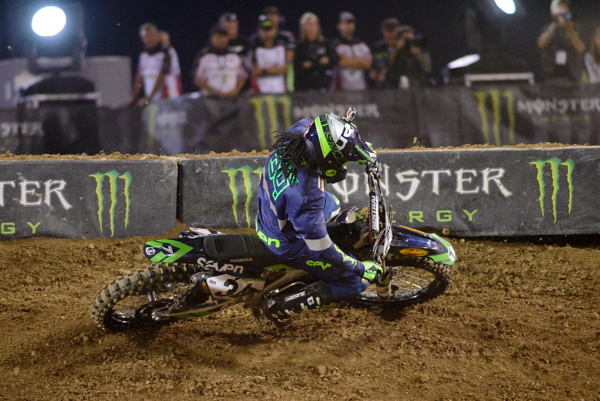 Mookie showed up on the same horse but of a different color. Typical Mookie, fast but off the podium.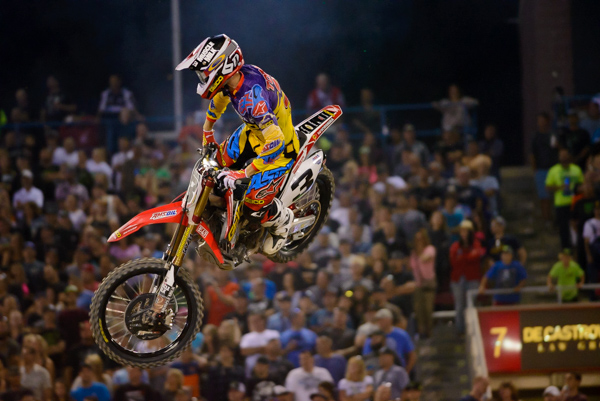 Tomac was just solid and left the Cup race safe.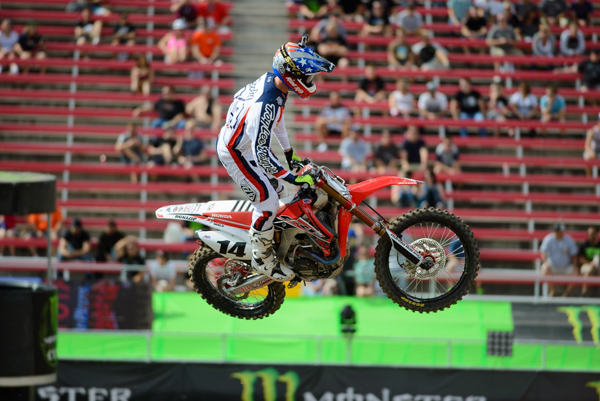 Cole Seely was awarded 6th OA on the TV broadcast results, which is simply spectacular for someone who didn't line up. It's almost as if the 14 just refuses to disappear from the standings. It's a staple.