For this week's MX Captured I thought we would look back at this cool shot of Jimmy Button from the 1994 Daytona Supercross.
For this week's MX Captured I thought we would look back at this cool shot of Jimmy Button from the 1994 Daytona Supercross.
I started shooting Motocross Photos in 1975 basically just because I liked to but then when I started showing some of the guys I knew who raced they would tell me, hey you should sell those, when I asked them "who would buy these?" they said we would we'll buy them all. Those guys were true to their word and they bought every photo I took of them and that was the start of Buckley Photos. Since then I've shot a ton of local races around here in New England, I'd say 99.9% of the novices that have ever raced in New England have a Buckley photo of themselves hanging in their garage.
I also shot a ton of nationals and supercrosses X Games Gravity games road races GNCC's a little bit everything over the years traveling around the country shooting for almost every motorcycle magazine in the world I guess as well as shooting for almost every motocross clothing and accessory company in America. Want to order a classic print or something else? Go to buckleyphotos.com and we'll hook you up. Thanks for reading- Paul Buckley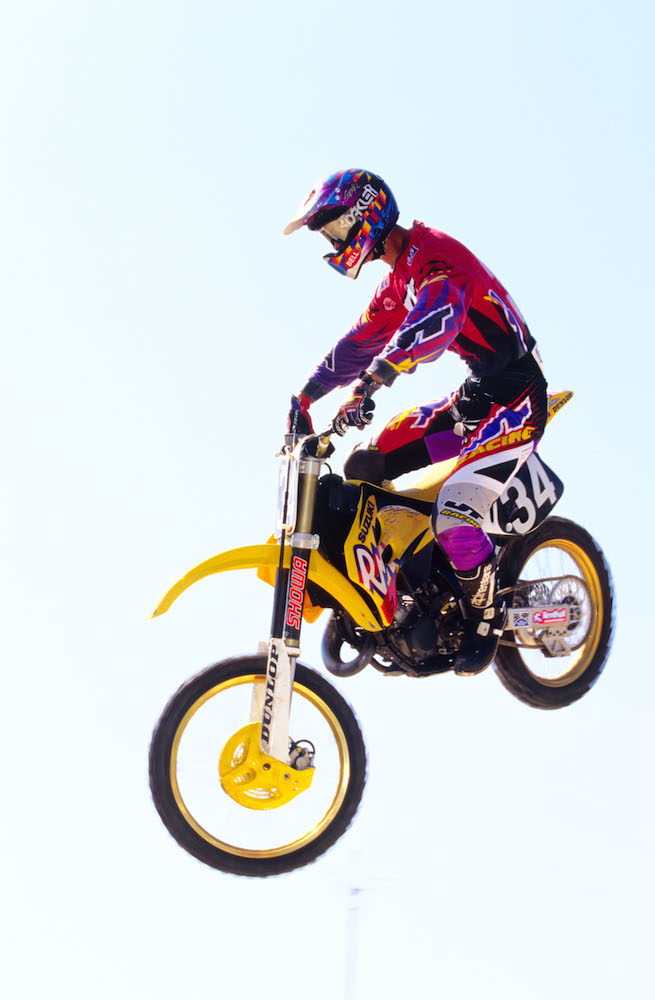 Great photo from Paul Buckley of factory Suzuki rider Jimmy Button
Blaze- At the time, Jimmy was riding for the Factory Suzuki team and was one of their top guns in the 125 class. Jimmy had a pretty tough year in 1993 on the Factory team, enduring some spectacular crashes (one amazingly when his grip actually came off over a jump) and suffering to a 13th overall in the 125 East Coast standings. For 1994, Jimmy was back up to speed and one of the fastest guys in the 125 class. He opened the season with a pair of seconds at Orlando and Houston, and then backed it up with a third at Tampa. In 1994, Jimmy's toughest competitor would turn out to be his Suzuki teammate, Ezra Lusk. At the start of the East Coast 125 season, Lusk would rocket out of the gate, sweeping the first four rounds of the series. Coming into Daytona (round 5), the two Suzuki hot shoes would own a commanding lead on the rest of the 125 class (no offense, of course, to third place rider and future Summercross champion Timmy Ferry).
For Button, the Daytona event would get off to a great start, roosting to a victory in the first heat. Then in the main, he would power his Factory Suzuki to second off the start, right behind Mike Brown (yes, the same guy still hauling ass for Husqvarna off road). After dispatching with Brownie, Buttonfly would begin pulling out a massive lead. By the halfway point, Button had 30 seconds on the rest of the field and looked to be on his way to his first win of the season. While Button was checking out in the front, his points leading teammate was carving through the pack after a miserable start. Yogi was on fire in the Daytona sun and picking off guys two at a time. While Ezra was coming fast, it still looked like Jimmy's lead was going to prove insurmountable. That is, until Button hit one of the triples wrong and faced the landing of the jump with a mighty THUD!
The bone-jarring impact looked to have wounded Button, and he immediately began slowing his pace. A lap later, Button tipped over in some whoops, and then the race was on. While he maintained the lead position, his gap was gone and Ezra was coming…fast. By then, Yogi had passed John Dowd and Timmy Ferry for second and was quickly eating into Jimmy's lead. With three laps to go, the Suzuki team mates were side-by-side and dicing in every corner on the track. Repeatedly Ezra tried to power around the outside of Button, and repeatedly an obviously hurting Jimmy shut the door. At one point Ezra mistimed a double and collided with Button, nearly taking them both out. With one lap to go, the two Suzuki speedsters were only feet apart and neither one appeared to be willing to give an inch. With half a lap to go, Ezra tried one more outside slingshot move going into the whoops. Jimmy sensing the attack, drifted to the outside and preceded to park Ezra with a text book Supercross-blocking maneuver. Yogi attempted to maintain his balance for what seemed like an eternity at the top of the berm, but eventually lost his battle with gravity and fell to the Daytona soil in a heap. After the collision, Button would ride home to victory in one of the most exciting Supercross races of the '94 season.
On the podium, Jimmy explained that when he came up short on the triple, his shoulder had popped out. After that, he had been in survival mode, as his shoulder repeatedly popped in and out and made it nearly impossible to hang on in the whoops. He was understandably pumped on the victory and added he had not meant to take out his teammate. For his part, Yogi took the loss well and expressed no hard feelings at the contact and his subsequent crash.
While Button captured the battle on this day, Yogi would end up winning the war (and the 1994 125 East Coast Supercross title). In 1994, Jimmy would capture three 125 Supercross victories, eight podiums and amazingly, a pink slip for his troubles at the end of the series. The guy wins three races, including the most prestigious one of year and gets shown the door. Today, guys keep their Factory rides for a decade if they are winning heat races! In 1994, if you did not win the title, you got a boot in the rear and a coach ticket to the GP's for a season of bad food and miserable weather. Ah the nineties…
The last thing I will say about this cool photo is the bike is totally on point (maybe my favorite all-time Factory RM look), the custom helmet it bitchin and the gear, while it looks cool, was total crap. I got a hook up on some JT stuff from my local dealer in '94 and while I liked the look, it fell apart in two races. By this point, JT was becoming more interested in paintball and the gear side of things was taking a turn for the worse. I should have paid full price and bought the awesome Fox Image stuff Yogi wore.
I thought it also might be cool to get Jimmy Button's take on this photo and race, so here is the winner of the 1994 125 Daytona Supercross by Honda with his thoughts his toughly fought victory.
Jimmy Button- First off I love the colors in the photo and yes this was a great day. I went into the weekend determined to win. I had a bunch of podiums coming into the race but after having gotten terrible starts all year and Ezra starting ahead of me I could only ever get to second. Not taking anything away from Ezra as he was awesome all year. The mental state I carried into this race was one of rage, since the weekend before was Gainesville MX and strangely enough I was riding the 250 outdoors. I had a decent first Moto, but then a weird crash on the elevator jump in the second Moto destroyed the result and just fired me up to win Daytona.
Going back to Daytona, the heat was a good race and I won with ease and with a good start in the main I just put the laps in. Even though I won the race I wish my shoulder wouldn't have popped out because at the pace I was going I could have won the race by 30 sec or more and I never got to win a pro race by that margin. It would have been cool. Anyways, it was a great day and we put Suzuki 1-2, which is what our job was. And yeah, winning three races and eight podiums just in SX and then getting let go just doesn't happen these days. Times are different but I can't say I would change anything, except winning that championship.