Want to know how to make a living racing moto? Read this…
Want to know how to make a living racing moto? Read this…
Hammerhead Designs was launched with the intent to provide new and better parts and innovative accessories for motocross bikes. One of our goals has been to design entirely new and unique products with improved ergonomics and the shift lever was the first part that we felt could be dramatically improved by providing a feature that would allow for the shifter to be repositioned to perfectly suit the riders size, shape, and preference.
(Matthes note: One of the problems when you head to these overseas races is you have no idea who speaks english or not. You're just standing there with riders and you have no idea who they are or where they're from so best to just stick to the people that you know. Recently in Finland I was applying some Pulpmx stickers to JT's helmet when a guy came up to me and asked me if he could have some. And he was a rider also! So immediately, Garen Stapleton became my second favorite rider in Finland. On Sunday we got to drive with him on the two hour drive to Helsinki airport and we chatted him up even more. Some of his stories were pretty funny. He'd been on the road for so long in Europe and South Africa. I had seen his name in different spots here and there but I had never really known much about him. Listening to him talk about dealing with these promoters and hitting these races just made me think about how there's these guys that are just south of the marquee racing around the world trying to make a living. And I thought that getting Garen to write something for Pulp readers would be interesting. This is the world beyond the spotlights and the big money. And in some ways, it's better. Anyways, enjoy Garen's story…)
By Garen Stapleton
Hey everyone, I'm Geran Stapleton and I met Matthes in the recent race in Finland and we got talking. For some reason he seemed to think I was crazy staying in Europe for so long and thought you readers may like to hear some of what goes on whilst racing overseas.
First off, I'll tell you a little bit about myself.
I'm from Australia, 22 years old and have raced for raceline Suzuki the last two years. With not a lot of money going round in the Australian motocross industry I decided to spend the off season trying to make some money in Europe. It sounds a bit far fetched but I met a German dude whilst racing in China 2 years ago and he became one of my best mates. He had a lot of contacts and we spoke about some cool races I could do and here I am flying everywhere and anywhere that will make me some money.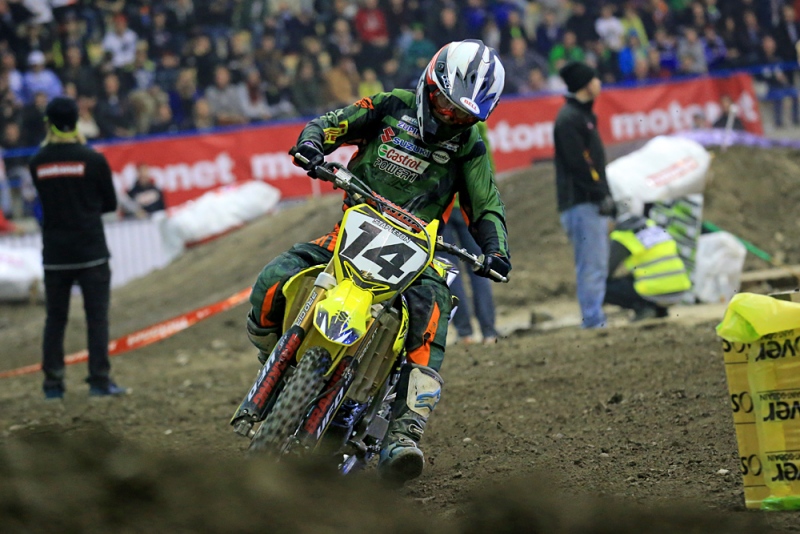 Garen's a dude just out there racing whenever and wherever someone will pay him. Jani Hovi photo
My first stop this year was the South African supercross, the weekend before the last round of the Australian series. Not knowing what to expect of South Africa, I have to say it was a really cool trip, I hadn't ridden a Yamaha (that's all they had for me) so that was a little bit to get used to but the bike was awesome. The track was pretty basic but was still a lot of fun and although I crashed and hit my head it was a great weekend. A part of my deal was to go on an African safari and walk with the lions, an experience I'll never forget and once in a lifetime opportunity. I even got the complete African experience when I drank some bad water and spent the last 3 days not being able to eat or drink…, I honestly thought I had Ebola. Looking back now I may have been a bit paranoid, but it's Africa bro and shit happens right? The only damper of the trip was my girlfriend of 2 years breaking up with me….Which is weird because she's a cool chick. Besides that It's also quite unfortunate that I'm in Europe now and she has my beloved van. So if anyone back home sees a 2006 Mercedes Vito driving round let me know cuz I kinda need it back…..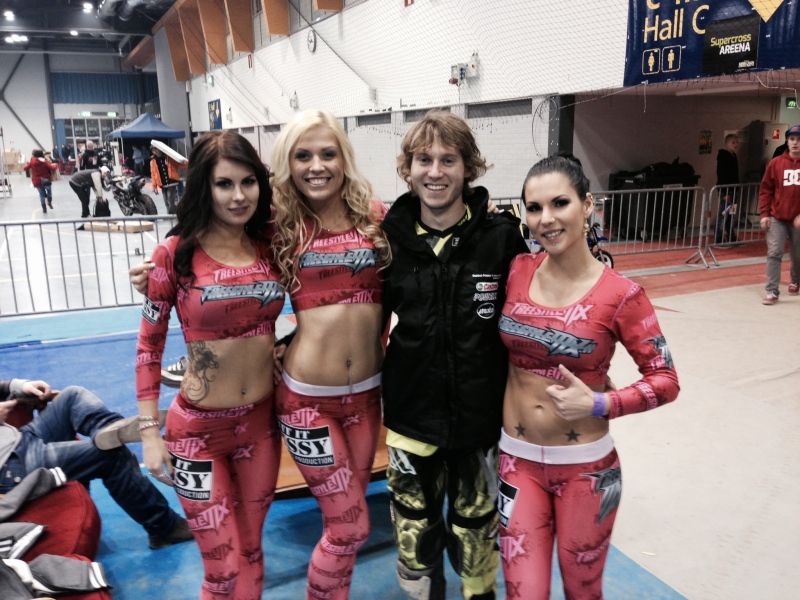 The chicks in Finland seemed to enjoy the Aussie.
So I make it back from Africa, sleep right there at the airport and fly to Brisbane, Australia the next day to race. I felt so sick and was so dehydrated the medical crew hooked me up with an IV which helped me get through the day. It was a crazy night of racing on the indoor track, where I ended up 5th which I was satisfied with after a terrible season back home with injuries and crashes. Seeing that it was the last round in Australia for the year everyone went out and had a lot of fun, even our Miss Supercross. Where she ended up for the night could have been anyone's guess, seemed like everyone had a little bit of Miss Supercross fever that night….
Not being the smartest guy on the planet I hopped on the plane wearing just shorts and a t-shirt and my stop over in Dubai for 4 hours was freezing… That was until I got to Germany where I'm still not used to the cold weather, I don't know what I was thinking. I guess I thought it couldn't be too cold in Europe. I packed the one pair of pants I own and so far have worn them everyday… It's seriously cold and only going to get worse….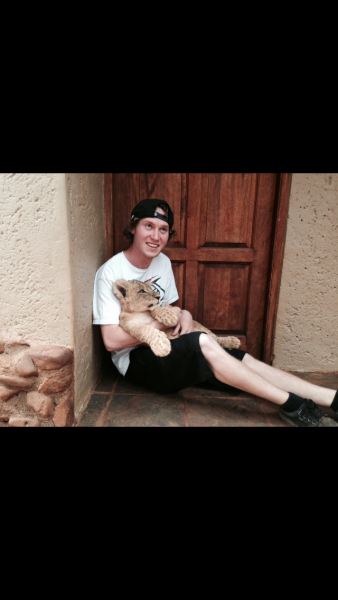 Garen tries to be the lion king in Africa.
The hardest thing so far I've had to deal with is trying to stay healthy with all the travelling. Sitting on planes for so long with sick people is practically impossible not to catch something and i got really sick again when I got to Germany. Pretty awesome right? Between Dubai and Germany, I was practically a walking virus.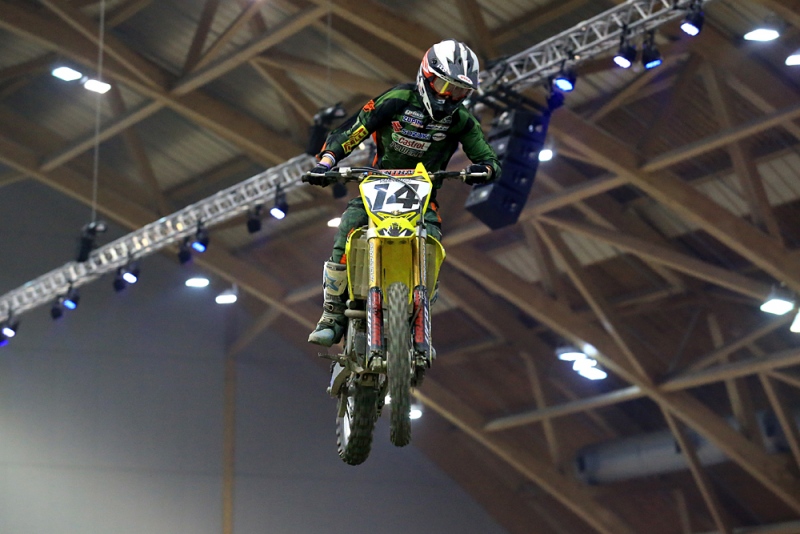 Stapleton catches some air in Europe. Jani Hovi photo
The next race was the following weekend in Stuttgart. I met up with my team, the Castrol Power 1 Suzuki team during the week and we made the 7 hour trip to Stuttgart. The autobahn is an eye opener that's for sure and I wish I could have driven, we sat steady on 240km in the pouring rain which was awesome in the 'oh shit we're gonna die' kinda way. The morning of the race we found out my helmet didn't pass safety because it didn't have the right sticker being from Australia. This wouldn't normally be a problem apart from the fact that I wear an extra small helmet and no one had one because there were no 12-year olds racing SX. Thankfully I was lent a Shoei. Unthankfully, it was way too big but I didn't really have any other options so I stuffed a hand towel in the helmet and went out for practice. Yes folks, this is a pro supercross. I apologize to the guy who was nice enough to let me use his helmet because I crashed and destroyed it. Luckily I was given a Bell helmet that fit for the night show.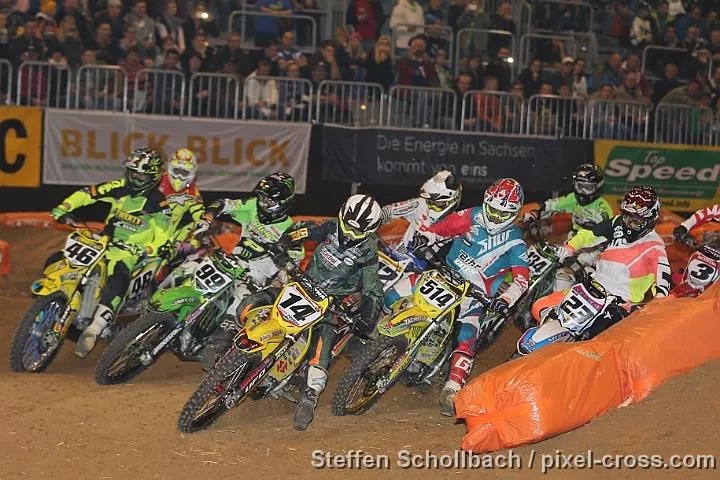 Stapleton in Germany grabs the start.
After Stuttgart the next stop for me was Finland. It ended up being a really cool race that was pretty low key although it had way too much down time between the races. Lucky for me though because after the heat race on Friday night my chest infection was really bad and I had to get put on some oxygen in the ambulance. Yeah, I'm struggling.
There was a couple things about Finland that really stood out to me….
1. Out of all the countries I've been to, Finnish chicks seem to love motocross riders the most, not that I'd ever take advantage of this good fortune.
2. Finland also has the best promo girls, any girl that will walk around a stadium with thousands of people and hand out promo gifts to little kids with a massive 'HIT IT PUSSY' logo all over her is fine by me…..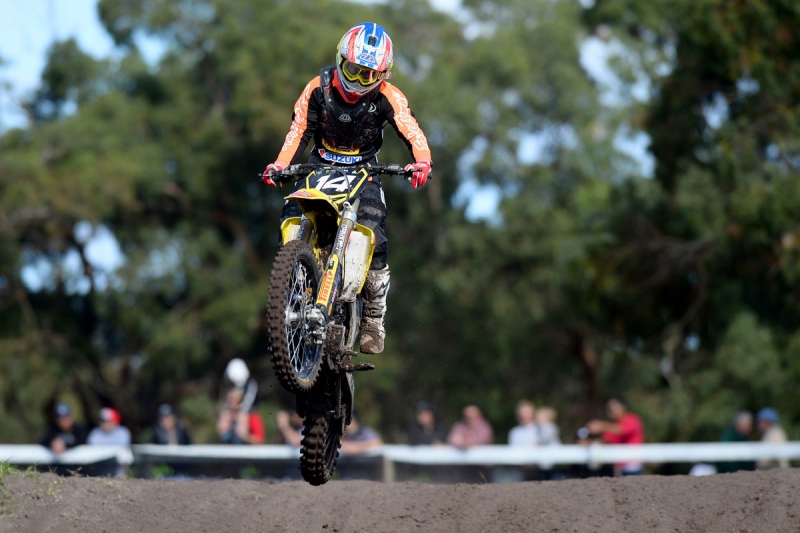 Stapleton back home racing moto in Australia. Have money, will race should be Garen's motto. Photo courtesy of Motoonline.com.au
Next stop for me was the second German round in Chemnitz, I was really looking forward to it because I was finally somewhat healthy and had started settling into the Europe way of life. And by this I mean my lungs hadn't built up a tolerance against second hand smoke and I was now practically a pack a day smoker….
If any professional rider wants to feel like a goon I suggest coming to Germany and racing Chemnitz, I had never seen or ridden a supercross track so rutted and was a fish out of water the first day and really struggled. By the Saturday night I felt more comfortable and put in a decent ride which I was really pumped on and my paycheck at the end of the night made it even better.
So that's pretty much been my European experience so far (well apart from the really good stories I can't share) We have Munich coming up in a couple of weeks and over the holiday break I'll race in Holland before going to England to start the arenacross series. So yeah, Australia to South Africa and back to Australia then to Finland. After that it was onto Germany then Holland and England. I hope you enjoyed a little insight into what I've been up to and thanks to Matthes for asking me to do it.