There was a shot fired and heard 'round the world today, for those of us living on Planet Supercross, at least.
There was a shot fired and heard 'round the world today, for those of us living on Planet Supercross, at least.
Photos By: James Lissimore
The disciplinary gavel was smashed down on James Stewarts 2015 Supercross hopes recently and the news made public today. It was to no ones surprise that it shook the industry from all corners, as it is the single most aggressive punishment ever handed down in this sport and for that matter, more-so than most professional sports. The NFL has had it's faire share of player conduct infractions recently and after a few miss-steps in one of those cases, they made sure to act a little more swiftly and heavy handedly in an attempt to earn back some of it's integrity as an organizational leader. The NFL's recent plight is not a great organization to compare and contrast with this James Stewart situation though as not only did James do nothing to harm others, the NFL has been the last of all sporting organizations to even pretend to seek out illegal performance enhancing drug use.
The MLB finally dug into this Pandora's box of super strength and focus in recent years and that organization, at times, looked more like Salem Massachusetts during the witch trials of 1692 than it did America's past-time. Court room scenes, one after the other, with revered and despised record holders alike either denying or owning up to the rule-breaking they had done in an effort to secure their future, break into the record books or simply make it to October.
Alex Rodriguez, one of the most polarizing players in the game, hated by just about every fan of the game who isn't a fan of the team he is on, was astounded to find he was suspended for a year for his rule breaking and lying.
Moving on to the Supercross series and it's freshly administered drug testing procedures with WADA in 2013, you couldn't write a more flammable story than the one which has unfolded and brought us to today. James Stewart has been the most electric racer in the sports history since the day he entered the pro ranks. Long before, even. His personality, fluorescent. His riding, radioactive. There was that "impersonating a police officer" deal that pretty much just withered into dust and aside from the legal proceedings connected to it, the industry never got an ounce of explanation on what happened there. I was of the opinion that we all do dumb stuff when we're youngish and it was dumb but, who cares. There was nothing though. The MX media showed James maybe too much favor and didn't question the scenario when given the chance to speak with James. James of course made himself scarce in the wake of that scenario like he is known to do when things aren't going the way he prefers. And it worked out for him. He kind of ignored it publicly and the MX media and fans just forgot about it.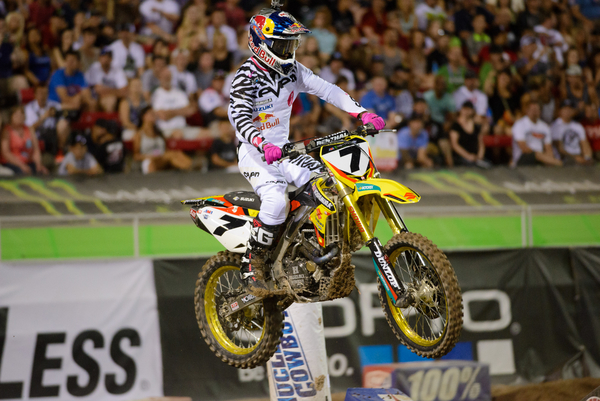 It's a real bummer the series is losing RV and JS7 for 2015.
When the news came out that James tested positively for a banned substance, there were a lot of theories and conjecture on what exactly would come of it. One of those theories, possibly the one with the most steam, was that again, this issue revolving around James would slowly dissipate and fade away with no or minimal recourse. It seemed impossible but we have become used to punishment in this sport and more and more life in general being "throttled" by a remorseful defendant. When the penalty was announced today though, it was clear, the FIM was not interested in a remorseful defendant, unhappy series sponsors or fan opinion. They set precedent and they set it like a grenade with the pin pulled.
Is a 16 month retroactive suspension heavy-handed? Absof@#*inglutely! But you know what, if you don't break the rule, you have nothing to worry about. I want James Stewart to be on the line at A1 and every round in between and including Las Vegas but it was his, or his crew's, failure to comply with the rules set forth that caused this situation. The rules are in place to level the competition and the penalty is there to deter you from breaking the rule. If James were handed a penalty that caused him to miss, say only 3 rounds, other racers might entertain the thought of using a banned substance and rolling the dice with getting caught. A penalty that forces them off the gate for an entire series is a whole new ballgame. That's life-changing for many racers.
The real guilt here lies at the hands of, aparrently, the FIM for their laughable timeline of determining and announcing the punishment for this infraction. If it takes this long to determine the punsihment, then the rulebook has a LOOOOOONG way to go in terms of comprehensive rule conveyance and punishment determination. This whole punishment feels a lot like the FIM was trolling Vital all these years and got sick of the rhetoric about a lack of leadership by the sanctioning bodies and said, "oh yeah? Here's some leadership and decision-making ability right up your keester!".
James is a fish who was caught in the net of setting precedent. It sucks because having him in the series is a no-brainer; it's better racing and a better sport but the FIM is clearly thinking about the future integrity of the sport, not a great 2015 series.