Have you ever wondered how much early season wins affect a racer's chance of winning the title?
Have you ever wondered how much early season wins affect a racer's chance of winning the title?
I pondered this the other night while watching Anaheim 1, so I went to the Racer X stat pages and pulled up some interesting bits of info.
The 2015 season began just as 2014 did, with a convincing win by Ken Roczen. Week two in Phoenix would provide a different winner, Eli Tomac battled with Kenny then kicked into Road Runner mode, cruising to a comfortable win. Watching these early rounds made me curious as to how much the early season wins affect a rider's chance of winning or losing the championship.
Going through the Racer X vault I pulled up statistics for the last 12 seasons of racing, going back to 2003. I feel that this gives us a nice snapshot of "modern" (4 strokes) Supercross; it also gives us a little bit more data by going back to the last few years of the mighty two strokes.
The data culled from the pages of the mighty Racer X website provided some genuine surprises, first and foremost is that only one rider has started the season by winning Anaheim 1 and Phoenix. James Stewart accomplished that feat in 2007 and went on to clinch the championship. Another surprise; only twice in 12 years has the A1 winner failed to podium at Phoenix, James Stewart and KROC are the two unlucky racers comprising that stat.
The Second round also provides a great, early season indicator of who will clinch. The points leader after 2 rounds has gone on to clinch 8 of 12 times! Interestingly enough, if you project the points out through three rounds, the numbers remain the same, your points leader after round 3 has also gone onto clinch 8 times.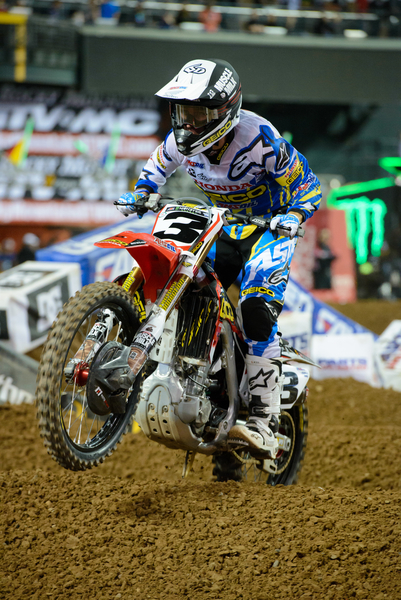 History shows Tomac has a good shot at this title despit his A1 disaster.
The "deep field bro" early rounds definitely make overall wins harder to come by, as we mentioned, only one rider, JS7 has won the first two rounds over the last 12 years. Stew is also the only rider during that time period to win round 3 as well, 2007 was a good year for Stew!
If we look at who won round 1 and 3 in the same year that's also a small list, only 3 riders have accomplished this; Ryan Villopoto in 2011, James Stewart in 2007 and Chad Reed, who accomplished it twice in 2004 and 2008. This really jumped off the page at me as all 3 riders clinched the championship in all 4 seasons.
We also have a flip side to the points lead equation. During the 12-year sample there were only 4 racers in the points lead after round 3 who didn't clinch. In 2009 CR22 had a 12 point lead and finished second in the points, in 2012 Ryan Dungey had a 4 point lead and finished third in points, in 2013 Davi Millsaps had an 11 point lead and finished second and last, Ken Roczen had a one point lead in 2014 and went on to finish third in points. The bulk of these are because of Ryan Villopoto being a notoriously slow starter.
The 2015 season is yet to provide many surprises in the premier class, Kenny Roczen who is arguably the most talented rider in the field is in the points lead. Going by the last 12 seasons that's a great indicator of a coming championship. However, it's a long season and he has some great competition nipping at his heels. Title contenders Ryan Dungey and Trey Canard are very close in points. Eli Tomac who had a disastrous start at Anaheim has newfound confidence after his convincing Phoenix win and upstart premier class rookie Jason Anderson has looked very fast and consistent to date.
We are in for a great season of racing, while the numbers of the past indicate who the champion might be; we have 15 rounds or racing to prove the numbers wrong.
Watching it unfold is going to be a treat. The season resumes Saturday night in Anaheim, CA at Angels field at 10:00 PM Pacific and will be broadcast live on Fox Sports 1.