I went to Phoenix with a bunch of buddies. Here are 29 highlights (or lowlights) from the weekend:
I went to Phoenix with a bunch of buddies. Here are 29 highlights (or lowlights) from the weekend:
1. Most trips start with 6 guys saying they are going to come, but only 3 show up. This trip we started with 3 guys committed to going, and 11 actually showed up. It was a great group of guys, and we abandoned all hope of keeping everyone together throughout the weekend. Drunk guys are worse than trying to heard cats. We like to start out these trips with a designated #hashtag to try and piece the weekend back together. #fallofthephoenix seemed fitting, you can check out our play by play of events on Instagram.
2. Big Red had a bachelorette party send him a love note and buy him a beer on the flight. Always the ladies man.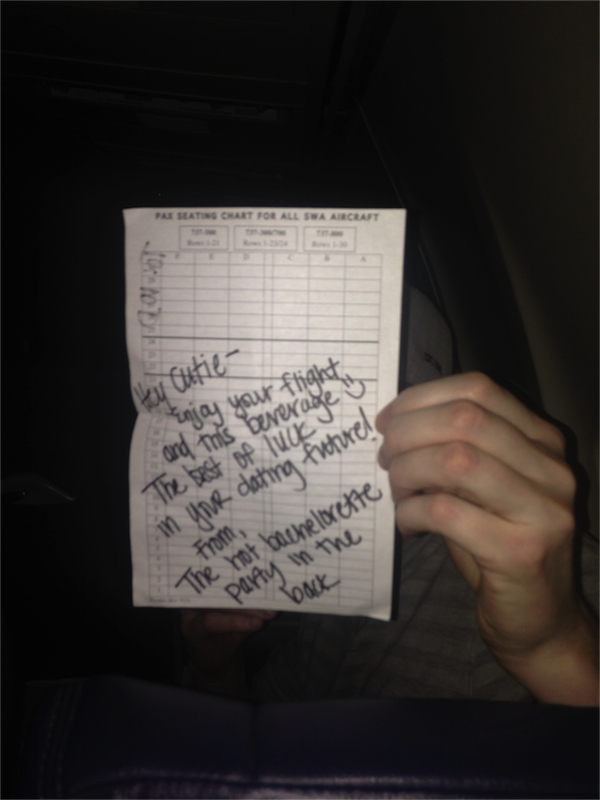 3. The pool in the backyard is freezing this time of year, which we found out when someone had the great idea for everyone to jump in sometime around 4:00am.
4. Rendezvous with Jacki Short to pick up pit passes (thanks again). She gives us only one job, save seats for her family and friends with some beach blankets. Odds are 50/50 we mess this up.
5. Pick up God Bod at the airport and give him the full service Uber treatment to his hotel. He tips me with a kiss.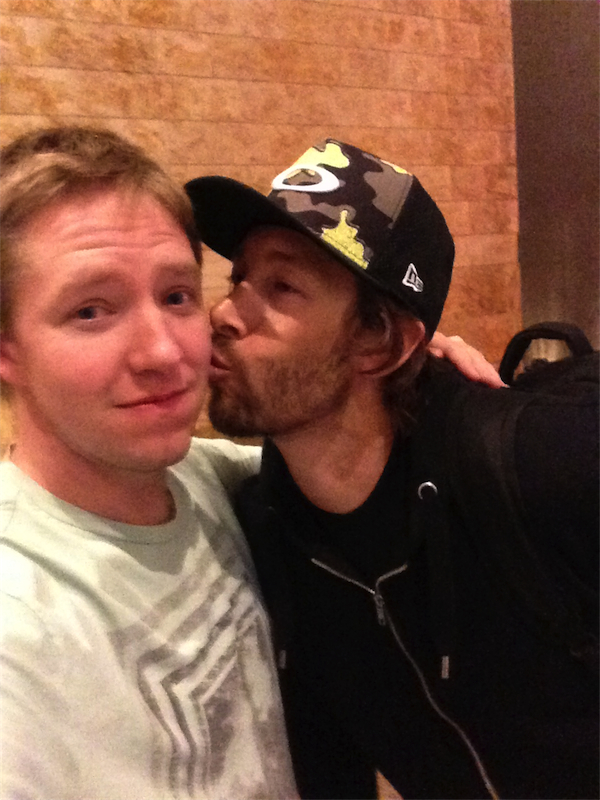 6. Cops are giving Breathalyzer tests to people outside the bar, it becomes a contest to see who can blow the highest. I finish on the podium with a .18 BAC.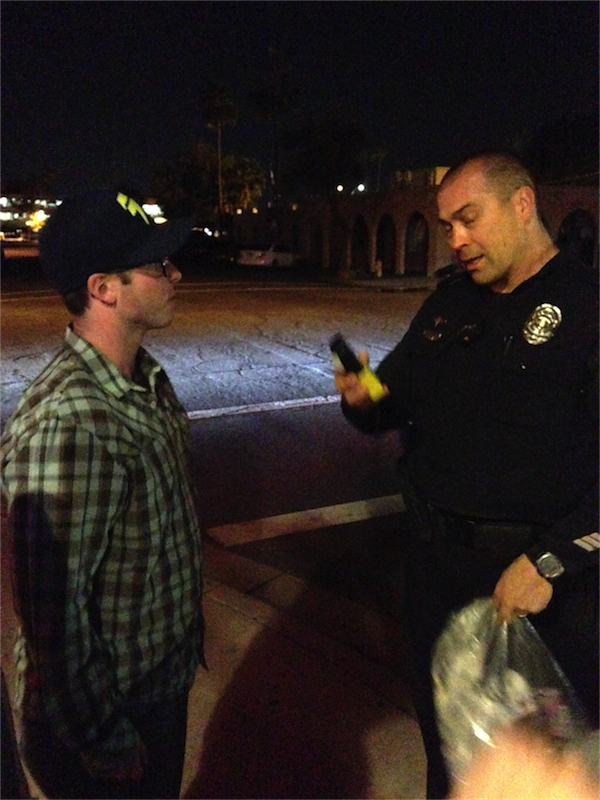 7. Benny gets puked on at the bar "it felt like someone threw a bowl of chili on my back".
8. Jared, Benny, and I get up earlier than everyone else, and make it to the stadium in time for track walk.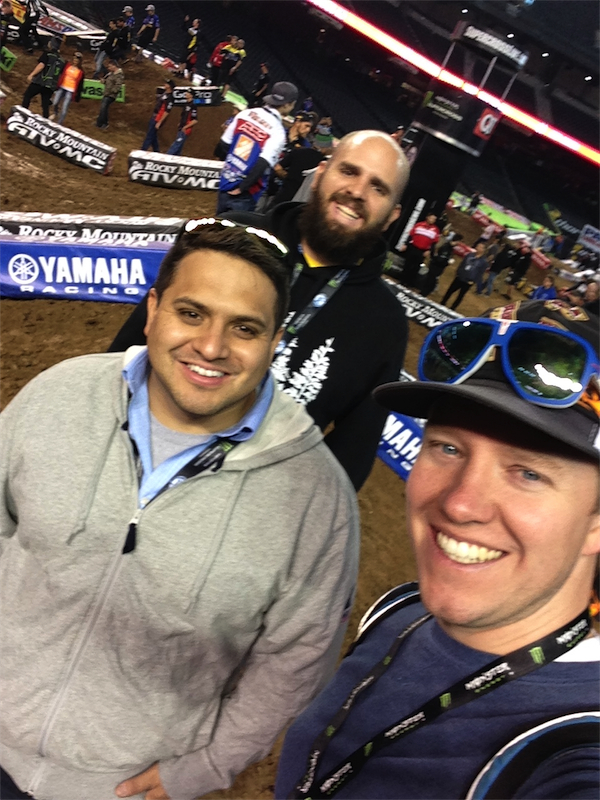 9. Coach Seiji and I catch up on all things Shorty, climbing, and with his recent addition to the family, we even talk kids.
10. I get up close and personal with Shorty's bike making his mechanic Nate uncomfortable. Nate hooks me up with a "Bubba's Burger" dew-rag and bottle opener.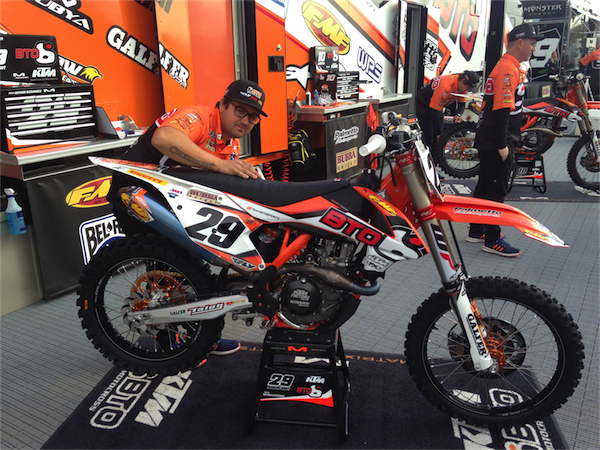 11.JT$ is starting his day with his VIP members and sporting a new haircut.
12.I forfeit my two-track access passes to Benny and Jared, whom haven't walked the track before. I take my chances with my media pass, courtesy of Weege, and manage to slip in.
13.Shorty points out how muddy I got my shoes on track walk, but I assure him my wife will clean them when I get home.
14.Osborne gives me two thumbs up and I can't even tell which one is broken.
15.The whoops are much bigger this week and spaced further apart. It always boggles my mind how these riders are able to skim across them. There are also two awkward humps on the track; one mid-way down the starting line, and one right before the whoops. They must have built the track on humpday.
16.Broc Tickle flips off Swizcore for me in a picture.
17.There is no sign of Matthes in the first corner during track walk. Everyone I ask seems concerned.
18.Handsolo of RacerX says he's saved me a seat in the press box, we're snack-pack buddies from way back. Also, congrats on your ability to make a boy, you are a better man than me.
19.We meet up with our crew at the bar across from the stadium. I don't think they even noticed we were missing. Realizing this is likely the only time we will all be together in one place, we put on our custom shirts courtesy of Benny and get the #pooknation picture.
20.Find Matthes in the press box, and he shows us the entire right side of his body is covered in road rash from his mountain bike crash…we all laugh at his expense. Matthes and I argue about Shorty wearing two different colored boots.
21.Stop by the JGR team to see how my name looks on the truck. Try to convince them to let me wear the wiener suit around the pits. They like the idea but they only have a little wiener with them, I'm a good actor but not good enough to be a small wiener, so I settle by putting one in my mouth instead.
22.Meet up with Pookie, and take her to the bar where she receives celebrity status among all her #pooknation fans.
23.Succeed in saving seats for Jacki's family and friends in the industry seating section. Walk to the other side of the stadium to say hi to some family in town for the race. The lights go out for opening ceremonies and who stands up not even 29' away from me on the dugout box? Shorty. I knock over old ladies and small children hurdling down the bleachers and get a selfie with him as the spot light, cameras, and big screen focus on us. Timing is everything.
24.I introduce myself to the WP air suspension guru and get a picture with him (photo bomb by Shorty's friend Doug). I can't wait to tell everyone that I met the guy in charge of giving Shorty blowjobs.
25.Weege comes rushing into the BTO/KTM pits asking where Brayton is, then realizes he's already left and says he will have to settle for a Shorty interview.
26.After placing $1.00 bets with Benny all race, Weege was down one entire dollar and grudgingly paid up at the end of the night.
27.While helping load Shorty's bike into the semi, I'm accused of trying to steal it. I would have gotten away with it to, but I couldn't find the kick-starter.
28.What better way to end the night than wearing Unicorn and Cock masks in the pits with the Short family?
29.Nobody died this trip, but it's only a matter of time. By the looks on everyone's faces Sunday morning, the #fallofthephoenix was a fitting name. Thanks to my cousin for hosting us, good luck getting the smell of man out of your house.
Thanks for reading, please send complaints to jasonw@racerxill.com
Written by: Moser