Le Cobra types out his thoughts to us on San Diego SX
Le Cobra types out his thoughts to us on San Diego SX
You were there living the suite life… how was the move from Qualcomm to Petco Park in your opinion?
It's kind of sad not to have Qualcomm Stadium anymore. It was my favorite SX round- maybe because I've won twice there! The track was always big and fun. Everything about that place was pretty convenient for us riders from the close location to where we live, to the pits being close to the stadium, to the massive crowd. I think the transition to Petco Park was good. I love that stadium and go see a lot of baseball games there. I think they did a good job with the track with a lot of technical sections and jumps. The track only had one triple but two big rhythm sections with one pretty tricky before the finish. It was definitely the most challenging track we've had so far this season. That's what i like to see as a former rider and a fan now. I like to see the best riders in the world challenged and see them express their riding technique.
I thought the track was pretty good, it kept the guys busy but not sure why they broke up the whoops like that…your thoughts?
Like I said, I really enjoyed the track. They did something different in the whoops by making a big roller in the middle of them. I was surprised not many riders tried something different in them. They all pretty much skim-roll-skim. I think that was the way to go when the track was new and the whoops steep but they could've tried a different way later on. I saw a couple of guys, Millsaps being one of them, using the roller to jump in the second set and jump out of them. I really think you could've jumped from the roller to after the first or the second whoop of the second set and then jump all the way over the rest of them. You could do that because they became rounder and the bottoms weren't as deep. Another way would've been to skim the first section and use the last one to jump/manual over the roller which would've prepare the riders to skim the second set super fast. The whoops are the section of the track that change the most and when comes to the main there is often a different way to go thru them to go faster.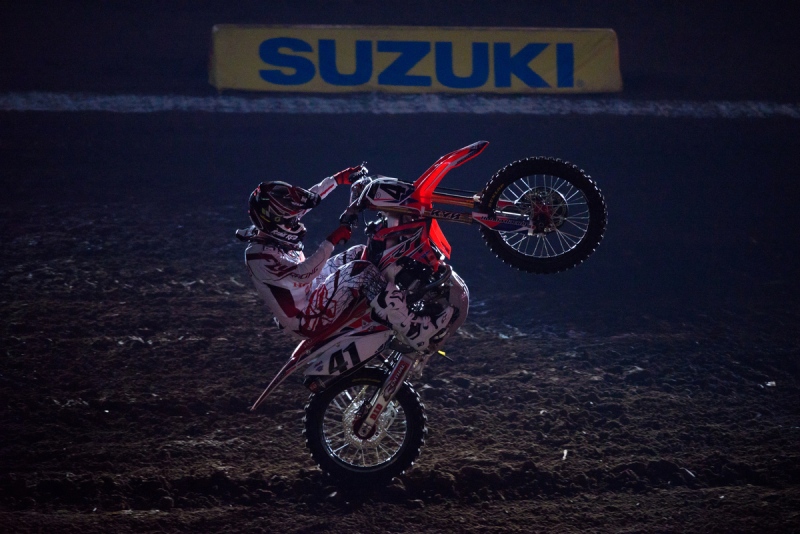 Trey Canard won his second race of the season in a thrilling manner.
Trey Canard caught, passed and held off some charges from Kenny Roczen in the main event, it was a great ride. What did you see from both of these guys as to where their strengths and weaknesses were?
Trey's ride looked very similar as how he rode in Oakland when he won his first race of the season. The track, even if it wasn't as rutted as Oakland, looked pretty similar with the tricky rhythm sections. Canard was on it and racing the track from the get go. He caught Roczen off guard with that great pass. I am surprised we didn't see more passes the way Trey passed Ken. I thought that was the easiest spot to pass people. Actually, Webb passed Bowers the same way. The difference between Canard and Roczen in the opening laps was that Ken was riding and jumping while They was actually racing the track. But Roczen turned it around after halfway though and caught back up to Trey. It's always a difficult moment when you're leading and you see the cross flags on the finish line showing halfway. I think it killed Bowers mentally actually.
When you're leading and you're at 10 laps to go, you ofter see the glass half empty instead of half full. It takes you a couple laps to regroup and focus again. It's kind of what happened to Trey a bit but he turned it around quick. The second part of the race, when Trey had Ken on his tail, he started to ride a bit defensive. He was going in every 180 degrees turn pretty tight and Roczen didn't capitalize on it. He started taking the same lines instead of changing it up and opening his turns. In the second 180 degree turn of the track before the triple on the table top, Trey started coming in tight and wasn't able to triple on the table anymore. He was maybe cautious because he didn't want Ken to block pass him. He did exactly the same thing after the whoops. He started going thru the whoops in the middle and coming in tight in the turn before the triple. And Ken started doing the same thing. When someone in front of you is doing that you need to go back to the fastest lines which is to open the entrance of the turns, keep momentum in them and jump the rhythm sections the fast way. If Ken would have done that he would've put himself in a better position to pass Canard back down the stretch.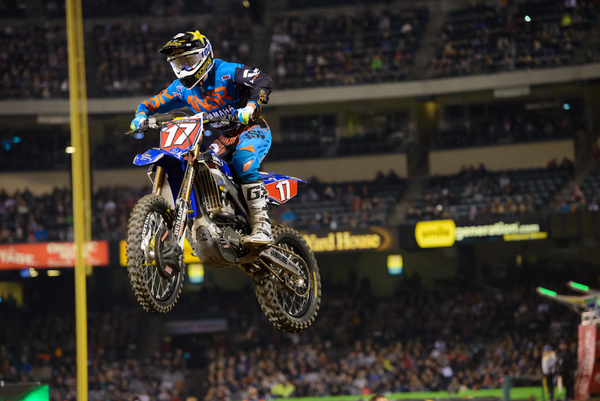 Cooper Webb. Again. He was stupendous in San Diego.
Webb's crash was bad, yet he still lined up for the heat and won the main. What's that like as a rider trying to race while possibly being shot up with pain meds?
I actually know how it's like. When I won my first 250 Supercross in San Diego in 2000, I crashed really hard in Friday practice. I came up short on a triple before a bowl turn, flew off the track and landed on the starting gate. I spent my evening at the hospital getting my wrist x-rayed that was twice as big as normal. I won the next day. Webb's crash was pretty bad and he's lucky he didn't break a wrist, collarbone or worse. Cooper only had to deal with the pain which is something a motocross/supercross rider is used to. It usually hurt in the first couple laps. As soon as you're warmed up and the adrenaline kicks in, you'd be surprised how much pain you can overcome. But you can't take anything away from Webb's performance. He had to be rusty after the crash, missed the last practice and only had the 6 laps of the heat race to find his rhythm and speed. That's impressive. You could see he was searching for himself a bit in the first couple laps of the main too. But, he got the job and this win means more than his 3 other ones for sure.
What happened to Bowers? I would've bet a lot of money that he would have won that race when he got into the lead.
Like I've talked earlier about Canard and the halfway cross flags , I think Bowers, when he saw it was halfway, said to himself "Only halfway"? When you get in this state of mind your head takes over your physical abilities. Tyler made mistakes for 2 laps by not jumping the two rhythm sections and the Webb/McElrath duo took advantage of it right away. Bowers didn't fade after that like someone that got tired. He regrouped and rode well again. If he was fading and tired, Hansen would've passed him. I really think Tyler lost his focus for a couple laps for some reason and started making mistakes. At this level and with the fastest/best guy of the class a few seconds behind you, it doesn't forgive…
Anything else?
Yes, a few random things. Strong ride by Hansen. It's cool to see such a talented rider up there again. I think with a little more work it's not impossible to see him on the podium before the season ends. Great ride by McElrath and first podium ever. That's always a great feeling but there was room to win that race. He was on a mission all the way until he got to second. I think when he realized he was second I think he lost a bit of his focus, speed and ambition. You can't blame him but at San Diego, with Webb not at 100%, it was a great opportunity for a first win instead of a first podium. One word on Malcolm Stewart. He was looking good this weekend again but another poor decision on his part took him out of the race. Why in the world would you still jump the last triple of the rhythm section when you almost collided with another rider on the jump before… He should've went 2-1 before the whoops. Even if he didn't clipped the last 3 that made him crash, I don't think he would've made the turn and being in raffic on the first lap he would've hit someone before the whoops or go off the track. Not a very smart move.
"The next few races will be key for Ryan. If he wants to go all the way, he's gonna have to shut those guys down a few times in a row and show them what's up. If he rides like A3, it wouldn't be super hard to do so."
I feel the same way about Tomac who crashed by trying to block pass Reed. Eli was a bit far to make it stick and end up on the dirt. That's the second time this year he jeopardized a podium finish in the opening laps of the race. Just like in A1. If you crash on lap 16, you gonna lose 1 or 2 spots. When you crash on lap 2, you're pretty much shooting yourself in the foot and it's tough to ride SX with lead in your toes… To finish this column, let's talk about the diesel… Dungey the diesel is still leading the championship but i'd love to see him use a little bit of Avgas 100LL in the first few laps. Ryan rode good halfway and was catching up a bit to Canard and Roczen but he was a bit too far back because he got going too late. We've said it before but I have to say it again, he's got to get out of his comfort zone in the opening laps when it's the easier to go around people. The task is way harder when you wait 5 laps to get on it. I don't think Canard is gonna jump on another rider anytime soon nor I don't see Roczen face planting a triple like in Oakland anytime soon either. If you're Dungey, you don't want to let Roczen and Canard get back in the points. The next few races will be key for Ryan. If he wants to go all the way, he's gonna have to shut those guys down a few times in a row and show them what's up. If he rides like A3, it wouldn't be super hard to do so.