­Guess who's baaaaaaaaaaaaaaaaaccckkkkkk!!! 7 DEUCE DEUCE!!
­Guess who's baaaaaaaaaaaaaaaaaccckkkkkk!!! 7 DEUCE DEUCE!!
Photos By: James Lissimore
It's a new year with new rookies and the same veterans. The 450 class is more stacked than it's ever been, and everyone is faster than they have ever been. Honestly, that's kind of old news. Every year from this year forward, the field is going to get deeper and deeper, because racers are training harder and harder. But the bikes are getting better and better which is making the field become more and more equal-er(kidding)– from the privateer to the factory rider. To me the factory bike doesn't make the factory rider, there's much more to it. That's what I am really searching for. How to elevate myself to that factory level and become one of them! Haha, as Steve says "get off PRIVATEER ISLAND BRO"!
I was the second heat of the San Diego SX, and I walked up to another rider and said, "dude who are you calling to win this heat right now" and he said "EFF all those guys" and didn't say another word about it! My initial thoughts were "damn, alright" then I said to myself: he is 100% right. Eff all those guys! Every single last one of them. And I don't mean that like they're not cool guys, or we cant be friends off the track but honestly, I show up on the weekends to beat every last one of these guys. Friends or not. I really think that is one of the key factors to being "the GUY". It's not caring about who they are, what name is on the jersey or what number is on there bike.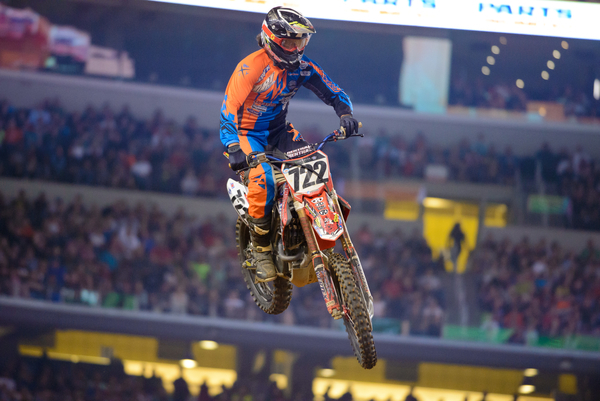 Flexin bro. Errryday.
I have been working with WP40 and Budman during the past two weeks of training and it's helping so much! Talk about a bad ass. That's Weston for you. Hanging out with a rider like him is beyond amazing because he did exactly what I am trying to do in my career. Not only that, but he brings it to the track everyday like you wouldn't believe. Just in the past few weeks I have learned an abundant amount of what it takes to be "the GUY" and one of those things is intensity. Intensity every lap, of every practice, of every start, of every section, of every corner, of every jump, of every aspect of my riding, everyday. On top of that, is just knowing that you're the guy that is going to be in the main event and knowing where you will place each weekend.
Another thing I have learned about Weston, is his belief. Compared to the privateers that I know, its literally night and day! For instance, track walk with a privateer is more like "FUUUU@###!!! that triple is huge!!!". And "Dude! I don't think you can make that", or "I am not jumping that shit!!". Don't forget, "those whoops are MASSIVE"!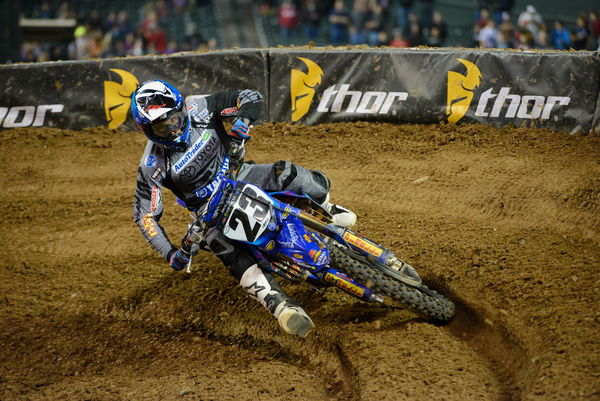 Peick is a great role model for the 7-Deuce-Deuce.
Track walk with Weston is more like, "this rhythm is triple, triple, triple " and " these whoops look perfect", or " you're going to want to flow through this last bump to get a better set up for the corner". There are no doubts in his mind whatsoever. All he is trying to figure out is, what is the fastest way around that track that night so he can achieve the goal he set for that weekend.
Now all I have to do is apply what I learn to my everyday schedule. It's much easier said than done! I have learned so much and I am soaking it up like a sponge as fast as I possibly can. These things unfortunately don't happen overnight. I am seeing improvements every weekend but still no main event. I want to be "the GUY" that is next on the list and I am trying my hardest. To beat these guys, I truly have to believe and know that I am that guy. This week I am fortunate enough to be invited to press day for Atlanta SX. I really think that will give me that little extra edge I need to make that main event!
The 7deucedeuce way of life is to always stay positive and keep pushing forward no matter what happens! So HERE WE GO ATL lets get some MAIN EVENT WHOOOPPPP WHOOPPP!!!!
7deucedeuce Peace!!