Blazier and Jeremy McGrath reflect on the 1996 Gatorback National.
Blazier and Jeremy McGrath reflect on the 1996 Gatorback National.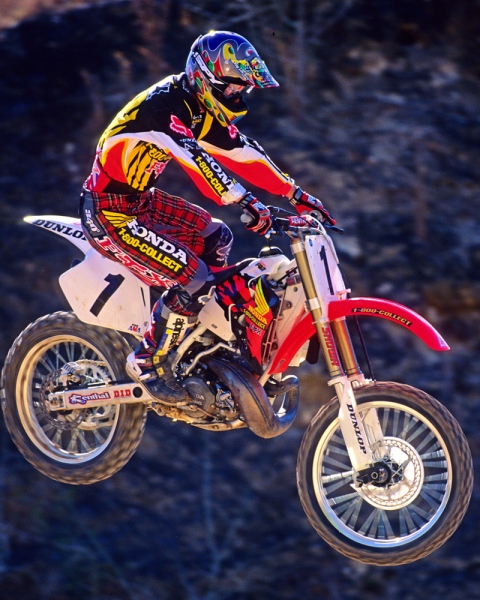 Photo: Paul Buckley
For this week's MX Captured we are going to take a look back at an awesome picture of Jeremy McGrath from the 1996 Gatorback National. This shot by Paul Buckley is epic for many reasons, and perfectly captures the King of Supercross at the absolute height of his powers. Everything from that Factory Honda to that amazing Fox gear just screams nineties cool; in 1996, no one was as cool as the man they call Showtime.
Today, Jeremy is thought of primarily as a Supercross rider, but for a few years in the mid-nineties, there was nobody faster outdoors than McGrath. In 1995 and 1996, the kid from Sun City, California was nearly as unbeatable in the heat and humidity as he was under the stadium lights. It was a transition that many in the industry thought would never come and even today, many fans do not give Jeremy credit for how fast he was in the great outdoors.
Early on in his career, McGrath had by his own admission not taken the outdoors very seriously. He preferred to skate by on his immense natural talent and looked at the Nationals as a chore, rather than an opportunity. Three full years in the 125 class had yielded only two overall victories and a handful of podiums. Compare this to his incredible Supercross success, where Jeremy had carded back-to-back 125 titles and captured the 1993 250 Supercross title as a rookie. While it was certainly apparent he had potential, it was just as apparent he lacked the drive to be a legitimate title contender outdoors.
In 1994, Jeremy moved up to the 250 class outdoors for the first time and scored several podium finishes on his way to third overall in the final standings. While this was a very solid showing, the pit pundits continued to hound the multi-time Supercross champ for his apparent indifference for the dog days of summer. In Supercross, MC was virtually untouchable, but outdoors, his technical precision often left him searching for the smoothest lines, instead of the fastest ones. This calculated approach saved energy, but left Jeremy a tick off the pace of guys like the series champion, Mike LaRocco.
Coming into the 1995 season, Jeremy vowed to finally silence his critics once and for all. He once again dominated the early Supercross standings, winning five consecutive races to kick off the series. As the start of the Nationals approached (back then it was halfway through the SX series), Jeremy was more motivated than ever to take the next step in his outdoor results. An intensive training regimen laid out by his trainer Gary Semics and perhaps most importantly, a new outlook on the series, gave the indoor champ newfound confidence going into Gainsesville.
At Gainesville, even a bout of flu was not enough to hold back the Supercross champ. Jeremy would push through the illness to take a 3-1 overall victory over the '93 champ, Mike Kiedrowski and his Honda teammate, Doug Henry. At Budds Creek, the series would loose Henry to one of the most spectacular crashes in motocross history and Jeremy would score his second victory of the 250 season. Wins at Red Bud, Troy and Washougal would follow, as the kid no one thought could ride outdoors powered his way to a commanding lead in the standings. At season's end, Jeremy would capture his first (and as fate would have it, only) Outdoor National title, with wins at seven out of twelve events.
Coming into the 1996 Gainesville National opener, Jeremy was once again riding a wave of momentum. This time, it was six straight victories to open the Supercross season and a commanding lead in the championship chase going into bike week (a championship he would win while suffering only a single defeat). Gatorback would be McGrath's first opportunity to run the number one plate outdoors and both he and Fox Racing wanted to make a bit of a statement. For this event, Fox provided Jeremy with a special set of one-off 360° race pants. This was a pretty big deal at the time, because Jeremy and his teammate Steve Lamson were contracted to run team issue gear in 1996 and custom sets were uncommon.
In his ultra-cool plaid Fox race pants, Jeremy would roost home to a commanding 1-1 victory over Team Kawasaki's Jeff Emig and Ryan Hughes. McGrath would go on to take five of the first six races and look to be well on his way to a second outdoor title, before a crash at Millville derailed his title defense. This crash, combined with an early retirement at Washougal would open the door for Jeff Emig to challenge for the title. In the end, the series would come down to the last round, where Emig would go 1-1 to Jeremy's 2-3, costing McGrath his second outdoor title by ten points.
While I was doing some research for this edition of motocross captured, I thought it might also be cool to get some insight from a couple of the guys that actually had a hand in making it happen: Pete Fox and Jeremy McGrath. I sent both a copy of the picture and asked for their thoughts and feedback.
Pete– "The plaid pants in this photo are maybe the most rare Fox pant of all time. We only made one pair, only for Jeremy. I know Jeremy still has it in his personal collection. We've talked about how cool it is, and how much fun it was to do. I'm trying to get him to loan it to Fox for us to keep on display at our office! I think this was the one and only time Jeremy ran it and it was never offered for sale."
The King– "I have great memories of the year of the photo!
I was on top of the world at that time! Fox was pushing the limits on design and I loved it because I always wanted to be different than the rest. That's how I lived my life, anything to be different and set myself apart from the rest!
The plaid was so out there and I thought it was awesome!
The other thing that was cool was that nobody had it but me!
That year was a year I will never forget!"