An analysis and grading of the five rookies who made their debuts in Arlington.
An analysis and grading of the five rookies who made their debuts in Arlington.
Photos: James Lissimore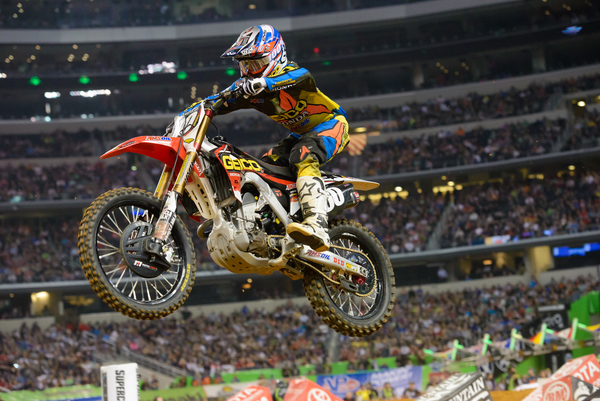 RJ finished 7th with some interanl injuries after a practice crash.
RJ Hampshire // #80 // Finish: 7th // Grade: A+
First off, this guy probably shouldn't have even been racing Saturday night. The GEICO Honda rider took a hard hit to the ground in practice, which messed him up quite a bit. RJ was cleared to race the night show and was consistent in his first Monster Energy Supercross main event. He was the top finishing debutante. Check this out though, after his flight home RJ wasn't feeling right, and according to an Instagram post he checked himself into the hospital. The post by @aliasmx said that Hampshire had broken some ribs, internal bleeding and a bruised lung. Hey, no big deal or anything. I have some bleeding going on inside of me, but I still am going to finish seventh in my supercross debut. RJ deserves this A+ grade to the fullest, and hey, can we get this guy some extra credit as well?
Update: As of Friday, it appears Hampshire plans on racing tomorrow night in Atlanta.
Arnaud Tonus // #200 // Finish: 8th // Grade: B+
Tonus has a bunch of experience being a professional rider, but it is all from the GPs. This is Monster Energy Supercross, a whole entirely different beast, so he counts as a rookie. His debut in Arlington went really well, considering he was held up in the Martin Davalos crash on the first lap of the main. Earlier in the day's qualifying session he ended up second overall and only five tenths of a second off of Marvin Musquin. This rookie has great speed and supercross skills, but what else would you expect if Mitch Payton hand selects you to his team? Following his off-track excursion, Tonus fought back from almost dead last to finish eighth behind Hampshire. Arnaud looks to have the skills to get a win in the East Coast series this year.
Colt Nichols // #986 // Finish: 11th // Grade: C+
This grading may seem a little bit unfair to Colt's fan base out there, however I can explain. After qualifying in 15th and finishing sixth in his heat race, Nichols was a consistent eleventh in his debut. This is why he gets a C+. I 'm not bashing his performance at all. A C+ is a consistent grade, which is what Colt was in Arlington. He was very consistent in Arlington, which is impressive for a rookie, but he has more to give. Hampshire and Tonus had issues that put them behind early in the main event. Perhaps the only issue holding Nichols back was his start. He crossed the finish line on the first lap in thirteenth. The track was very difficult to pass on according to several interviews, so Colt ending up eleventh is a great start to a pro career. Let's see if Nichols can put it closer to the top five in Atlanta. This is where he is capable and should be finishing this season.
Luke Renzland // #343 // Finish: 12th // Grade: B
Renzland was actually second last on the first lap and ended up getting 12th. The restart helped him out quite a bit in the making of this finish as it brought everyone closer together. Renzland has one of the most ridiculous practice tracks ever created, so he has a lot of experience riding the big stuff. He will continue to get stronger at each round and should be battling for the top five before the series is over. Passing nine riders in your supercross debut is no joke, which is why he earned a B in the grading scale.
Dakota Alix // #88 // Finish: 20th // Grade: C-
If you made the main event you get a passing grade. It's as simple as that. Alix finished 20th in his debut after crossing the finish in 12th on the first lap. The upside of Dakota's Arlington performance is that he qualified via his heat race and didn't have to go to the LCQ. As a supercross rookie this is a very impressive feat. Can you imagine lining up to race a heat race? It's your first supercross and this is the first gate drop that counts. It's only six laps fast laps and then you're finished. You have to really lay it on the line, so great job to all the rookies who transferred through the heats this way. Alix is also coming off of knee surgery in the off-season. This is not a bad debut by any means considering he hasn't been on the bike very long after his surgery.