You're damn right I named this edition after an Outkast album.
You're damn right I named this edition after an Outkast album.
Photos By: Simon Cudby
There's three reasons I went with the term "ATLiens". Firstly, the album is on the top ten list of my favorite rap albums ever. Now I'm no rap connoisseur but I knows what I likes. Secondly, Outkast hails from the dirty south, Atlanta more specifically and appropriately. Lastly, there was some crazy stuff happening in Atlanta, Atlanta One, that is and it wouldn't have surprised me all that much if indeed Aliens were to have been the culprits.
Every season we start off hoping that it will be a knock down, drag-out series of multiple race winners all remaining in the title hunt right down to the last race in Vegas. Leading into A1 in, I believe 2011, the word "parity" really became the buzz term in the sport and bench racing talks as that years group of achieved 250 graduates added to an already stellar cast of experienced 450 pilots. We were giddy with the prospect of Ryan Villopoto, Ryan Dungey, James Stewart, Chad Reed, Kevin Windham, Trey Canard, Jason Thomas, —(you knock off that snickering right now) and plenty more could-be race winners bringing this dream to fruition. Every year since then has brought the same dream to us fans. Though injury and fluctuating confidence often nullify this "Vegas SX-gasm", the starting gates at A1 are just as impressive as ever and thus, the excitement and anticipation more electric than ever. This parity not only makes racing tighter than ever, it makes actually getting into the Main event harder than ever. So it's perfectly logical, if utterly unfair, that as the excitement among fans rises, the despair and anxiety among racers increases accordingly.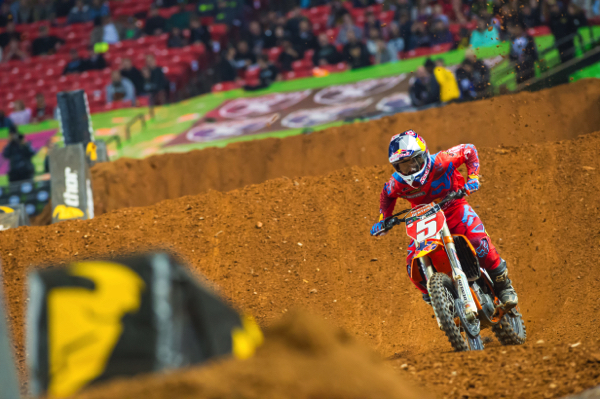 Dungey's consistency has been upped a degree by speed this year.
This season, with the pro-active departure by Ryan Villopoto, there was a massive vacancy left as title-favorite because as you well know, RV2 was the deserved favorite for a possible 5th straight title. Ryan Dungey is always in the hunt for every title he contests, typically through sheer workhorse-like consistency over the course of the series. He's definitely not known as being the flashy or fastest racer but consistency on the podium is proven to pay the bills.
Ken Roczen, burst onto the scene in his rookie-role last year with the W at A1. His finishes fluctuated but it was clear, he was going to be a force in the 450 class in the years to come. Training alongside the 450-classes thoroughbred, RV2, it seemed only a matter of mathematics that Roczen had the winning equation and with his speed being amongst his strongest assets, Roczen as 2015 SX Champ, was an easy leap to make. Less of a leap, more of an expectation. Fair or not.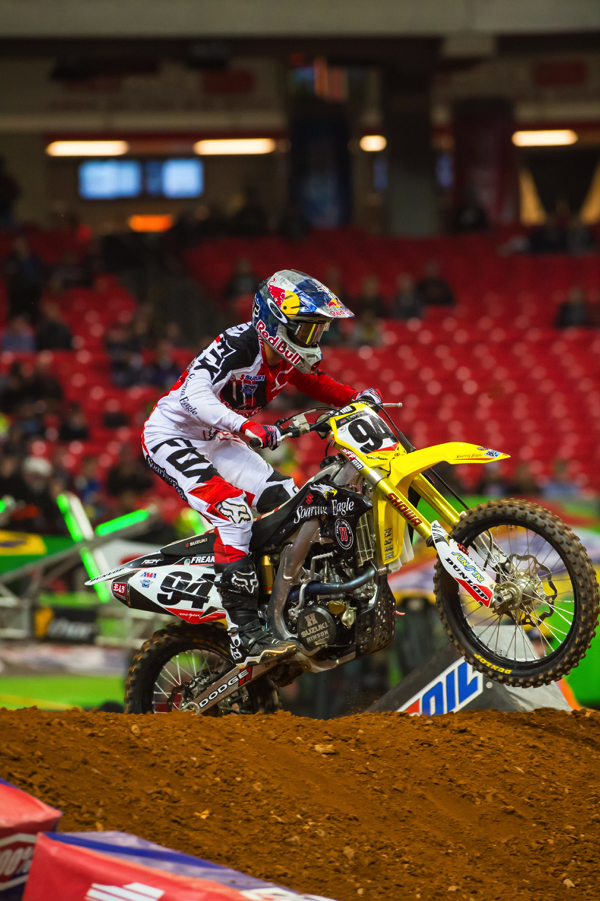 Roczen has had a few rookie moments in his sophomore year.
Eli Tomac began his 2015 season in much the same fashion he did his 2014 rookie season. In a points-hole with some creep shouting down at him to "put the lotion in the basket". Eli is such the puzzle on a 450. He can go as fast as anyone on any given night, but he just can't stay off the ground at multiple rounds which add up to some disastrous points fumbles.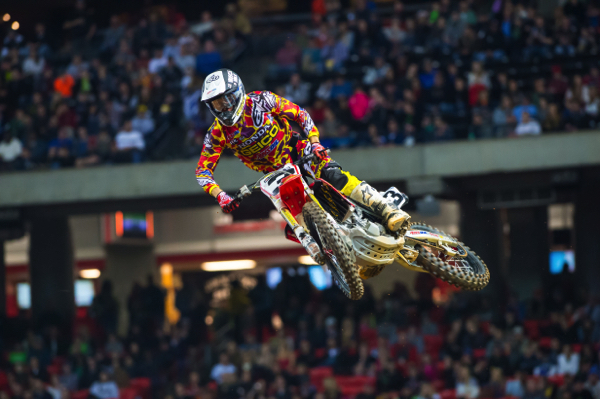 "We can work with speed…" crashes, not so much.
After A1 this year, it looked pretty much like most fans had anticipated. Ken Roczen's choice to join the RCH team on Factory Suzuki equipment proved to be the right change. Although Eli Tomac's A1 was a disaster, it was pretty likely that the other title hopefuls would incur some of their own bad luck and low points-paying rounds, so it was the motocross equivalent of a mulligan. As much as there can be, anyway. A few rounds later, Roczen did stumble and allow Tomac to close in a bit in the points. All the while though, Ryan Dungey was doing exactly what he always has, finishing on the podium at all but one round. Trey Canard has been busy racking up a respectable points sum, aside from Black Flag-gate, and coming into Atlanta One, found himself 11 points behind Ken Roczen, in third.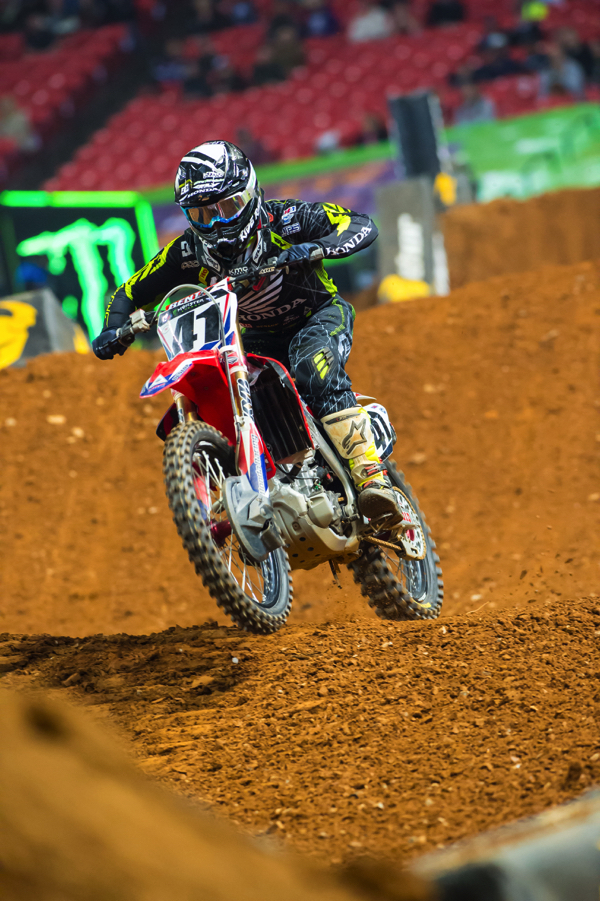 Trey looks to be keep Dungey honest as those around him get Black Flagged or hit the deck.
So here's where I get to my point…
As I stated earlier, when we embark on a fresh season, we hope for a series filled with drama and crazy points (what the riders earn, not time chronology) swings but typically what we see is a rider separate early on and the series becomes pretty predictable. Although Ryan Dungey certainly is doing what he always has (albeit at an obviously faster pace than he ever has) two of the main title favorites coming into the series are making the series almost as exciting as we always hope they can be but with their faux pas and fractional lapses in mental acuity, not trading wins. With Roczen it's a shorted triple, a mistake in a rhythm in practice (and then another mistake in the same rhythm during the race following a terrible start) and with Tomac it's momentary lapses in concentration and getting caught up in some unimportant push and shove with Atlanta 1 race winner, Chad Reed.
I mean how crazy is this series getting?! Ryan Dungey joins forces with Aldon Baker who recently split with Roczen and looks better than ever. Roczen has shown cracks in his armor that we had anticipated were behind him in his rookie year, the same goes for Eli Tomac and Trey Canard who was involved in Black-Flag-gate, now finds himself in a title fight with current points leader Ryan Dungey… Oh yeah, and Chad Reed, who was Black Flagged and his season essentially flushed down the toilet, WON A RACE IN HIS 12TH SEASON IN THE PREMIER CLASS!
I can't wait to see what happens at ATL2 because ATL1 was out of this world!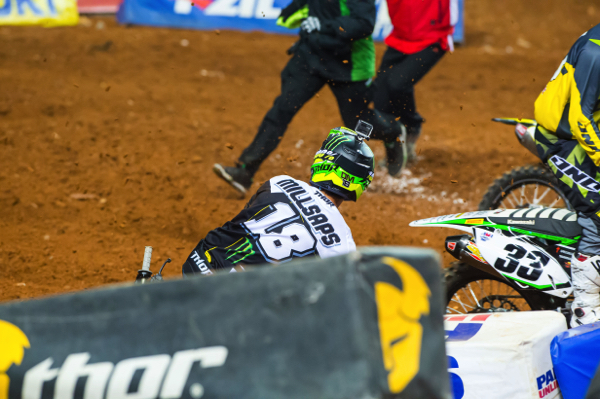 Millsaps is having a nightmarish 2015. Please, wake up and start fresh. It's all of our nightmare watching a guy who should be winning struggle so consistently.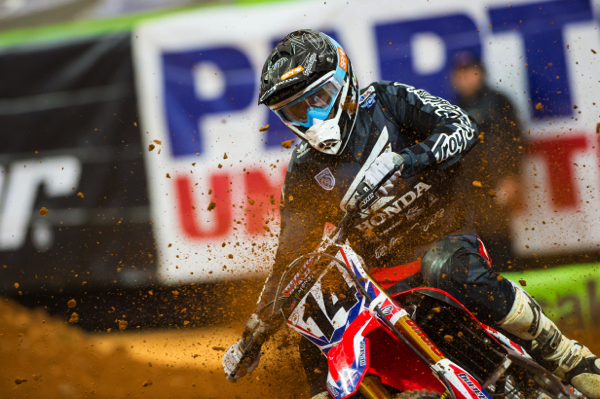 Cole had a great ride in Atlanta 1. Here he looks the way Pigpen from Peanuts would, if he raced for Factory Honda.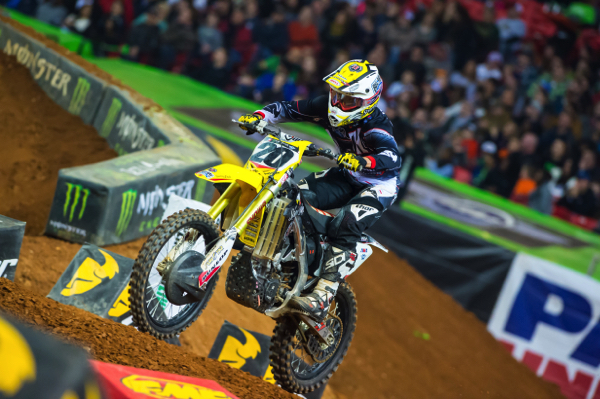 Broc is not only back from his traumatic back injury, he's better than ever. He just keeps charging and never gets tired.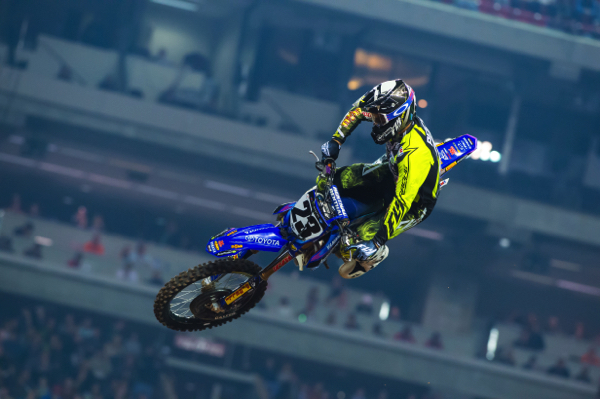 It's crazy how Weston used to be the stubborn privateer who would drive the fast guys nuts when he wouldn't get out of their way. You know how all these riders say when they start racing the big names, they gotta tell themselves that they're just another guy trying to take their paycheck? Well Weston is the only guy who actually believed that. Seriously, he talked himself into believing that 21 other dudes walked into his house and swiped his paycheck out of his trousers. Does not give a shit. He will break you.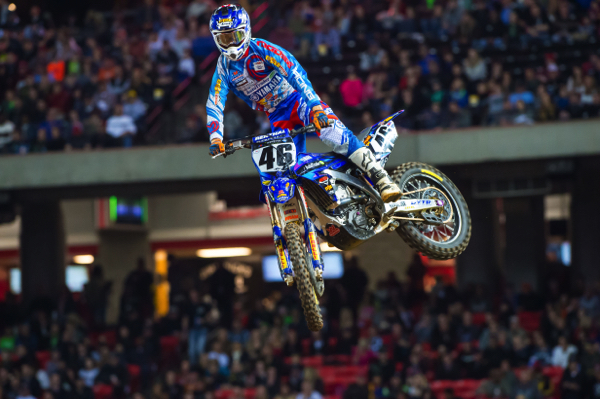 Nicoletti is a starting machine. He just needs to tweak his finishing skills a touch.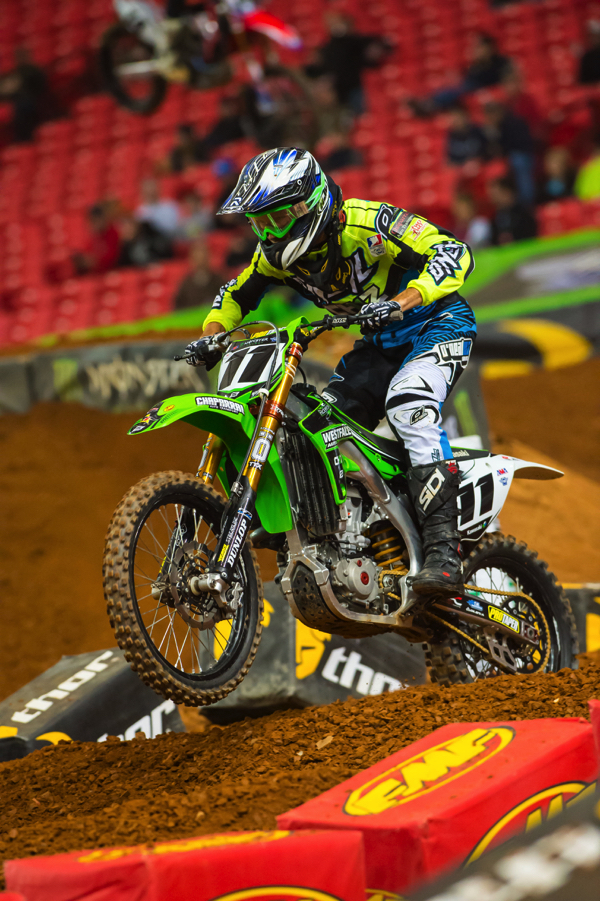 Chiz was clearly invigorated by the move Nick put on him in the Dallas LCQ. He looked feisty from the first gate drop. It was obvious he was going to do whatever it took to not find himself in the LCQ again.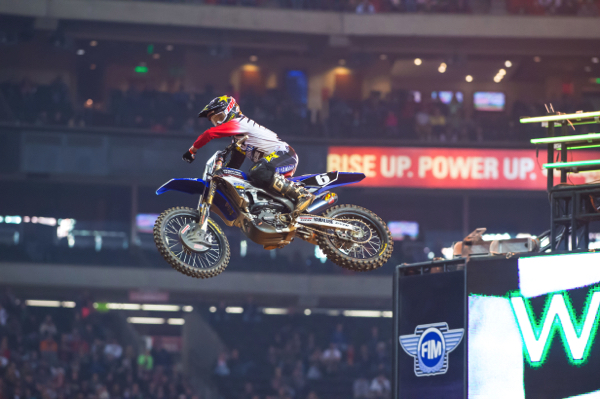 Jeremy Martin has finally shaken the "missed first two mains of 2014" wrap. He now has two SX wins and looks every bit as formidable indoors as he does out. The younger Martin's nickname should be "Scrappy" because that's how he rides.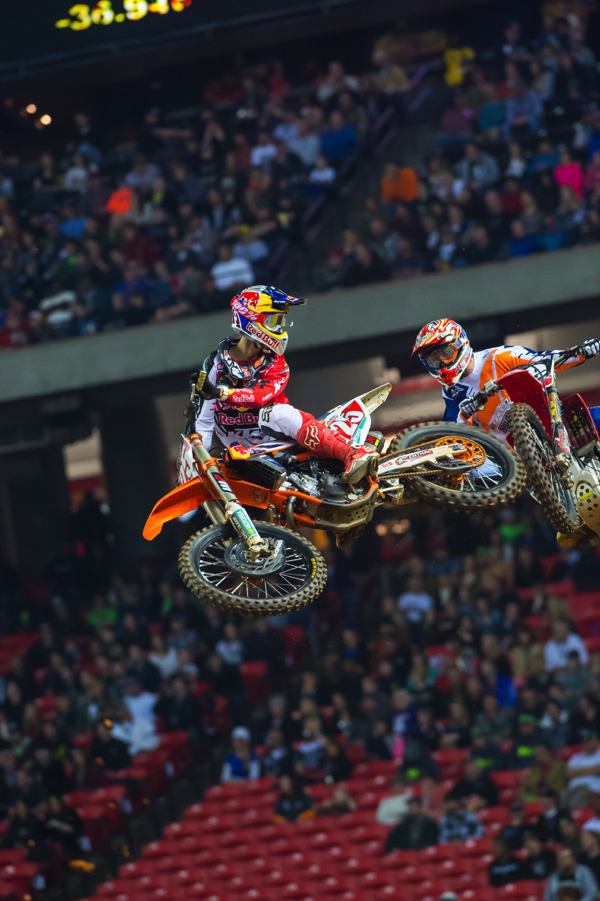 I couldn't believe the crap Musquin had to deal with in his heat race. He gets taken out from behind and then it's shear carnage at every turn as he works his way up through a sketchy back field of riders. He had to be asking himself if those guys have to ride through tht stuff every week. It was scary.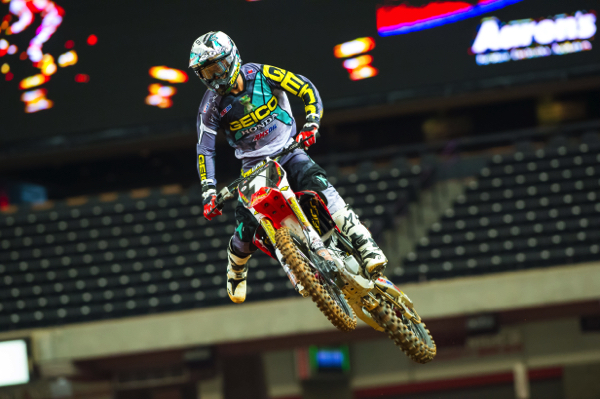 Bogle has looked solid through two rounds but seems motivated, not frustrated by not having a win yet.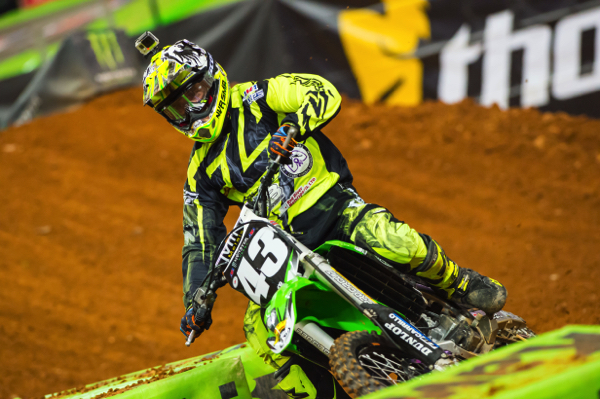 Matt lemoine had another top 5 going about midway through the main but lappers jacked him up a bit. Do not be surprised if he lands on the podium.