Here are some post race interviews for you to read
Here are some post race interviews for you to read
Photos by Simon Cudby
Chad Reed
Why'd you fall, man? That sucked! We were in for another epic race, I think.
Yeah, I think I had a good shot at it.
Lost the front?
Yeah, I lost the front and to be truthful with you I struggled a little bit all day with that. I kind of went against everything that I always do. Normally I like to kind of pick the bike apart, make a lot of changes. We felt good last week and we didn't make a whole lot of changes from last week to this week. I just tried to trust the setting and something wasn't right. There's a reason why I chase the feeling.
But you won the heat so you had reason to believe it was…
Winning the heat we tried doing something to help me and it helped me but then there was more negative than positive. You know how that goes, it's always fun. You're trying to decipher some positives, some negatives, which route do we go? We just kind of went back to where we were. I just felt like I missed something tonight and that was a bummer. But for the most part great starts. It's nice to get my starts back again.
Did you officially get it in the main event?
No, I believe Peick got it. Peick was on my outside and kind of swept in and then I got to the inside of him in the sand turn. I made the pass right away. A little bit disappointed in myself because I made a mistake that allowed him to get back by.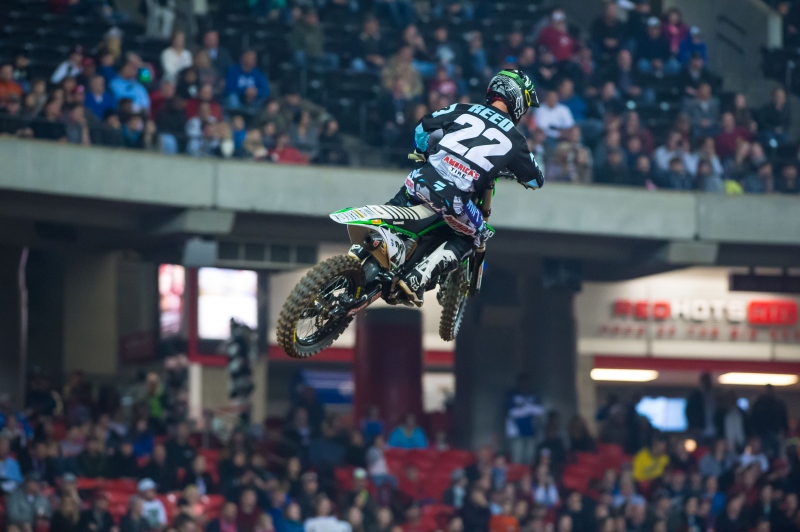 Reed led early but then washed the front end out and that was it for his dream of going back to back.
He gave you a look-over too.
He was scrubbing on the triple pretty hard there. Just a bummer. Then obviously I tried to put myself in a position to pass him back and try to put some good laps together and just lost the front. At that point it's track position. I was frustrated after that. I was so mad at myself that I just kind of fell into the pace that I was following and ended up 7th.
Which isn't so bad because you were pretty far back.
I was a long way back and a lot of people made mistakes. The track was tough. From the heat races to the main event the track changed a lot. I don't think I was the only one that was caught off guard. I think the track changed a lot, and it had a weird feel. There was some traction there but then it was loose. It was different. Tight track. But I knew that going in. I have this track at home.
Do you think it helped you?
Yeah, it helped. You kind of know the rhythm, you know the feeling. Obviously you can't always replicate it 100% but for the most part the track ended up being pretty damn close. They changed up a couple of sections that actually I think was better for racing. The sand was just… I don't know what to think because they try. They try to make it different. They try to work on it. But when we're go and do the parade lap it's literally like we're doing the first lap of practice because they totally changed it. The way the sand was for us all day, completely different.
We maybe did a hundred and something laps around the track all day long between the practices and the heats, and then suddenly we go to race the main event where they hand out the points and they totally changed the race track. I disagree with that. It's their mistake. They fucked up. The track sucks, the sand sucks, it's not working out to what you thought it was going to be. Don't go and change it for us. We've done 100 laps. We know where we're going. I just think that at that point they've got to suck it up and just know that they messed up and just let us ride it and know where we're going.
Last week before the 450 LCQ they knocked down the double on the left lane. Like, "hey guys, look at this!" It's weird sometimes.
It is weird. When you've been around it a long time you feel like you've seen it all. And you can't hate on them because they are trying, obviously. But for me I feel like sometimes they need to maybe try a little less and just let us ride it. It was a disappointing night. After you win you're on that high and you want to win, and I wasn't able to win again. But the team, I think we got a good breath of fresh air. JG rode really well again. He's 6th. I was behind him and he rode strong and was fighting at the end. I don't know if it was because of me.
Maybe he didn't want to get put over the berm again.
I was really proud of him, just proud that he fought all the way to the end on all 20 laps. That's all I can ask from him. I believe anywhere around that 5-6 to 8th is his spot and that's why I hired him. It's good to see him in that position.
How was the two-stroke in opening ceremonies?
You know what's funny is starting that thing up and riding with Goose down to the thing, it all came back. I kind of thought it would feel weird but when I jumped on my four-stroke, my four-stroke felt more weird than actually jumping on the two-stroke. Pretty funny how that works. It actually kind of jacked me up a little bit. I got back on my bike and my bike felt all weird. Four-stroke, more heavy. It was weird.
For you being at home I assume you revved the shit out of the two-stroke, because that's what you did.
I just gave it a good rev.
That was your move in the air, that was your move in the turns, that was your move.
In a perfect world I really wanted to jump the finish or jump the triple and blitz the whoops, but the whoops were gnarly. So them I'm like, okay, that's out. And then I rode it up and down the road and it was super lean, really, really lean on the bottom. So it was too sketchy. The lights were out and then all these guys pretty much shut it down. They're just like, no, you're just riding around. It is what it is. It would have been nice, but it was fun. It was fun to get back on a two-stroke.
Looking forward to Daytona? You're always pretty good there.
Yeah, it's not the gnarly Daytona and what it used to be but for sure I'm excited. Daytona's nice. It's always nice to jump in a car and drive to the race rather than getting on a plane. We'll have a solid week this week and try to get another Daytona win and another win in general. We have the taste and we want more.
***
Marvin Musquin
That's the way to win the main event, right? Get up front, kind of ride your own race early, and take it to the guys a little bit. Nice job.
Thank you. I proved it in Dallas, got the holeshot and then I'm one of the fastest so if I get the holeshot then I can win. A little bit bummed about last weekend; I feel like I should have won but then I made a mistake in the heat race and went all the way outside on the gate pick. Kind of did the same thing today. I was really mad at myself because I went down when I was running 2nd but it's hard to go to the main event with a bad heat race. You're not too confident but I knew I was capable of winning tonight. I got the holeshot and I was doing exactly what I wanted to do and riding really smooth.
I was actually not pushing really hard. Maybe I sound bad saying that but I was trying to be really smooth and not rushing things and not getting tired or anything. I just wanted to ride on my technique and that's what I did. I was really happy about it. I felt like at one point I was pushing a little bit more and then I was as little bit faster than Martin. I was just controlling the gap in-between me and 2nd. That's the way to go. It's awesome.
Tight track, hard to pass. Did any lappers give you some problems?
Little bit. We always used to get a little bit mad at the lappers when they stay on the line but they are racing also. It's hard for them. But it wasn't too bad this weekend. They actually did a good job. The flaggers always do a great job with the blue flags so everything is going pretty good right now. I'm having a great time right now. Training in Florida with Aldon Baker and Ryan Dungey and Jason Anderson we have a great time. We're having fun and everything's going smooth so I'm happy.
Kind of a weird crash in the sand there. I don't know what happened there. Did you just lose the front end?
Yeah, they built a little wall and I jumped over and lost the balance. When I landed I washed the front end. You don't want to crash in the heat race. Lucky I got 4th. It wasn't too bad.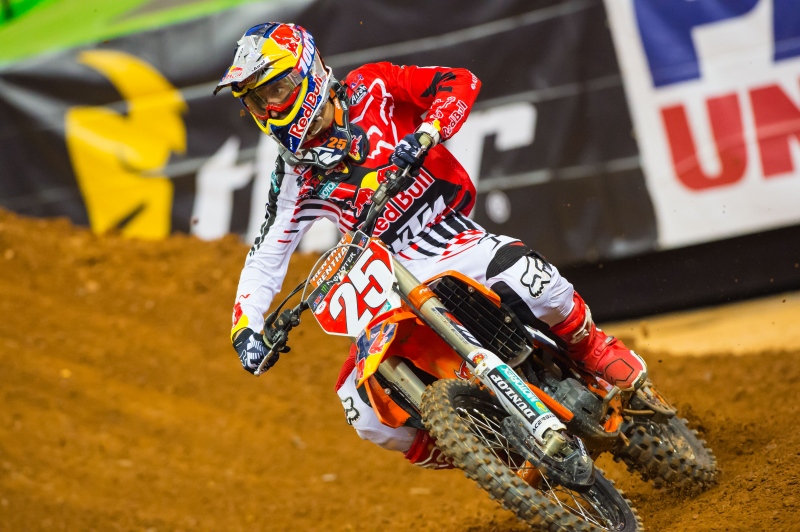 Musquin's won two out of the three 250SX Eastern races held so far.
Do you know Tonus at all as a friend?
I know Arnaud a little bit. He's a good guy for sure.
Any advice to him? Did you talk to him at all? Obviously you're competing against him.
No, we actually talk a little bit. Arnaud is an easy-going guy, kind of like me.
He's struggling a bit but it's Supercross and it's your first time.
He's doing really good at practice. Obviously this weekend the track was a little tougher, especially on the whoops. I think he's doing pretty good. I don't know what he got tonight.
He got 6th. He lost some spots at the end.
It's tough. He had a wrist injury also. He's doing okay.
Daytona coming up – what are your thoughts on that?
I'm excited for Daytona. It's a really nice race. It's going to be fun. We're going to be training down in Florida with Ryan, Jason, and Aldon. It should be good. It's going to be a good race because it's a long track so it's tough, physically it's tough.
Number one thing Aldon's helped you with the most you think? I always thought you were in shape anyway. That kind of work, you did the work. But is there something else?
Just to keep the momentum and keep doing what we do every week and be consistent and obviously tough. I feel like we've been doing pretty good. And Aldon is a nice guy. We have a lot of fun together with the crew that we have right now. But he definitely helps me a lot so we got to keep going.
You know I'm in the Baker Factory. He gave me a heart rate monitor. He's been monitoring it for me, my bicycling.
So you're going to get in shape pretty soon?
I think I'm right with you guys now.
You've got to come down to Florida now.
***
Blake Baggett
You've been riding great and tonight came from probably 10th or 11th to a 5th. Lots of excitement going on ahead of you. Talk about your race a little bit.
Just didn't get the greatest jump out of the gate but kind of snuck around the outside and came around 10th or 11th and just tried to ride my own race, tried to stay clean and stay out of the carnage.
There was a lot going on in front of you.
Definitely some carnage. Just tried to stay clean and ride the best laps I could and try to put down the fastest laps I could. I didn't light it on fire but just trying to learn. Definitely learned a lot from tonight and already looking forward to Monday or Tuesday to trying a few things that came to mind and just keep plugging away.
Your main events have really been very consistent lap times. I've noticed you're letting other people make the mistakes and you're there to capitalize. For a rookie 450 guy you don't normally see that.
I haven't lit the world on fire but…
I think it's been good. Look, you're a national title winner so you probably also know it's a long series and a lot of races.
Yeah, definitely. Just trying to keep it on two wheels is the goal. Make sure we're at all 17 Supercross rounds so that we're healthy for all 12 outdoor rounds. Just put a solid 29 races in between both series. Just try to learn each week and get better. That's the goal is to get better and stay out of the mayhem.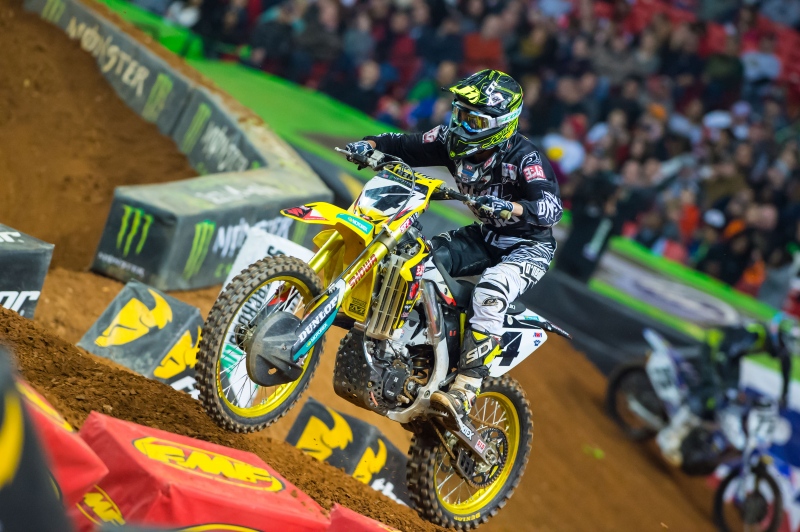 Baggett had another great race with a fifth in the 450SX main event.
Are you happy with the season so far?
Yeah, it's been okay. I definitely wouldn't say great. But it's been good. A few things I look back at it where I could have maybe been a little more aggressive here, sent it a little faster here in some spots, but that's part of the learning curve.
What about the track tonight, what'd you think of it?
It was one-lined, tight, slippery. One-line follow the leader. It was tough. It was technical. Kept you on your toes.
What about RJ? Talk about working with him a little bit. It's the first time I've talked to you all year. How's that going? What does he help you with? What do you like about him?
Definitely just another set of eyes that's done it, that's been at the top, been at the bottom, had good days, had bad days, and understands the ups and downs of it and understands coming in and trying to build and trying to be steady. Just another set of eyes. It's been awesome. It's been great. I definitely really like having him around. He'll be around for a long time to come and we'll just keep plugging away and slowly work our way towards podiums and then eventually go after some wins.
Did you see Tickle up there at one point? You were like, that's 4th, I can get that guy?
Yeah, I actually didn't even know what spot I was in. I was hoping it was somewhere between 4 and 7, but the pit board area was so far to the right I didn't even look at it.
***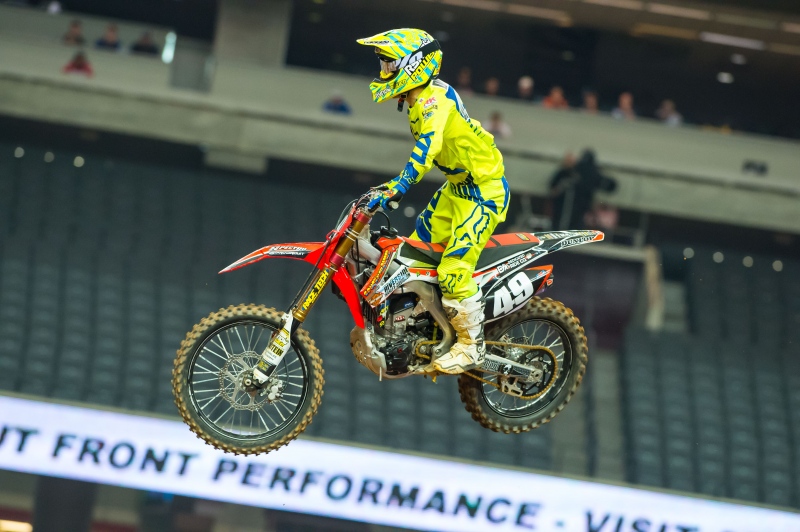 Decotis had a nice night at Lanta 2 with a last lap pass to get fifth.
Jimmy Decotis
Before we get into tonight – tonight was great, great job – what has been going on with you a little bit the first few rounds? This hasn't been the usual sort of flair.
No, I saw your tweet last week and it really motivated me this weekend to get going.
You know what I mean though, you're always good for something.
I honestly appreciate it because at that point I didn't even believe in myself last weekend, and then for you to say "what's going on with Jimmy D? He should be better." I believe I should be better. Honestly what it is this year and what it was those first two rounds was I put too much pressure on myself. Years past we've all known I've kind of slacked off a little. This year I've made the right decisions and done the right things and I just expected so much out of myself because I did so good in years past not really doing the right thing.
This week I just had fun this week. I went to Croom and I rode with my buddies and I just enjoyed myself and said, you know what? You can't really get worse than what I've been doing. And it helped. Getting on the board in practice and seeing your number up there, it's a confidence thing. Then you start up front. I did still get really tight and that was my biggest thing was I had arm pump. I knew Tonus was just as tired as me, if not more tired, and I knew I had to get the pass. I just bonzaied and I really did.
Were you the only guy to go double triple? What were you thinking? Were you thinking that the whole time or was it the last second?
I went into the turn, I thought I had him in the turn but I was too nice. I just figured if he went double, double, single I had him. He tripled it. As soon as I saw him in the air I said, "here we go, I have to do it." I tried to land left so I wouldn't land on him but he kind of cut into me and it was just a racing incident, it really was.
You were lucky you didn't go down too.
Yeah. I knew we had a gap to Davalos and I knew that he would have been the only one to get us if I did fall, so it would have been a pickup pass unfortunately. I know 5th is so much better than 6th and the way I've been going it just wasn't good enough for me. Where I was up front I should have been there the whole race. It was better.
Nice to see that you're not washed up or whatever. A 5th place is a strong ride.
Exactly. I know I need to get on the podium for the teams to really start to notice me but overall tonight was the steps that I need to get there.
How about the track?
Sick. Way better. The last two weekends were the exact same layout with different rhythms. That shouldn't happen, at least back to back rounds.
It was really weird. I don't know why they did that.
I don't either, but this weekend was better. It was a little bit more one-lined but it was a better race track. You could make passes if you had to and there were big whoops. For being a little guy I really like big whoops so that helped me out tonight too.
I was going to say I thought a strength of yours was the whoops. Especially against the Lemoine and Friese guys, your kind of guys, you were noticeably better than those guys, and in the main you were making up time on the big boys.
Exactly. For being a little guy I never thought I'd be good in whoops but I've learned some stuff over the years that's helped me, and just committing. I know that Gary Bailey still going to tell me I need to do something better because that's how it goes. If you want to be the best you've got to look at the best and try and do what they're doing.