Admit it, you asked yourself if he could "do it" at some point in the initial laps.
Admit it, you asked yourself if he could "do it" at some point in the initial laps.
Weston Peick has really taken the whole "Nihilist" thing and not only run with it, he is an Olympic sprinter with smoke coming off of his melted soles. It still flabbergasts me to think of the strides he has made over only about 3 years. He was literally the dude who would get yelled at by the leaders as they lapped him. He didn't care.
If Vicki Golden had a linebacker's physique and just pinned it, destroying landings and her engine cases, she would be qualifying for mains right now. That's what Weston did. Through sheer determination and a physical build that allowed him to withstand hits and jarring cases through obstacles, by God he made it to the night show and into Main Events. He didn't care.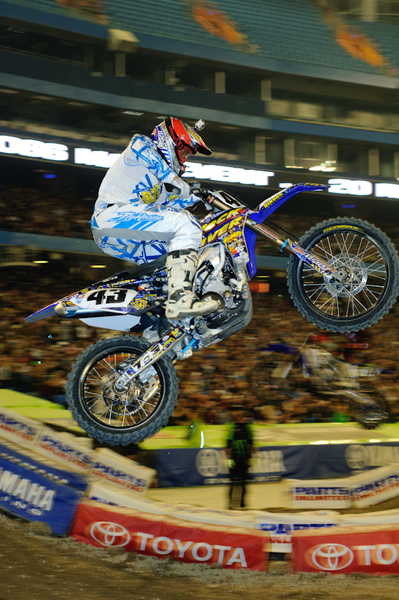 Remember this guy from 2011?
Weston used to have that "neckless" (not to be confused with necklace), shoulders up and tensed, rigid racing posture that screamed, "I'M NOT COMFORTABLE". Yet somehow he managed to survive and more importantly learn, as he be-bopped and pinball his way around the track. And nope, he didn't give two shits that it wasn't pretty.
Over the past few seasons we have seen flourishes of impressiveness from Weston and all the while, he started looked smoother and more skillful. Looking back on a nights results, you'd notice, "hey, Peick finished a respectable 12th". Then it was, "an impressive 8th". Then he began building actual confidence… all the while, not caring what his competition thought or giving even a moments consideration to what outsiders interpretations of his progress were. Short hair, don't care.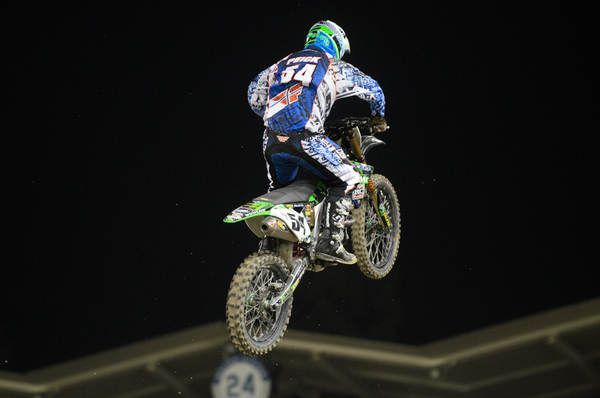 How about 2012 on the verge of another "case"?
As Weston continued progressing, he dealt with some injuries, the kind that come with negotiating the elite speed bracket and he "earth-moved" a whoop or two along the way but he always came back sooner than most anyone and less deterred than most anyone. He. Does. Not. Care!
In 2014 Weston convinced some important people over at JGR that his bull-headed mentality was enough of a strength that he was going to be brought under the canopy to see what he was really capable of. Coy may have been perfectly content with the Justin Barcia signing but even "Gamer-Coy" has got to be tickled over Weston's progress in 2015. He nearly fought off Dungey for a podium at round two in Phoenix and showed legitimate speed all night.
He's thinned up, toned up, and completely reinvented his race-posture and flow around the track but the two things he hasn't budged an inch on are, caring who he is battling on the track or the race-craft he attacks them with. Doesn't EFFING CARE!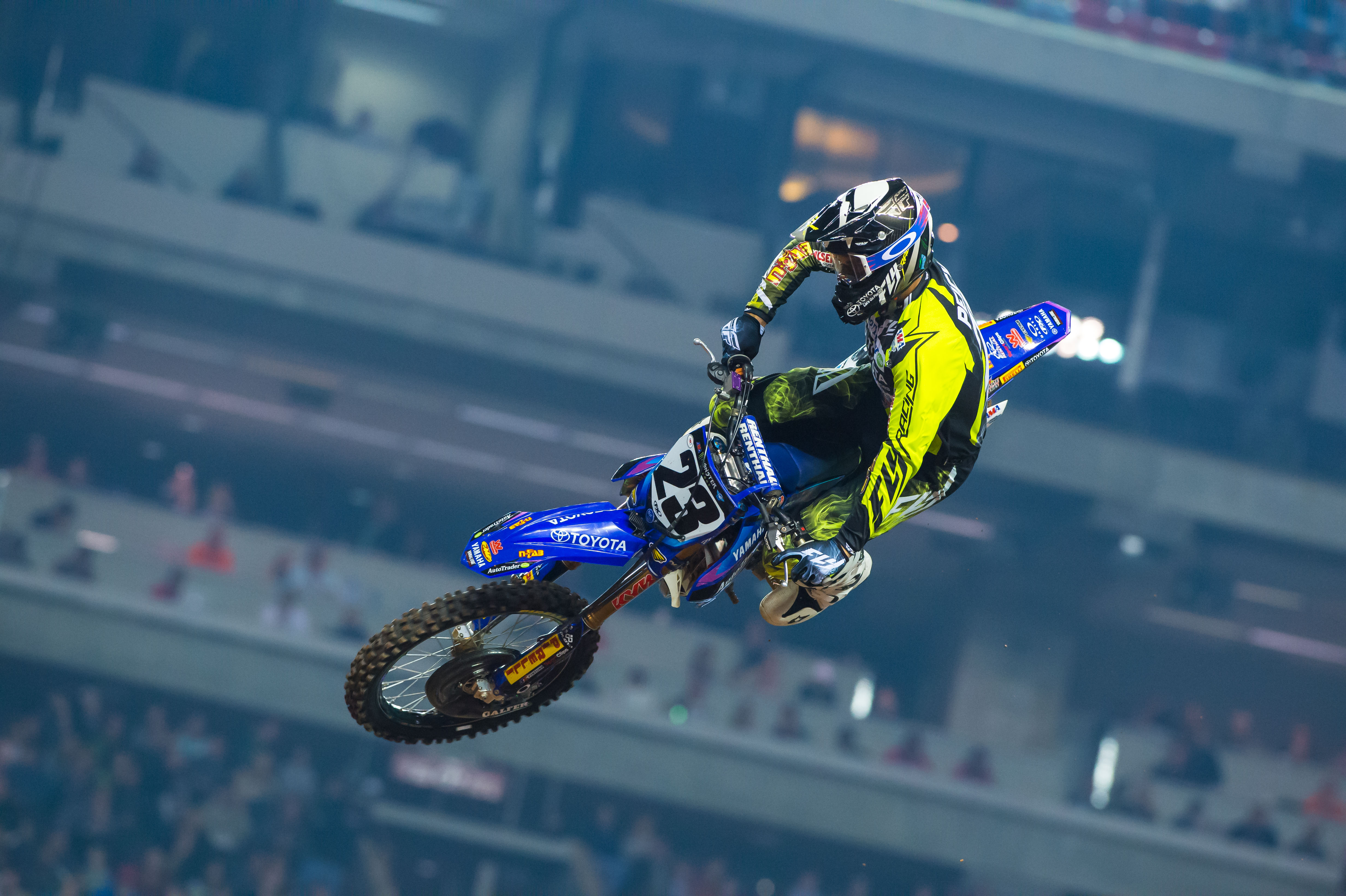 And now this… Just look at this guy! Who does this? Who completely reinvents themselves so comprehensively in such short order? I cannot express how impressed I am by this guy's transformation.
At Atlanta 2 this weekend, he pulled the holeshot and immediately saw Chad Reed vying for his position with the first 3 corners. There are about 4 guys I can think of who see Chad Reed making a move for their real estate and they fight back because they are equal to or above 2015 Chad Reed's speed. Weston Peick aint one of them but you can bet your ass he's fighting back nonetheless. Weston may not be at that speed yet but giving Chad what he wants isn't going to get Weston where he wants to be and believes he can be. Not only does Weston fight one of the craftiest veterans the sport has ever seen, he shows him a wheel over the triple with a glance of "yup, I'm fighting for this, for real". It's exactly the kind of move that invigorates fans. The one time privateer non-factor is now fighting the good fight in the role of the everyman against the best guys in the sport… WE LOVE IT!
…but he doesn't care. He just keeps improving and not caring about anything other than progress.