What is left for SX?
What is left for SX?
Hammerhead Designs was launched with the intent to provide new and better parts and innovative accessories for motocross bikes. One of our goals has been to design entirely new and unique products with improved ergonomics and the shift lever was the first part that we felt could be dramatically improved by providing a feature that would allow for the shifter to be repositioned to perfectly suit the riders size, shape, and preference.
Photos: Simon Cudby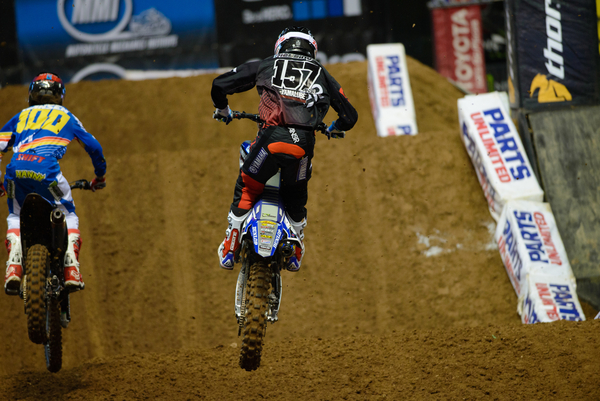 Plessinger had a strong run in the West Region.
JT: So with Vegas this weekend, there are a few talking points. First, we have the 250 East/West Shootout and with that, a chance to see the two champions go head to head for the first time. Both of these riders were far and away the best in their region so it will be interesting to see who can walk away a winner. They are so different in their approaches, too. Musquin is the essence of smooth and silky. Every move is calculated and concerted. Cooper Webb, on the opposite end of the spectrum, is aggression defined. He reminds me of Damon Bradshaw in his youth, wild and reckless but fast as Hell. Which will win out? Or will we see the Shootout norm and an unexpected winner surface?
Matthes: I think that in the end this shootout doesn't really matter all that much but Webb strikes me as a guy that wants to prove a point. The Bradshaw comparison is a good one- hey, look, both riders are from North Carolina!- because I would bet that Webb has that right amount of chip on his shoulder to want to prove he's the best. And also maybe that America is the best as well #thesecolorsdontrun.
There's no truck up for grabs and this doesn't count for points and I can't help but think the real smart one in all of this is Justin Bogle for skipping it to get ready for the outdoors. Marvin's not going to do anything dumb, he's a veteran and knows this doesn't mean anything but Webb, he's a bit of a wild card. So I do look forward to this shootout. And of course we've seen riders like Andrew Short and Ryan Sipes come out of nowhere and win these in the past.
JT: Yeah, it is a bit unfortunate that the air has been let out of the 250 championships but at least it will be something different with the mixed regions. Variety is in short supply these days.
So Blake Baggett and Chad Reed are vying for fourth place in the points. For Reed, he is a multi-time champ and 2015 has been a bit of a letdown for what he anticipated. Baggett, on the other hand, is a rookie to the 450 class and has impressed all season, quieting the doubters including yours truly. So I ask you Steve, do either of these guys really care about finishing fourth?
Matthes: Baggett yes most definitely and although the field is thinned out, years from now people won't really remember all that and look at Blake in 4th and think "Hmmm, wow that's a great result from him. I never realized he was all that good indoors" and then they'll go on with their lives. Reed, well you told me you think it does matter to him but to me, if his priority list goes 1- Title 2- Top three 3- Who the eff cares? But you know him better than I do. I guess we'll see if he's going to race or not at the last minute due to a sore shoulder. I would bet he would but then again I would think he was definitely going to line up last week also.
The REAL battle here is Josh Grant needs 13 points to jump over the injured Kenny Roczen and the fired Davi Millsaps to get 10th place in the series. Sigh, this stuff all used to matter when we didn't have permanent numbers.
JT: Yes, I do agree on Baggett. His rookie year would look great with a fourth place series finish, ESPECIALLY given the low expectations from outsiders. While it probably benefits him zero in the big picture, it still would be a nice ending to the series.
The only reason I believe that Chad cares is that when he goes into his annual sponsor negotiations, he can at least show a decent overall series finish. He has struggled with injuries and finishing seasons in recent years so this would be something to show even if a big disappointing to what he expected. He did win a race this year, though, and that carries a lot of weight when it comes time to sign checks.
What else has been grinding your gears?
Matthes: Call me crazy but I think this arenacross series format that's been tried for a couple of years and is resulting in two riders tied in points and another guy just six back is going to be real impetus for change in supercross and maybe next year. Look, this year has been a drag despite six winners and it's no one's fault-it just happens from time to time. But I don't care what they official figures say, the attendance has been down this year and I can't believe it's just from no RV or JS7. I think supercross itself is a tired format with a tired show and when you add in the injuries and the lack of real personality from riders like Dungey, Tomac or Seely- you're going to get this from time to time. But this arenacross thing, with a "chase" style title format and different points handed out, I think this is going to get some traction when next season comes about. You know me and my harping on and on about change and if I had 5% hope the powers that be would change anything before this season, I would say I'm up to 20% now.
That and nets bro. Bring in the nets.