Here's the Frenchman's thoughts on the race and some other stuff
Here's the Frenchman's thoughts on the race and some other stuff
Photos by James Lissimore
Tomac looked to challenge Dungey early on but made another unforced error to go down. Between these small things and the bad starts, will he ever figure it out and stay consistent?
That's a great question and even him, doesn't have the answer to it. Why should I have it? I am gonna take 2 examples. For starts, Mike Larocco. Mike raced 127 seasons and never figured out how to start in front. In the mid 90's, he would've been a bigger threat to McGrath if he could've gotten off the gate. For crashes, Martin Davalos. Martin raced 10 seasons in the 250 class and hasn't figured out how not to grenade himself… But, I am confident for Eli. I think Tomac is smart and he has good entourage around him. It's worked for his speed so far. He showed that he could win any race, SX or MX, he enters with a decent start and by staying on two wheels. It's also only his 2nd full time season in the 450 class. It took 3 seasons for RC to win in SX. He doesn't have to push the red button yet. He will have to tweak his preparation to fix his weakness. Those are easy to fix. It's not like he's 2 seconds off and fades after 10 laps. He has everything he need to succeed but he needs to make some adjustment.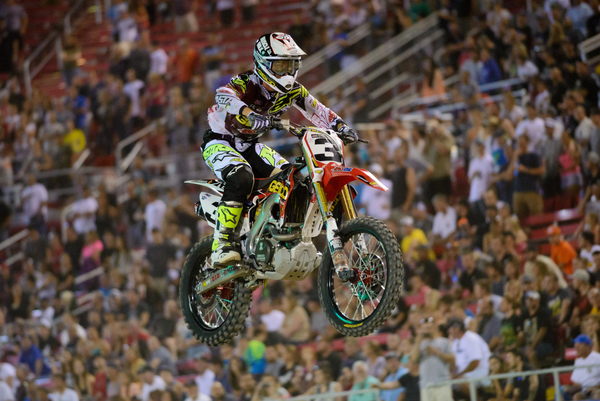 "Back when I was McGrath teammate, Jeremy would set up his bike for the starts and then, adapt himself with it on the race track. It wasn't my strategy but it obviously worked"
For starts, bike set-up is very important. Back when I was McGrath's teammate, Jeremy would set up his bike for the starts and then, adapt himself with it on the race track. It wasn't my strategy but it obviously worked. The mellower your bike is, the easier it is to start. A stock 450 starts very good! Having a mellower bike with a more linear power delivery will also help him around the track. Since he isn't known for his finesse with the throttle tube, an easier bike to ride will help him in that aspect. As far as riding and training, riding some enduro-x type stuff would also help him learn about throttle control, how to find traction on both ends of the bike and acquire more finesse with his front brake. A few of his crashes this year looked like he grabbed a handful of front brake. Eli is an amazing rider. He's fast, bad ass, fearless but he needs a couple more cords to his arc (French saying). That being said, I ain't too worried about it. He will figure it out.
Cooper Webb had a crash and twisted an ankle which prevented us from seeing the great Marvin/Cooper showdown but what did you see in the 250SX main event that caught your eye?
Seriously, nothing really caught my eye. With Bogle, Martin and Webb out, it was a given that it was going to be not very interesting. Marvin, as usual, rode really smart and well. He didn't really have to push himself to win this one with 3 of the best guys being out of the race. I like the way he started to jump the whoops. Those are tricky in Vegas because they become hard packed, cupped out and very dangerous. We saw a bunch of crashes in them but Alex Ray's was the best! His bike did a barrel roll, a backflip and landed on its wheels. That was impressive. Skimming the whoops seemed faster. The Geico guys were going great in them. Biseglia was awesome through them but I like what Marvin did. He didn't take any chances through them. He didn't have to do that to win and he knew the Nationals start 14 days after the main in Vegas. This is how you are able to race 29 races and be consistent. Some riders aren't able to do that. They would've crashed and jeopardize their chances for the outdoors. I like Marvin's thinking on that particular case. The track was challenging this weekend for the 250 guys. There were some pretty big triples out of the turns. It was maybe one of the most technical Vegas tracks we've ever seen.
We had the east/west finals in Vegas along with the shootout for three years and this year we went back to just the shootout like it was for the previous ten years or whatever…what would you prefer or like to see as the enthusiasm this year for the shootout was an all-time low
In both classes and especially since Dungey clinched the title, we lost some interest. The shootout is a fun race but I didn't like that the 250 guys had to race for a championship right off the bat on a brand new and watered track like it was the last few years. That format wasn't very well thought out. We should have a few shootouts during the season like in the mid 90's. Those were fun and think about something different for the shootout. As a rider, it's great to clinch titles with a couple races left in the championship. It's the best position to be in! It sucks to have to perform and play the math teacher in a main event at the last race of the season.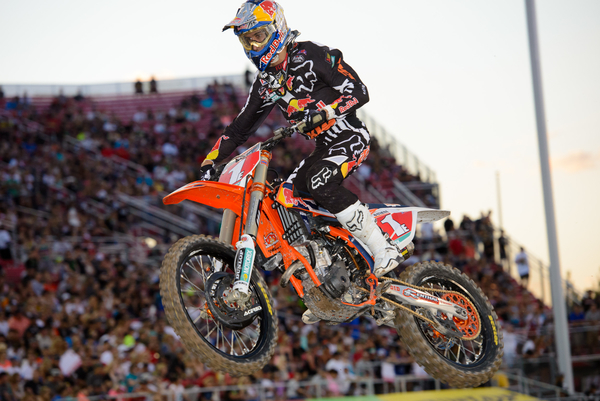 Marvin Musquin dominated the 250SX shootout like we all kind of thought he would have.
As a fan, like I am today, it blows when riders clinch before Vegas. The year RC, Reed and Stew could all be Champion in Vegas was pretty awesome for the fans. But, I was a rider and it sucked when I was in that position… I think we need to come up with something to make the end of the seasons, inside and out, more attractive. A Nascar format? Why not? Some people hate it some would rather have that. It's tough to drastically change the sport but Feld, the AMA, the factories and the riders (union?) need to sit down and throw some ideas around. I was gonna go to Vegas-I'm always usually there-but didn't go. The three championships were done, riders are in cruise control after a long season and the Nationals are starting soon. It didn't feel very appealing to go for me. But I am most likely driving to Hangtown for the first National! Can you believe it? I am gonna drive 7 hours to watch a motocross race! haha. It's an emotional race for me. It was my first National win and the same day I met my future wife and eventually ex-wife! But as far as SX goes, we might need to tweak it to make the last few races more interesting in 450 and come up with a better shootout format for sure…
What team, bike, mechanic and team manager would you like to ride for and keep in mind they can all be different (IE Factory Honda team with the 2008 bike, etc) if you had to choose and I can't be the mechanic!
It's a weird and difficult question to answer without disrespecting my former teams that, most of them, took a great care of me. I raced in one of the best eras of SX/MX. I had the chance to cross path with the best SX rider of all time, MC, and the best rider of all time, The Goat. I was winning SX races when Bubba came up to the pros. I never missed a 125 A practice when he was racing! It was so entertaining and amazing to watch. That being said, without RC and MC, it would've been a little better for me. Those guys were pretty decent haha. Before I became a vaccinated Yamaha guy, before 1997, I was a Kawi guy since I started on the world famous KX60. I grew up watching the Terrafirma and Crusty tapes. I loved the mid 90's and always wished I had peaked in the mid 90's.
Those guys were having a lot of fun and doing a great job selling the fact that being a successful pro rider was cool. To answer your question, I would pick being a factory Kawi rider in the mid 90's. I was at Seattle '96 when Huffman passed MC a few times in the whoops and ended up stalling his bike and got 2nd. That was one of the best race I've seen. I loved the Kawis back then. The Kayaba forks were sick and sitting so low for some reason. As far as mechanic, Monty, Gothic J and Brent Myron were great to me and dedicated. Exactly what I needed when I worked with them. But if we are in the mid 90's, I'd pick Randy Lawrence. I've spent some time with Randy at Yamaha when he was MC's mechanic and we bicycled a few times together. I thought he was a very good mechanic and would fit better in the 90's for the cool factor. And maybe with him I would've had a connection to get into some boat parties in Canyon Lake with Fro or MC! As far as a bike, I'll take HuffDaddy's 1996 KX. But with that, maybe I would've never won a single SX race…
Reed had some bike issues that prevented him from battling Peick all the way for a third…if you were Chad would you race in 2016 like he says he is? When do you know it's time to walk away?
If I was Reed… I would've never started my own team and would've retired a long time ago, most likely at the end of 2010 after his season with Kawi. But, I am not Chad Reed. I respect what he's done in this sport. He's a Champion, a Hall of Famer and I am just one of the best first losers there is. He's 33 and I don't see him being a title contender anymore even if he has the potential to win races still. He obviously loves the sport and love racing. His whole family does. His son is already racing PWs. My son is 10 and rode a PW 3 times before I sold it. We are completely different in that aspect of things. But what else could he do? Get 2 riders and go to the races as owner in a suite with a catering service and a headset? He'll go bananas! Sell the team? To who? What value does it have other than the assets and the running contracts it has? I would have sold everything, semi and whatever else he has. Sell the property with the track and buy a 5% tax free bond with the dough. It's not Nascar. MX teams don't make money. I'm guessing Chad made more money being a factory rider than now. He also spent less money on Advil for his headaches when he was factory riders. But, he's passionate and love what he's doing. I didn't. That's a big difference. Whatever he does, I would support his decision.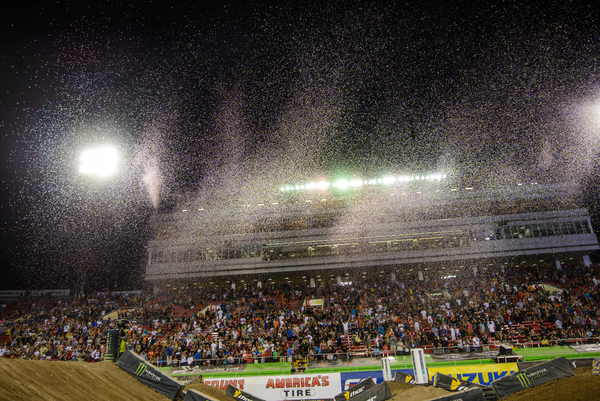 The confetti rained down after the main events in Las Vegas
What was your best Vegas SX race memories?
In 2000, I could've won half a million in the Vans triple crown by winning the race. I tangled with Larocco, went off the track and finished 4th. I ended up winning $25K. In '01, I spent the night at the hospital when I endoed because Larocco (him again!) crashed in front of me in the whoops. Not fun. In '02, the year I was leading the championship, RC clinched the title the week before in Salt Lake City. He won Vegas, I was still bummed about the season and I got 2nd or 3rd. Lusk was on the podium with us but don't remember who got 2nd. In '03, I was hurt and in the stands while Bubba was doing a sick quad on his 125. In '04, I got an unmemorable 4th place finish. In '05, I passed Heath Voss in the last couple laps to get 4th. Nothing to be excited about. In 06, I was rideless and was helping Mike Alessi to get his best SX finish of his career in the shootout. He got 2nd. But spending the weekend with Tony Alessi can't be remembered as a best memory.
In '07, I clinched the top privateer award. I won a Weekend Warrior trailer. I could've finished 5th in the championship but Ferry screwed me. He crashed and Tedesco passed him in the race and passed me in the championship. I would've got a $25k bonus for a top 5 finish in the Championship. In 08, my last SX ever with factory Suzuki, I sucked and got 10th.
See, my Vegas SX races pretty much sucked and I don't have great memories. When I got top privateer in '07, I got a cabana at the Tao Beach club at the Venetian with a bunch of friends. Our wives/girlfriends spent the day topless with pasties on. That was pretty fun. In '08, I had family over, cousins from France and friends for my last SX race of my career. We ended up doing Jaeger shots and getting pretty wasted at Mandalay Bay. Kurt Nicoll was there too. That was also a fun night. Those last two events were pretty much my best Vegas SX memories but didn't involved a track nor a dirt bike.