Wilbur chats about life, Hangtown, his time off, basketball, and chicks.
Wilbur chats about life, Hangtown, his time off, basketball, and chicks.
Photos: Simon Cudby and James Lissimore
It had been a while since the world had seen Wil Hahn racing a dirt bike. After injuring himself in the 2014 Monster Energy Supercross season, an FIM World Championship, Hahn was forced to sit out the Lucas Oil Pro Motocross Championship last summer. In the offseason the Monster Energy Kawasaki team picked up Wil and he was healthy and looking forward to his sophomore 450 season. Unfortunately disaster struck again in practice at Anaheim 1. Hahn had another setback and some more serious injuries. Hahn had to sit out the entire supercross season this year and was finally able to make his debut with Kawasaki at Hangtown. The debut didn't go as he had planned and he ended the day with 17-26 scores and 20th overall. Regardless Hahn is back and ready to make up for lost time.
We caught up with the always-friendly Wilbur to let him give his fans an update on his life. Here it is uncut.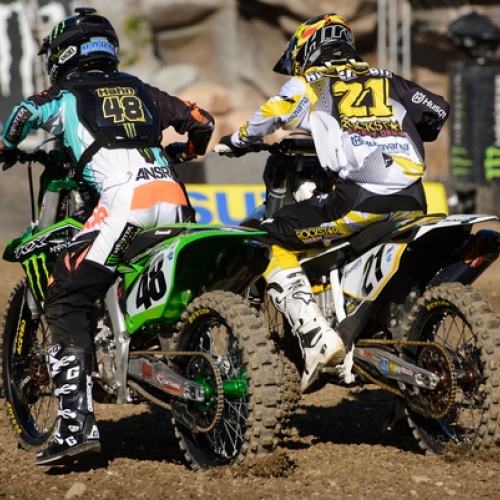 Hahn with Anderson before his injury at Anaheim 1.
PulpMx: First off, welcome back!
Hahn: Thanks! It's been a road, you know, up and down. Obviously I got to do some cool stuff in my off time. I tried to make the most of it. Even though it's a negative situation you try to make it positive if you can.
On Instagram you had posted that it had been 404 days since your last gate drop. Did you have those notches carved in your wall in your house somewhere? That makes it easier to count them up.
(Laughs) Yeah! I mean essentially. I never really thought about it until I was up at the race and I was sitting there wondering how long it had been since I had been off of a gate. The normal nerves were there and you wonder why they are there. On press day I went out, I've been to multiple press days in my career, and it's funny because I was so nervous. It was like going out to Anaheim 1 for the first time for me. I don't understand that. At the hotel I was wondering why I was so nervous. Dude, it's like I hit the full reset button on racing. I hadn't raced in over a year. People had hardly seen me in over a year. It was one of those things where in a year I was probably sidelined six and a half months if not more off of the bike. I'm in an awesome spot with the Monster Energy Kawasaki team and just knowing that they have my back is nice, for sure. I see how hard they work and judging by my weekend at Hangtown that's not the result that we all work for. That feeling is hard to take.
After not racing that long you had to of been emotional on the gate. I know that race mode kicks in, but talk about how good it felt to be back out there.
It was exciting for sure. It's just nice to be back out there. I had two good crashes and I just was going through the motions like you said. Just to be out there on the track again for that long and to be able to see the track develop was nice. I didn't race outdoors at all last year. I think it was one of the roughest races too. You know when you get a tattoo, you forget that pain, and then go get another one. It's funny because it's been a while since I had seen an outdoor track that's rough. You forget how rough they get and how painful those 36 minutes are.
Yeah, you had to come back at Hangtown too. The track this past weekend was extremely rough and it definitely wasn't an easy on the riders.
It was tough and I think a lot of people really weren't prepared for it. It showed in the results and the way the pack separated. The racing wasn't extremely close at the front. The 250 class was exciting, but man, Tomac was on another level in the 450 class last weekend. We're all just chasing him right now.
You raced 450 supercross last year, so the outdoors is a whole new ballgame for you. You also haven't been able to practice that much either.
We put about five and a half weeks on the bike before Hangtown. I tried to squeeze in as much as I could in that time. It was a little over a month, which sounds like a whole lot of time, but it clicks off quick. I had a lot of firsts this weekend. I never raced a 450 outdoors and I never have raced a Kawasaki. The results I got were not the ones I wanted to achieve by any means. I still get to come back healthy and regroup for the second round, which I haven't done that in a while.
How are you feeling right now? Are you healthy and ready to go for Glen Helen?
For sure, I think I regrouped well. We did some testing yesterday. I was sore, the normal sore that you get from the outdoors. I had self-conflicting soreness from crashing. At the same time I'm just happy and thankful to contend for another week.
Right on. You always seem to make the most out of your situation. Did you take up knitting or curling while you were injured?
(Laughs) I'm probably not that coordinated to knit. I wish I could be. No, I just try to be open minded with it. I actually got the chance to go travel a bit. I went to Australia. I had never been there before, which was pretty cool. I can't do that type of stuff while I'm racing. Obviously I would rather be racing, but at the same time I got to see some stuff I had never seen, and eat some good food. I went and hung out with my friend Adam Berry. He's come over to the United States before and it was nice. He showed me around. I went and watched the opening round of Formula One and was able to hang out with Daniel Ricciardo. I hung out for a week with him and his girlfriend and we just toured around. I was able to train with his trainer there for a week. It's just stuff that I never get to see or do and it was definitely special.
That brings up a good point. You guys are constantly racing, practicing, and testing. You don't have vacation time. The offseason consists of working.
Exactly. Even when it's the offseason we don't get much time completely off of the bike. You are always doing something. I had traveled overseas before, but never without a dirt bike. I have been riding since I was six years old and I haven't traveled without it somewhat involving a dirt bike. It's weird when you're loading up and not taking a gear bag. I get to go enjoy my time.
Overall was your Hangtown performance okay in your eyes? After not being on the bike for so long were you happy with the way the day went?
No, I wouldn't say by any means that I was happy. I tried not to have too many expectations because of the length of time I was off of the bike. Added to the amount of time I had to prep for this it wasn't long. We all have a little bit of an ego and you aren't happy until you get to where you know you belong. I'm happy to be back prepping for another week. I learned from my mistakes and I made plenty of them. I have to try and take as much information that I can and the team is doing the best they can. They help me and guide me in the direction to progress every weekend. The ultimate goal is to make sure I'm improving every weekend.
As far as season goals go, by the end of the year, where do you want to be?
I hope by the end of the year to be down into the top five. That's been my ultimate goal and I think it's pretty realistic. I have to take baby steps and build on it. As far as my qualifying went, I was solid. Everything went well and I felt pretty calm and I just tried to get through the day. Obviously things didn't go to plan. I have another shot at it this weekend. So yeah, I'll just keep learning.
You're a 250 supercross champion, you've finished top five in 450 supercross races, and you've been racing these guys for a long time. You know where you belong and where you fit in with the field.
That's the thing, I've been pro long enough and I have an idea of where I stand and where I believe I should. When you aren't doing that it's frustrating, there's no doubt about that. At the same time I have to be more patient with myself and just keep plugging away.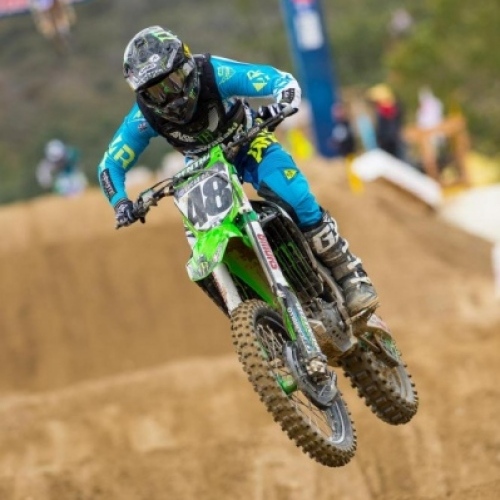 Hahn at Glen Helen press day.
This year you've got nearly the same identical look that your brother had in 2009. You both have been on Kawasaki's in the premier class and both rocking #48.
That to me is pretty cool. He obviously had success with that number and with Kawasaki as well. It was one of the first things we all said down at Kawasaki the day that we found out. We were all laughing about it. Now I've got to live up to it and make him proud.
That's definitely a cool thing. You get to race Tommy again in the same class. I know you guys did that briefly in 2008 when you were a rookie. It's got to be pretty special racing your brother.
Yeah, it's just nice to have him back on the gate. Like you said I got to race him in 2008, but I don't know how much competition I actually was for him. Now it's nice because we can help each other out when we can. Whether it is pointers, track advice, or anything in general. It's pretty special to share that.
I remember back in 2013 we had talked about how cool it was to see Tommy make a comeback. He had taken some time off at that time. It's awesome to see that comeback materialize.
It is. It's something special that we will have our whole lives to look back on and be thankful for. I'm glad that he gave it another shot. He's putting his heart into it rather than letting it go. It could have been something that he would have regretted later on. I think now he can look back and say that he gave it an honest effort.
That's a cool story that not many brothers can share. Switching gears here, you watched all of the races this year, what did you think about the supercross season?
The game gets elevated every year and it has since Ricky (Carmichael) started winning. Everyone is fit and jumping more things that shouldn't be jumped. It's really cool to see that. It's always hard on the sidelines to watch that because I feel like I should be doing it with them. You're still learning, even though you're on the sidelines you can learn and take it in. You can see mistakes and learn from that even though you aren't out there. It was some good racing. Dungey got what he deserved. He worked hard for it and was consistent every weekend. The guy is just on fire, man, he's just clicking them off and he was unstoppable out there.
Away from racing, what else has been going on in your life? I know you've been traveling, but what else is going on that people don't normally see?
Not much, I mean this year we were so focused and everything. The weeks are so structured that it's not a whole lot different. There's nothing much going on outside of dirt bikes because I'm trying to push myself so hard to get better. Nothing too crazy and definitely no females, that's a shame.
That's a bummer for sure. We need to find you a nice wholesome lady.
Yeah, I know. I've been pretty good my whole life at messing that up.
I ask a lot of riders what they like to do and they give the same answer. I guess it's true. You guys really don't have that much time to do anything but ride and train.
It's pretty focused. I mean I'm still a normal guy I like to play Xbox and do that type of stuff when I have time. Like you said though, there really isn't a whole lot of spare time.
I don't know why I remember this now, maybe it's because the playoffs are on, but did I see that you got to go to a Golden State Warriors game a while ago?
Yeah, that was a little while ago. I think it was in the 2014 supercross season.
It was that long ago? The Oklahoma City Thunder are still your team though, right?
I go back and forth. I haven't been on basketball that much really. For me it's been more about football. It's always cool to watch the playoffs because they play so dang hard. It's all out. I've been slacking on basketball.
I figured I would bring that up because for a while there you were pushing it pretty hard. The Warriors are killing it right now.
They're solid right now and I'm cheering for them.
Yeah man, Steph Curry with the shot. I would want to be known as the Steph Curry of riding dirt bikes.
Yeah, I would be good with that.
(Laughs) All right man, I won't keep you much longer. I just wanted to give you the chance to update your fans on how you've been doing and what you're up to in life. You have a great setup. How long is your Kawasaki deal for?
It's through the year with the option for next. It's just up to them.
It's awesome to see the team stick behind you through everything.
They've been nothing but awesome. I've been looking forward to something like this for my whole life. To be here with my guys and the crew it's definitely special.
Did you guys get a new coffee maker? I know Matthes was really upset when it broke.
I think they just ended up fixing it. I don't know what he broke or what button he pushed that was wrong, but I think we ended up actually fixing it.
Well, that's good. He needs that coffee for race day.
Yeah, he does. He was stressing about it at Hangtown.
I bet he was. Make sure the next time that you see him that you give him a Clif Bar. He's obsessed with those things now.
Strava Steve is just out of control now. You've got to admire it for sure.
Anything else you want to add before we part ways?
I just want to thank the people who have stuck behind me throughout all this. Everyone's been pretty patient with me obviously. It hasn't been an ideal situation for anybody. All of my sponsors and everyone have been nice, patient, and taken their time with me. When I can I will be back 100%.
You'll get there and you'll be fine. You're coming back from some gnarly stuff.
I appreciate that, man. I'm trying like hell. It's in my blood and I can't really say no to it. This is an opportunity that I want to seize the moment on.
Have you been keeping in contact with coach Windham lately?
Oh yeah, almost every day. He's a great guy man and he's been in my corner for many years now. He's there for daily advice, dirt bike advice, and pretty much anything. He's another person in my corner that I'm thankful for.
Thanks for reading. If you have any other questions for Wil email Troy@pulpmx.com . You can always email me there if you want to chat about anything really. Hit me up and let's bench race!