Las Vegas Odds for the Lucas Oil Pro Motocross Championship
Las Vegas Odds for the Lucas Oil Pro Motocross Championship
Photos: Simon Cudby
I like to gamble on sports here and there. It's fun and adds excitement to an otherwise meaningless game. It's not something I want to affect my finances but even if it is just a $10 wager, it still makes the entire game fun to watch. Matthes and I will also bet on the Super Bowl before the season starts and random things like the air pressure of Tom Brady's balls (interpret as you wish). In the world of seasonal bets like this, there are odds placed on the different teams to win it all. For instance, a team like New England or Seattle would be favored pretty strongly as they have their core team in place and have been there before. Their odds are 8-1 and 6-1, respectively. In other words, if I bet my $10 on Seattle and Marshawn Lynch is popping Skittles in a downtown Seattle parade next February, I will win a cool $60, plus my $10 back. The same for New England but that would be $80, plus my $10 back. Not bad, you say? Well that may be true but if you really want to roll the dice, how do the Jacksonville Jaguars tickle your fancy? The powerhouse Jaguars are an astonishing 250-1 to win the 2016 Super Bowl. Doing the math, my $10 bet would net me a cool $2500, plus my $10 back. Go Jags! Anyhoo, that is how this works and is applied to nearly every sport under the sun. Except motocross. No one in Vegas takes bets on motocross and hasn't since the US Open became the Monster Cup and moved to Sam Boyd Stadium. I used to take full advantage of the MGM Grand's willingness to take bets on the US Open and surely did many other moto fans. If only they did that for our supercross and motocross seasons, right? Well, if they did, this is what I think they would look like after round 1.
Ryan Dungey 2:1 How can I have Dungey still as the favorite after that 2nd moto? Simple. Oddsmakers take more than one event into account when they have millions of dollars at stake. Dungey is in this for the long haul and has a huge experience factor on his side. His supercross dominance won't be forgotten, either.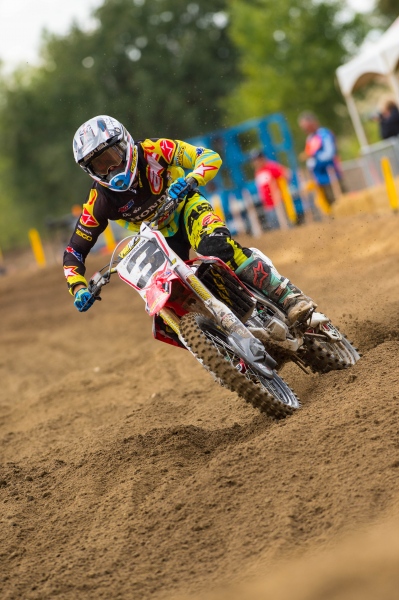 Will Tomac be dominant the entire season?
Eli Tomac 5:2 Eli was incredibly dominant at round 1 and that will carry weight with the oddsmakers. Still, though, he is in his first full season of 450 Outdoors and facing a wily veteran and the defending champ.
Ken Roczen 7:1 Ken is dealing with a stress fracture in his back leaving a huge question mark. He lost valuable points at round 1 and with one false move could be out of any moto. Still, though, he is the third best guy (because of his injury) at the moment and is the defending champ. If he comes out swinging this weekend with a moto win or better, his odds would improve immediately.
Blake Baggett 10:1 Baggett is a former champion in the 250 class and that gets him bonus points. He was only fifth overall at the opener but he could do damage at Glen Helen. He knows what a title takes and if things shook up at the top, he could be in this thing.
Weston Peick 11:1 Weston has been landing podiums quite a bit recently and backed it up with another third in the second moto. A title would be a stretch as he has never been on the podium for an overall but injuries to the top guys would make it possible.
Jason Anderson 12:1 Much the same situation as Peick, he has the capability of being on the podium but it's a new class for him and he has a consistency bugaboo. I placed him just behind Peick because of experience in the 450 class.
Wild Cards: Christophe Pourcel 25:1, Chad Reed 35:1, Broc Tickle 40:1, Cole Seely 50:1
250 Class: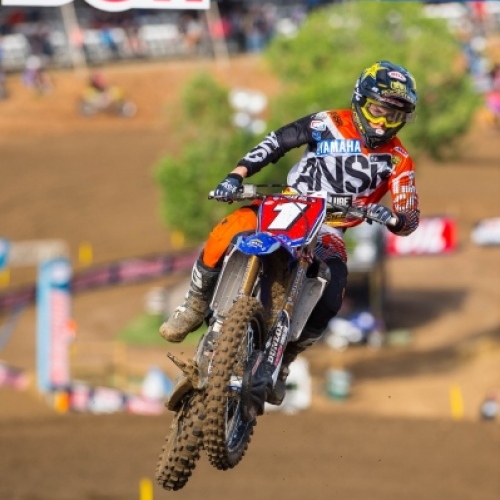 What are the odds of repeating?
Jeremy Martin 2:1 JMart was very impressive in 2014 and backed up that again last weekend. He is in store for a big battle with Marvin Musquin but he looked ready 6 days ago.
Marvin Musquin 3:1 If Marvin had been more consistent in past motocross seasons, I would have him at 5:2 instead of 3:1 but he just hasn't been there for the twelve rounds.. yet. This is a different Marvin, however, and he should be on the podium week in and week out. Does he have enough to be at Jeremy Martin, though? That is the tough question.
Cooper Webb 8:1 In Vegas, this bet wouldn't exist. When teams have injured key players or are in limbo, the bet will be pulled off the board until the facts are determined. Assuming Webb races, I have him here based on his loss of points last weekend. He will win races this summer, though.
Adam Cianciarulo 12:1 AC will win. I just don't know how soon that will happen or how often. He is a great starter and I fully expect him to run away with a few moto's. I think he has some learning to do yet and will make his share of mistakes, hurting his title chances.
Alex Martin 25:1 Alex has been in this class for a while and while he has gotten on the podium a time or two, he has never been a realistic contender. This is the best we have seen him but he will need help if he wants a real shot at this.
Joey Savatgy 30:1 Versace Savatgy was good at Hangtown. Had it not been for his tip over, he would have been much better than his overall indicated. He needs to improve his consistency but with injuries, he would be on the podium quite a bit this summer.
Jessy Nelson 30:1 Coming into the opener, I had Jessy Nelson in my top 5. He may still end up there but he will have to eliminate mistakes. He is a good starter and very fast so expect flashes of brilliance.
Chris Alldredge 40:1 Before last weekend, I would not have had Alldredge on this list. His solid scores got him on the list, albeit at big odds. Glen Helen will pull the curtain back a bit on whether Alldredge is for real in 2015.
Zach Osborne 40:1 Zach should probably get better odds than this but his inconsistency haunts him. He is fast and in shape, though, so there is the possibility that he catches fire. He is spending a lot of time with Eli Tomac which can't hurt, right?
Wild Cards: Anthony Rodriguez 50:1, Matt Bisceglia 50:1, Aaron Plessinger 60:1