What a growth spurt for the pint-sized warrior with the heart of a lion.
What a growth spurt for the pint-sized warrior with the heart of a lion.
Photos by: Simon Cudby and James Lissimore
Contrary to common sense and elementary skills of connecting the dots, this is not going to be about Alex Martin's supreme EKS Brand goggles and arguing that they deserve the credit for his incredible 2015 MX start. No, the pointless title this week is merely a nod to the current name of the group text we have for the PulpMX Collective +Weege as I like to call it. Hey every group needs an outsider, a dissenting voice and for Steve, JT, Moser and I, that is the former author of one of the most visited blogs on the internet, Blogandt (RIP).
I am simply blown away with Alex Martin through the first two rounds of the MX Series. It's not quite as impressive as the progression of Weston Peick but that's only because Weston used to look like he tricked the AMA into giving him a SX pro license, whereas Alex Martin has always been just a condensed package of effort and admirable heart but rarely eyebrow-raising results. Alex has been known as "The Ewok Warrior" and "Troll" over the years, not exactly the most flattering of nicknames. I mean, pro racers are pretty gnarly as a base requirement but when your nickname simply hints toward your stature and not your speed… well that's just not ideal. I think Alex would prefer even "The Diesel" over either of those nick's.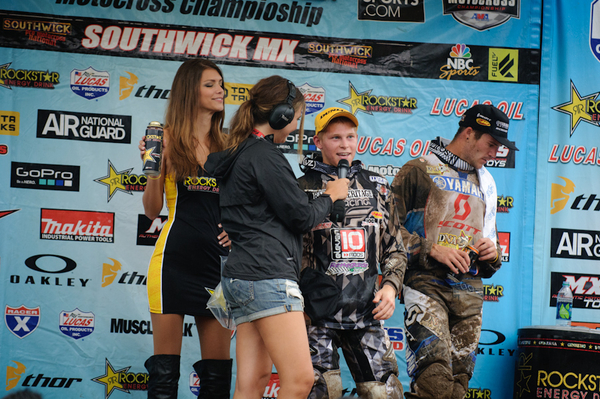 Alex Martin on the podium in Southwick in 2011. Yes, on an Eleven10 Mods CRF250.
Alex hasn't exactly reached veteran status in racing yet but he has been on the scene since 2008 (abbreviated 2-race MX series) when he made his debut at his families famed Spring Creek track. He finished 20th OA by way of 29/11 Moto scores. In 2011 Alex had two shining races, the first being his literal "home-track" and the second being an incredible 4th OA finish in the sand of Southwick. I really can't decide what is more impressive, the 4th place finish, the fact that his Eleven10 Mods bike actually finished in the sand or that the Eleven10 box van actually made it to the race on time. If you need any proof of how ambitious and motivated Alex Martin is, you need look no further than him making it to every round in the Eleven10 flat black box van. I think of that season on the Eleven10 program as Alex Martin's "boot-camp", making the rest of his career seem like a walk in the park.
In 2013 when Alex switched from the Honda CRF250R to the more than 10 year old YZ250F design, he had to feel like he had jumped in Marty McFly's Delorean and pulled the shortest straw. 2013 on that aged YZ was certainly a trying year for Alex. His finishes dropped off noticeably and you just knew he was frustrated on that dated bike. Enter 2014 and the new bike which his brother was decimating the competition with, he knew he was on a machine that was capable of doing damage on. He just needed a confidence boost on the mental side and for 2015 that's exactly the path he chose.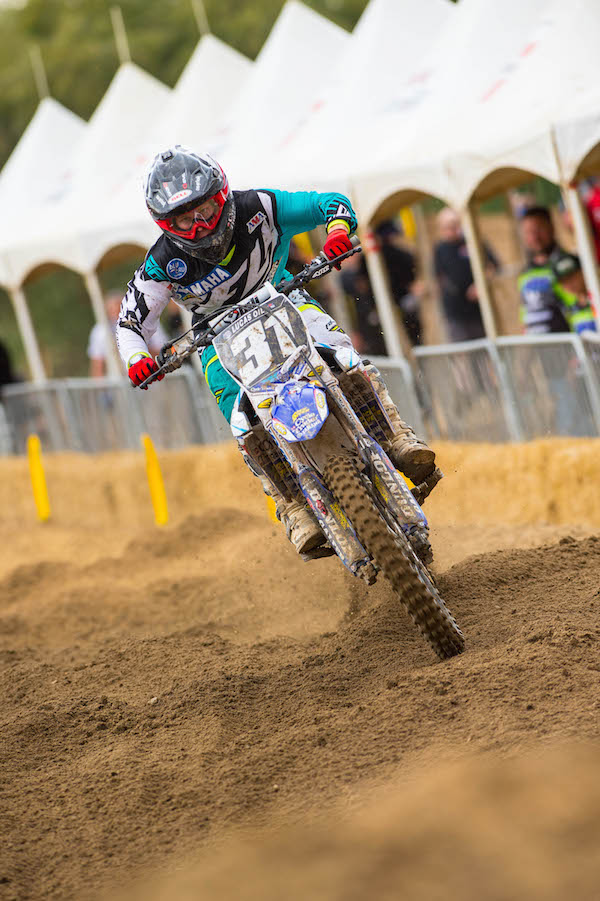 Alex Martin's vision is clearer than ever.
Alex joined younger brother Jeremy at Ricky Carmichael's farm for on-bike prep and joined Jeremy and Johnny O'Mara on their bike rides. The results could not be more concrete thus far. After 2 rounds in 2014, Alex Martin sat 13th in points and after the same two tracks in 2015, Alex is 3rd in the standings. He's got another year of testing with the new bike on the Cycle Trader Rock River Yamaha team and just as importantly, he's on a program which has been proven not only successful but dominant and you could absolutely see in that second moto at Glen Helen, he was not backing down or giving Marvin Musquin and inch. He believes he belongs at the lead battle and now more than ever, fans are believing it too.