A column on what it's like racing and staying at RedBud Thursday through Sunday.
A column on what it's like racing and staying at RedBud Thursday through Sunday.
Cover Photo: Sarah Bendgen
All Other Photos: Simon Cudby
Working in this motocross industry the past five years, I have learned some very valuable lessons. Mostly I have learned that being a journalist is a very lonely job and that it's very hard to be at the races without your family. I grew up going to professional and amateur races with my dad. When I started working for Vurb Moto at the end of 2009 I started going to the races alone to do my job. Now that I work for PulpMX and Racer X I realized that it probably wouldn't happen again. I secretly wished I could go back and sit on the other side of the fence with my family and watch the race with them. I somehow got what I wished for at RedBud and here is what I saw from a fan's perspective.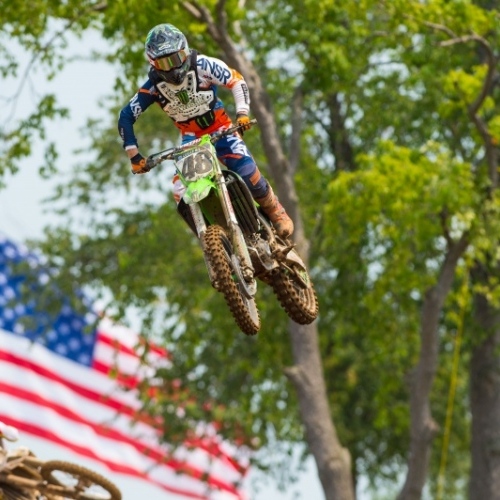 Hahn had an epic charge in the second 450 moto going from last to fifteenth.
Last week my mom and dad decided that they were going to shut the family restaurant down for the Fourth of July and hit up RedBud. This hasn't happened in the history of the world. The only holiday that I get to see my father on is Christmas because he works all of the other ones. So when they decided that they were going to hit up RedBud for the weekend I grabbed my wife and my CRF450 and we hit the road. It ended up taking us six hours to get to the track instead of the four I later made it home in. I followed my father in the race van while he towed the RV.
I was set to practice on Thursday afternoon, race on Friday, and watch the pros show me how it's done on Saturday. This trip would mark the first time that I raced at RedBud since 2010. I was going for it in Collegeboy and Open A regardless of how slow I really am.
Despite many tries to hit up some of the pro riders to come down and hang out with me, it didn't work. I have done features on a bunch of the riders in this sport and I haven't met many of them face to face. I figured that I could at least meet a few of them on Thursday or Friday. It turns out that these guys are busy and have a job to do. I did however call Justin Starling for some rut advice after my first Open A moto. It turns out that I'm not very good in ruts that are five feet deep.
Practice for the most part went well. I watched press day from the bleachers by Larocco's Leap with the family. I have never seen anyone throw a whip over the leap before, but leave it to Ken Roczen to get completely twisted on it. The show he put on for the fans and media was incredible. It was going to be a great weekend.
That was it for Thursday, literally. I actually ate dinner and went to bed. This was a product of getting six hours of sleep in the past 48 hours because of work and driving to the track. I thoroughly enjoyed my neighbor's playlist of early 2000s hits while I was trying to catch some sleep. Friday came soon enough.
I had only one decently bad crash in practice, but I was ready to rip on Friday morning. The track had been so deep and rough on Thursday afternoon that I took it really easy in the first lap of practice on Friday. I was the fourth practice and the track was a freeway! I picked up speed and had the most fun that I ever have had in my life on a dirt bike. The five-foot ruts were only two footers and the rollers were small and smooth. The only problem was that most of my family didn't see any of my practice session (only my wife Sarah did). I came back and told them they had to watch my second practice.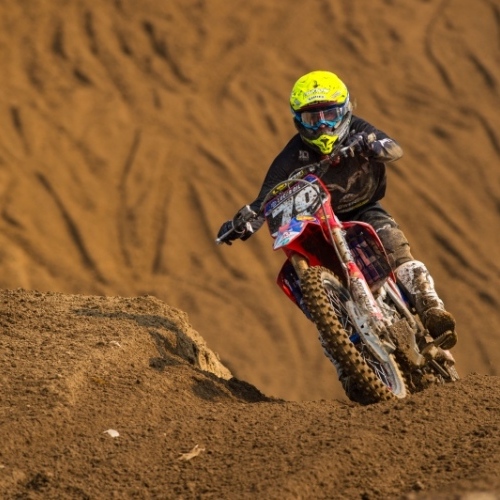 Owen had a great run until he lost his rear brakes.
Well, practice session number two was horrible. It was only three sesions after my first and the track was back to its Thursday roughness. I pinned it the very first lap out there and it was really sketchy. Despite constant warnings from my skill level and several bobbles, I continued to push the envelope. After the leap on the first lap I turned left and got completely out of control. I ended up holding on until the very last moment and I almost ended up in the fence before the uphill to the finish line. It was a bad fall that apparently no one saw. What the heck was my family watching? My bars were bent and I was sore. After a quick run to vendor row, and $79.95 later, I had a fresh set of bars and it was time to race.
I went up for my motos and Zack William's mechanic Tyler Mickelson came up to chat and pack my gate for me. I figure I would get a good start with a pro starting pad. I was wrong. I ended up 21st overall in Open A out of 26 riders. I crashed in both of my motos and realized that half of these riders should have signed up for Saturday's national. A bunch of them did the leap too. In the other class, Collegeboy, I did way better. I only crashed once in my first moto and ended up 22nd overall out of 36. I wanted to be in the top twenty, but hey I'll try next year in the 25 Plus class. RedBud was by far the roughest it has ever been in 2015. It was enjoyable, but it kicked my butt. I can't wait to race it again next summer!
I went to bed early again Friday night. Yeah, I get it I'm an old man. I watched my nephew race on the night track and that was game over for me. On Saturday night after the national I did stay up with some great friends and family until around two in the morning. So while I kept a professional outlook, I watched other people get obliterated with the nectar of RedBud: beer. If you don't like to party you don't have to. Park in the A lot like we did and you should have a pleasant evening with old man Troy. Bring some good friends, root beer, grillouts, the cornhole set that you never use, and throw on some good tunes. That is the recipe for a good time at RedBud.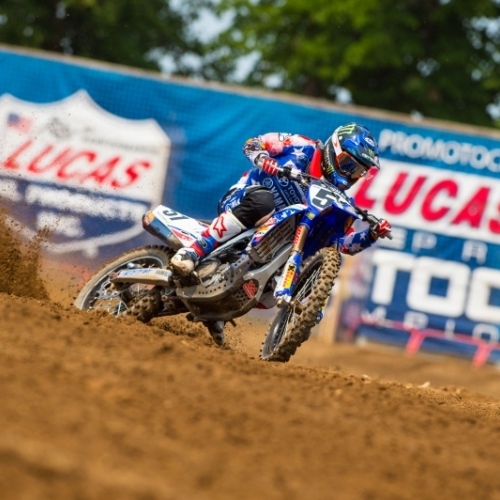 That's two wins in a row for Justin Barcia.
Some News and Notes About the Rippers
My family and I bought a pit passes on Saturday just like everybody else. I tried to find a few guys to chat, but came up just about empty. A bunch of the riders were inside relaxing and eating lunch in between practice sessions. Heck, I couldn't even find Matthes to give him a Clif Bar.
I did track down Kyle Peters and talked to him for a minute. He said that he was going to pack himself some overalls for the weekend and wear them around. I was surprised he actually did it. Peters is quietly having a solid summer and the Motosport.com/GPI Honda team seems like the perfect laid back atmosphere for him.
I saw Jessy Nelson running into the TLD KTM semi with a plate of food. I also saw him back track out of the semi and run to sign some kid's shirt. Nels-Dawg is always doing the right thing on and off of the track. It's the little things.
Come to think of it, I passed by the Yamalube Star Racing Yamaha pits and only saw Aaron Plessinger. He was chatting it up with some fans as well. He seemed to be enjoying himself and that is awesome to see at the races. It's why we all race in the first place.
I went by Dustin Pipes' pit and saw him limping and grimacing in pain as I walked past. He sat in a chair and put his head down. I decided not to mess with him. He had crashed hard in practice, which is not a hard thing to do as I found out the day before. Dustin texted me this week calling me a cool guy and wondering why I didn't stop to talk. Come on, bro. You're here to do a job and I'm here to watch you work. I'm not trying to bother anyone.
Jace Owen showed everyone that you don't need a factory motor to grab a good start. His start in the first 250 moto was of epic proportions. He held second place for quite a while before he lost his rear brake a third of the way through the race. It was a bummer that had to happen because he was railing. Jace ended up crashing later on because of his brakes, but he showed tremendous speed. Owen has been putting a solid privateer effort this season.
Wil Hahn put on a heck of a charge in the second 450 moto. He came from dead last on the first lap and finished the moto in fifteenth. My dad and I had a bet going about how far he would climb and Big Rick (my dad) won. I thought Wil could make it back into the top ten. My dad chose twelfth. The pack spread out too much, but had Wil had more time he would have made it up to the top ten. He was that fast.
Fredrik Noren impressed me as well. He is filling in perfectly for Honda in the absence of both of its team's riders. Noren finished the day in seventh overall and looked very quick all day. He was the only rider to throw some whips on both parade laps as well. He looked like he was enjoying himself on that factory steed. If I were ever a pro rider I would throw some whips on every jump that I could on the parade lap. Why the heck not, bro?
Anthony Rodriguez and Dakota Alix bumped back tires over the Bud Light tabletop/flag jump, causing one of the top five worst crashes in history. I watched the entire thing unfold. Dakota scrubbed to the left on the takeoff, while Anthony scrubbed to the right. They were too close and knew it right away. It was too late. They touched and the rest was just a very scary, violent, yard sale. A-Rods bike actually ended up on the fan side of the fence. Everyone is lucky to walk away from this crash because it could have been a lot worse for everyone involved. I'm glad these boys are okay.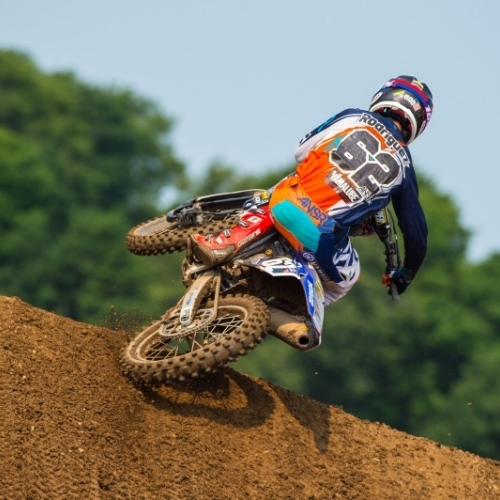 A-Rod had a scary crash with Dakota Alix in the second 250 moto. Both riders got up on their own.
Thanks for reading my column this week. I'll have some more rider features coming out in the next few weeks and beyond for your enjoyment. Let me know what is on your mind and reach me at Troy@pulpmx.com.
Twitter/Instagram: @troybendgen