Coldenhoff takes maiden MXGP win!
Coldenhoff takes maiden MXGP win!
Article: Jonathan McCready
Picture: MXGP/ KTM images /Suzuki PR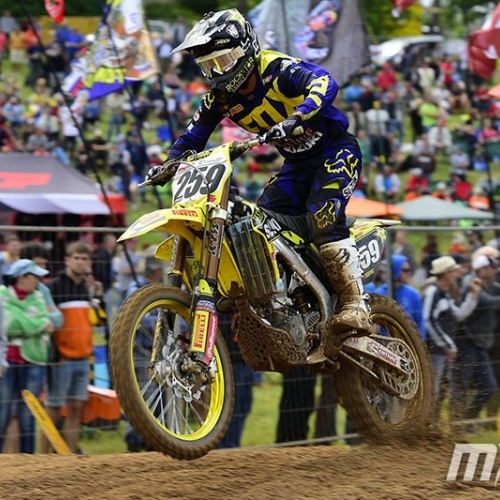 Coldenhoff won his first ever MX1 overall in Latvia.
It was case of expect the unexpected in Latvia as Glenn Coldenhoff took a shock win in MXGP!
The Suzuki man, in his first season on a 450, has been getting better as the season has gone on with some top fives, but no-one expected Coldenhoff to win in Latvia!
But let's be clear, Coldenhoff deserved the win. The Dutchman held off teammate Kevin Strijbos all moto in race one and didn't crack under the pressure even when Strijbos turned the screw late in the moto. In race two Coldenhoff ran second and stayed close to lead Febvre while keeping first Cairoli and then a determined Paulin behind him despite some significant pressure from the KTM and Honda men.
Coldenhoff has always went well at Latvia including a brilliant performance at the MXDN last year where he nearly beat Eli Tomac despite being on 250, and now he has his maiden MXGP win at the sandy circuit to add to his cv.
It remains unclear who Coldenhoff will ride for next season and rumours suggest Coldenhoff was told on the Saturday at Latvia that he would not be with Suzuki, maybe that added to his motivation and this win will certainly help increase his options!
Gautier Paulin was second overall with two third places. Again Paulin was solid if unspectacular, the Frenchman was hoping to battle for the win after his performance at the Nations last year and then winning the qualifier in a battle with Febvre on Saturday.
But again a lack of aggression saw Paulin take the safe option during the two races but a second overall is a lot better than his performance in Sweden two weeks ago. JMB commented that Paulin is having to adapt to a different way of working within HRC team who are very structured in comparison with the KRT Kawasaki team that had been effectively built around Paulin.
Bayle feels confident that Paulin is learning with each GP but it seems it will be 2016 before the Honda/Paulin combination really reaches its peak.
Third overall was championship leader Romain Febvre. The Frenchman finished a brilliant eighth in race one after going down in the first turn then not being able to re-start his Yamaha. Eventually Febvre got going but he was way back from the rest of the field.
This was the big test for Febvre, under pressure, with Cairoli running close to the front Febvre had to perform, and he did. Flying through the field Febvre came back to eighth and only lost five points to Cairoli who finished fourth.
In race two Febvre passed Coldenhoff within two turns and won the second moto to take him to third on the podium. Febvre answered all the questions this weekend and did it in the sandier conditions . The guy can ride through the pack and rebound from bad motos with the pressure on. Febvre now has a 41 point lead over Cairoli and is in the box seat for the MXGP world title.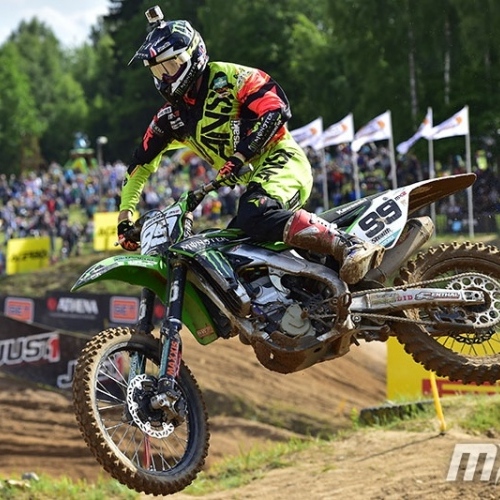 Anstie dominated the Latvian circuit.
But big props to Cairoli. The Italian was almost for pulling out on the Saturday after his arm, that isn't healing well, proved too painful in the sand. But Cairoli lined up for the qualifier and pulled a good start, and despite two crashes, showed that with the adrenalin pumping he could still be competitive.
Then on the Sunday Cairoli rode fantastic to claim two fourth places and fifth overall, he only lost two points to Febrve and the Italian claimed it was a game changer for him. It seems now that Cairoli will finish the season even if he will have to hope for a mistake from Febvre to let him back in with a chance for the title.
But Cairoli will earn just as much respect this year if he comes second as he did for any of his world titles. The Italian is showing so much heart and determination to keep riding through the pain and it shows just how much he wants his ninth world championship.
Cairoli hasn't been at 100% all season, his knee injury from Nations meant he wasn't at 100% at the beginning of the year due to a lack of preparation then he broke bones in his hand in Holland and then his arm in Italy, yet he is still fighting for the championship!
A bad start in race two kept Kevin Strijbos off the podium after he finished second in race one. But Strijbos with a good start is a threat to win races and he loves Loket, the next destination for series. It will surprise no-one if Strijbos wins a moto and contends for the GP win there.
Strijbos is staying with Suzuki in 2016 and it seems an old rival could be his new team manager! Stefan Everts is reportedly going to leave KTM and manage the Suzuki team next season in what would be a return to his roots. Everts began his GP career riding for factory Suzuki and won his first world title with the team.
But Suzuki also need to find a teammate for Strijbos in 2016 with Desalle leaving, and there are not many title winning riders left to choose from.
Steven Frossard was Ryan Villopoto's replacement at KRT Kawasaki and the Frenchman rode decent for sixth overall in his first race on the machine. Given a couple more weeks to get comfortable Frossard could be knocking on the door of the podium.
Before the racing in MX2 it was all about Gajser and Guillod closing the gap on the absent Jeffrey Herlings but in the end it was all about Max Anstie dominating the event!
Anstie took his time to get to the lead in race one but once he passed home hero Jonass it was all over and he took the win. In race two he banged bars with Guillod for the lead through the first two turns then when Guillod went down just after, Anstie pulled away from the field for his first ever 1-1 victory at this level!
Anstie has been inconsistent this year, as has his machine, but both the team and the rider have kept working hard, and when Max is on there is no doubt he is a contender for race wins. Husky will be hoping he shows this speed all year in 2016 when he jumps on their factory machine!
Talking of Husky Harri Kullas replaced the injured Alex Tonkov and promptly stuck in on the podium in third overall ! The Finn is always good in the sand and was battling Jeremy Martin in Latvia last year when Martin had his big crash in the qualifier, but Kullas has never put two motos together in GP like this and it was very impressive.
Kullas had been racing the British championship on a not so quick Suzuki and his results weren't showing his true talent but on a track he loves, and on a bike as good as you can get, Kullas showed what he can really do. The Finn will now race the rest of the season for Husqvarna, and with sand tracks coming up, he should be putting in some more good results!
Pauls Jonass had the best weekend of his season with second overall at his home GP. The Latvian had the crowd going mad when he lead the majority of race one until Anstie went by , then he backed it up with another second in race two. Jonass showed that if Herlings does move to MXGP (he still hasn't mad e final decision), he could be a title contender next season.
But Jonass won't be in Tim Gajser's good books. The closest challenger to Herlings was flying on Saturday but a first turn crash after Jonass cut across him left Gajser coming from last to seventh in race one, then a painful ankle due to Jonass running over it left Tim in fourth in race two. It wasn't the results Gajser was expecting and he admitted the second moto was the longest race of his life with the pain in his ankle.
Gajser is now 46 points behind Herlings, it's not impossible for the Slovenian but Jonass certainly increased Herlings' chances of winning the title in Latvia with his aggressive moves on Gajser!
It was a disastrous day for Valentin Guillod. The Swiss man struggled more in the sand and admitted he doesn't like revving the bike, he crashed in both motos and didn't even make the top ten overall. Fortunately for Guillod it will be back to the hard pack in Loket at the next round where he should feel much more comfortable.
But Guillod is now only one point ahead of fourth placed Pauls Jonass in the championship.
Jeremy Seewer was fourth overall and consistent yet again, but the break through ride of the day was by Factory KTM's Davy Pootjes. The talented teenager had been riding EMX2 during the first half of the year but then moved into MX2 once his title chances were over in the European series.
Pootjes had shown some decent speed on the hard pack but he was flying in Latvia. The Dutchman finished a brilliant third in race one and was running third again in race two until a crash cost him a potential podium. He got up to finish eleventh to take sixth overall and his best result of the season.
Pootjes is the next talented teenager coming through on KTM's books and this should be the ride that gives Davy the confidence that he can run with the best in the world. If he improves his hard pack riding in the winter he could be one to watch next season.
It also might show KTM that they have the talent in MX2 coming through in 2016 that they could let Herlings go to MXGP. Right now it seems Herlings keeps changing his mind about what class he wants to ride next season and is apparently leaning towards MX2, but he has to confirm soon and everyone hopes he chooses MXGP!
Seeing two riders he beat easily in MX2 winning races in MXGP surely has to give Herlings the belief he can win in MXGP even more, everyone is awaiting his decision.
MXGP Overall Top Ten: 1. Glenn Coldenhoff (NED, SUZ), 47 points; 2. Gautier Paulin (FRA, HON), 40 p.; 3. Romain Febvre (FRA, YAM), 38 p.; 4. Kevin Strijbos (BEL, SUZ), 37 p.; 5. Antonio Cairoli (ITA, KTM), 36 p.; 6. Steven Frossard (FRA, KAW), 28 p.; 7. Jeremy Van Horebeek (BEL, YAM), 28 p.; 8. Evgeny Bobryshev (RUS, HON), 26 p.; 9. Filip Bengtsson (SWE, HON), 22 p.; 10. Dean Ferris (AUS, HUS), 20 p.
MXGP Championship Top Ten: 1. Romain Febvre (FRA, YAM), 457 points; 2. Antonio Cairoli (ITA, KTM), 416 p.; 3. Gautier Paulin (FRA, HON), 391 p.; 4. Maximilian Nagl (GER, HUS), 360 p.; 5. Evgeny Bobryshev (RUS, HON), 345 p.; 6. Clement Desalle (BEL, SUZ), 291 p.; 7. Shaun Simpson (GBR, KTM), 276 p.; 8. Jeremy Van Horebeek (BEL, YAM), 260 p.; 9. Glenn Coldenhoff (NED, SUZ), 243 p.; 10. Todd Waters (AUS, HUS), 242 p.
MX2 Overall Top Ten: 1. Max Anstie (GBR, KAW), 50 points; 2. Pauls Jonass (LAT, KTM), 44 p.; 3. Harri Kullas (FIN, HUS), 36 p.; 4. Jeremy Seewer (SUI, SUZ), 34 p.; 5. Tim Gajser (SLO, HON), 32 p.; 6. Davy Pootjes (NED, KTM), 30 p.; 7. Jordi Tixier (FRA, KAW), 28 p.; 8. Brian Bogers (NED, KTM), 26 p.; 9. Ben Watson (GBR, KTM), 20 p.; 10. Thomas Covington (USA, KAW), 19 p.
MX2 Championship Top Ten: 1. Jeffrey Herlings (NED, KTM), 423 points; 2. Tim Gajser (SLO, HON), 377 p.; 3. Valentin Guillod (SUI, YAM), 352 p.; 4. Pauls Jonass (LAT, KTM), 351 p.; 5. Jeremy Seewer (SUI, SUZ), 345 p.; 6. Jordi Tixier (FRA, KAW), 334 p.; 7. Max Anstie (GBR, KAW), 312 p.; 8. Julien Lieber (BEL, YAM), 278 p.; 9. Aleksandr Tonkov (RUS, HUS), 256 p.; 10. Dylan Ferrandis (FRA, KAW), 205 p.